It's a known fact that even if you're not a mushroom fan, you can't help but love stuffed mushrooms. Am I right? Of all the parties and gatherings I've been to, for some reason I've never made stuffed mushrooms. Well, a stop had to be put to that, so when my friend Brett had an apartment-warming party, I decided to try making stuffed mushrooms.
I was dog sitting the weekend of the party, so I made my stuffed mushrooms under the watchful eyes of Cissy and Mitzi.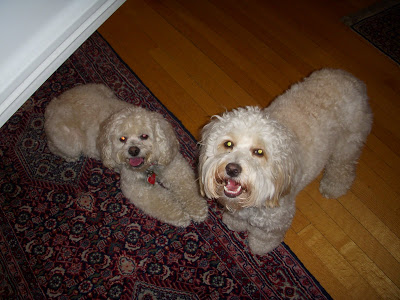 I got a stuffed mushroom recipe from Martha Stewart and adapted it a bit, especially after I read the reviews from people who had made them. The people said the stuffed mushrooms needed bacon. Who am I to argue with a request for bacon? If bacon is demanded then bacon shall
be had.
Goat-Cheese Stuffed Mushroom Ingredients:
2 packages (10 oz each) white button mushrooms

5 slices bacon

3 slices of sandwich bread (the Martha recipe calls for white but I used whole wheat and thought it was great)

2 garlic cloves

1 log (5 oz) goat cheese

1/2 C

fresh parsley leaves

1/4 T red pepper flakes

Salt

Olive oil
First I cleaned and removed the stems from the mushrooms.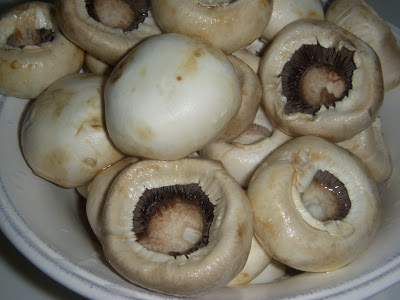 Then I started cooking up the bacon, making sure it stayed nice and crispy.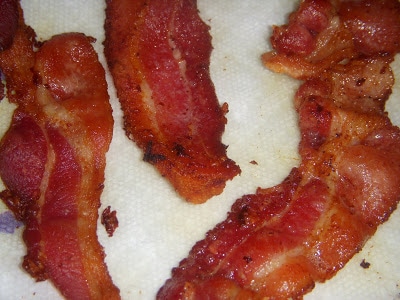 In a food processor, I pulsed the bread and garlic until I had fine crumbs. I set aside 1/2 cup of the bread crumbs and then added the goat cheese, parsley, red pepper flakes, and salt to the food processor. I also learned that there is nothing worse than cooking in someone else's kitchen (do you know how long it took me to find a baking sheet??) and that I love my food processor a lot more than I love my aunt's blender/food processor.

Anyway, after pulsing all the ingredients in the food processor, I spooned the mixture into the mushrooms and placed them on an oiled baking sheet.
Then I rolled the filled mushrooms into the breadcrumbs I had set aside.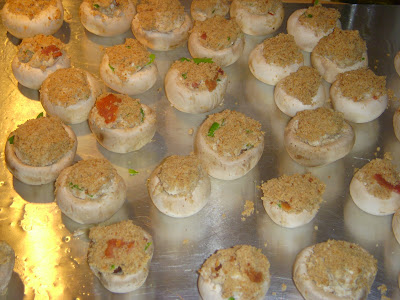 Mitzi was briefly interested when she smelled the bacon on the stove top, but otherwise she just wondered why I wouldn't play ball with her. So, I popped the mushrooms in the oven and went outside with the girls for approximately 15-20 minutes, while the mushrooms baked.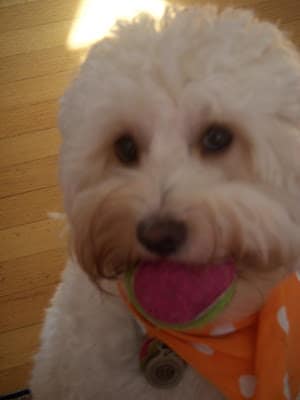 I pulled the mushrooms out of the oven and was thrilled by how pretty they looked.
They were pretty delicious and I'm certain that the bacon gave them the extra kick they needed. Next time I think I'll do a different variation; maybe something involving spinach or artichokes or even sausage. The stuffed mushroom options are pretty endless.

And to everyone Chels and I met at BlogHer Boston on Saturday, hi!! We had so much fun and are super excited by how many awesome people we met and how much we learned. Thank you to BlogHer for coming to Boston and showing us an amazing day!

[Sues]