Two of my favorite foodie men were at the South Beach Food and Wine Festival this weekend announcing the winners of some very exciting new awards. The Golden Clog Awards. Michael Ruhlman and Anthony Bourdain created these absolutely hilarious awards with categories such as:
"The Alton" for being on the Food Network and yet, somehow managing to not suck. Winner? Ina Garten. I completely agree.
"The Rocco" for the worst career move. Winner? Tyler Florence for becoming the spokesperson for Applebees. What I wanna know is, how was Rachael Ray and her Dunkin' Donuts move not a nominee?
"The Steingarten" for the writer or blogger who actually GETS it. Winner? Mike Nagrant. Agree, but I'm a big Bill Buford fan, too.
Some of the nominees and winners I'm not familiar with, but Ruhlman and Bourdain seriously make anything funny. And I'm wicked jealous of anyone who was at the South Beach Food and Wine Festival this weekend. I'm jealous because a) So many celebrity chefs were there and it looked like an awesome time and b) We got way too much snow here in Boston and South Beach sounds pretty good to me right about now.
To read more about Bourdain's thoughts on the Golden Clog Award winners, check out his blog.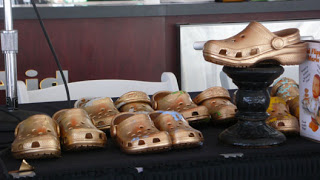 The Golden Clog Awards. Image from Eater SF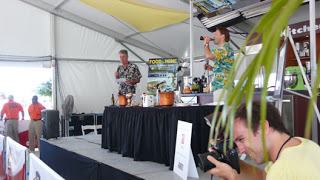 Bourdain and Ruhlman. Image from Eater SF

[Sues]