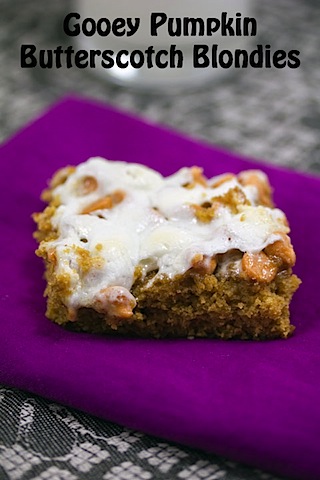 It's hereeee. Yes, I am officially welcoming pumpkin season with open arms. The fall-like weather in Boston the last couple days totally makes it acceptable. Though I'm pretty sure it's going to be in the 80s on Friday. That's the thing about this time of year- you never really know what you're going to get. That's why I'm continuing to withhold on sweaters, riding boots, cute scarves, and fall coats. I love my sweaters and boots, but let's be honest, I have PLENTY of time to wear them in Boston and come April, I start to hate them just a little bit. Pumpkin? I only give myself until December to enjoy the orange goodness, so I may as well let myself jump right in. As you've probably realized by now, I think about these things way too much.
I mean, I could go ahead and say I was just thinking about you. And the fact that you might want to make some pumpkin treats. And if I wait to post my pumpkin treats, you might not be able to make them. Then again, whoever "you" is seems to already be pinning Christmas recipes to Pinterest out the wazoo, so now I'm starting to feel like I may be late to my ride on the pumpkin train. If I'm to judge by Pinterest, "you" is also a fan of candy corn, which means I need to get on my annual candy corn recipe for the year. From now on, I'm just going to assume that the types of pins on Pinterest must signify the average person. Which means y'all really want to put on your riding boots and get married in a big crock pot full of mac and cheese in a kitchen with a million windows. Oh, and with the perfect abs. And a really, really organized closet. Is that you, perhaps?
Or maybe you just want people to learn how to pin images that link to the original source and for all the spammers to go away. And maybe you want to make Gooey Pumpkin Butterscotch Blondies. I can't send the Pinterest spammers to their doom, but I can help you with the blondies. They're fall festive, nice and chewy, and super gooey from the marshmallow topping. Everything I could want from my first pumpkin recipe of the year.
Gooey Pumpkin Butterscotch Blondies:
Print this recipe!
1 1/2 C all-purpose flour
2 t baking powder
1 1/2 t pumpkin pie spice
1 t salt
6 T butter, room temperature
1/2 C pumpkin puree
2 C brown sugar
2 large eggs
1/2 t vanilla
1 1/2 C mini marshmallows
1 C butterscotch chips
(pre-heat oven to 350 degrees)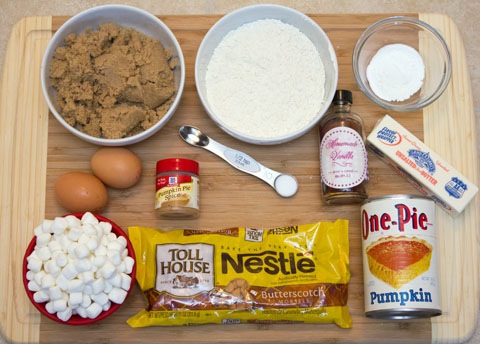 In a medium bowl, whisk together flour, baking powder, pumpkin pie spice, and salt.
In your mixer (or in a regular bowl with a hand mixer), beat together butter, pumpkin puree, and brown sugar for about 2-3 minutes. Then add eggs and vanilla and beat until combined, about 2 minutes. Add in flour mixture and mix until just combined and batter is smooth.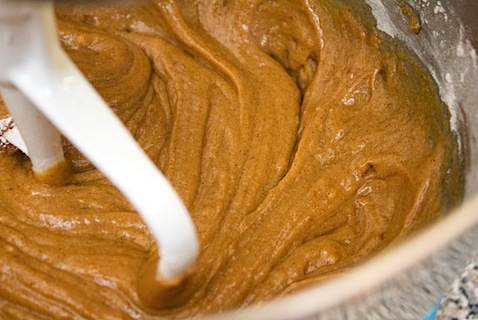 Pour batter into a 9×13′ baking pan and smooth.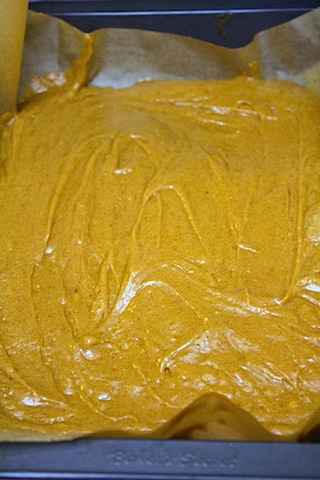 Bake at 350 degrees for about 25 minutes.
While the blondies are in the oven, combine your mini marshmallows and butterscotch chips.
Oh look, it's my dream trail mix. No nuts or raisins; just butterscotch chips and marshmallows. Only missing the m&ms.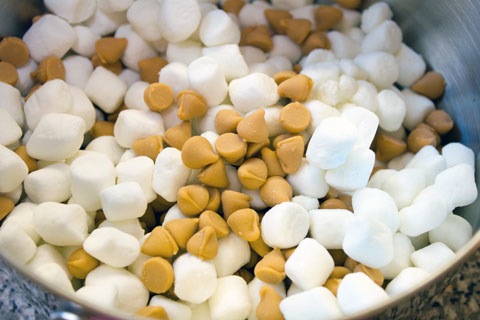 And sprinkle them over the top of the baked blondies.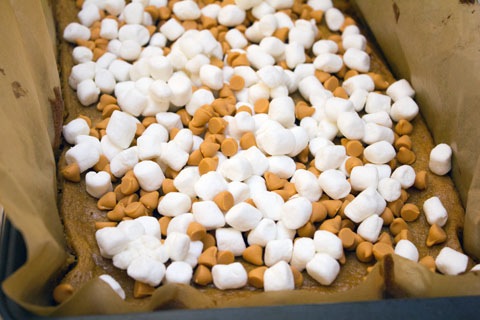 Pop back in the oven for another 8 minutes, until the marshmallows get all melty and a little browned.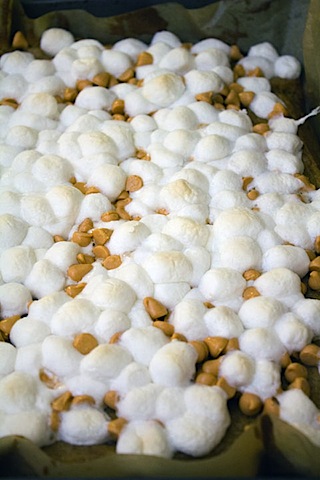 Told ya they were easy.
The toughest part of this fabulous recipe? Cutting these suckers. I'm for serious. I let them cool a bit, but they were still so ooey-gooey from the marshmallow that it was tough to cut them and move to another plate without getting all sticky.
Worth it though.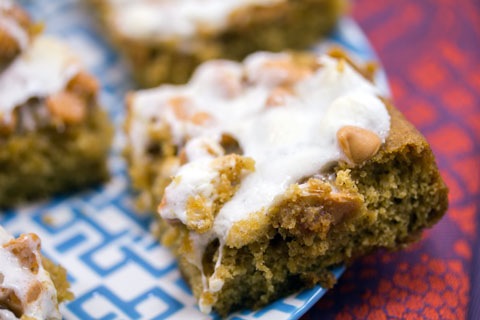 I'm always good for a blondie and the kick of pumpkin spice really gave these an extra layer of love. Plus, I'm pretty sure the pumpkin puree gave them an extra level of moistness.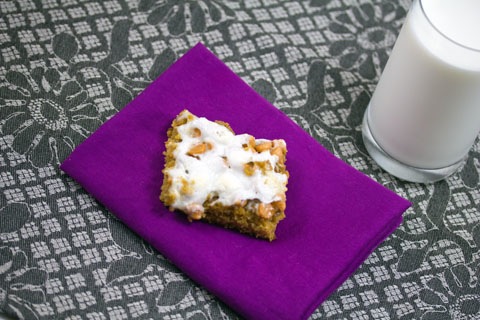 You could totally frost these with some sort of cream cheese icing if you desire (I suddenly realized that my marshmallow actually does look a bit like cream cheese frosting!), but I decided to go the marshmallow route because I still have a little bit of s'mores season left in me and I'm giving it a fighting chance.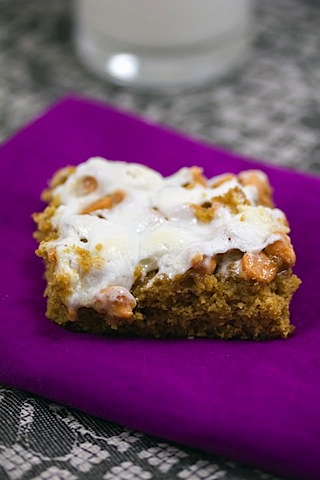 The butterscotch chips were just a given because, well, they're blondies. And butterscotch chips belong in blondies.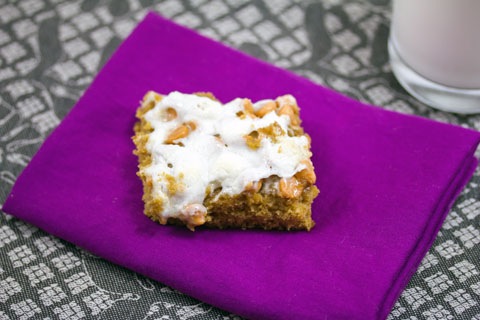 Though now I'm convinced that the same can very much be said about pumpkin and marshmallows. Maybe the real question is, "what doesn't belong in a blondie?"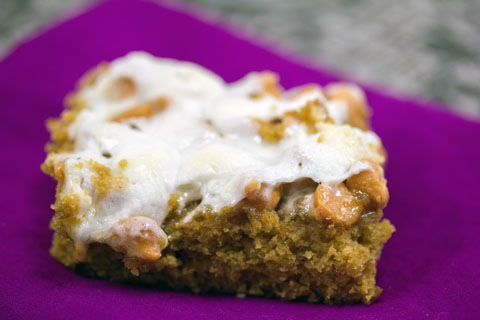 Maybe candy corn? Candy corn in blondies? At first I thought that might be a little too much, but now my brain is ticking out of control.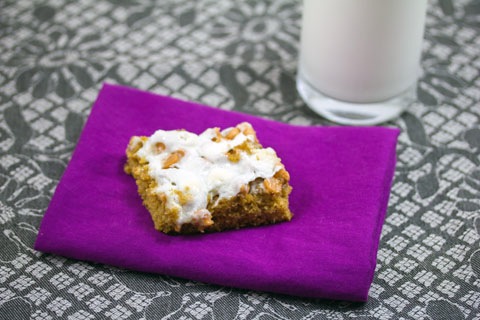 I do need to come up with an idea for my annual candy corn recipe, after all. Don't say I didn't warn you.
Seriously though, it makes me happy to welcome pumpkin back into my life. I love summer with all my heart, but I'm excited for the snuggly cozy feeling of fall. And pumpkin definitely makes me feel at home. These blondies are also perfect to make when you know you most likely won't be getting into a bathing suit for another 8+ months. They say a little extra padding helps keep out the cold, right? Right??
Have you succumbed to the fall foods yet or are you still holding out?
[Sues]