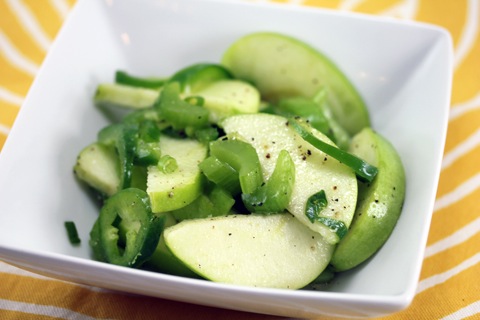 The main reason I'm in what can basically be described as full-on panic wedding planning mode at the moment (besides the fact that there's a mere 3.5 weeks to go) is because I'm the absolute worst decision-maker ever. I quadruple question everything and always think I can find something better or simply do something better (related: I've always been my own worst critic and it takes a lot to impress me in general). I always think back to this moment junior year of high school, sitting in my guidance counselor's office, talking about where I'd go to college. As usually, I'm sure I was hemming and hawing over my options. My guidance counselor just looked at me and said, "You must be a Libra because you are a horrible decision maker."
Now, I thought it was kind of odd she would throw the whole astrology thing at a 17-year-old siting in her office trying to plan the rest of her life. And astrology is not something I spend much time on. BUT. It's true. I am a Libra through and through. And almost every Libra I've met is also a bad decision maker. It's because we're the sign of the scales and we crave balance in everything we do. We want to make everyone happy and we want everything to be equal and we just can't decide what to do to make everything the best it can be. And as I'm sure you know, weddings are pretty much ALL about making decisions. We've made about 50 of them in the last week alone and still have at least 100 to go before the big day. Decisions that, in the long run, won't make or break the wedding. But that feel important to me. At least I AM confident in my decision about the man I'm going to marry and the people that will be standing up with me. And that's really the only thing that matters anyway. But the music, oh how I want the music to be good and just perfectly us. Le sigh.
One thing that I don't need to hem and haw about is this salad. Perhaps an odd combination; and one not for everyone. But this salad is totally. up. my. alley. When I was at my parents' house for Mother's Day, I spent some time leafing through my dad's newest Jean George cookbook, Cooking at Home with Jean Georges. This recipe is actually part of a larger recipe for a puree to serve with lamb shanks, but I decided to just stick with the salad. Ah, if only every decision were this simple.
Green Apple and Jalapeño Salad
Adapted from Jean George
Print this recipe!
2 granny smith apples
2 stalks celery
3 scallions
1 jalapeño
1 1/2 limes
2 t extra virgin olive oil
Sea salt and freshly ground pepper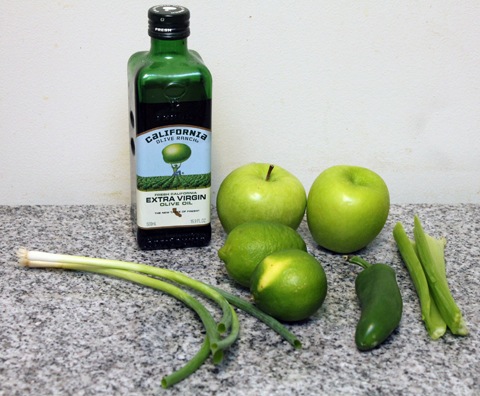 Yup, another quick and easy recipe that basically only requires a bit of chopping. Core your apples, quarter them, and then slice them as thinly as you can. Also, chop your celery and scallions thinly. And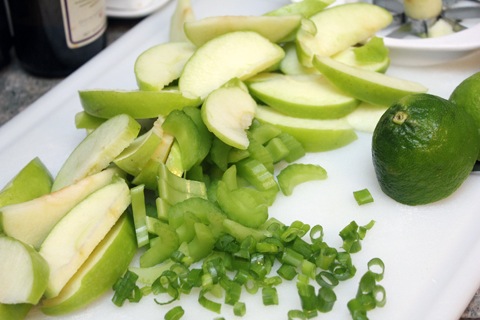 And then move on to the jalapeño. Now, I am generally always up for keeping the seeds in jalapeños and devouring them, but because these were raw, I was slightly nervous. So, I sliced the jalapeños as thinly as possible, removed seeds, and let soak for about 5 minutes (it's all the time I had patience for).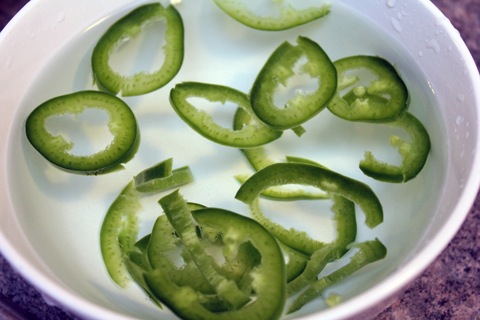 Then I threw all my greens in a bowl and squeezed 1 1/2 limes full of juice over it. I also added 2 t of extra virgin olive oil and some salt and peper and then tossed it all together.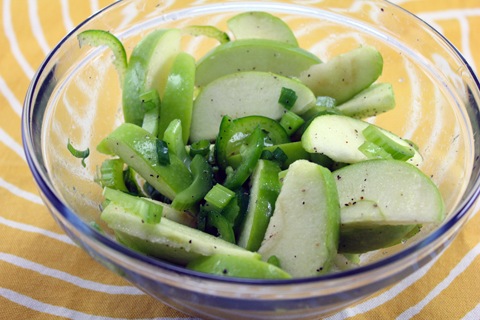 It's light, refreshing, and totally summery. Like I said, it may not be for everything due to the heat of the jalapeños. But still, you should try it; soak your jalapeños a little longer if you have to. I ate an entire bowl of this and the spiciness didn't bother me at all as the sweetness of the green apples nicely cut it.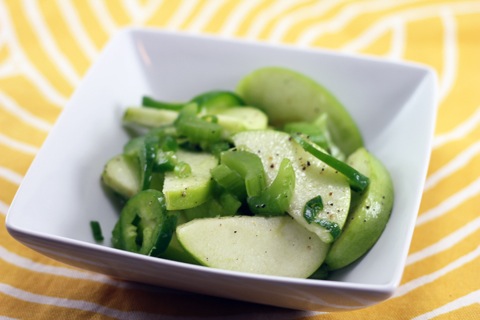 Since I was in the mood for summery, but it was icky and rainy in Boston all week, I served this salad with a simple, but comforting, grilled cheese. And it was the perfect combination.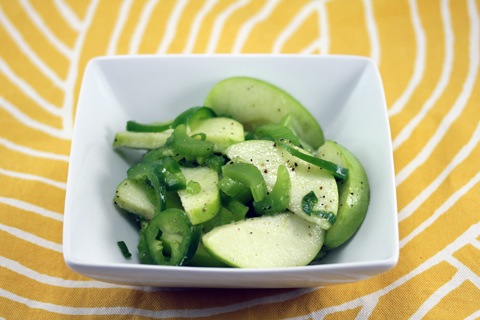 See? I can handle some decisions.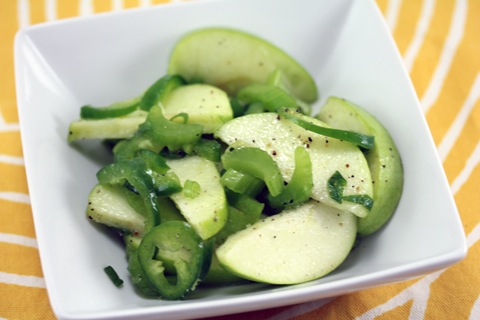 I love "weird" salads like this. It's a total green salad, but with no actual "greens." And who would ever think to combine green apples and jalapeños together? Jean Georges; that's who.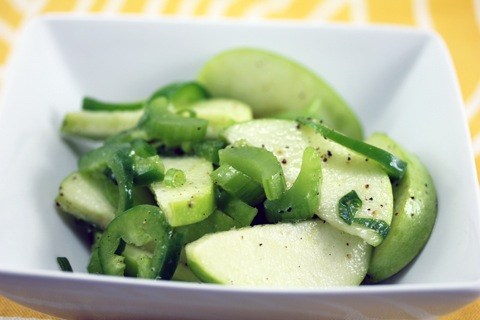 I highly recommend serving this salad at a BBQ this summer. It will add a different kind of flare to a traditional spread and will refresh your guests. You might just want to warm them that they might get a bite of jalapeño or two.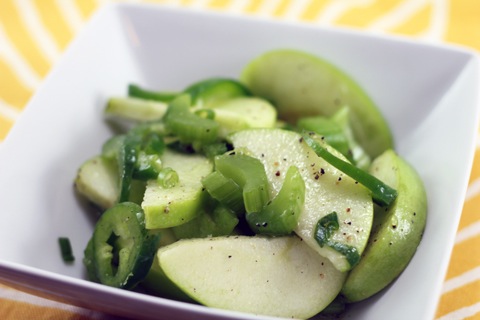 And now I must go tend to the remaining 100 decisions we must make before making this wedding a reality. I know it's going to be absolutely perfect whether or not I get the absolute best shade of grey napkins and whether or not the candy in our candy bar is absolutely only purple and yellow. Those little decisions never make much of a difference in the long-run anyway, especially in light of the real reason we'll be there. And I'm just so excited to marry my best friend!
Do you feel you fit your astrological sign or is it all just phooey?
[Sues]