Being on vacation? Is pretty much the best thing in life. We've already hit up two breweries, indulged in some major pool time, hit up the golf course, hung out on a boat, and spent lots and lots of time with family. Sadly, we only have a couple days left, but I'm sure we'll manage to pack a lot more in!
On our way to Lake Chautauqua on Friday, we decided to make a stop at Ommegang Brewery. It wasn't exactly on the way, but would only add about an extra hour to the 9-hour drive and we figured it would be just what we'd need in the middle of the long road trip. DEFINITELY glad we made this stop.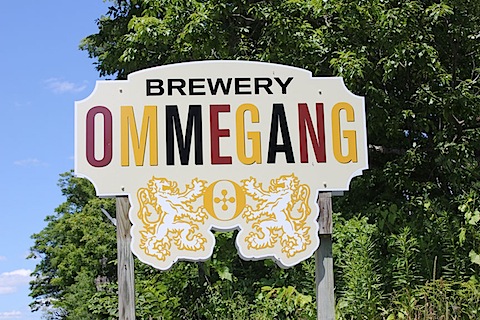 Ommegang is in Cooperstown, NY, home of the baseball hall of fame. But since we were on limited time, we decided to forgo the hall of fame for the brewery. Priorities, yes?
Right when we drove up the long road to the brewery, we knew it was going to be a beautiful location. The entrance archway has two dates: 1549 stands for the year of the Ommegang festival in Brussels, which was held for Charles the Fifth. And 1997 stands for the year the Ommegang brewery was founded.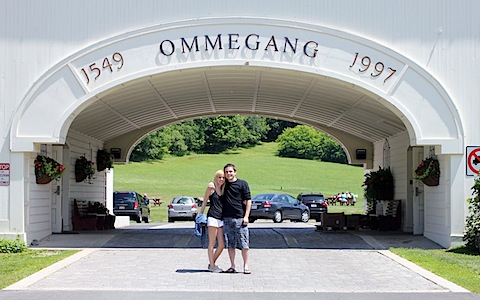 We managed to arrive at the brewery right when it opened and immediately signed up for the first tour of the day.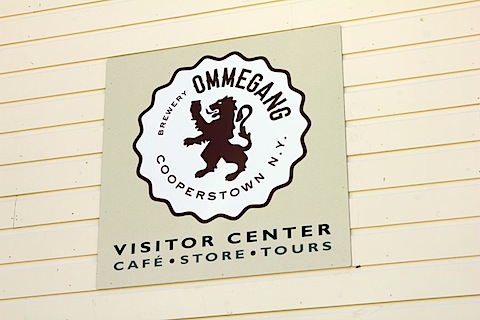 No matter how many brewery tours I've been on, they're all unique and Ommegang was one of the prettiest spots we've been to yet. I'm used to touring breweries in cities, so it was cool to see one that was in the middle of the countryside- it almost looked like a winery.
Of course, all the big brewing equipment was there and we got the opportunity to get a close-up look at it and learn all about it and the beer-making process.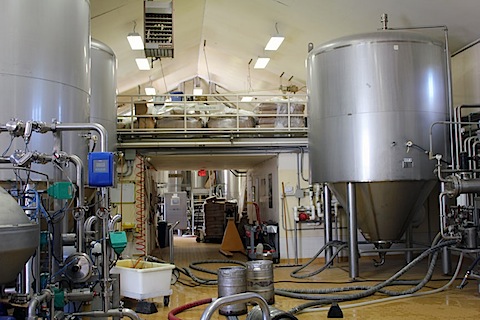 We also got to check out the bottling plant, which was pretty awesome. We always see the finished product in stores or at bars, but we never think about how those bottles got filled or labeled.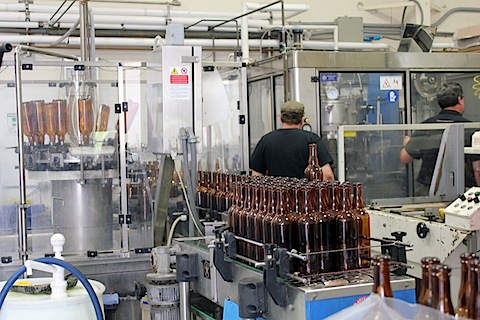 After the tour, we, of course, got to participate in a tasting. We sample Ommegang's Witte, Rare Vos, BPA (Belgian-Style Pale Ale), Hennepin, Abbey Ale, and my all-time favorite Three Philosophers. We also tried several of their horseradish beer cheese spreads and mustards and ended up buying a whole bunch of them because we knew they'd be perfect for lakeside snacking. I think they're already all gone.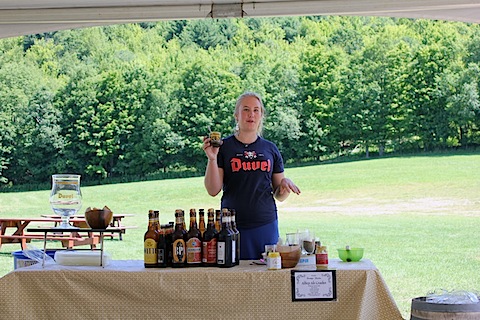 Since we weren't ready to continue on our long journey quite yet, we checked out a few more beers (don't worry; we had a designated driver!).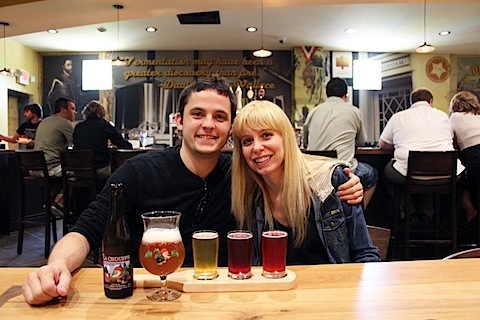 FYI: If you mix Ommegang's Witte and Liefman's Fruitesse, it makes for a delightful summer drink.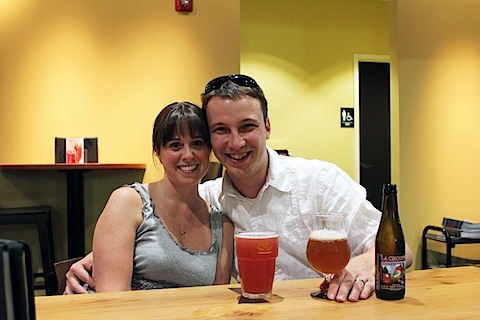 Hmmm, do you agree?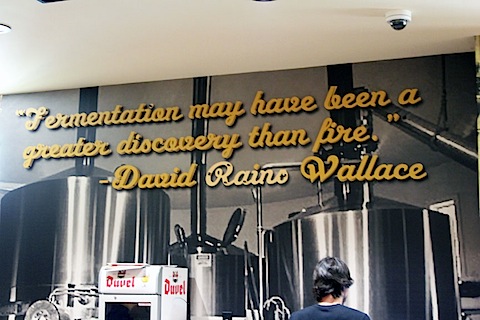 Chris was overjoyed that we got to stop at one of his favorite breweries. I have a feeling Chris and I are in for many, many more brewery adventures in our life together! Everywhere we travel, we make sure to check and see if there's a brewery on the way or nearby.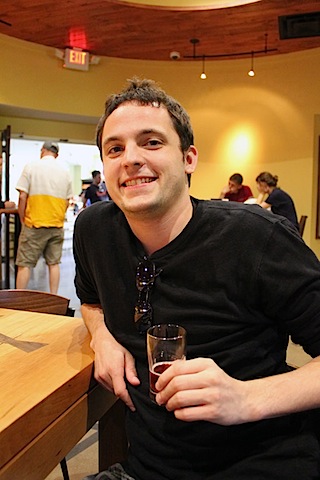 I posed with the monk on the way out.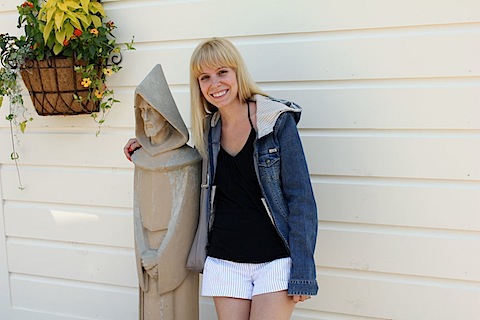 When we finally arrived at our condo later that evening, we had a nice quiet evening with my parents, my Aunt Judy, and my cousin Karen.
Adam brought his bags game, so we set it up on the front lawn for a friendly little competition.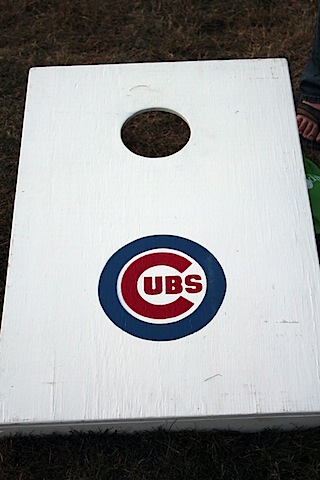 My sister had these boards specially made for him a few years ago.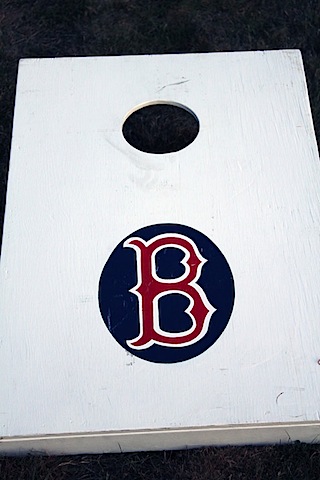 The sun was setting over the lake and we were all feeling relaxed and thrilled to finally be vacationing!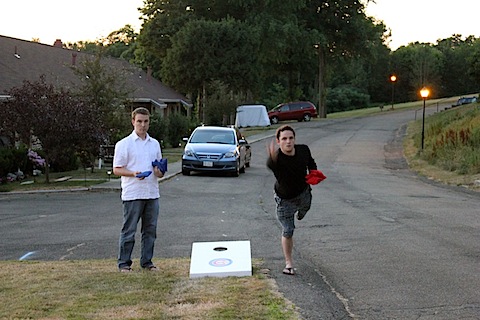 And tired from spending a million hours in the car.
Saturday was the only day we could visit Southern Tier Brewery if we wanted a tour since they only do weekend tours and we already had plans on Sunday. It was also the day of their big Summer Fest, which made us a bit nervous since we wanted to make sure to catch one of their two tours.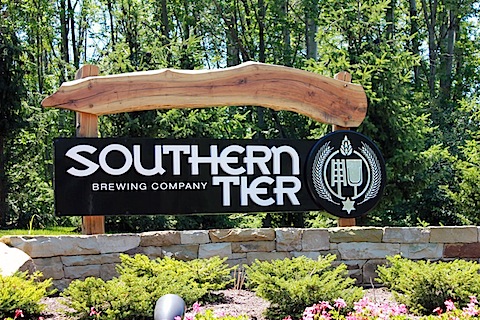 So, we arrived plenty early (before they even opened!), put our name on the tour list, and then headed to play some mini golf.
Posing for photos during mini golf games totally makes me feel like I'm 16 again.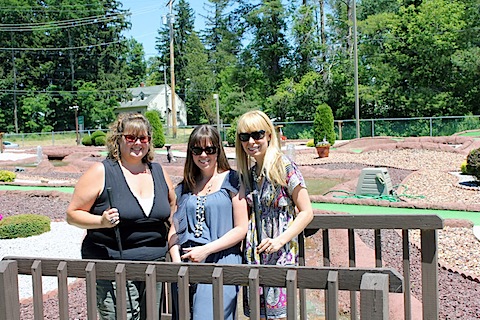 What? You never had photoshoots with your friends on mini golf courses in high school?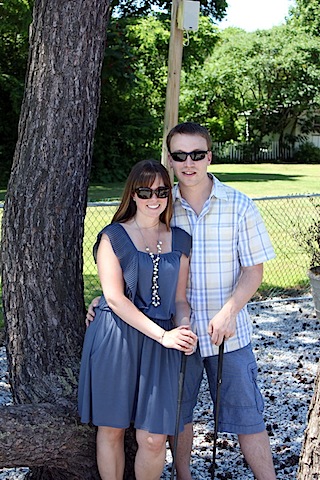 Like anything we do with Adam and Chris, it was a true competition, measuring angles and everything. Whenever anyone measure angles or acts too serious about mini golf (or pool), I call them Donald Duck.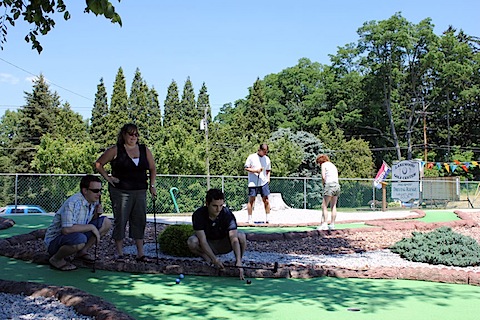 You know, because of this video I'm pretty sure everyone was forced to watch in 9th grade geometry class:
P.S. I was really bad at geometry. I prefer to hit the ball toward the hole and hope that it lands somewhat near it. It's been working out for me so far.
And then we hurried back to Southern Tier to get our tour on.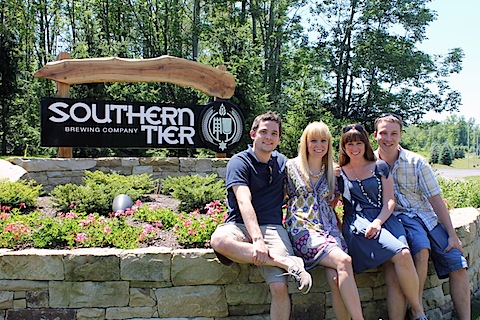 My cousin Karen joined us 🙂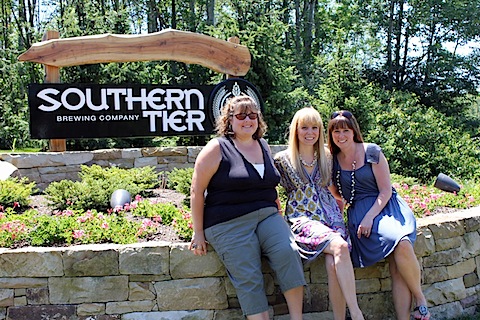 I'm pretty sure we should just use these for our engagement photos, right?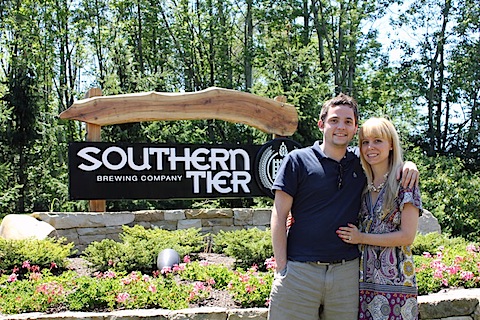 We started in on the tour, which involved lots of beer. While it was fun, it probably wasn't the best idea to serve a group full of people so much beer at the beginning of the tour. The poor guide had some trouble keeping everyone's attention. It didn't help that it was kind of loud and very hot in the facility.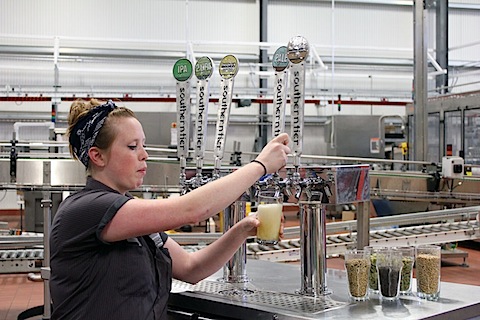 But we still enjoyed ourselves and learned a lot about one of our very favorite breweries. Seriously, Southern Tier beers were some of the first I ever enjoyed when I first started loving craft beer. When I learned it was located right where my family vacations, I was thrilled! Fate 🙂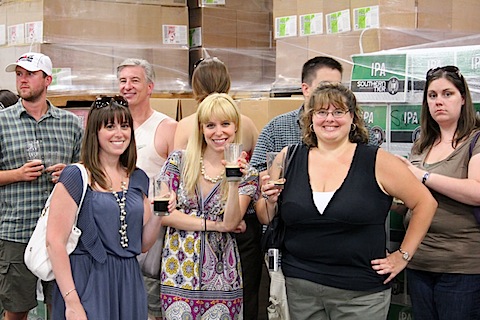 Of the beers we sampled, I really enjoyed the 2XIPA, the Heavy Weizen, and the Creme Brulee (tastes exactly like creme brulee!).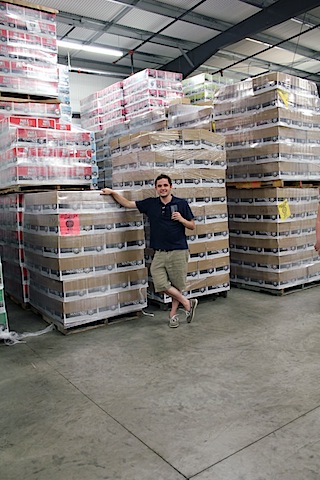 Chris wanted to take all the beers home with us.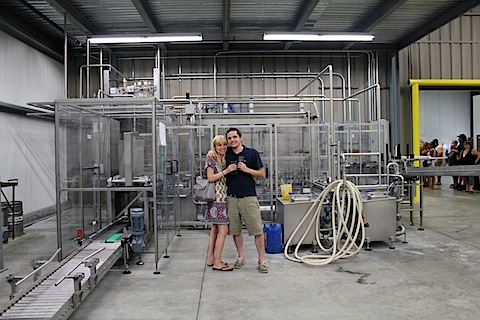 And we locked Adam in, so he could drink all the beers he wanted 🙂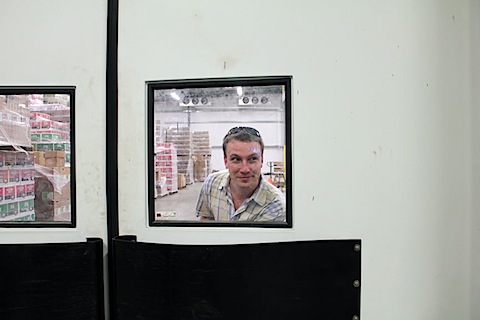 After the tour, we hung out in the brew pub and sampled some more beer and enjoyed Summer Fest.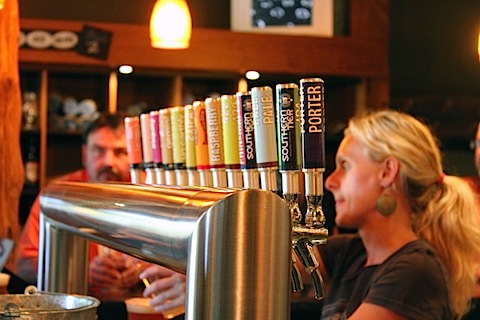 I enjoyed an Iniquity Imperial Black Ale and sampled the special Chautauqua Brew.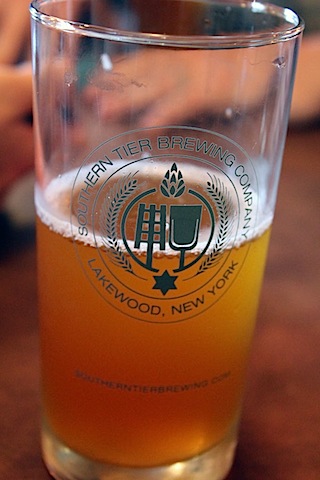 And delicious chicken from Hog Wild BBQ in Warren, PA.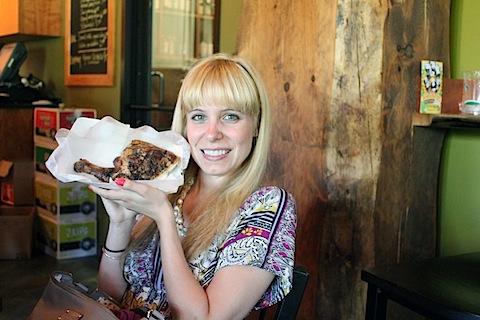 I also bought a bottle of Southern Tier's Back Burner Barley Wine and am super excited to try it. I'm a big barley wine fan and I'm sure Southern Tier's will hit the spot.
The next day, we headed to my Texas cousins' condo for a little thing my family named Wing Fest. You may remember my Texas cousins from my trip to Austin for Austin City Limits 🙂
Of course, we brought out the bags game once again. And my cousins' kids became bags champions. Chris taught Benn the ropes.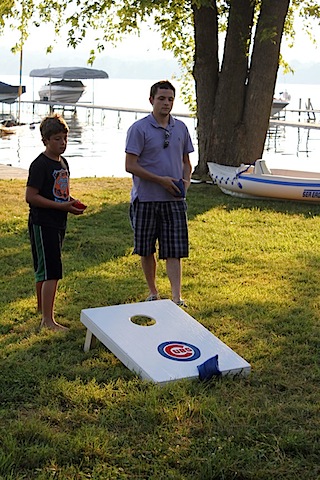 And Adam assisted Angela.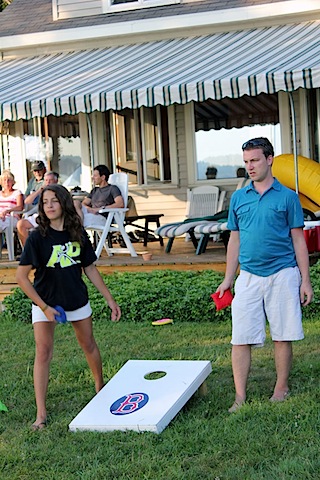 Then Benn and Jack teamed up and both showed off their impressive skills.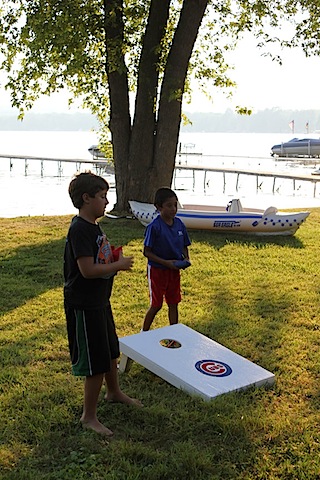 We had no idea my cousin John was such an amazing bags player.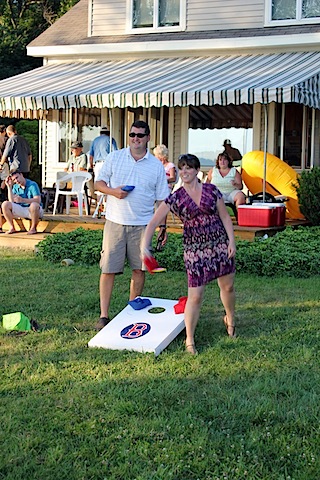 My Uncle Bob's dog, Ty, joined us, too 🙂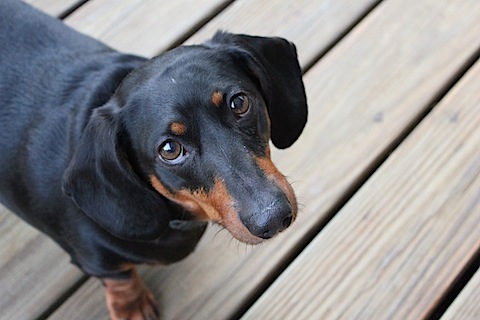 That evening, we enjoyed lots and lots of buffalo wings, some made by my parents and some by my Uncle Bob.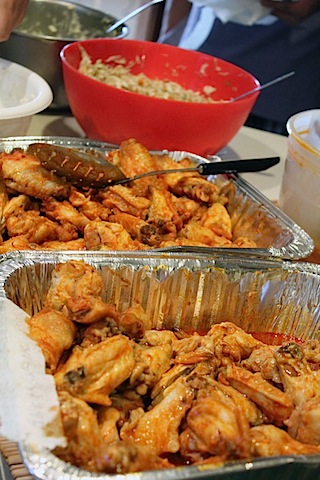 With all kinds of sides!
In case you're wondering what Lake Chautauqua looks like, here's a shot from my cousins' place. Beautiful! Our condo is on the lake, too, but we tend to hang out at the pool more.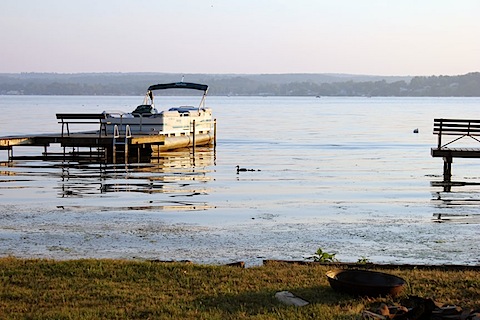 When the sun set, we gathered around a little campfire and listened to Benn tell ghost stories.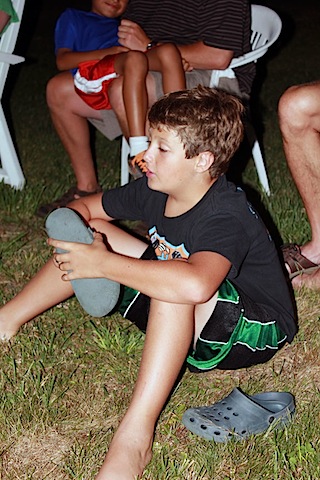 And chowed down on s'mores.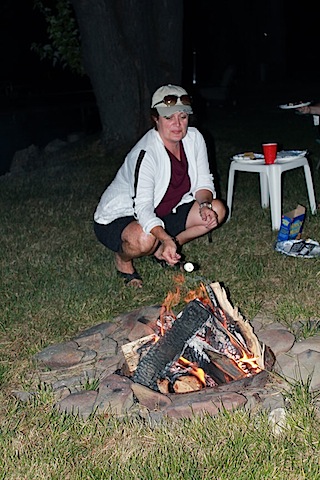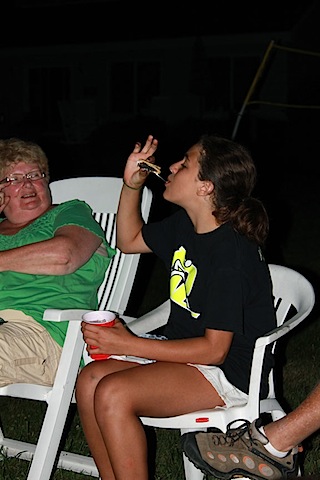 Sisters! Benn doesn't believe we're sisters because he says we don't look anything alike.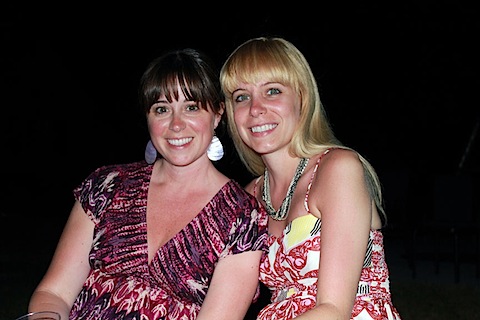 More sisters! Cherylann and Karen are two of my cousins and it's been so fabulous to be able to spend so much time with them this trip. Since we're from all over the country- Boston, Texas, and Buffalo, we don't get to see them nearly enough.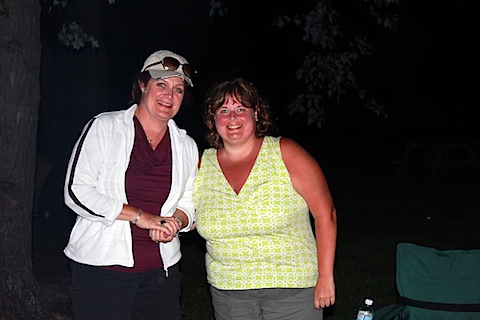 And more sisters! My mom and my Aunt Judy who happens to be one of We are not Martha's most avid fans 🙂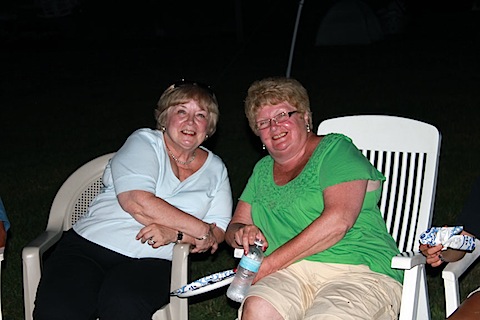 Lakeside photo. I'm pretty sure approximately 9043 mosquitos were biting me at this precise moment, despite the layers of big spray I put on.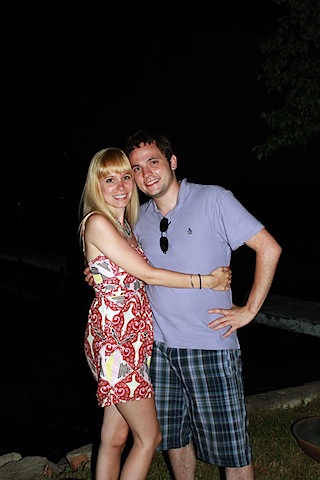 Lest you think all we've done on this vacation is drink beer, here's a little proof we fit in some other activity as well. The other day, we woke up early and played a round of golf.
Chris was fabulous.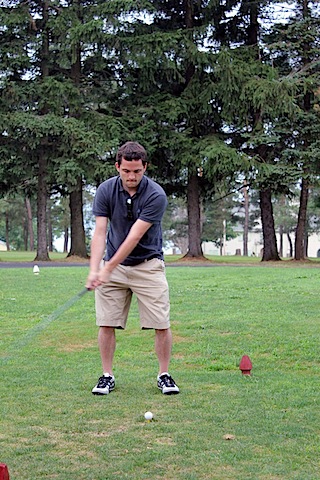 My sister had an amazing swing.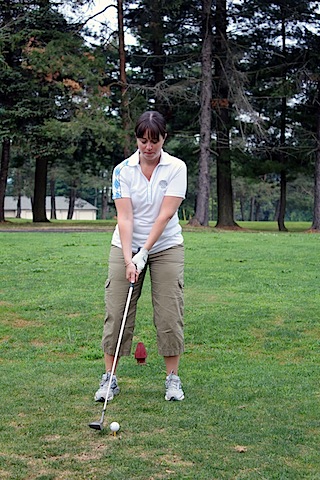 Me? Not so much. But I was wearing pink pants. So, there's that. As you can clearly see from this photo, my feet aren't far enough apart. One of the benefits of taking photos while playing golf: you can critique your stance.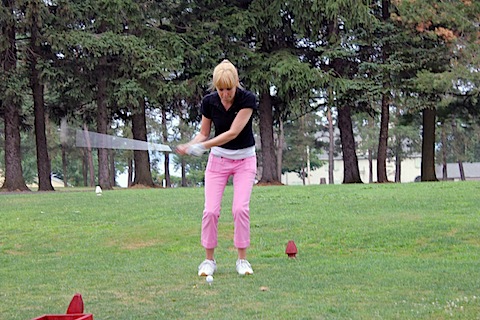 The golf course is right next to the property we're staying on and offered gorgeous views. So, even if you're not the best golfer, you could still have fun. Ahem. Even when people started yelling at us for being slow and allegedly "cutting them" even though we were just trying to be polite and let people go ahead of us.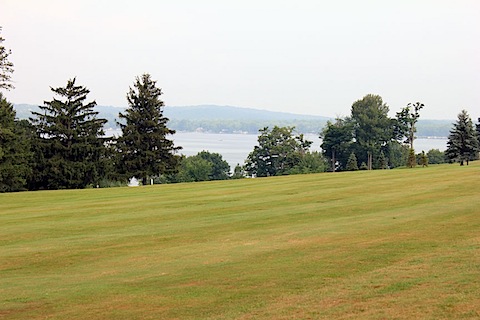 I've mostly taken off from work for the entire week, though I've had to get a few things in here and there (and write a blog post, obviously). But my family all started laughing when we realized that we had this many Apple products on the coffee table between the six of us. Let's just say even when we're vacationing lakeside, we like to enjoy very high-tech vacations. Oops. But I'm proud to say we're all being good and spending most of our time outside... You can't read an iPad in the sun, you know, so it's back to traditional books for me this week.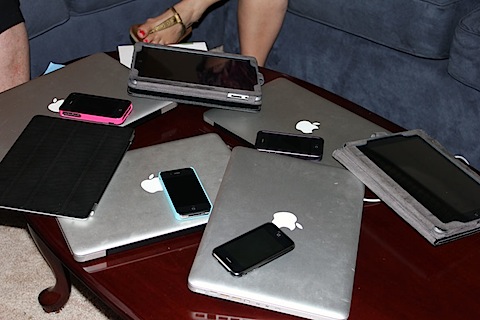 Also, the weather here has been AMAZING. Before we came, the weather report called for lots of rain, but it's been rain-free, sunny, and hot since we got here. Just the way I like it.
I need to get to bed because Chris just caved in and agreed to head to the Lucy-Desi Museum with me tomorrow. YES! Speaking of, I'm pretty upset I won't be in town for this: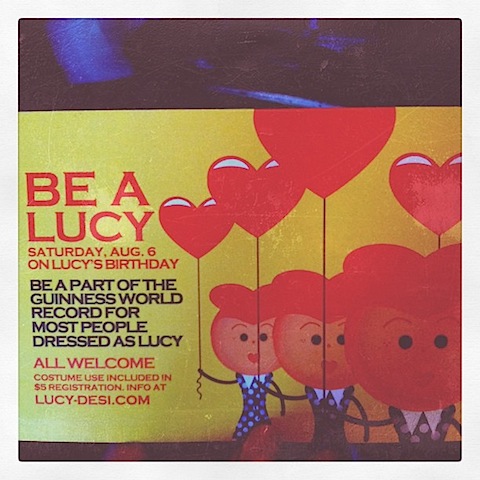 In case you're wondering, I Love Lucy is my all-time favorite show and I've seen every single episode, along with all of the Lucy-Desi Comedy Hour and The Lucy Show episodes. She's the best!
I've got lots more to share, but will likely do so when I'm home fully relaxed and with sun-kissed skin 🙂 Hope your week is going well!
What's your idea of the ideal vacation?
[Sues]