This Athenos Make a Change for the Feta challenge is definitely going to make the month of July absolutely fantastic and healthy. And it's perfect timing since the hot, hot, hot weather of July makes me crave refreshing salads! Making myself incorporate feta cheese into a salad each day will also leave my taste buds happy as it is one of the most delightful cheeses known to mankind! 😉
When I saw the chunk of black peppercorn feta that was sent to me, I immediately thought of combining it with grilled chicken. I did a quick search online for "grilled chicken and feta" just to get the creative juices flowing and found this entree that included a red pepper sauce so I snagged that element from the recipe and created a salad jam packed with flavor. A lot of my meals are bits and pieces from multiple recipes mixed with a little improvisation on my part! Gotta get creative sometimes 😉 So my lunch this afternoon was a Grilled Chicken Salad with Red Pepper Sauce and Feta.
Here's what you need (and feel free to toss whatever you'd like in, this just makes a nice base!)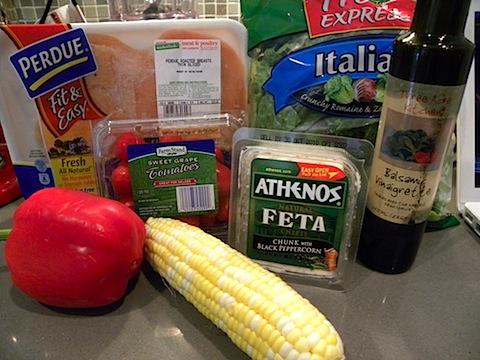 Grilled Chicken (I made one serving but had plenty of chicken left over for another time):
• 4 or 5 boneless, skinless chicken breasts
• 3 tablespoons extra virgin olive oil
• 2 tablespoons balsamic vinegar
• 1 ear of fresh corn… for a little extra crunch
• handful of grape tomatoes
• Greens… Lettuce mixture, spinach, arugula etc.
• 2 teaspoons salt
• ground black pepper
Red Pepper Sauce:
• 1 red bell pepper
• 1.5 tablespoons extra virgin olive oil
• 1/2 tablespoon balsamic vinegar
• 1/4 teaspoon salt
• ground black pepper
• Athenos Chunk with Black Peppercorn Feta Cheese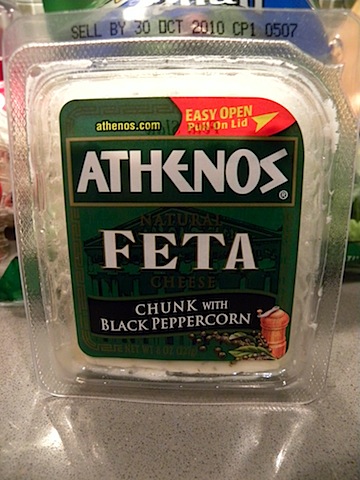 Here's what you do:
• Place chicken, olive oil, vinegar, salt, and pepper in a zip lock bag and refrigerate. I only let it sit in the fridge for about an hour or so and it was plenty flavorful, but feel free to refrigerate it up to 24 hours just to get all the flavors soaked up!
• Remove chicken from marinade and discard remaining marinade. Grill chicken, about 7 minutes.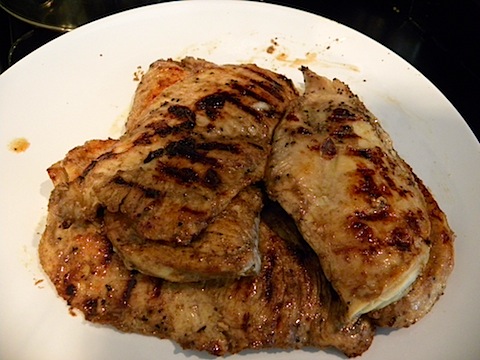 • To prepare the sauce, place red pepper, oil, vinegar, salt, and pepper in a food processor or blender, puree until smooth. Feel free to grill the red pepper before to get additional flavor!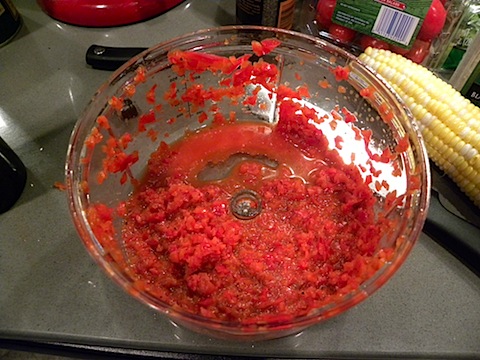 • Arrange your greens on a plate, top with chicken and feta…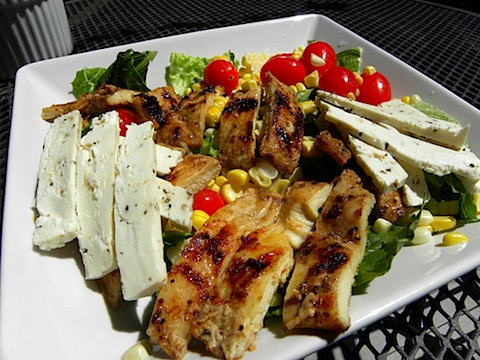 • And add your red pepper sauce.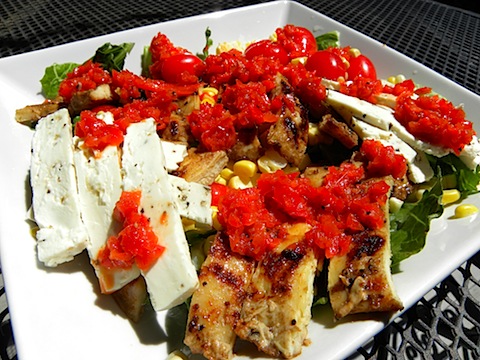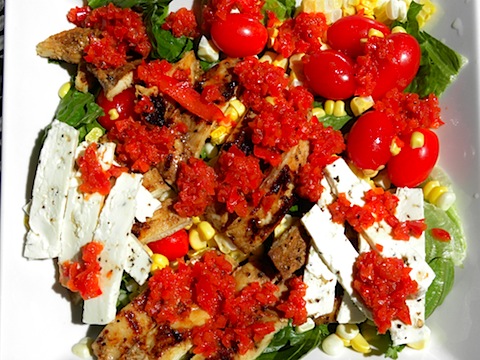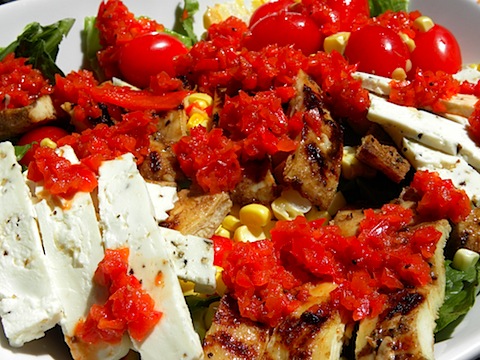 The thing I love best about the Athenos feta is it comes in a variety of different flavors but doesn't compromise the feta-ness (which is not a real word… in case you didn't know). I feel like when a lot of companies start creating flavors and experimenting it takes away from the product. This still tastes VERY feta-ish (another fake word!) and very real with the perfect hint of peppercorn!
FETA FRIDAY GIVEAWAY:
Each Friday in the month of July we're going to be holding a fun giveaway!
Included in the giveaway: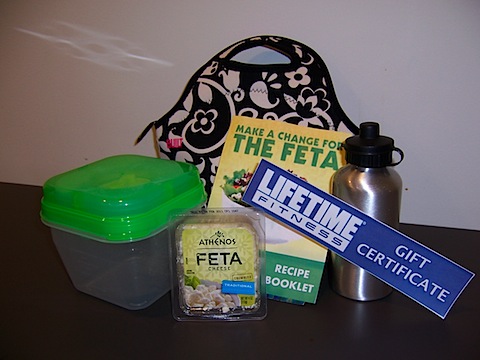 • Free ATHENOS Feta coupon
• 1-month membership to LIfeTime Fitness
• ATHENOS water bottle
• ATHENOS Feta recipe booklet
• Salad shaker travel container (LOVE these… perfect for work lunches!)
• Reusable lunch bag
Leave a comment by 11:59 EST Tuesday, July 5th telling us why you love feta!
And speaking of giveaways, the lucky winner for the Stuffables Tupperware is:
SimplyLife (who has a great blog by the way!) who said "Great giveaway! I need these because my cabinet looks worse than yours! :)" eeek.. you do need them 😉
SimplyLife, please email us your full name and shipping information so you can receive your brand spanking new Tupperware! Congrats!
Happy Friday, world! And Happy 4th of July… have fun and be safe! 🙂
[Chels]