I got the idea for this dish as I was watching a local Boston news station (The Dish with Frances Rivera, for all you local people!). I tried to follow the recipe as close as possible, then as I started I began doing my own thing. Like I've said before, it's nice to use recipes as a guide but always feel free to adapt them to your own tastes, especially in recipes like this where the possibilities of ingredients are endless. I chose to enjoy this dish as a full meal (tons of fresh veggies and rice were nice and filling) but it would also work as a Summer side dish!
Once you have all of your veggies cut this is actually a pretty simple and quick dish which is another plus!
Here's what you'll need - this is one of the areas where it's good to adapt to your liking... you could add in any veggie you'd like!
• Extra Virgin Olive Oil
• 2 oz Pinot Grigio
• salt to taste
• ⅛ teaspoon White pepper
• ½ teaspoon Black pepper
• Fresh Mozzarella 7 OZ cut into ¾ inch cubes
• 2 cups brown rice
• 5 cups Water (for rice)
Herbs:
• 1 tablespoon fresh parsley stemmed & chopped
• 2 tablespoons fresh Marjoram stemmed & chopped (I found this at Whole Foods)
Veggies (cut all the veggies into small pieces, see images):
• Small eggplant, peeled and sliced
• Yellow Squash
• Green Squash
• Red Bell Pepper
• Red Onion
• Sweet yellow pepper: cut length-wise then quartered place in Platter with Eggplant, Green and Yellow Squash
• Baby Bella Mushrooms cut into quarters
• Cook your brown rice as you normally would.
• In a bowl, add yellow and green squash, eggplant, and mushrooms. Lightly coat with extra virgin olive oil and toss. Sprinkle with a pinch of salt.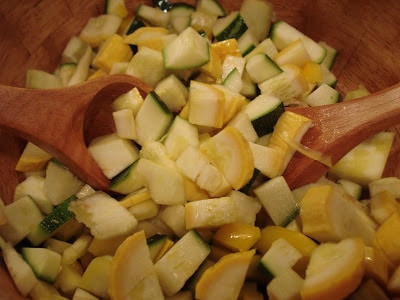 • On high heat, add the veggies to a grill pan until cooked
• Lightly coat a separate skillet with olive oil and add onions, peppers. Cook until onions are transparent.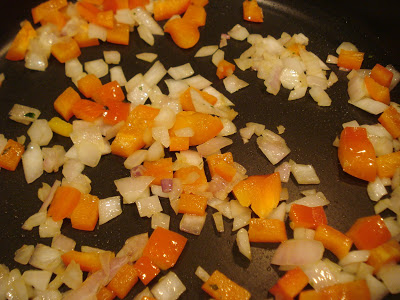 • I then chose to mix the rest of the veggies (squashes, mushrooms, and eggplant) in the same skillet as the onions and diced peppers. Also add your fresh herbs and Pinot Grigio.

• Now mix in the brown rice, white pepper, salt to taste.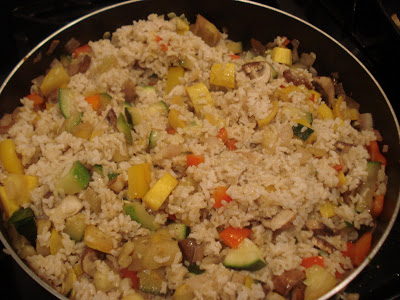 • Sprinkle in your diced mozzarella cheese. Conveniently enough, one of my favorite markets (Russo's in Watertown, MA) carries perfectly diced mozzarella!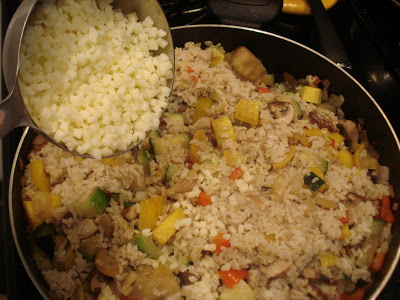 Once everything is mixed together nicely and the cheese has melted, you're ready to serve!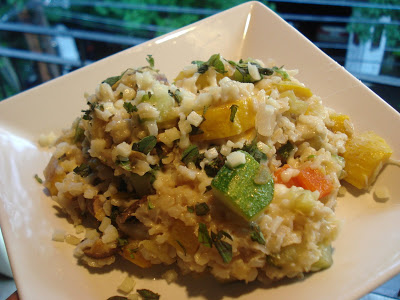 This dish was so full of flavors, especially the pine/citrus notes from the marjoram! I'd never cooked with this herb before so I was excited to use it. However, I think if I were to make it again, I would love to use a real grill for the veggies because there are few things better than that grilled flavor!
[Chels]