I think I just had the best dinner ever. For real. It was amazing. Remember when I bought chicken breast for my pasta the other day and then forgot to use it? Well, I figured I'd use it tonight, but needed to get a fab recipe as I find chicken breast quite boring if not done really well.
Well, I found an awesome recipe, and it actually came from Cooking Light. The recipe was for Gruyère , Arugula, and Prosciutto-Stuffed Chicken Breasts with Caramelized Shallot Sauce. But I substituted the arugula for spinach. And...Yum. I know I keep saying, "Oh my God, this is SO easy," with everything I make...and you're probably saying, "yeah, sure." But his really was easy. And I think that, like everything in life, you get better at cooking the more you do it. With each meal I make, I get faster and more confident, even when doing something completely new. So cook a lot! And you'll see how easy it becomes.
This recipe called for 6 chicken breast halves, but I only made 2, which meant cutting down on everything else in the recipe. I put the chicken between saran wrap and used my meat mallet to pound the chicken until it was flat.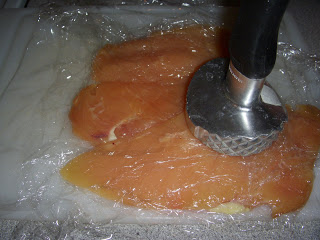 Then I simply topped each chicken breast with a piece of prosciutto, slice of Gruyère, and some spinach; and sprinkled with salt and pepper. I folded each chicken breast in half, wrapped them in saran, and put them in the fridge. You don't have to let them sit in the fridge before cooking them, but I think it makes them a bit easier to cook later.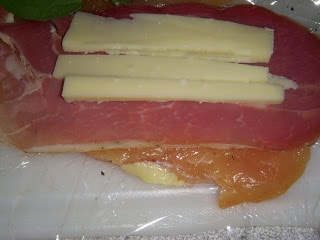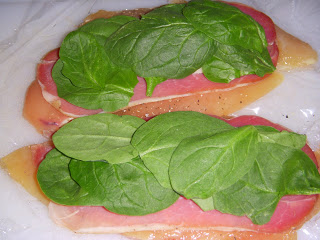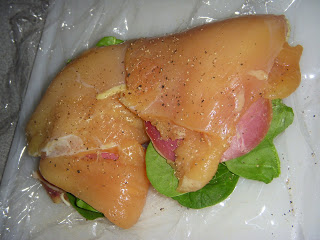 Now you can start on the shallot sauce. I made less than the recipe called for because I had less chicken. I chopped a couple of shallots up and sauteed them in a pan with some oil until they browned. Then I stirred in some tomato paste. I added about a cup of white wine and let it boil and reduce to about ½ cup. Then I added a little over a cup of chicken broth and let it boil and reduce to about half.
Make a little slurry (I LOVE that word) with cornstarch and water and add it to the sauce, stirring for about a minute. This will thicken the sauce right up!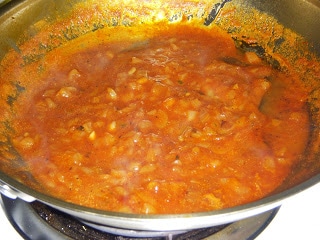 When you're ready to cook the chicken, coat it in some flour and put in a pan with some olive oil. Cook medium-high on each side for about 5 minutes. I may have overstuffed my chicken just a bit, so I just stuck a toothpick in each of them to hold them together.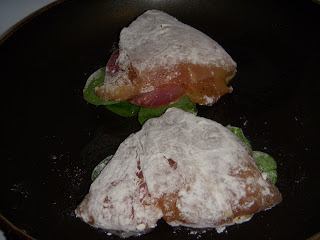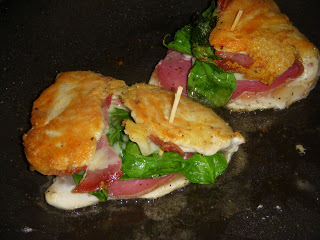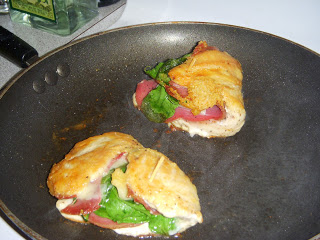 Then put the chicken in a shallow baking dish and bake at 350 for another 5 minutes or until it's fully cooked.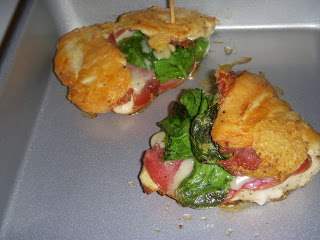 Be sure to spoon some of the shallot sauce over the chicken. I served with a little spinach salad and seriously chowed down. The chicken was so extremely flavorful and juicy. I'm not quite sure how this qualifies as "Cooking Light," but I would make it again in a second.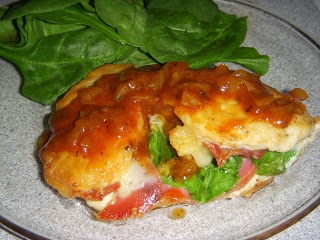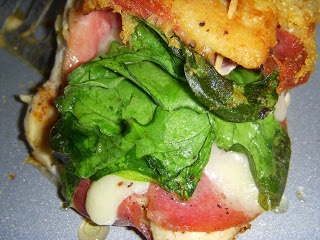 2 Guys Uncorked recommend you try a Sainte-Croix 2006 Syrah-Merlot blend or possibly a Ravenswood Chardonnay 2006 with this lovely chicken. While cooking, I listened To Bon Iver's For Emma, Forever Ago, which was perfectly mellow and calm for being in the kitchen on a rainy Monday evening. And now I'm going to bed to dream of my leftovers. Seriously.