If you're from Boston, you probably know of a guy who calls himself @EatBoston. Yes, he has an @ sign in front of his name. He's a bit of a Twitter sensation. And he knows how to throw a fabulous event. Don't believe us? Remember when we went to the Beer and Bacon Fest? That was ALL him.
When he asked me if WANM had a "killer" guacamole recipe, I said "mayyybe" in an effort to see what he was getting at. He told us about an event he was throwing called Guacaholics Anonymous. And would we like to participate by making our own guacamole? We obviously said yes without hesitation.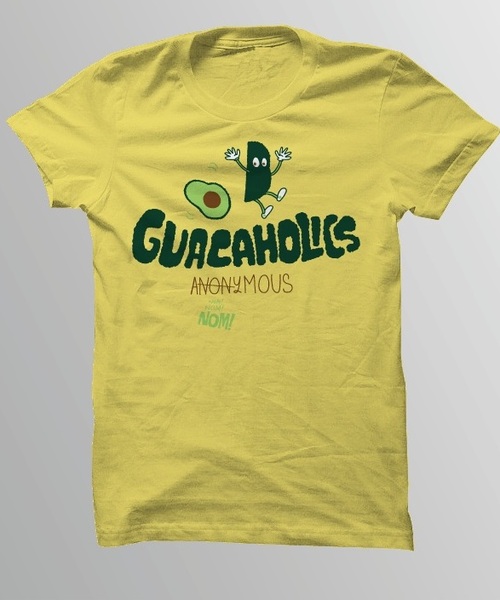 And then we started freaking out a bit. After all, it was guacamole for 100 people! 100! But after learning a serving was simply a chip-full, we calmed down a bit. The event consisted of Boston restaurants (like our favorite Poe's Kitchen at the Rattlesnake!) and some local "amateurs" making their own guacamole. Oh, and a whole lot of people eating it. All of the money raised (tickets were only $10) went to Lovin' Spoonfuls, Share our Strength, and Community Servings; 3 fabulous organizations.
So, what did Chels and I make? Come on, you know us. We made a bacon guacamole! It was a pretty traditional guac consisting of avocados (obviously), chopped tomato, finely diced red onion, lime, salt and pepper, and red chili flakes. Then we chopped up some bacon and stirred it in.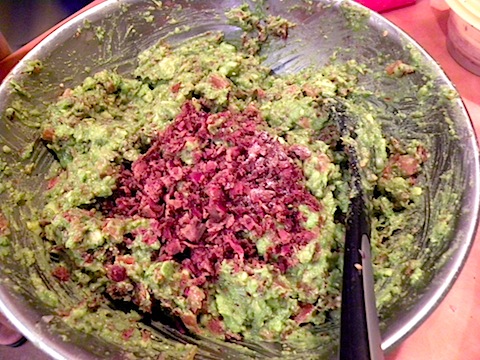 Neither of us have ever had bacon in our guacamole before, but we knew it HAD to be good. We also decided to leave our guac pretty chunky since neither of us really love super pureed guacamole. We tested it before tonight's event and decided it was a definite go.
We got a really awesome response to our guacamole and lots of people even told us it was the best they had. Yay! Of course, we really have to thank bacon. Because bacon can do no wrong (unless you're a vegetarian, of course). But this was definitely a guacamole we'll be making for events in the future!
The turn-out for the event was great and the Fenway Cantina was the perfect space to hold it.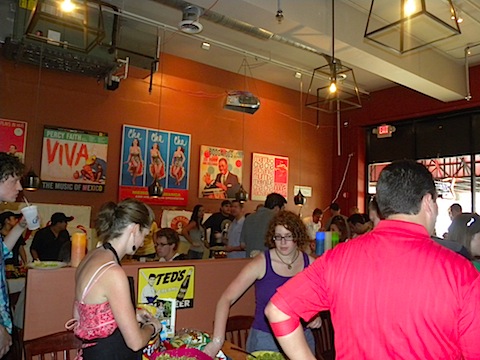 We wore our aprons, of course 🙂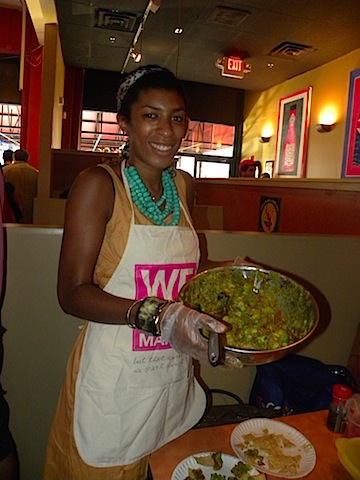 Another decision we made was to prep all our fixings at home and then make the actual guacamole when we arrived; right before the event started. We wanted it to be as fresh as possible! And we kind of felt like we were preparing a dish on TopChef while we were doing it!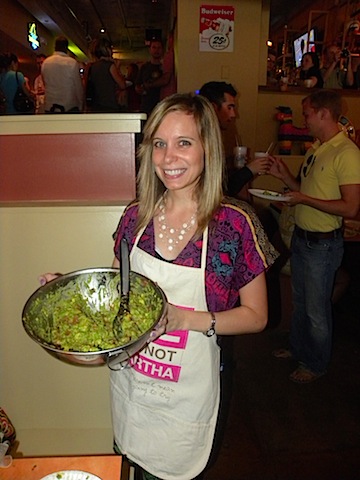 A HUGE thank you to Aaron of @EatBoston for asking us to participate in Guacaholics Anonymous and for throwing another amazing event.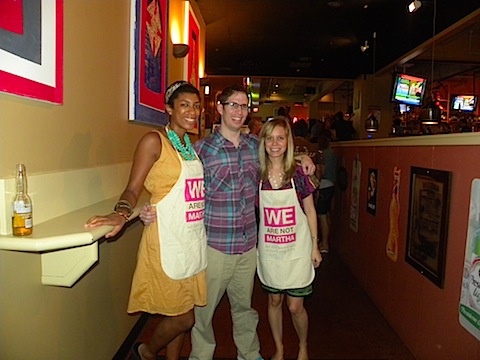 He also informed us that he has lots of fun food event planned for the future, so definitely stay tuned 😉
I don't know why that made us so sad… Also, I was sure I looked super sad in this photo; but I really just look weird.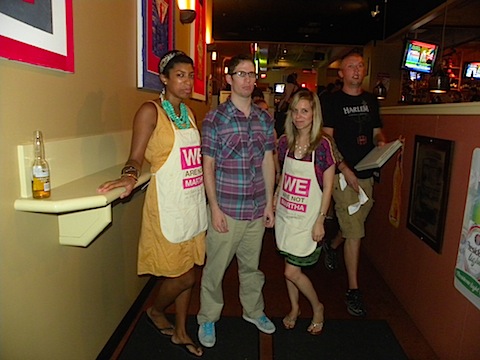 Oh, you're probably wondering about the feta, right? While we seriously considered adding feta to our guacamole (it's kinda close to cotija, right?!), we decided not to. Though I have a feeling it could have been awesome.
But for lunch I made a tuna salad with feta. I actually made the tuna with simply Greek yogurt and Athenos feta cheese. No mayo! And really, you couldn't even tell there was no mayo.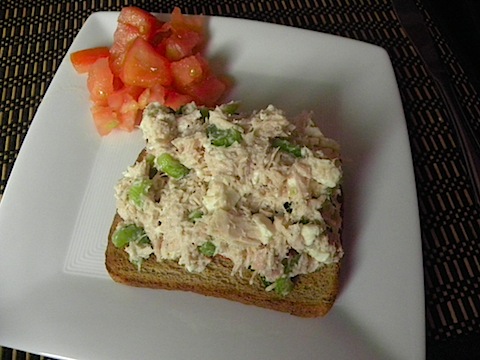 I toasted some bread and made an open-faced sandwich with it, putting the tuna on top of some tomato. Greek yogurt and feta may be my two new tuna salad go-to ingredients! And of course, I put celery in the salad too, for a little crunch.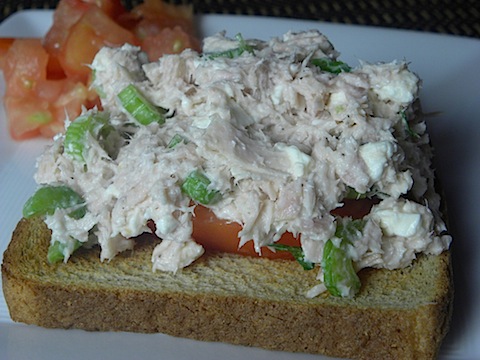 Oh, and for anyone who met me at Guacaholics Anonymous and thought, "wow, that's not what I pictured her to sound like," I swear I usually don't sound like an 80-year-old smoker (or Lindsay Lohan as Chris so kindly told me later this evening). I came down with an awful cold (obviously on the week I'm moving!) and woke up this morning with no voice. I rested it all day and managed to have it working albeit in a super raspy way for tonight's event.
I definitely talked too much (and too loudly) all evening long, so I need to finish my hot tea and head to bed. Here's to hoping I'm all better by Friday!
Don't forget, you can still enter our giveaway for a Gap jeans gift certificate (up to a $69.50) value through Friday! I could use any last minute moving tips you have up your sleeves 🙂
Do you have a favorite guacamole add-in?
[Sues]