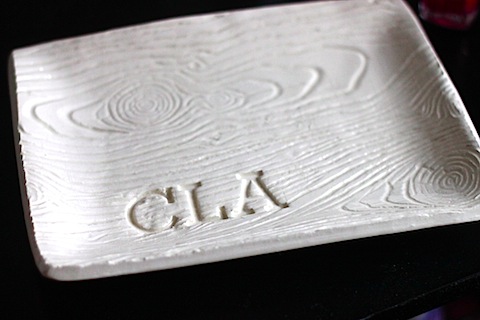 I've been meaning to write this post for a while. But let's be honest, I've been meaning to write a lot of posts for a while now! 2012 just hasn't been my year for blogging as I've had a million other obligations and freelance design work to tackle on top of my regular jobs.
I'm getting off topic. If you've been reading We are not Martha for a while, you might remember that last spring I wrote a post on buying non-registry items for wedding and bridal shower gifts. I mentioned a bunch of unique but tasteful gift options that a newly married couple might enjoy. To be honest, I just scoured the internet looking for very pretty, fun, and cozy things that I'd like to own one day 😉
It's no secret that you can almost always find nice gifts at a bigger chain store but as an artist myself, I always like to support other artists too, especially when I have the platform (the blog!) to do so. That being said, I remember when I wrote the post last year I went straight to Etsy to find some talented artists. Not thinking a whole lot about it, I recommended a couple of simply stunning handmade ceramic plates and platters from an Etsy shop called In Her Words, owned by Sarah Kupcho.
Fast forward many months later. I received an email earlier this year from Sarah saying how thankful she was for my post and how much it's helped her shop grow and bring her traffic! Just by me simply linking to her shop and mentioning her on We are not Martha! As a thank you, Sarah offered to make me a dish, which obviously I agreed to because I ain't no dummy and I was thrilled to finally own one of her pieces! She asked what I wanted written on my catch-all plate and since I'm a sucker for anything initialed or monogrammed, I gave her my initials, CLA, and told her to have at it!
A few weeks later, a package arrived in the mail. By that time I had pushed this little gift to the back of my mind, so you can imagine how excited I was when I opened the perfectly packed box to see that it was the woodgrain plate Sarah had made just for me. I couldn't stop smiling!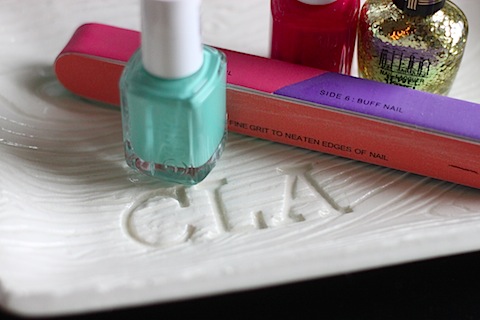 The catch-all dish is just the perfect size. I often have nail polish, extra bobby pins, or hair elastics on it and it's a great way to keep everything in one place instead of scattered all around.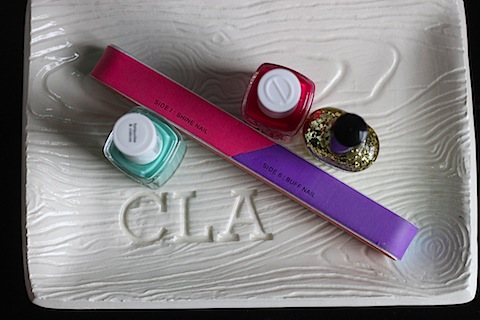 Some of my other favorites from Sarah's shop: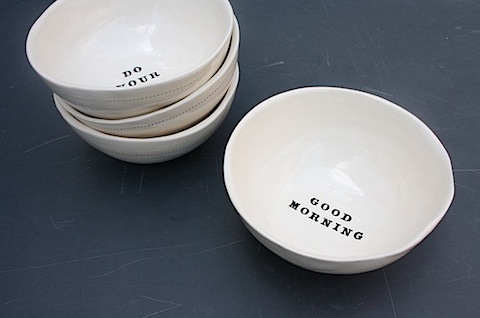 There's no excuse to drag in the morning when you have simple motivational words looking up at you from your cereal bowl! Can't you see these in Anthro?!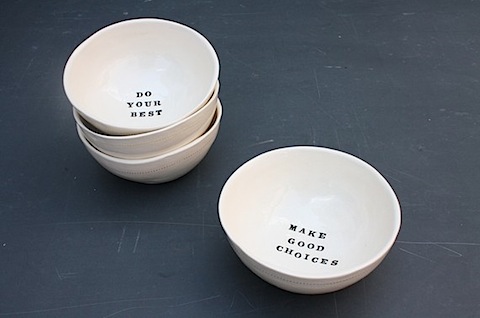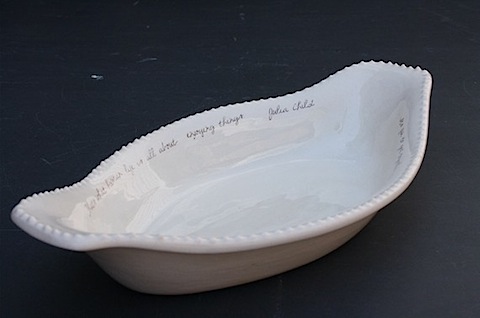 This baking dish is stunning. In Sarah's description on Etsy she mentions using it for artichoke dip. CAN YOU EVEN IMAGINE HOW WONDERFUL THAT WOULD BE?! Can't contain my excitement. Oh, and if you're wondering what it reads on the inside of the dish:
"It's fun to get together and have something good to eat at least once a day. That's what human life is all about – enjoying things" -Julia Child
Hello. Your dinner guests would go wild over this.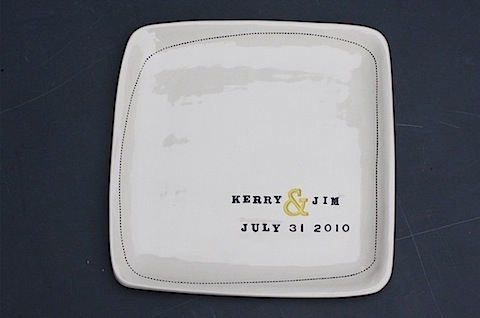 Adore. I actually feel like this would be wonderful just hung up on a wall. Or to serve an appetizer on. Whichever.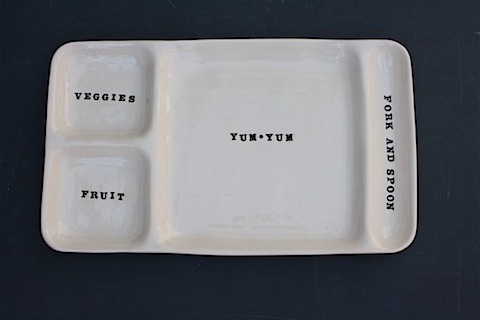 Confession: this makes me want to have 12 babies immediately so I can line them up at the dinner table and feed them using this tray. So fun, right?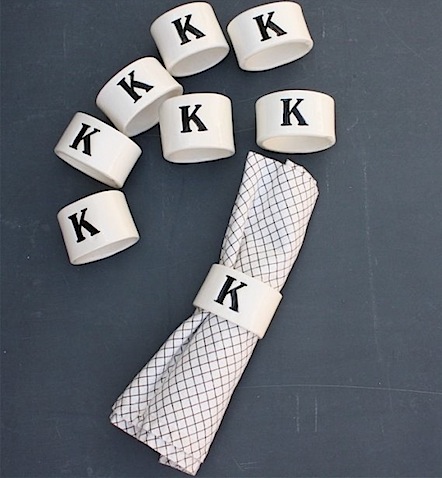 I've actually never met a single person who didn't love a monogramed item. And if they say they don't, I can generally talk them into digging it. These napkin rings are all I'm focusing on in life these days. And they would make a terrific gift as well as a great conversation starter at the dinner table.
"Ohhh, la la, I love those napkin rings! Where did you get them?! They must have been so expensive!"
"Oooh, you know, just from Sarah Kupcho on Etsy!!! Just $50 for 8 handmade napkin rings, no biggie."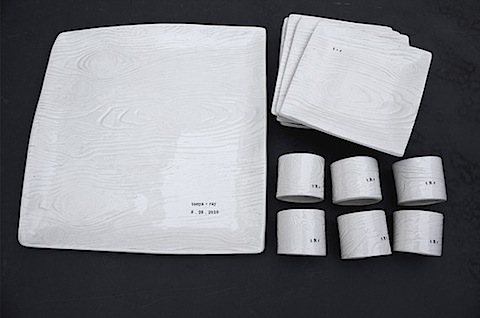 Let's get real for a second. I'm not even having a wedding and I want this. It could also be titled Wood Grain Birthday set as my bday is coming up at the end of this month 😉 It comes with one large platter, six napkin rings, and six appetizer plates. And for a completely custom and personalized gift, it's $125, which I think is a great deal!
So, I thought long and hard about where I should display the plate Sarah made for me and I decided to place it on my nightstand. It's one of the last things I see before I go to bed and one of the first things I see when I wake up (sounds like the start of a great relationship!). I use it as inspiration and motivation from one artist to another. I absolutely love when artists support each other and being in that position many times myself, I know that there's no greater feeling than knowing that someone is madly in love with the work you do and tells all of their friends about you.
Sarah is a mother of two and an art teacher. She never studied ceramics but when she and her husband realized they were spending so much money on wedding gifts for people, she started making her own. One wedding platter at a time, Sarah is making her dreams come true and I'm absolutely honored that my one little blog post has contributed to her success. I absolutely love Sarah's story and I adore her work.
Also, please know that if you're inviting me to your wedding any time soon, expect that you'll be receiving something from In Her Words as a gift 😉
What artists or Etsy shops are you completely in love with? Share in the comments… let's support them all!
[Chels]