Wow, do I love my gym Healthworks! Not only did they get voted 2010's best women only club in the country by Fitness Magazine but they know how to treat the bloggers 😉
Here's the thing about Healthworks. I'm not really a gym kinda gal but a few years ago I decided to suck it up and go on the hunt for my perfect gym. I was working downtown Boston and knew that Healthworks was around the corner from the office. I went in, went on a tour, fell in love and signed up immediately. So much for the "hunt". The gym was gorgeous and didn't smell like a typical gym (or boys, hehe) which is pretty much what sold it. The staff was all friendly, the club was so clean, and the locker rooms had flowers and spelled like a spa. Oh, and they had state of the art equipment and all that important stuff too 😉 So that's my Healthworks story… I love the gym and what they stand for. It's a judgement free zone and a place where women of all shapes and sizes are encouraged to be their best and be STRONG.
Last night Healthworks hosted one of my favorite blogger meet-ups! We all gathered at the Healthworks location in Back Bay for some light snacks (popchips, my favorite!), mocktails, and a spin class! I'd never taken spin before because it sort of intimidated me! I'd always walk by the dark rooms with music blasting and these ladies just cranking on the bikes! So when Judith, of Healthworks, told me they were thinking of doing spin for the blogger event I thought it was a great idea… It's always nice to try something for the first time with a group of people you know and can have fun with! 🙂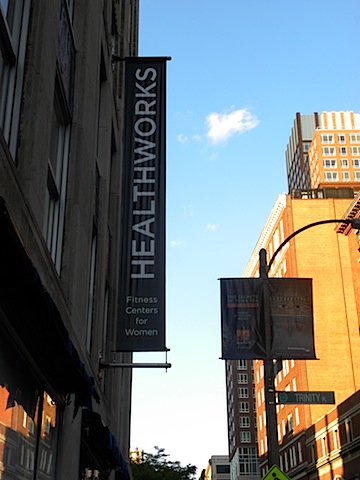 There was a table set up with RIPE, my newest obsession…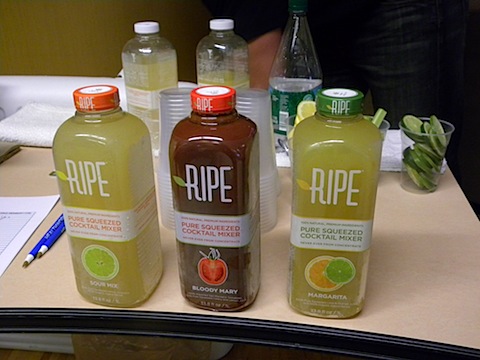 … and popchips. An obsession that will last a lifetime.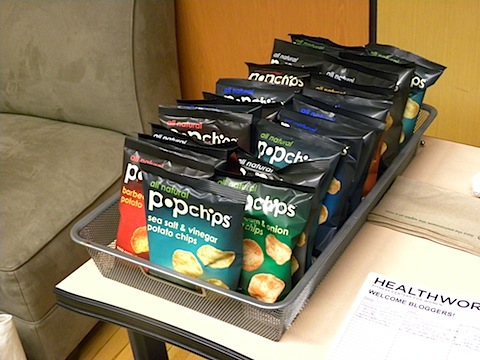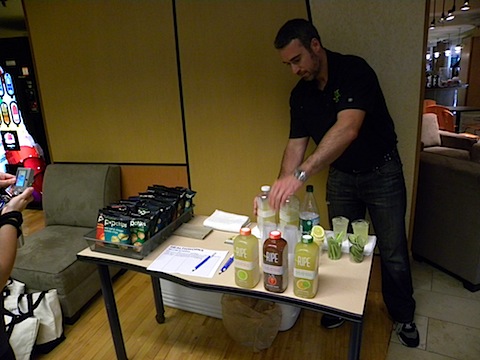 We all headed to the locker rooms to get ready and put our stuff away before the spin class started. I'm so glad Alicia and Julie were there! Love when blogger friends turn into real friends! 🙂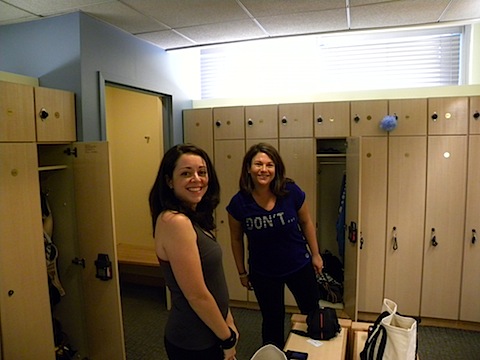 Alicia and I starred and watched Julie fiddle with her key-card for a while before deciding to help her 😉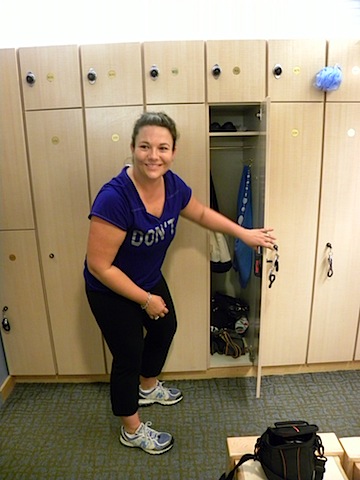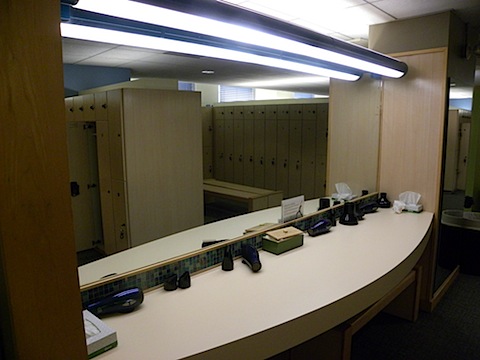 The Back Bay location is 2 levels of cardio goodness…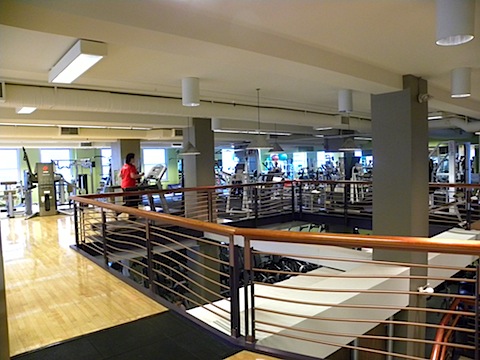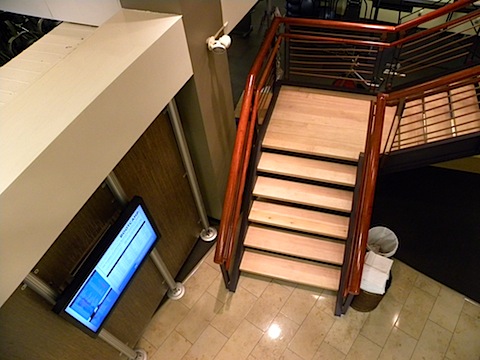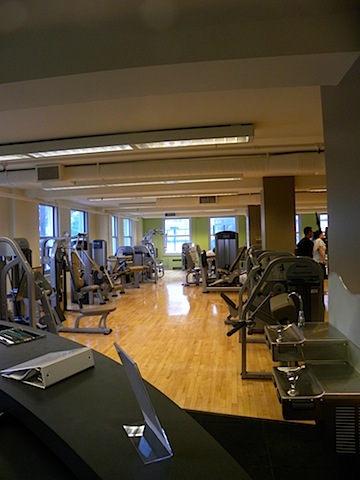 We all met in the lobby before heading into the spin studio…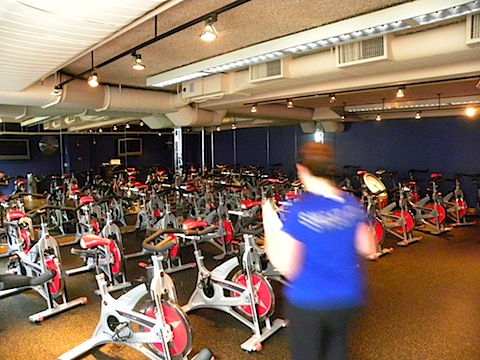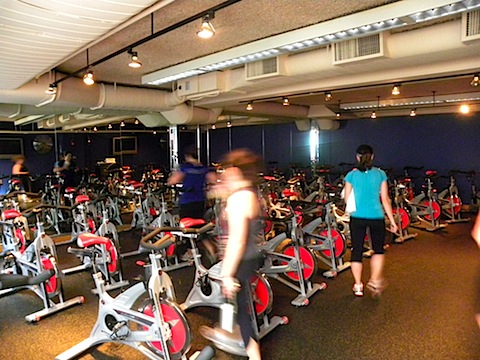 "Before" shot of all of us nice and clean. We refused to take an "after" photo of all of us dripping sweat. Not internet appropriate 😉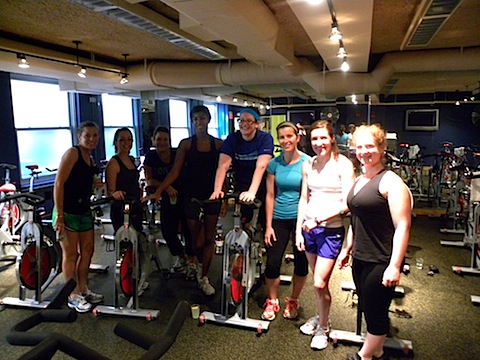 Post workout coconut water thanks to Vita Coco!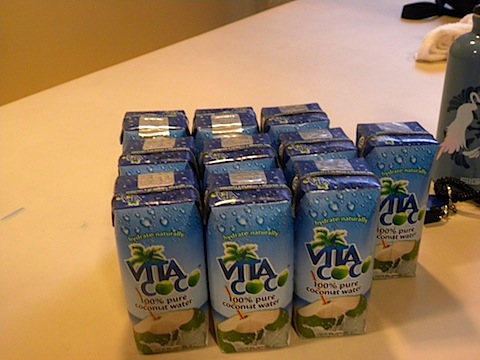 Healthworks also has a full cafe featuring some healthy wraps, sandwiches, and salads!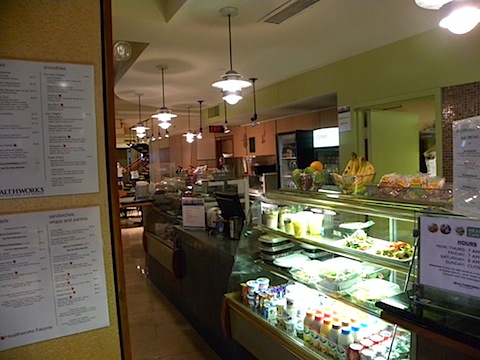 And also a work station with some macs set up! 🙂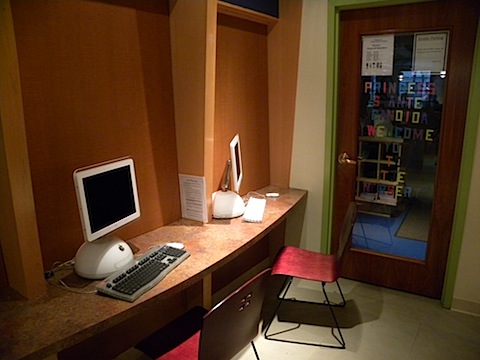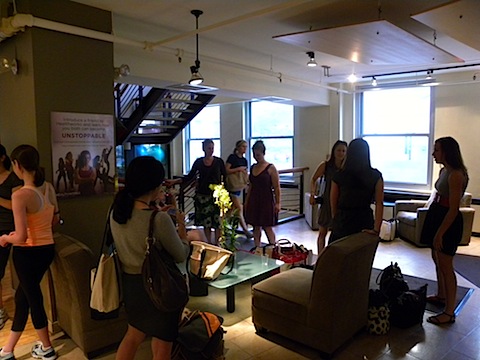 After the workout we all hit the showers to get ready for a night on the town at one of my favorite places to hang out, Alibi at the Liberty Hotel. I realized last night that I've actually been to Alibi three times in the past three weeks. Awesome. Quick side story about The Liberty Hotel… it used to be a historical prison and when they remodeled it the architecture and design teams kept a lot of the original parts of the prison in tact… which is why you see all the bars and other prison paraphernalia floating around! And they played on the prison idea by hanging celebrity mug shots all around Alibi, too! It's fun!
Some more of the ladies who weren't able to make it to the spin class met us out at the hotel so it was nice to see lots of familiar faces! I think there was close to 20 of us total!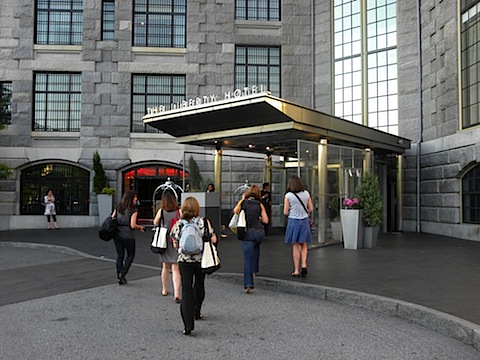 This portion of the evening was sponsored by Double Cross Vodka and RIPE. They mixed their deliciousness to create three refreshing adult beverages for us ladies to try! A Strawberry Collins (which had basil, yum!), a Bloody Mary, and a muddled raspberry drink. Check out Double Cross Vodkas site for some interesting and creative cocktails!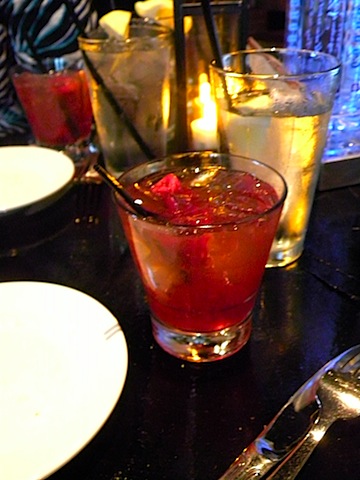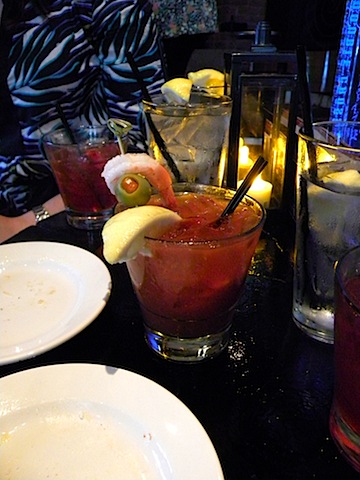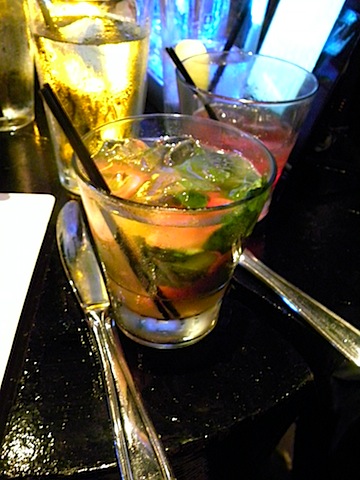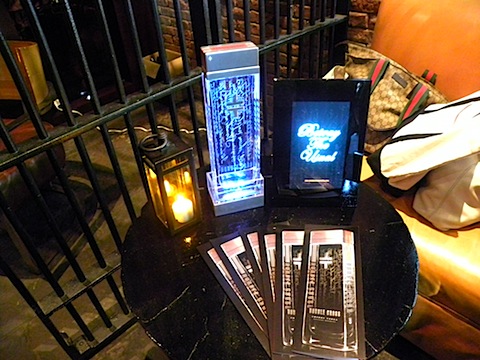 Alicia's in the clink! 😛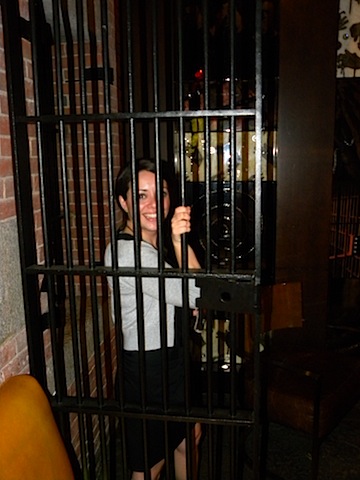 And hello Bill Gates mug-shot!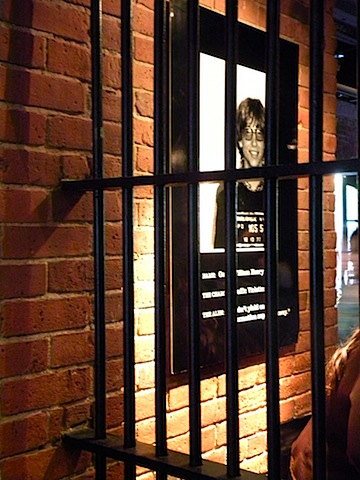 The men from both RIPE and Double Cross spoke to us about the drinks they created for us, too!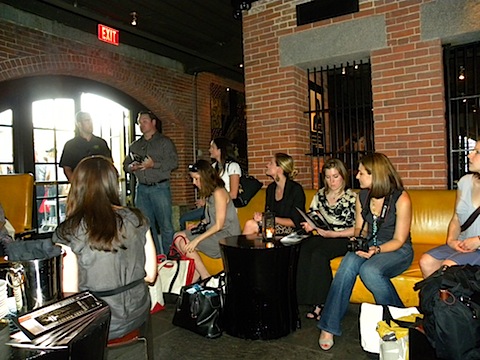 And then there was food! Mozzarella, tomato and basil pizza…
Caprese Salad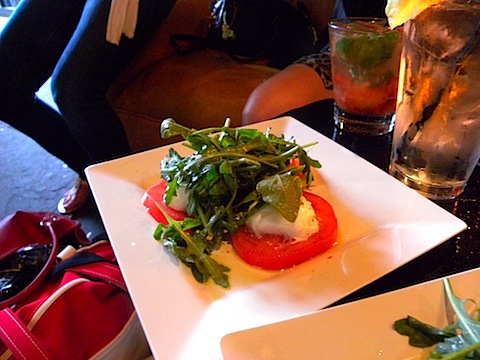 Artichoke, prosciutto, and pear pizza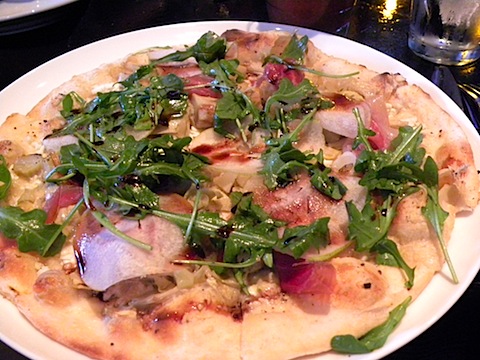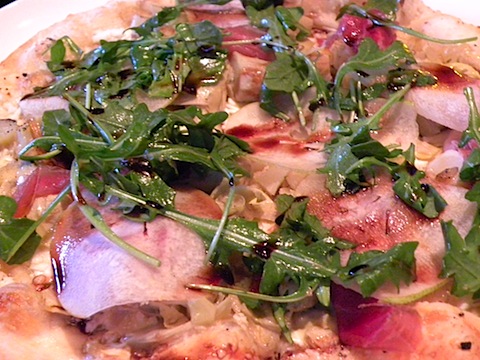 And tuna tartare. Check out all the drinks in the background HA! Thank goodness for cabs and public transportation, sheesh.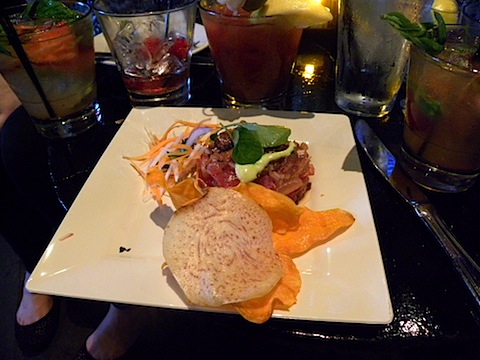 Kind of think whatever I burned off in that spin class I quickly gained back by eating and drinking so much… and it was worth every last bite and sip!
Since Sues is away I invited Kate to join in on the fun 🙂 "Susie the Second" is what she is called in these situations 😉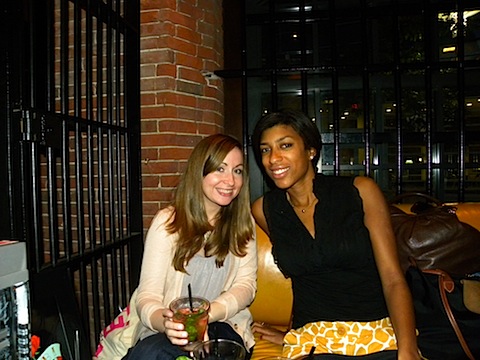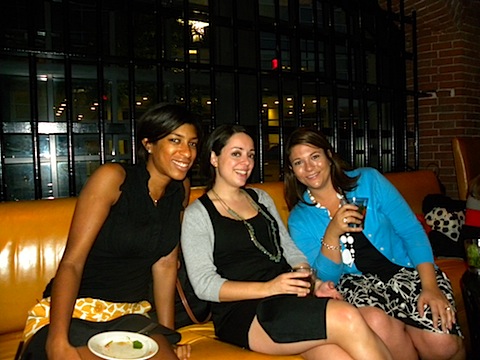 With the lovely ladies of Healthworks Hannah and Judith. They're so much fun 🙂 And I'm gonna assume Judith was the one making me laugh which required us to try the photo again 😉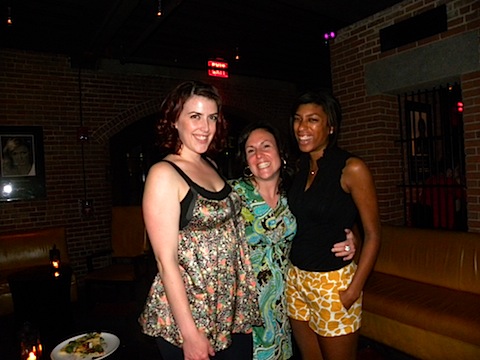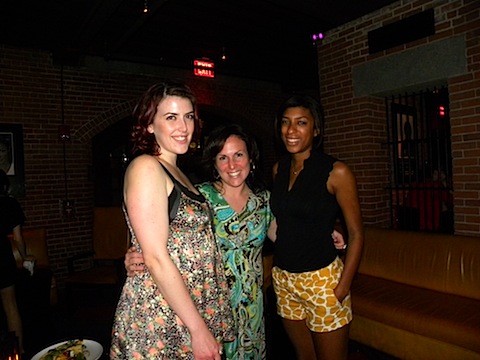 At the end of the night I dug through my completely awesome Siggis swag bag! In it I found a gift card to Healthworks for a 50 minute massage (YES!), popchips, a City Sports Boston t-shirt (I have a huge crush on City Sports!), Mad Hectic Oatmeal, a NUX sports bra, Siggis coupons, gift certificate valued at $65 for a spray tan at SkinHealth Centers (will be re-gifting this one, hehe), complimentary hair makeover from Rocks, Paper, Scissors Salon, along with some other fun stuff!
If any of you are interested in giving Healthworks a trial run they're offering We are not Martha readers a special 3-Day Pass! Just click here and fill out your information to receive your pass! They have locations in Chesntnut Hill, Brookline, Boston, Cambridge, and Salem MA. Have fun!
Thanks so much to Judith, Hannah, and everyone else at Healthworks, RIPE, Double Cross Vodka and Alibi for putting on such a terrific event for some very grateful bloggers!
Happy Friday!
[Chels]