I'll admit I'm a total sucker for Valentine's Day. Not in a "let's go on a date and shower each other in flowers and chocolate" kind of way. But more of a "ooh pink!" "oooh hearts!" "ooh candy!" kind of way. I get total joy out of going to Target at this time of year and seeing all the pretty pink and red heart stuff. Plus, I've always believed (whether I've been in a relationship or not), any excuse to love your life and the people in it is a good thing. Valentine's Day just makes me happy. You can tell me to shut up now. I'm sorry.
Anyway, I can't believe I didn't already own heart-shaped cookie cutters until about a week ago. Travesty! I purchased a set and have been going crazy with them since. And, of course, they can be used for more than just Valentine's Day. Hearts are cool year-round, right? But first, I really loved the idea of these chocolate strawberry ice cream sandwiches, so I did a little variation on them.
Chocolate Heart Cookie Sandwiches with Ice Cream (makes about 16 sandwiches):
• 2 3/4 C all-purpose flour
• 1/2 C cocoa powder
• 2 1/2 t baking powder
• 1/4 t salt
• 12 T (1.5 sticks) unsalted butter, room temperature
• 1 1/2 t pure vanilla extract
• 1 1/2 C sugar
• 2 large eggs
• 1 T whole milk
• 1 pint ice cream or frozen yogurt (I used Ben and Jerry's Cherry Garcia Fro-Yo)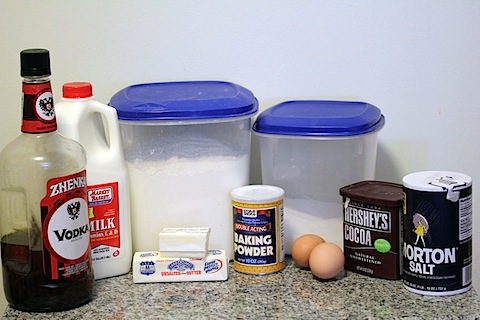 In a medium bowl, sift together the flour, cocoa powder, baking powder, and salt. And set the bowl aside.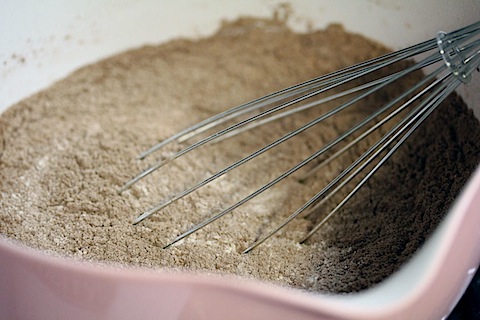 Now, get out your electric mixer/hand mixer/whatever and use the paddle attachment to cream together the butter, vanilla, and sugar.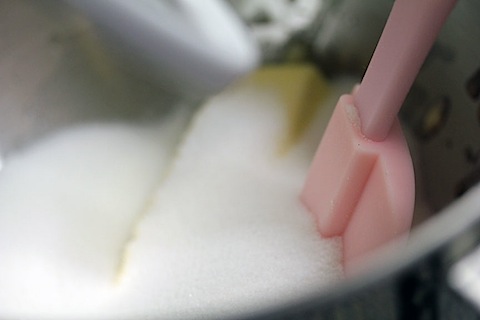 Then add the eggs and milk and mix until combined.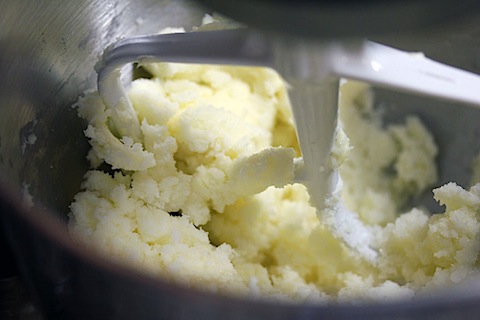 And slowly add in the flour mixture, mixing on low speed until fully incorporated.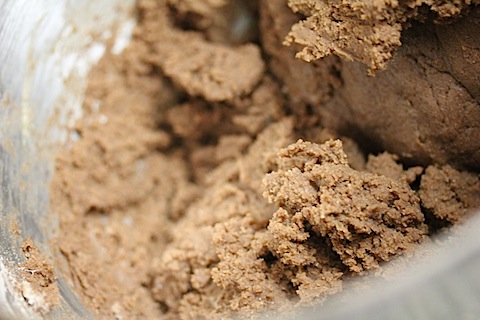 Divide the dough in half and shape each into a flat disk. Wrap in plastic wrap and chill for about an hour, until firm.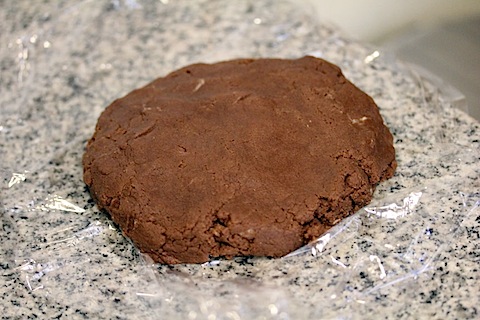 Once an hour has passed, roll it out into 1/8 thickness on a floured surface. My dough was a bit tough to roll out, cracking here and there. But I just kept pushing it back together (maybe I over-mixed?).
Now use a heart-shaped cookie cutter to cut the dough. You can really use any size (or any shape if you don't like hearts!) as long as you make sure there's a same-sized top and bottom for each sandwich.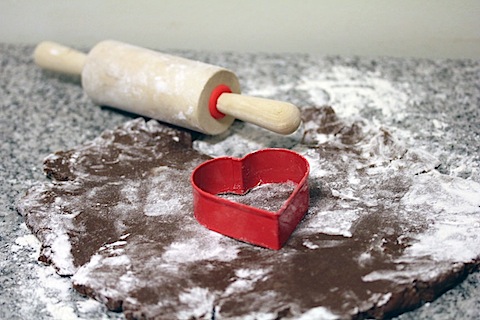 Keep going until you get through all the dough. When I had cut as many hearts as I could, I took my remaining dough and rolled it back out to get more.
I only ended up using one of my dough disks and kept the other in the freezer for a later date. I got about 16 hearts from one disk.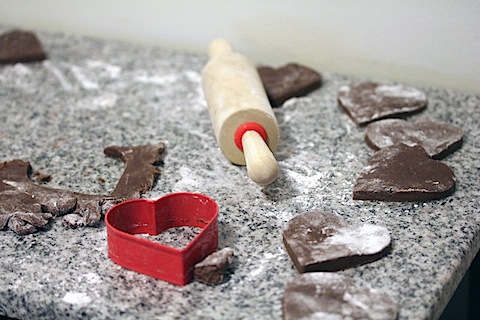 Now, place the hearts on a parchment-lined cookie sheet and chill for another 30 minutes. I hate chilling things; it's booo-ring. But I know it's important.
When you take the cookie dough out of the refrigerator, use a fork to prick holes all over the hearts.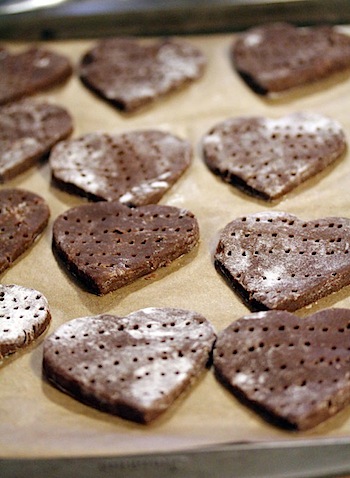 I could have been a little neater on mine… That's what the next disk of dough is for!
Now, bake the cookies until firm, about 12-15 minutes at 350 degrees. Let them cool on the pan for a bit before cooling all the way on a metal rack.
Once cooled, you're ready to sandwich in some ice cream! I used frozen yogurt in an effort to make a delightful treat a little less sinful. I know, what's the point? But I actually do love Ben and Jerry's frozen yogurt and can barely taste a difference. I wanted something pink-y, but couldn't find strawberry frozen yogurt at my grocery store!
You know me, I would usually make my own ice cream. But time was of the essence. And ice cream, while easy, takes tons of time in the freezer.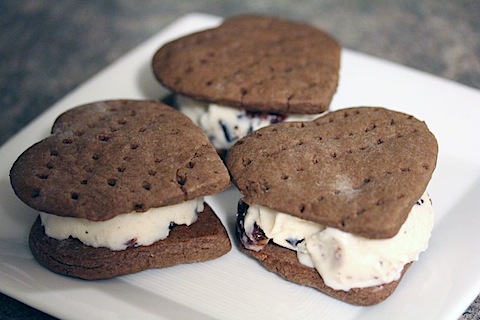 Anyway, the Cherry Garcia was delicious! Any kind of ice cream/frozen yogurt would be good sandwiched in between these cookies, though. Then again, the cookies would be fabulous plain, with no ice cream at all. But still, you should add it.
Especially if you love ice cream sandwiches. Shaped like hearts.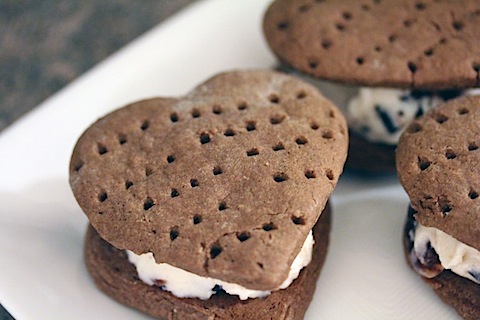 Make these for someone you love this Valentine's Day. Or make them for yourself. Because you love yourself, right? And you totally deserve it.
The ice cream melts quickly, so you're probably better off eating these at home alone anyway.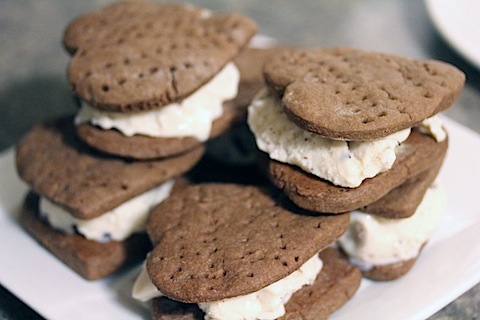 Of course, if you absolutely hate Valentine's Day, you don't have to use a heart cookie cutter. Perhaps you could find a skull and crossbones cookie cutter? Or maybe you could use the heart, but break the cookie down the middle. Just whatever you do, make cookies and put ice cream in the middle. And you'll have a very happy Valentine's Day 🙂
Do you love or hate Valentine's Day?
And yes, I know it's totally over-commercialized, but I guess sometimes I'm a sucker for commercialization. And hearts. and pink. And red. And love! OK, I'm really done now.
[Sues]