People often ask me and Chels how we stay in shape. It's pretty clear we love delicious food and tend to chow down quite a bit. And I've been noticing the recipes I've been making lately aren't all exactly what you'd call healthy. Give me a cupcake, and I absolutely cannot turn it down. We're definitely not a healthy living blog. And you certainly don't see everything we eat or everything we do.
While I'm not fanatical (at all) about working out, I do try to get myself to the gym. Some weeks I'm good and others I'm not so hot. My favorite way of making up for lost gym time is walking. I walk pretty much everywhere in Boston and it's normal for me to walk 3 miles rather than jumping on the T. Also, my sister and Adam recently moved to Boston and we've been motivating each other a bit. It's a lot easier to make it to the gym when people are expecting you there!
I'm not at all an athletic person. I played field hockey and track, but it was more for the social opportunities than anything. And I'm even less of an adventurous person. Give me a glass of wine, a cupcake, and a couch, and I'm totally happy. You'll never ever see me camping and I'm too much of a wuss to do anything crazy like white water rafting. But I've always loved hiking and have been thinking about finding some good Boston-area hiking spots for years now.
My sister did some research and we decided to try Mt. Monadnock. I have to admit, when she told me it was only a 4-mile hike, I scoffed a bit. "4 miles! Is it even worth going all the way out there?" We stopped by my parents' house for a nice hearty breakfast and then were on our way to Jaffrey, New Hampshire. It was fun driving through so many Massachusetts and New Hampshire towns that I never get to. But I still thought it was silly to drive over 1.5 hours each way to hike 4 miles.
I had NO idea how wrong I was. The trails were so much tougher than I imagined. We ignored the warnings: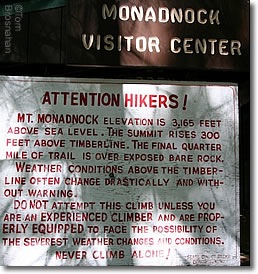 Actually, we didn't see that warning. I just got that image from New England Travel Planner after the fact.
This is the beginning of the trail when everything looked pretty normal.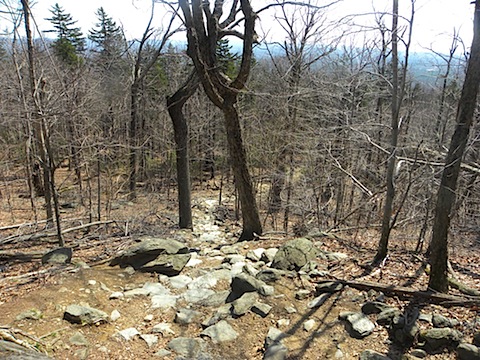 We had only been hiking for about 15 minutes and were still super happy!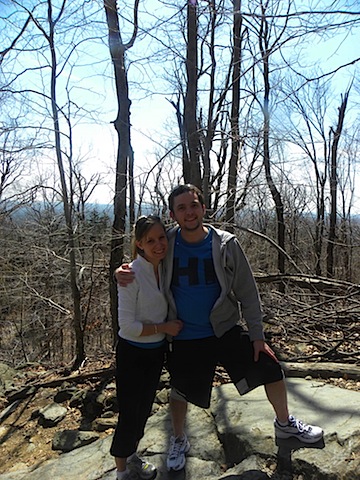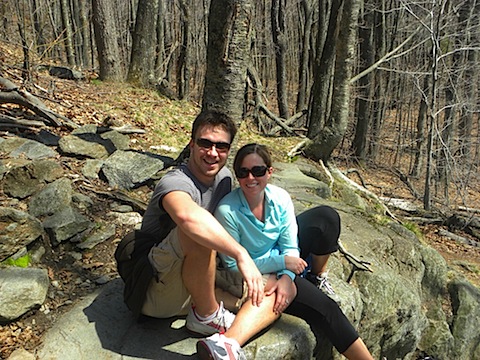 But as we were walking, it got tougher and tougher. In fact, it was more like rock climbing than hiking trails. There were times when I'd just run up a big flat rock, hoping my sneakers would gain enough traction so I wouldn't fall backwards. And off the mountains. We'd often have to stop and try to figure out the best path through the rocks. I was actually out of breath much of the time and we had to stop every so often to catch our breath and regroup.
There were so many times we said, "Yes! I think this is the top!" But it wasn't. Not even close. All those stops made for pretty beautiful photo opportunities, though.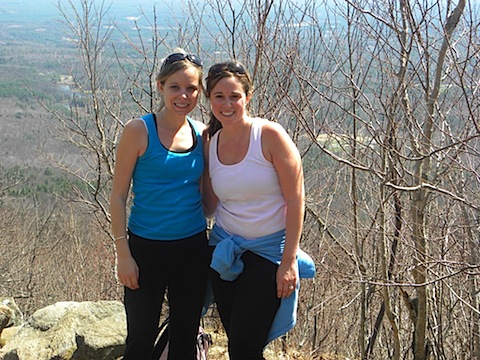 I swear we didn't match on purpose!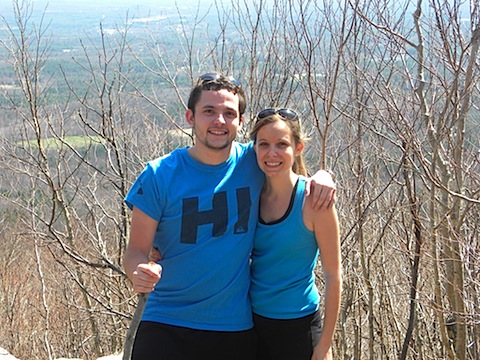 When we FINALLY got to the top of Mt. Monadnock, it was SO windy, we couldn't stay long. We were planning on having lunch up there, but we seriously couldn't even stand without the fear we would blow over. It was kind of scary. We did manage to get a few photos in of the beautiful views.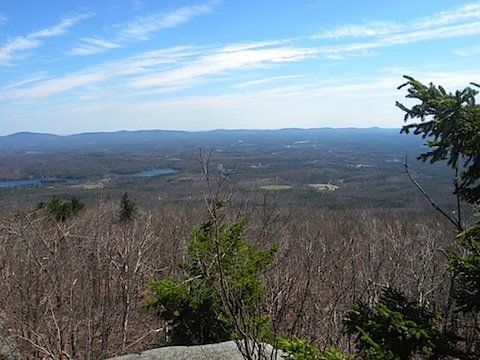 Rumor has it, on a clear day, you can see all the way to Boston.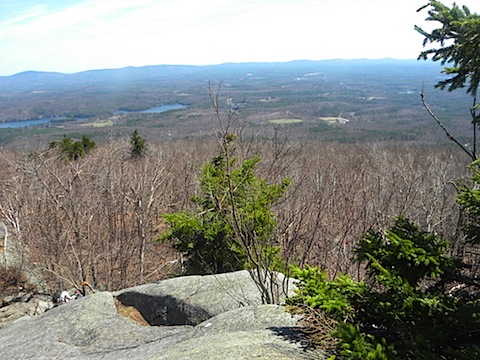 I'm not lying when I tell you we couldn't stand up. We opened the backpack at one point and papers came flying out.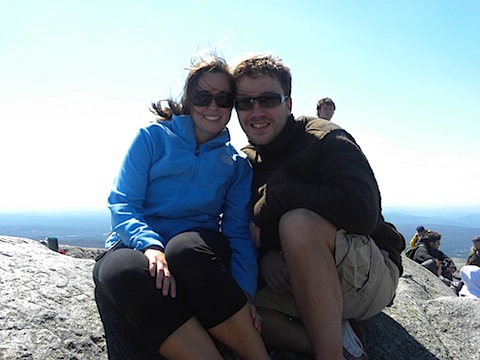 It was funny how many temperature changes there were. One minute I'd be sweating and sooo hot and the next I'd be freezing and desperately needing my sweatshirt.
We decided to walk down a bit and find a non-windy area to have our picnic lunch.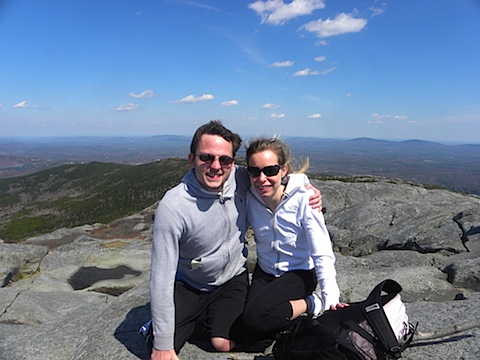 The descent down the mountain was much easier than going up... At first. After a little while, it got really tough on our knees and the steepness of the mountain was kind of scary. We had to maneuver our way down lots of steep, rocky areas and I was constantly worried I was going to fall or twist my ankle. My sister and I joked our necks were more sore than anything because we spent the whole hike looking down.
I wish I took more photos of the actual trail so you could see how rocky it was, but I was concentrating on staying alive most of the time that I couldn't bother with pulling the camera out of the backpack.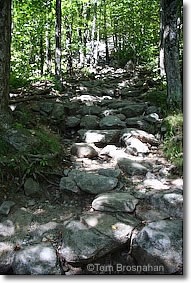 Overall, we hiked for about 4.5 hours, including our stop for lunch. We were incredibly sore and tired when we finally got back, but we were also super proud of ourselves. We kept joking about how easy we thought it was going to be and how wrong we were.
My point is, it's important to find fun ways to stay in shape. We had a blast on our hike, even if we were complaining and grumbling for long periods of time. And when we got to the bottom we felt awesome. We're already talking about the next time we attempt Mt. Monadnock... Probably when we're in better shape.
We were so proud of ourselves that when we got back to Boston we went to Sunset Grill and Tap and had nachos and beer. What? We deserved it! And when I got home, I sat on the couch and fell asleep with my jacket still on. I got a glorious night's sleep on Sunday night and when I woke up on Monday, I wasn't half as sore as I thought I'd be.
What's your favorite fun way to stay in shape?
And if you're in the New England area, let me know if you have any favorite hiking spots-- I think we're in the market for a new one!
[Sues]