The internet really is a remarkable thing. A few weeks ago, I found The Hip Hostess on Twitter and started following the dynamic mother-daughter team. The name of their company and their brief twitter bio (Owner/Designer The Hip Hostess, a hip collection of seriously stylish aprons) drew me in. I immediatley went to their Web site to find out more information about them, which is where I fell in love with them even more.
The duo started when daughter Andrea, a new bride, was looking for that perfect apron to wear as a newlywed hostess. Let's be honest, some aprons can be rather frump-a-licious. Luckily, for the fashionable Andrea, her mother Debbie, is the "queen of creativity" and was able to make her a few "trendy numbers". Once people saw the aprons Andrea had, they naturally asked where they were from and wanted their own. Soon, requests started pouring in and with Andrea's enthusiasm and support, so began The Hip Hostess.
From their Web site: "Now we find ourselves on a mission: combine simple, contemporary style with fabulous fabrics to create a "couture in the kitchen" look that today's modern woman will want and actually wear. After lots of researching, designing, and brainstorming… not to mention wishing & hoping and planning & dreaming VOILA! We think we've got it and hope you'll love it!"
And love it, we do! I'm not one to always wear aprons when I'm just at home cooking for myself, but when I'm having company over and attempting to get all of my timing down the conversation in my head (and often times out loud) goes a little something like this: "When should I put this in the oven. When should I wash the dishes, oh, but wait, I still have to shower and do my makeup, and figure out what I'm wearing. But what if guests start showing up!? Should I just run and shower now even though guests are arriving in 2.2 minutes. What if they come while I'm still in the shower?! Well then, that'll just be awkward." This is where a Hip Hostess apron comes into play. Shower, get dressed, do your makeup, take care of your business, toss a pretty apron on, and proceed with whatever it is you have to do around the house. And when your guests arrive, you'll look divine. Hey, you can even skip the shower and toss one of these aprons on as your outfit and you'll still look great 😉
The Hip Hostess offers Sheath Style Aprons, Demi Style Aprons, and Cafe Style Aprons in really fun, bright, and beautiful prints and all are machine washable. Some of my favorites:
Meri Mixers … Is this not perfect? I love the retro feel of it!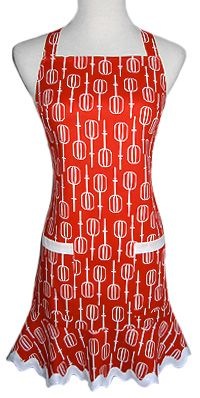 Chery Me!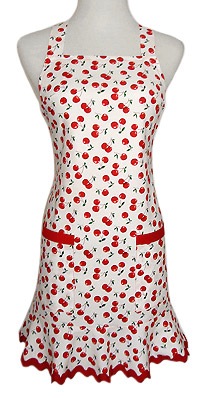 Pink Sorbet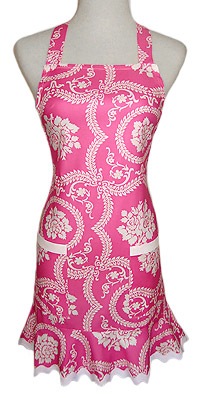 Melon Splash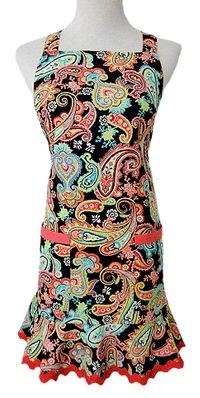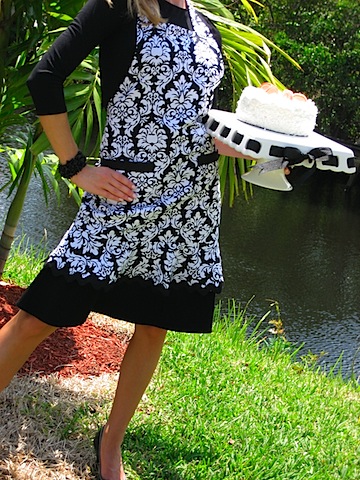 The Hip Hostess also offers a variety of children's aprons aka Sweet Petites! Help! I can't handle all the cuteness!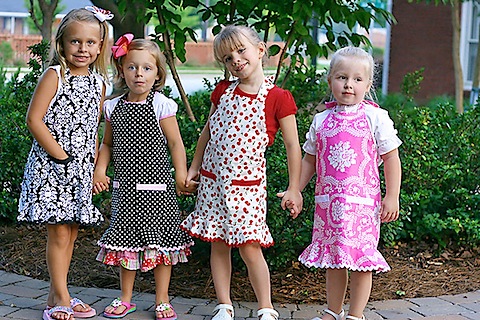 With Mother's Day, which is Sunday, May 9th… you're welcome ;), bridal showers, wedding season, and all the other glorious events that come along with Spring, these aprons make the perfectly original and thoughtful gift. After all, that's what gift-giving is all about.
THE HIP HOSTESS GIVEAWAY:
Leave a comment on this post by Sunday, April 18th, 2010 by 11:59pm EST, telling us, if chosen, which apron you'd love to win (visit their Web site to see the full product line-up). One lucky reader will be chosen at random and announced at the beginning of next week!
But, here's the thing, everyone is a winner in a sense for this giveaway. Andrea and Debbie are so kindly offering a Promo Code to all We are not Martha readers! It expires May 1, 2010 (just in time for Mother's Day!). When checking out on their site, enter NOTMARTHA to receive an additional 20% off your purchase!
Good Luck!
And a big thank you Debbie and Andrea! 🙂
[Chels and Sues]