Valentine's Day 2009 is less than a week away! Whether you love or hate the holiday, you're still going to need to eat, right? Maybe you're looking for something special to make for your honey. Or maybe you're just cooking for yourself (um, who deserves it more?). Or maybe you're celebrating with some friends. Whatever the case, we have the perfect Valentine's meal idea that you can use for breakfast, lunch, dinner, or dessert.
Crepes are one of the most versatile foods in that you can prepare them to be sweet or savory and they can be served for any meal. It's secretly (or not so secretly) my dream to choose a day and eat crepes for all 3 meals plus dessert. Since February 14 falls on a Saturday this year, what better way to wake your Valentine up than for some crepes? Or maybe you'd prefer to serve them as dessert later in the evening. Whatever the case, we have two crepe recipes that will be perfect for any day of the year.
Once you know how to make the basic crepe, you can do absolutely anything with it (well, within reason maybe). After we were done making Alton Brown's basic crepe, we chose one savory recipe and one sweet, but the options really are endless.
The Basic Crepe:
2 large eggs

3/4 C milk

1/2 C water

1 C flour

3 T butter, melted

Butter for coating pan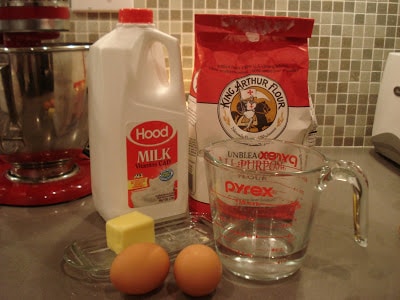 Simply take all the ingredients (except the butter for the pan, of course) and put them in a blender. Pulse the ingredients for 10 seconds and then put them in the refrigerator for at least an hour. If you'd rather make the batter ahead, you can keep it in the fridge for up to 48 hours.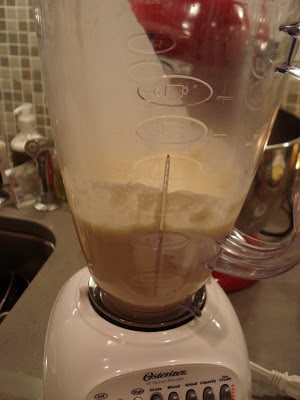 Once your batter is ready, put a little butter in your pan and pour a bit of the batter in. How much you pour totally depends on how big you want the crepes to be. We made a bunch of smaller ones and used about an ounce of batter. Then we made some larger ones and added a bit more. Basically it's like making pancakes, except you want them to be much, much thinner. So once you pour the batter in, swirl it around in the pan to spread it out.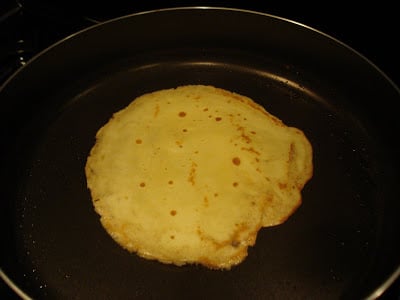 Cook for about 30 seconds on the first side, or until it starts browning a little. Then carefully flip it over and cook for about 10 seconds on the other side.
Don't worry if your first couple are a little rough looking. It might take a few tries before you get the hang of it. Trust me, it took us a bit of practice. But by the end, I decided we should get jobs at Paris Creperie (my favorite little crepe shop in my neighborhood).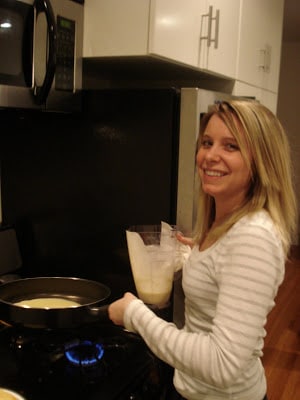 Lay crepes flat when they're done cooking. Make sure if you stack them that they're not sticking together. Now your crepes are done and you can do anything with them!
Egg, Ham, and Gruyere Crepes
First, we decided to make an egg, ham, and gruyere cheese crepe. We found a Martha Stewart recipe that sparked our interest, but we simplified it a lot so you can easily make it when you first wake up and won't end up eating breakfast at noon.
While our crepes were cooling, we made standard scrambled eggs to put in the crepes. You can use any kind of cheese you want, but there's something about gruyere cheese that makes this particular crepe so flavorful and perfect.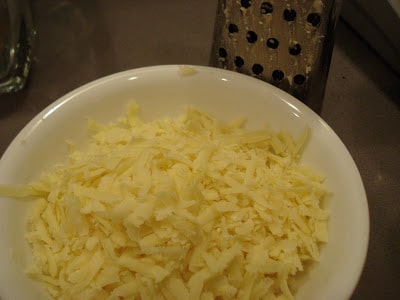 We laid down a couple slices of black forest ham, and put the scrambled eggs and cheese on top.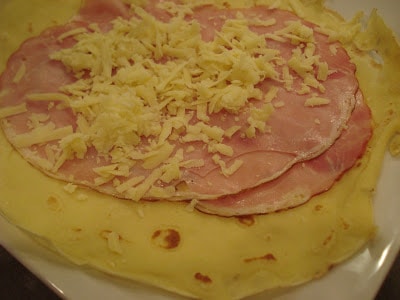 Chels added some parsley flakes too, though we wished we had fresh parsley.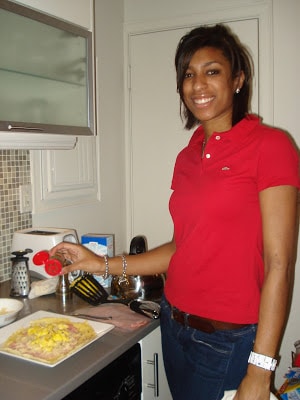 Roll the filled crepes up, put them in a buttered baking dish, and put them in a 400 degree oven for about 5-7 minutes.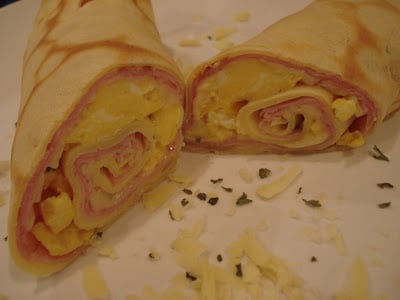 The finished crepes were really, really delicious and would make an extremely hearty breakfast. Though we would gladly eat them for dinner as well. And you can easily do any variation on this crepe. Make them a bit more nutritious by throwing in some spinach. Make a bit less nutritious by tossing in some bacon. Or at least have some on the side. Why didn't we think of that??
Berries and Cream Crepes
The second crepe we made, the sweet one, could also be served for breakfast (or lunch or dinner), but would also make a fantastic dessert. We followed a Sara Moulton recipe and were really pleased with how they came out.
2 C fresh mixed berries

2 T sugar

1/2 lemon

1/2 C sour cream

4 crepes

Berry coulis (recipe below)
Berry Coulis:
2 C frozen berries

2 T sugar

2 t lemon juice

2 T rum, brandy, or chambord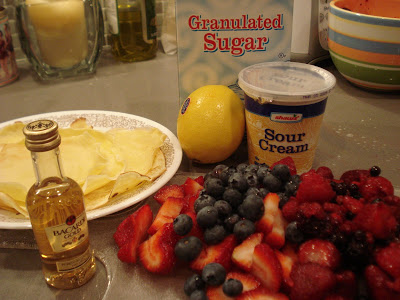 Mix your fresh berries with sugar and some fresh lemon juice.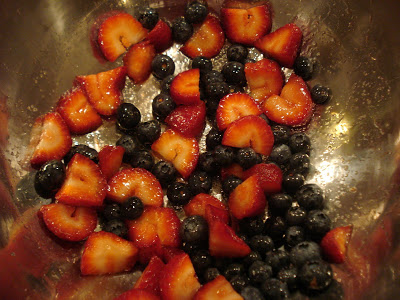 In the meantime, make the berry coulis by combining all the berry coulis ingredients in a blender and processing until smooth. Then pour the liquid through a fine-meshed sieve to get rid of the seeds. If you don't have a sieve and don't mind the seeds, no problem! Put the coulis in the fridge if you're not going to use it right away.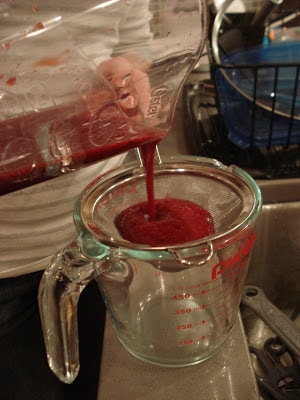 Take a crepe and spread a bit of sour cream on it. Then add some of the fresh mixed berries.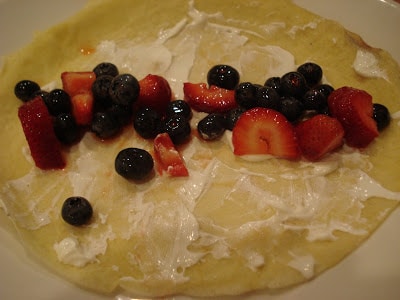 Fold the crepe into quarters and drizzle with the berry coulis. Add powdered sugar on top too, if you like.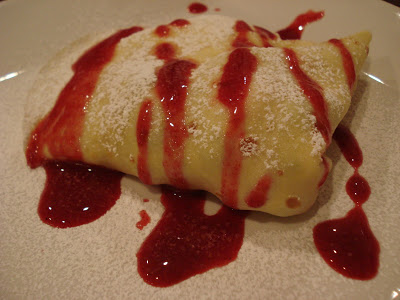 Decorate the plate to your liking. Make it pretty!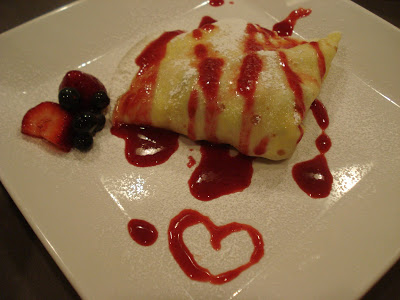 This was a really amazing, light, but satisfying dessert that, yes, we would eat at any time of day. I think you probably get our point on the whole crepe and versatility thing by now, right?
If you do a search for crepes on Martha Stewart's website, The Food Network website, Epicurious, etc. you'll find tons and tons of mouth-watering crepe recipes. You'll probably end up wanting to eat them for every meal, every day for the rest of your life, like me.
We hope all of our readers have happy Valentine's days filled with love, family, friends, and delicious food! If you are looking for more V-Day ideas, you can check out our complete Valentine's Day dinner extraordinaire from last year…or the Valentine's Day pizza party we had with friends.
[Sues and Chels]