Like I promised the other day, here is another fun how-to for home organization.
I have an abundance of jewelry… an obscene amount, in fact, and I've always had issues storing all of it. Some people like to display their jewelry on their dressers in their bedroom, but really, I have so much of it that it would take over the dresser. So, a while ago I cleared out a drawer in the top of my dresser which I dedicated just to accessories. As time went on the drawer started to overflow and I could hardly close it. A normal person would think "I should stop buying so much jewelry"… but I'm not normal 😉
When I was browsing the internet earlier this week for organization solutions, I found the best idea. Instead of stacking and stuffing everything in the drawer, find yourself fancy bowls and plates to store inside of a drawer to neatly organize everything.
This is the before photo of my jewelry drawer, which I'm actually quite embarrassed to show the world 😉 And I'm sure my parents are looking into legal ways to disown me after seeing this image…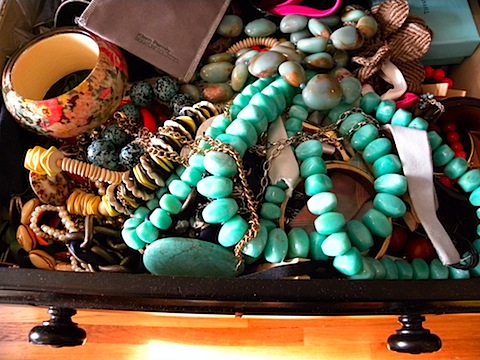 Here's what you do:
Measure the side of your drawer (not the front) to get the height, this way you'll know how tall the dishware can be.
The original organization tip came from Martha Stewart and she suggests using a piece of velvet or soft fabric to prevent the bowls and plates from moving, but I actually decided to do something more "me"… I'm not so much a velvet person. I found this non adhesive natural fiber drawer liner at The Container Store (for about $8) that screamed my name 🙂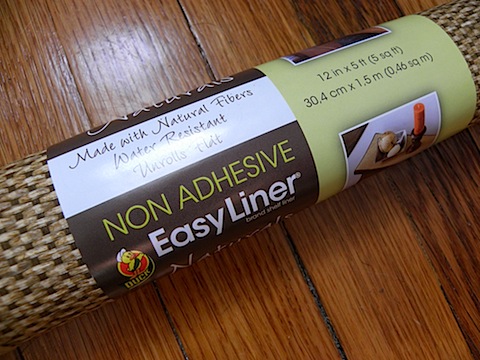 I turned to Anthropologie for the bowls and plate because I knew they'd have the type I was looking for. Sturdy, fun, colorful, and unique. Also try Marshalls, Homegoods, or a thrift or antique store. I always find fun dishes there that I want to buy!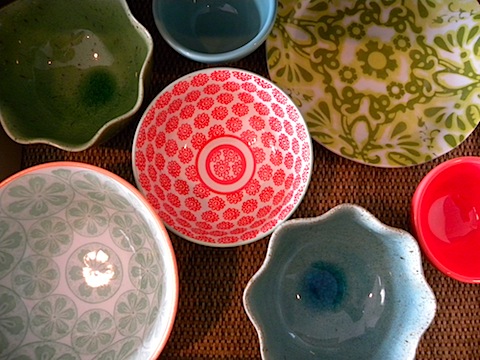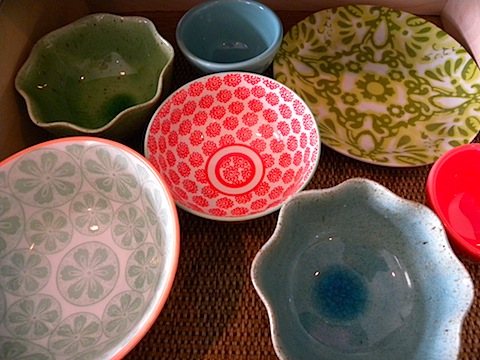 Next, I sort of categorized each bowl by type of accessory. Beads, chunky, charms, long/short necklaces, etc. I also hung some earrings on the sides of the bowls, too, which is the BEST IDEA. Earrings have a mind of their own and always sink to the bottom of the pile so this is a nice way to keep them in sight and away from everything else.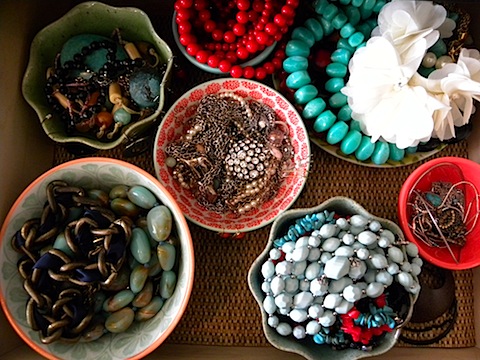 Because I loved how organized everything was in that drawer, I decided to take some clothes out of the drawer below it and turn it into storage for my bracelets and bangles (and because there wasn't any room left in the other drawer, hehe).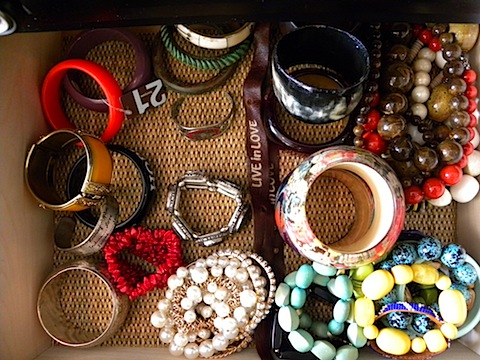 Let me tell you, I used to dread looking through my jewelry drawer before I did this. It had been such a long time since I dug deep down to the bottom to see what I even owned because it was like a black hole and I thought it was going to suck me in! It's nice from time to time to take note of what you actually own and just clear things out. I feel like I can breathe better knowing things are more organized. And I love how pretty the drawer looks when I open it… it makes me feel fancy to see these pretty dishes when I accessorize my outfits 😉
And while we're on the topic… I'm at my grandmother's house now and I just got finished looking through her jewelry collection. It's safe to say I got my taste from her. She has an infinite number of boxes and drawers filled with vintage jewels and she even let me pick out some of my favorites to keep 🙂 It's funny how so many things that she owns from years and years ago are currently in style now! Clearly this "addiction" runs in the family, eek!
[Chels]