I warned you in my last post that the recipes included here could induce a full-on sugar attack. I mean, it's not like I was under some kind of assumption that marshmallows were good for me. I knew they were basically sugar, but holy moly, this was a lot of sugar (3 kinds to be exact!). And the hot chocolate? More sugar and lots o' fat. And rum, too. But it's cold and snowy outside and you need something to warm your bones, right? Just say yes. Don't worry, I promise my next recipe won't be just throwing a pound of sugar in a bowl and telling you to eat it. I mean, I'd at least make a syrup out of it first.
I've never really considered making my own marshmallows until I saw Martha Stewart's recipe. And then I decided it could be fun, especially in alcoholic hot chocolate. And honestly, if you like marshmallows, you HAVE to make these. They're so much better than what you get in a bag. Very similar (I couldn't believe how authentic they were!), but less airy and more full-flavored. And the process was pretty easy; they came out near perfect on my first try.
Of course, you can make either of these hot chocolates without alcohol, but you should probably include it. At least a touch. I'm not trying to peer pressure you or anything, but it's so nice to just relax and sip on this hot drink. The weather outside may be frightful, but we're in the middle of a major sugar high and absolutely loving life! Just hurry up and get out there to shovel before you crash 🙂
Homemade Marshmallows (makes 24):
• Vegetable oil
• 4 envelopes unflavored Gelatin (3 T, plus 1.5 t)
• 3 C granulated sugar
• 1 ¼ C light corn syrup
• ¼ t salt
• 2 t pure vanilla extract
• 1 ½ C confectioners' sugar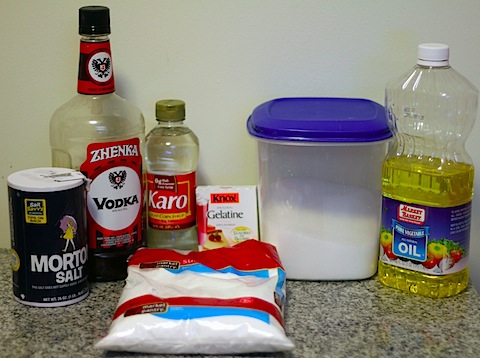 First, grease a 9-by-13 glass baking dish with vegetable oil. Line it with parchment paper, leaving a 2-inch overhang on long sides. Brush parchment with more oil and set aside. This is important since you don't want your marshmallows getting stuck to the paper!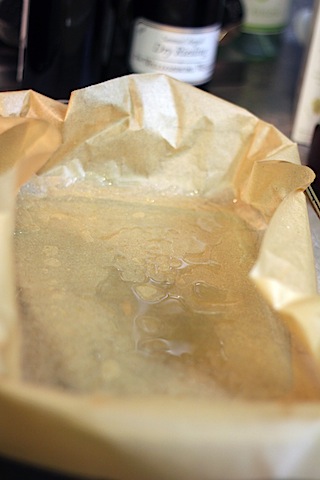 Now, put granulated sugar, corn syrup, salt, and ¾ C of water into a medium saucepan. Here's where Chris walked in the kitchen and thought I made a mistake. He just assumed there was no recipe in the world that would require putting that much sugar in a pan. I will now spend my life in various attempts to prove him wrong.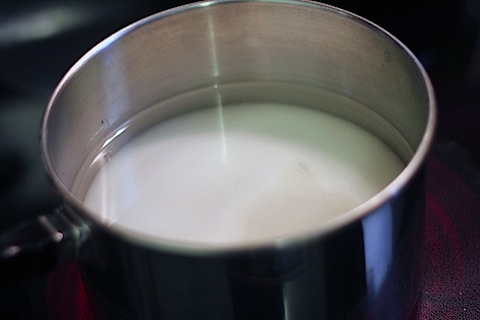 Bring mixture to boil over high heat, stirring to dissolve all the sugar.
Continue to cook (without stirring) until mixture reaches 238 degrees on a candy thermometer. Don't be impatient- Martha says this could take 9 minutes. And it probably will (It could take a lot longer if you start by accidentally reading the Celsius side... not that I would do that).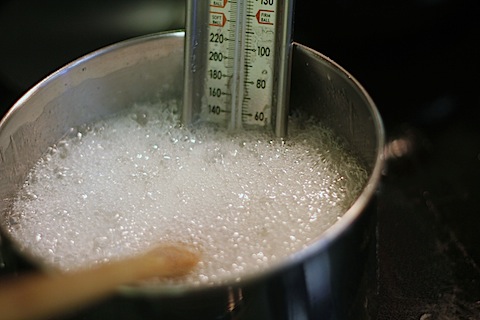 Put ¾ C cold water into the bowl of an electric mixer. Sprinkle the water with the gelatin and let sit for about 5 minutes to soften.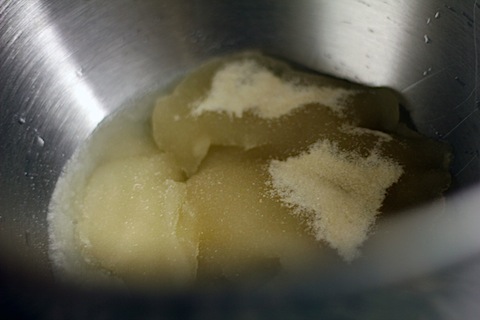 Using the whisk attachment, set the mixer on low and beat the hot syrup into the gelatin mixture.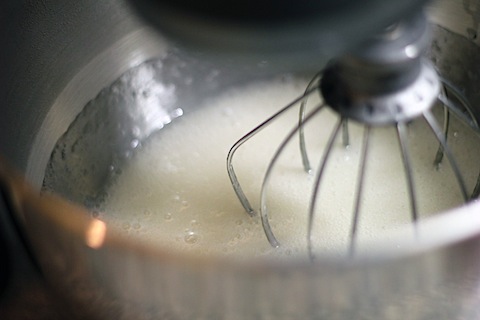 Now, gradually raise the speed of the mixer to high and beat for about 12 minutes, until the mixture is stiff. It will start to look like fluff! OMG now I know how to make my own fluff. SO exciting.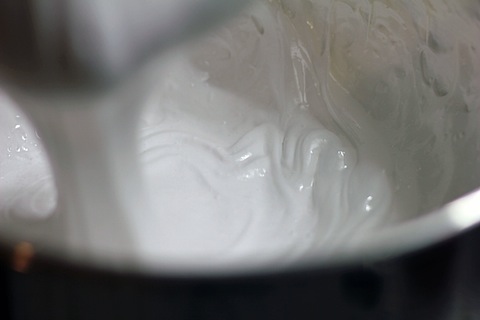 Beat in the vanilla.
And then pour the mixture into the prepared dish. Smooth the top with an offset spatula. But make sure you work quickly here. I was being a bit of a slow poke and the mixture started to harden, making it tougher to get it out of the bowl and to smooth it out.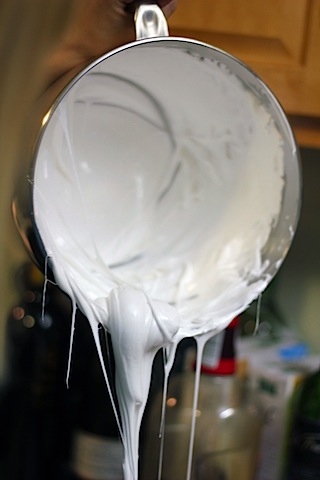 I have to take a break here to quote Smitten Kitchen in her first attempt at making marshmallows:
"The paddle was gunked to the bowl and the scraper was glued to the paddle and then — and it is my duty to implore you not to do this at home — you think, 'well, I'll just wipe off the paddle with my index finger' and then your index finger gets knit to the scraper and then you think 'well, let me use my other finger to wipe this one off' and all of a sudden, you've got strands of marshmallow strung from each finger to the bowl, the mixer, the paddle, the scraper, each corner of the pan, your shirt, the floor."
It's true. Don't let it happen to you. I was basically covered in marshmallow by the time it was all in the dish.
Anyway, let the marshmallows sit uncovered for about 3 hours (up to overnight), until it firms up.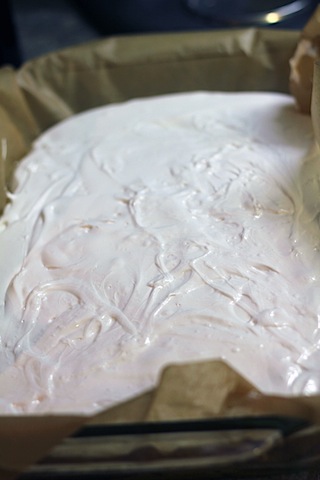 Now you're ready to form your marshmallows. Sift 1 cup of confectioners' sugar onto a work surface and tip the dish upside down, so the marshmallow "sheet" falls onto the sugar, parchment side up. Remove the parchment paper.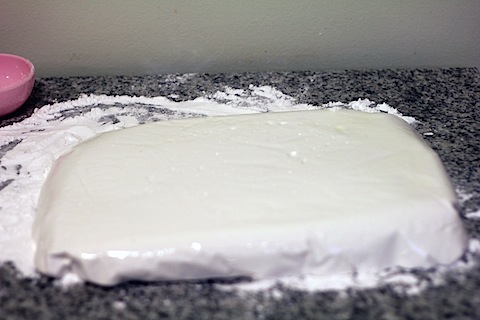 Brush a knife or pizza cutter with oil (this is important or your knife will get stuck) and cut marshmallows into 2-inch squares. Or whatever size you want. Really, I wanted to make little heart shapes, but I couldn't find a mini heart-shaped cookie cutter anywhere.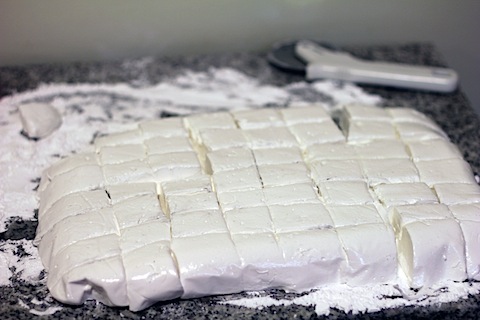 You'll probably have to keep dipping your knife into the oil to make cutting these easier.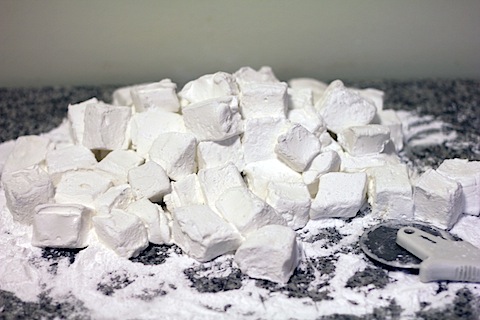 Put the remaining ½ C of powdered sugar in a bowl and roll each of the marshmallows into the sugar to coat. It may sound excessive, but it's totally necessary. After all, it gives them the marshmallow "finish" and stops them from being so sticky. And assists in heightening your sugar high.
You can store these marshmallows in an airtight container for about 3 days. If they last that long. Which they should. Especially if you live alone. Eeek. I won't tell, though.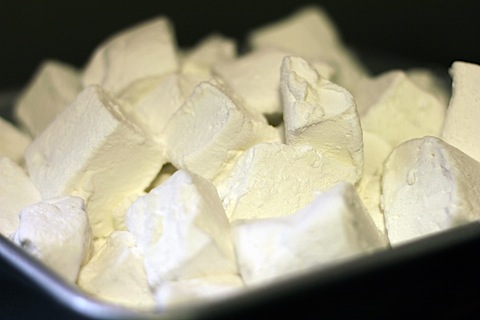 Now, on to the hot chocolate! I made two different kinds and both were pretty awesome. The first, banana hot chocolate was SUPER rich and creamy. You can totally change this recipe around to make it suit you. I thought I knew exactly what I was doing until my hot chocolate turned out to be like chocolate syrup, so I kept adding more milk to thin it out a bit. You can always follow my recipe and then add whatever you feel is needed. Really, you can probably omit the half and half all together if you want!
Banana Hot Chocolate (serves 2-3)
• 2 C skim milk
• ½ C half and half
• 1 small banana
• 4 oz. milk chocolate
• 2 oz. rum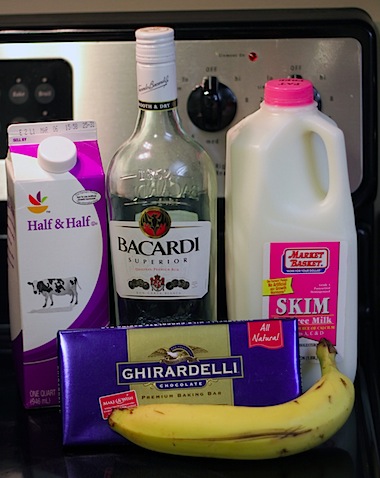 Put the banana, milk, and half and half in a blender and blend on high until the mixture is as smooth as you can get it.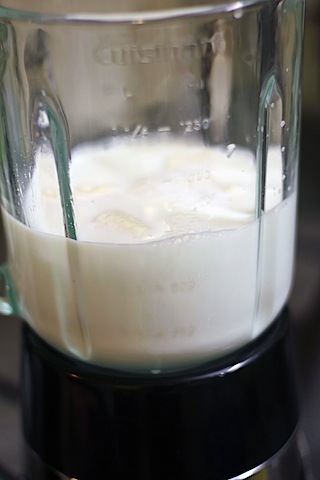 Then, strain mixture into a saucepan, over medium heat.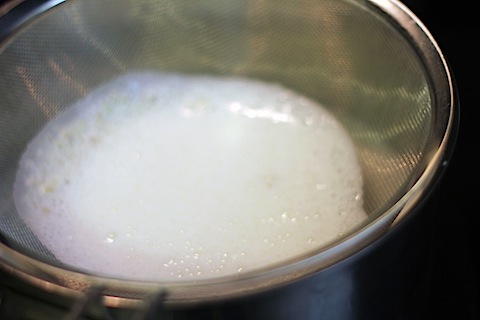 Cook the milk mixture for about 3-4 minutes, until it starts simmering.
In the meantime, make sure your chocolate is chopped.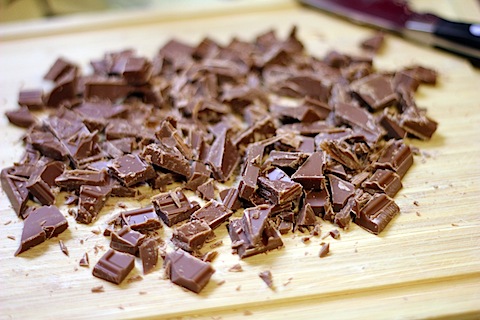 Now, add the chocolate to the milk and mix it until it's melted and well-incorporated.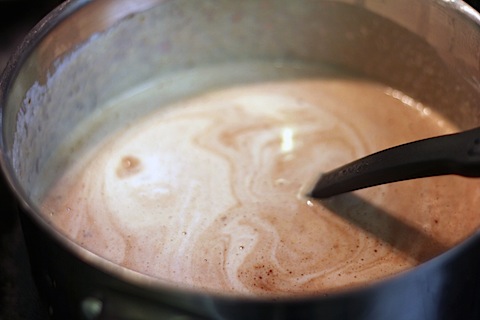 Pour into a glass or mug, add in rum, and top with some marshmallows!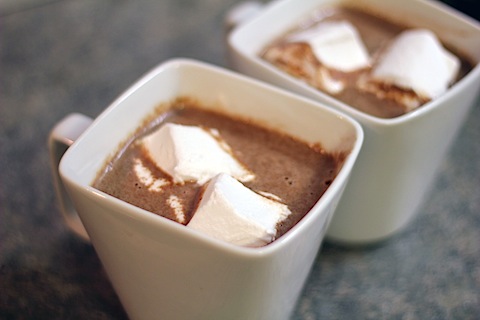 Talk about perfection! The hot chocolate was so rich, with just a subtle banana taste. I love the way the marshmallows started melting a bit as they sat in the hot drink.
This is totally my new snow-watching necessity.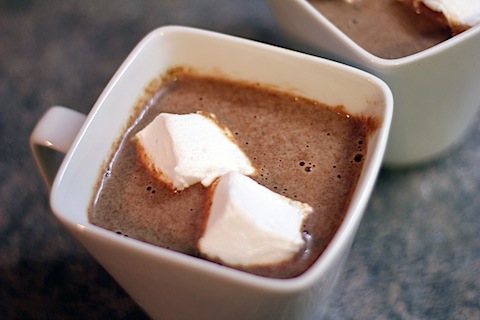 I also made a coconut white hot chocolate (not on the same day, I swear!). If you like white chocolate (and coconut), this is a must-make! It was creamy and delicious- almost a little tropical, which was really nice for a cold winter evening.
Coconut White Hot Chocolate (serves 2-3):
• 2 C skim milk
• 1 C light coconut milk
• 4 oz. white chocolate, chopped
• 50 ml coconut flavored rum
• coconut for topping
(you can ignore the giant bottle of Bacardi in this photo. I thought I'd need to add more rum... But I was wrong. Surprisingly).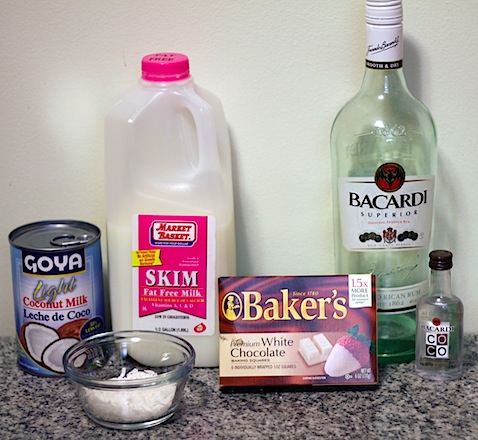 This one is super easy. Just put the milk and coconut milk in a saucepan over medium heat and bring to a boil.
Then, put the heat on low and stir in the white chocolate. Stir until the chocolate is melted and the mixture is smooth.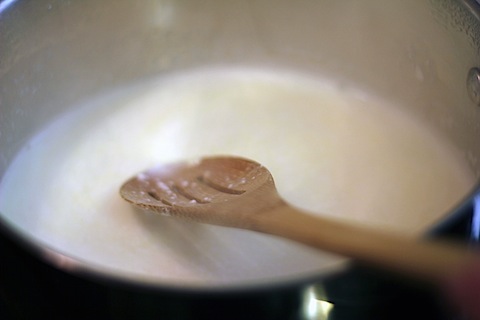 Pour into a glass or mug and stir in coconut rum. Top with marshmallows and some shredded coconut.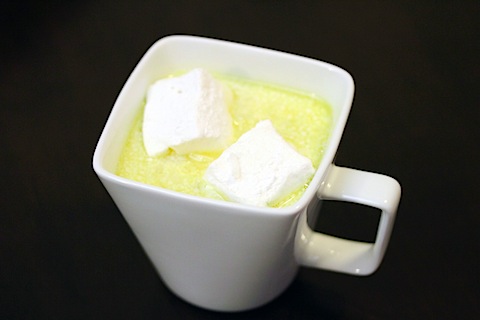 This one actually tasted super buttery, kind of like what I would expect Harry Potter's Butterbeer to taste like! Next time I kind of want to drizzle some chocolate syrup over the top.
So, I just supplied you with everything you need for the most wonderful snow day ever. Or snow evening. And since I've been hearing it's going to be snowing even more this weekend (at least in Boston), these recipes could totally come in handy.
Homemade marshmallow and alcoholic hot chocolate (doesn't calling it that make it seem like the alcohol has a problem?) could also be the perfect way to end your Super Bowl party. You can make the marshmallows the day before and have the hot chocolate ingredients ready to go.
And I successfully proved to Chris that yes, a recipe that calls for putting 3 cups of sugar in a saucepan is a real recipe. And a wonderful one at that.
I can honestly tell you I never want to buy another bag of marshmallows again. If only these could stay fresh for more than 3 days, I'd always have some on hand. But then, I guess that would get dangerous. I can't even tell you how tough it's been to have this pan of marshmallows sitting in the kitchen. Every time I walk by... one more won't hurt, right?
What's your favorite kind of hot chocolate or winter warm-up drink?
[Sues]