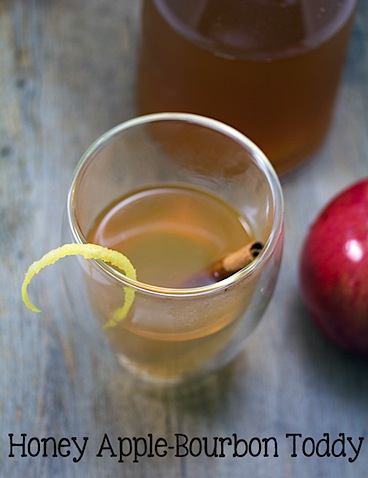 So, it appears Boston has a bit of a flu problem. I'm knocking on wood as I type to say that I'm very lucky I haven't been hit with it (yet). I credit this season's health to my desperately trying not to touch anything on the T, not breathing on the T, and washing my hands every single time I walk by a sink. But if I were to be hit with the flu, I feel like I could fight it off pretty quickly with this drink. It's a Honey Apple-Bourbon Toddy and yes, it's another hot drink. This has most definitely been my year of hot cocktails. Which could be another reason I'm warding off sicknesses like a super human (knocking on wood again). I actually made my own apple bourbon for this recipe because Bon Appetit recommended it and it was 100% worth the 3 days I had to wait for it to be done. But if you're a) dying of the flu and desperately need this NOW or b) just thirsty and would prefer not to wait 3 days, you can use regular bourbon. Maybe a dash of Calvados would be nice, too.
If you're desperate for a cure, maybe just sip the bourbon instead. But remember, I'm not a doctor, so my health advice may not be 100% reliable. But it's worth a try, right?
Honey Apple-Bourbon Toddy (makes 2):
Adapted from Bon Appetit
Print this recipe!
1-2 T honey
1 C hot water
6 T apple bourbon (recipe below) or plain bourbon
2 cinnamon sticks
2 lemon twists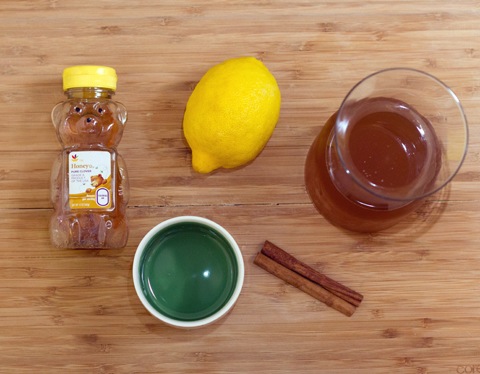 If you do decide to make your own apple bourbon, I will assure you that it's super easy. Though I've been known to use Maker's Mark in baked beans, I decided to get an inexpensive bottle of Jim Beam for my apple bourbon.
Apple Bourbon:
Adapted from Bon Appetit
Print this recipe!
750-ML bottle bourbon
4 fuji apples, cored and sliced
4 cinnamon sticks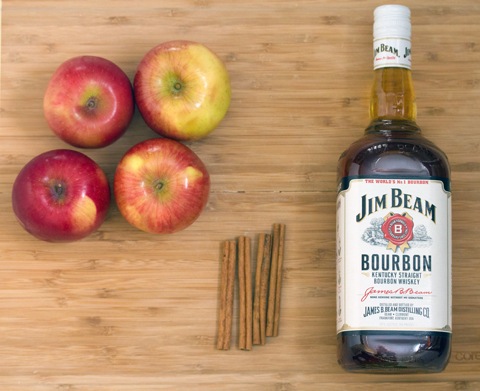 Combine ingredients in a pitcher and cover and chill for 3 days. After 3 days, strain the bourbon. And you're ready to sip away!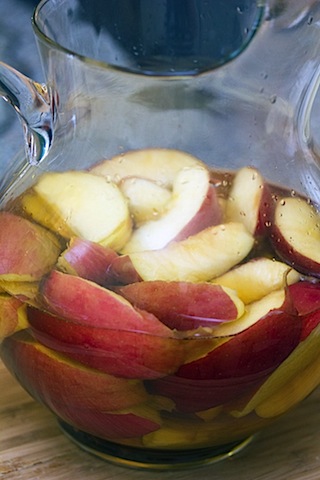 The drink is also the easiest to make. Simply pour hot water in a 2-cup measuring cup and stir honey in. If you are using regular bourbon, use two T honey; if apple bourbon, use one since it's already sweetened.
Now, add the bourbon and pour the mixture between two glasses. Put a cinnamon stick in the glass and throw on a lemon twist.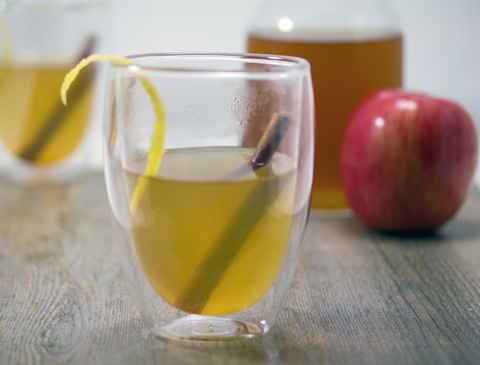 So, my lemon twists aren't exactly bartender worthy. I've actually never made one before. And maybe I'm the biggest idiot in the world, but I JUST discovered you can make them with a zester. Because I watched it on a YouTube video. I love the Internet.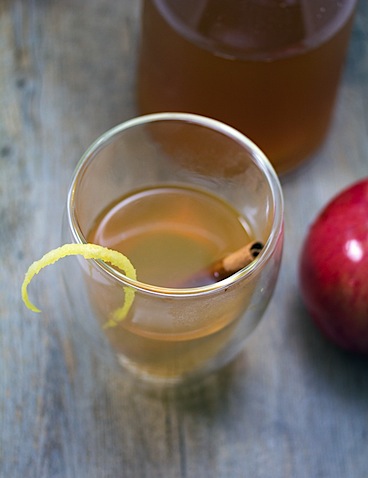 This drink did sound a tad weird -- mixing water with bourbon and honey? But it was honestly one of the best drinks I've had in a long time. It's light and comforting and slightly fruity.
It had some tea-like qualities, but obviously a little extra zing too. Zing that's perfect for a cuddle under a blanket on the couch kind of evening...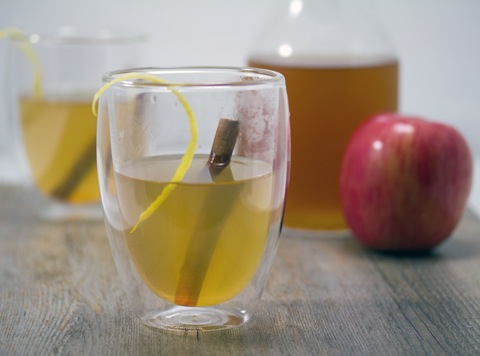 Or a sneezing non-stop, body aches kind of evening. Just try it and see how much better you feel and how your flu symptoms subside. I really think this drink is just what the doctor ordered when it comes to the flu. I mean, an apple a day does keep the doctor away, right? And cinnamon is always good for health. Also, you could utilize a little more of the lemon if you wanted to, for some extra vitamin C. Whatever it takes.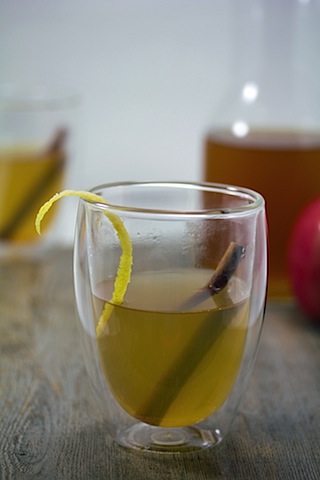 Apple bourbon is pretty much my new best friend. Never thought I'd want to sip on bourbon, but welp, here I am. Cocktail Friday AND a flu cure? Today is basically the best day ever.
If you're sick with the flu, please make this immediately and then report back. Thank you. And also, you're welcome.
Have you been sick this winter? What's your cure?
[Sues]