I admit, I have an aversion to corn on the cob. Ever since middle school when I got braces and couldn't eat it, I started absolutely hating it. And now, though the braces are long gone, I cannot stand eating corn off the cob. I just won't.
But the thing is, corn is sooo delicious. My great dislike for corn on the cob has nothing to do with my not loving it. But I refuse to eat corn on the cob. You're probably wondering, but wait! How can you turn down the sweet, starchy taste of summer? I can't, really. So, if my family happens to be eating corn fresh from the garden, my dad cuts the corn off the cob for me. Yes, I'm 25 years old and my dad still cuts the corn of the cob for me (I don't even have to ask!). However, I don't live with my dad and am often offered corn on the cob when he's not around. This has been a problem in the past (no, I have not yet found anyone else willing to cut corn off the cob for me), but now, I have finally found the solution:
The Corn Stripper from OXO: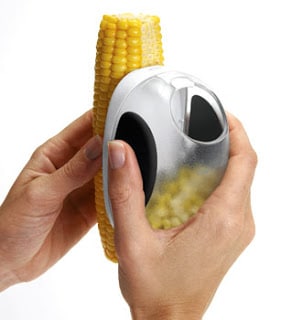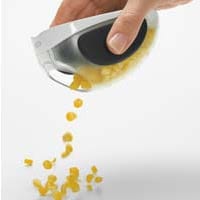 Is this not the best idea ever? I need to buy a few. One to give to my dad, of course; one to keep at my apartment; and one to carry in my purse. It would be acceptable to pull out the corn stripper in a restaurant, no? Well, there's always those summertime barbecues. Talk about being the hit of the party….
[Sues]