This past Wednesday evening, one of our favorite websites,
how2heroes.com
, threw their 1 year anniversary party at the
Bulthaup
Kitchen Showroom, on the corner of Boston's Boylston Street and Charles Street (perfect views of the Boston Common). The showroom, as you can only imagine from the bulthaup name, was phenomenal, fully equipped with state of the art appliances, beautiful cabinetry,
and I'm going to say it
…. a gorgeous and spacious bathroom with a
toto
toilet (just the coolest, prettiest, most high efficient toilets on the market!). It was the perfect place to host the event (the showroom, that is… not the bathroom)!
As Sues and I arrived, we said some hellos, did an
interview
with Lena Chen of
MenuPages
and scoped out the food. There was A LOT and I had just had my wisdom teeth removed days before and I was determined to eat since everything looked so good. There was a huge table filled with dips, mini burgers, deviled eggs, cupcakes, pulled pork, pastas… basically anything you can imagine was on that table. Just picture Heaven.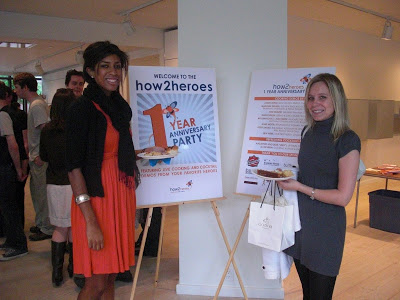 There was a bar set up where some great drinks were being mixed. My favorite was the
how2hereos Sparkler
, which contained St-Germain elderflower liqueur and kiwi! It was c
reated especially for how2heroes, by
AJ Rathbun
(pictured below).
Another exciting part of the anniversary bash was the demos that were being held. Some great Boston chefs (aka
heroes
) showed all of the guests step by step how to make one of their dishes.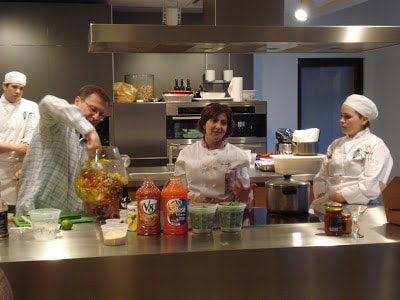 Jason Bond, chef of
Beacon Hill Bistro
, shows us how to make homemade Cavetelli with Brussel Sprouts… another tasty dish!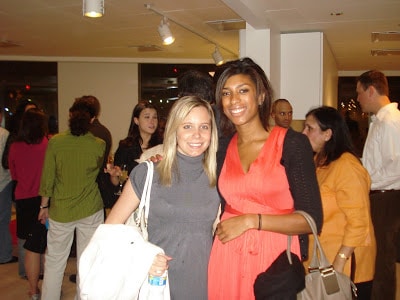 Below, Eunice Feller chef and owner, of Bread & Chocolate in Newton, MA makes whoopie pies! Since we're on the subject, Bread & Chocolate is one of my most faaaaavorite bakery/cafes… in the world! Not only is the food fantastic (you must try the chocolate-raspberry cupcakes AND… their egg salad will leave you speechless), but Eunice and her husband Steve are two amazingly genuine people and great to their customers. When I graduated college, I worked in Newton and it's safe to say the only reason I enjoyed working at that
dreaded
job was so I could go to Bread & Chocolate to get their egg salad and see Eunice and Steve's smiling faces. It was enough to make any bad day wonderful… and there were
a lot
of bad days back then! 😛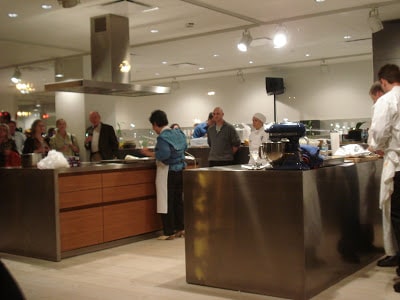 As we left, I thought this was a nice photo opportunity… looking inside of the party at the guests mingling. Stalker style? Yes… a tad, but it works!