I made my own birthday cake this year. Well really, I had about 5 birthday celebrations and just as many cakes, between friends, family, and various celebrations with various people. So when my mom and I had our joint birthday dinner celebration with my dad, I said I'd bring the cake. Because I wanted to try and make this one, courtesy of Martha Stewart herself:

(Eeek, falling candle!) It's an
inside-out German chocolate cake
and was my first attempt at making a cake, ever (not including cakes from a box or cupcakes). And honestly, it was so much easier than I thought it would be. I made it on a Friday night while eating Thai
food with friends, sipping on red wine, and getting ready to go out. I actually put the chocolate ganache
on the cake at 2 a.m. when I got home from the bar. And I'm not gonna lie, it was pretty good. Deliciously fudgy with coconut-pecan filling; it was more like a brownie than a cake.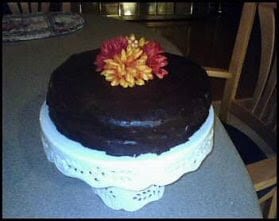 We couldn't find tall candles so we just threw on some fake flowers my mom found in the closet. How Martha Stewart, right?