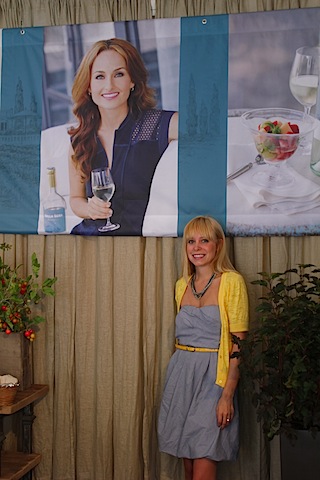 And that is as close as I got to the lovely Giada De Laurentiis on Saturday. Boo hoo.
Oh, Hurricane Irene. You ruined what could have been one of the coolest experiences of my life. On Saturday morning, I was all set to meet Giada De Laurentiis. She was making an appearance at St. Anthony's Feast in the North End and the lovely people from Bella Sera Wines invited me to come by and interview her. To say I was excited would be a bit of an understatement.
I mean, Giada is basically perfection and I definitely see a lot of similarities between her and We are not Martha (well, except for the fact that she's on a whole different level than us). When I say similarities, I mean that we both love entertaining and enjoying nice family meals and fun dinners with close friends. I have a feeling that's why Bella Sera asked me to interview her, too. Their brand is all about bringing people together with good wine. And clearly, WANM loves doing that 🙂
Sadly, Giada had to hurry home ahead of schedule due to the hurricane warnings and she couldn't make her big appearance. As it was a totally last-minute decision, I was already in the North End when Bella Sera learned she wouldn't be coming. Since I was already there, they asked if I'd be OK chatting with her on the phone instead.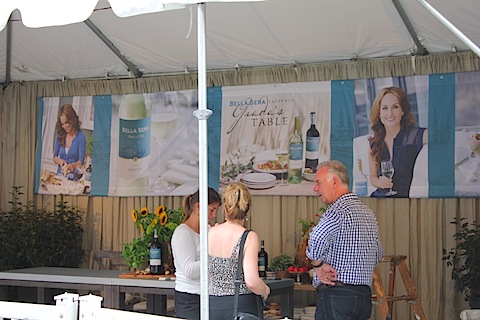 Of course, a phone call is nothing like actually meeting Giada face-to-face- especially since I am NOT a phone person at all- but still… How often do I get to chat with celebrity chefs on the phone? Never. I obviously said yes! And before I knew it, Giada was on the phone.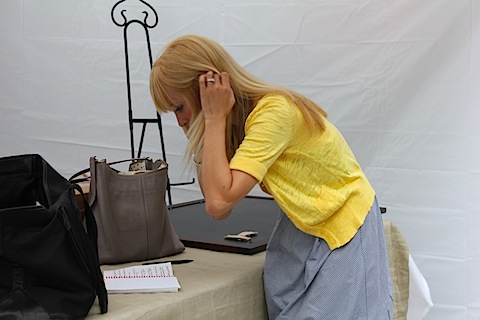 (I honestly couldn't believe I was standing in the North End chatting with Giada De Laurentiis on a cell phone, like she was my old buddy. Wow.)
So, below are the questions I asked Giada (with a few thrown in from my Twitter friends!) and her answers:
-I started by asking Giada if she had any tips to make entertaining any easier for beginners who might get a little nervous when it comes to having people come over for a meal. She responded by saying,
"Theme is the easiest thing to do. Once you pick a theme for your gathering, it's so much easier to make everything come together... Try not to do everything from scratch. Pick one thing to make from scratch and buy food you know is going to be good… Entertaining is really about having people around the table and good food on the table."
Another awesome entertaining tip:
"Open a yummy bottle of wine. I've been loving moscato lately. It's typically a dessert wine, but I've been enjoying it throughout my entire meal."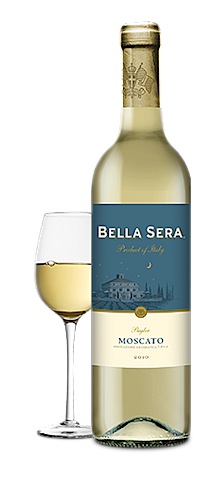 - Which led me to the question, does Giada still get nervous before a big performance or, say, before serving a meal to Prince William and Catherine? Her response:
"Yes, I was extremely, extremely nervous nervous!"
Phew! She's just like us 🙂
But even more than that, Giada admitted that, "I always get nervous before hosting dinner parties, but my philosophy is don't let them see you sweat… And if all else fails, give them a good bottle of wine."
-I may not have kids myself, but I know many of our readers do. And I'm always intrigued by kids and food and how to raise kids who aren't picky eaters. Whenever I see Giada's adorable little daughter, Jade, on the Today Show, it's pretty obvious she absolutely loves food. So, how does Giada do it?
Giada admits that Jade is just not a picky eater, but does say that she started her eating all kinds of foods at a young age and that:
"I like to keep it interesting and fun and I try to get creative. One thing I love to make is mac and cheese cupcakes with veggies or meat mixed in. I bake them in a cupcake tray and she loves them. I also like to cook with her."
-Kind of tying into the previous question, I asked Giada if she sits down to family dinners every evening (at least on the evenings she's available). And she claimed,
"Yes, definitely. Growing up, family dinners were a big thing for my family. You don't even always have to cook dinner yourself. All that matters is that you're all sitting down together and making memories… That's one reason I'm so happy to be working with Bella Sera wines, too, they really promote the idea of family togetherness."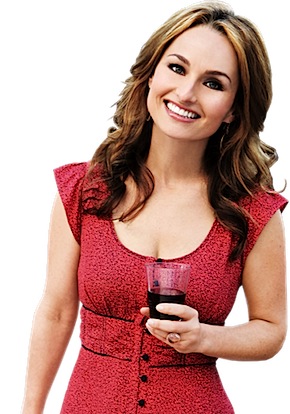 -And does Giada meal-plan or just fly by the seat of her pants when it comes to dinner?
"I do try my best to meal plan. At the beginning of the week, I figure out what's going on during the week and do the grocery shopping. Then I pick up a couple last-minute necessities like produce and meat during the week."
-Since this Hurricane Irene was clearly causing so many problems, I had to ask Giada a hurricane-related question. This one came from my Twitter bud Kimerly. What would Giada stock up on if she heard a hurricane was on its way (you know, hypothetically)?
"Well, besides water and flashlights, I'd pick up some different shaped pasta, nice olive oil, parmesan cheese, a head of garlic, and jarred tomato sauce for a quick meal to throw together with lots of flavor."
-In case you're wondering what Giada's favorite shaped pasta is, like my Twitter buddy @tbella, it's:
"Penne… penne rigate, which is the penne with lines, is the best."
-And since I've got total wedding-brain lately, I asked Giada what she had at her own wedding dinner. We haven't picked out our menu yet, but are incredibly excited to meet with the chef at the Colonnade who just happens to be amazing. Giada told me,
"My husband is a meat eater and I love fish, so we tried to have something that would make everyone happy. We started with a caprese salad and then had beef filet for my husband and fish for me. But the most important thing at a wedding is just having all your family and friends there to make it special."
Giada congratulated me on my engagement, which cheesy as it may sound, made me super happy 🙂 Think it would be too much to invite her to the wedding? Hehe.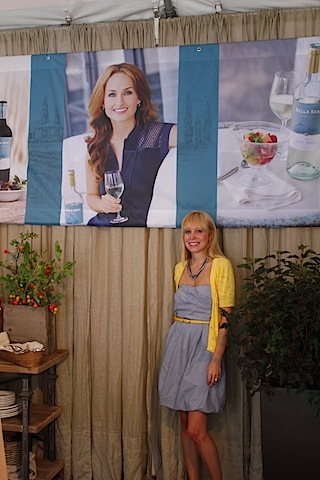 Wow, what an awesome phone call!
Before summer ends for good, I am definitely going to pick up a bottle of Bella Sera's Moscato, per Giada's recommendation. I have to say, I loved the fact that Giada De Laurentiis and Bella Sera wine seemed like such a good fit together and she was clearly working with them because she actually loves their wines and believes in their message. If you didn't know, Bella Sera means "beautiful evening" in Italian and Giada says she wants to help people create beautiful evenings in their home every night. What a refreshing partnership!
While, of course, I'm disappointed I didn't get to meet her in person (and take a photo with her… and have her sign my book), I was still more than thrilled to chat with her. Thank you SO much to Bella Sera for inviting me to St. Anthony's Feast and making sure I still got the opportunity to have my questions answered. And thank you to Giada De Laurentiis for taking the time to talk to me on the phone.
Hurricane Irene turned out to not be too bad in the Boston area. There were definitely some falling trees and power outages, but I was lucky enough to have power and a nice comfortable apartment to hang out in all day. At this point, I do have a bit of cabin fever, though, and I'm sure I'll be heading out to find a coffee shop to work in today. I can't sit in my apartment any longer!
What would have ask Giada De Laurentiis if you had 15 minutes on the phone with her? And did Hurricane Irene hit you hard?
[Sues]