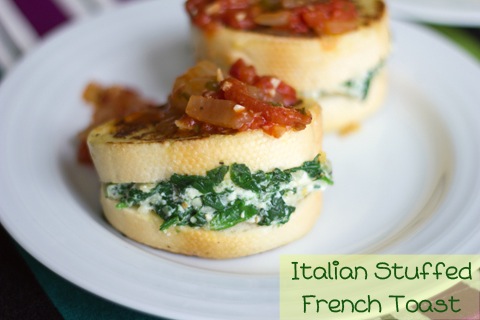 There's a good chance I'm not the first person from whom you're hearing about this book. And that's for very good reason. Breakfast for Dinner
is one of the few cookbooks I've opened and immediately wanted to make about a hundred different things. Which is saying a lot because that basically means every recipe. I actually had a feeling I'd be obsessed before I even got it since it was written by Lindsay Landis and her husband Taylor Hackbarth. You may remember Lindsay from the The Cookie Dough Lover's Cookbook. Anyway, she's awesome, inventive, and just plain ridiculously talented. And then, no lie, I got the book, held it in my hands, and immediately fell in love. Because it's one of those books that just feels good in your hand. Which is a thing. Also, it might have had something to do with the burgers on the cover. Who really knows.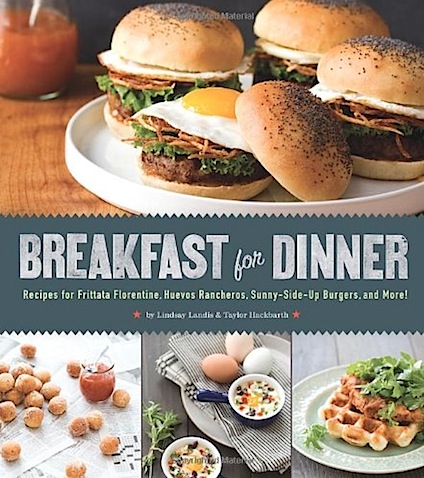 Other than that, I guess not much explanation is needed on why this book is awesome. I mean, everyone knows breakfast for dinner is the bomb.com and Lindsay and Taylor prove that it doesn't just mean scrambled eggs or some pancakes. I could probably list every single recipe from the book, but a few that I want to try ASAP are the Habanero-Cheddar Bread Pudding, Bacon Fried Rice, Grapefruit Risotto with Scallops (HELLO), Breakfast Sausage Ravioli, Bloody Mary Tomato Soup, Bacon Old-Fashioneds, and pretty much every other single recipe.
I decided to start with the Italian Stuffed French Toast, which made me realize that not only are these recipes impressive, but they're pretty simple to whip up. Which means you can make them for dinner after a long day of work… Or actually make them for breakfast or brunch. I will admit this recipe does appear to be a lot more difficult than it is — Mostly because it has three ingredient groups. But part of that is because I opted to make my own marinara sauce (Lindsay and Taylor's recipe is SO easy!) and breaking the ingredients into three sections is just easier. I promise you'll fly through this one.
Ricotta Filling:
Breakfast for Dinner

Print this recipe!
2 T extra-virgin olive oil
2 garlic cloves, minced
About 4 C (6 oz.) loosely packed fresh baby spinach
1/2 C whole-milk ricotta cheese
1/4 C grated parmesan cheese
1 t lemon zest
1 T chopped fresh basil (or 1 t dried basil)
1 T chopped fresh oregano (or 1 t dried oregano)
Salt and pepper to taste
French Toast:
From Breakfast for Dinner
Print this recipe!
1 loaf soft French bread, cut into 8 1-1/2-inch thick slices
3 large eggs
1/2 C whole milk
1/4 t salt
1/2 t garlic powder
2 T extra-virgin olive oil, divided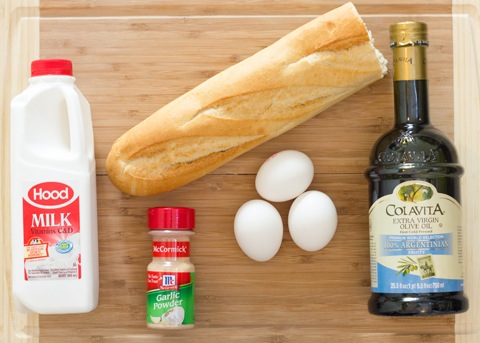 Homemade Marinara Sauce:
From Breakfast for Dinner

Print this recipe!
2 T extra-virgin olive oil, divided
1/2 medium yellow onion, chopped
2 garlic cloves, minced
1 (15-oz.) can diced tomatoes, with juices
1 T chopped fresh basil (or 1 t dried basil)
2 t chopped fresh oregano (or 1/4 t dried oregano)
1/4 t salt
1/4 t pepper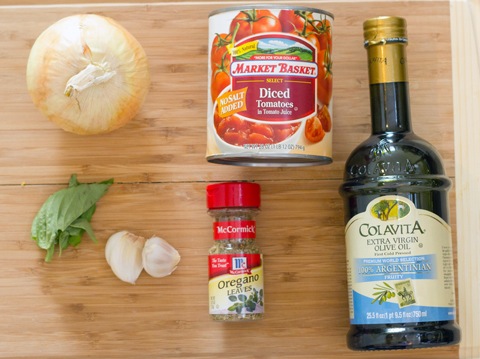 Start by making the ricotta filling: Heat oil in a large skillet over medium heat. Add garlic and cook until fragrant, about 30 seconds.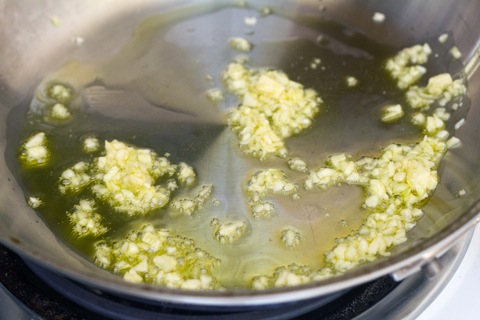 Add spinach and cook until wilted, 1-2 minutes.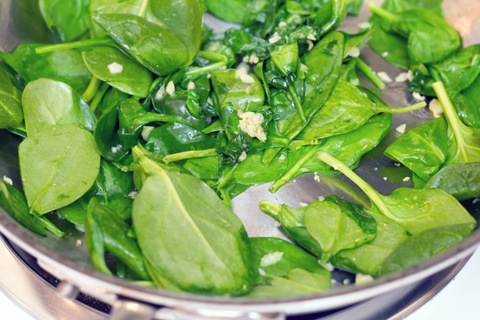 Let cool and then coarsely chop.
In a small bowl, combine chopped spinach mixture, ricotta cheese, parmesan cheese, lemon zest, basil, and oregano. Season to taste with salt and pepper.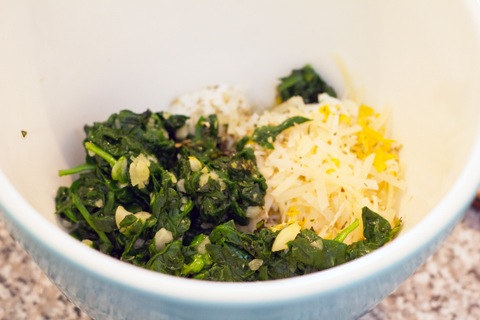 If you're making your own marinara sauce, I would pause here and jump down below to get that done. Otherwise, keep going!
With a serrated knife, cut a horizontal pocket in the side of each slice of bread and gently fill with 1-2 T of ricotta filling. Press closed.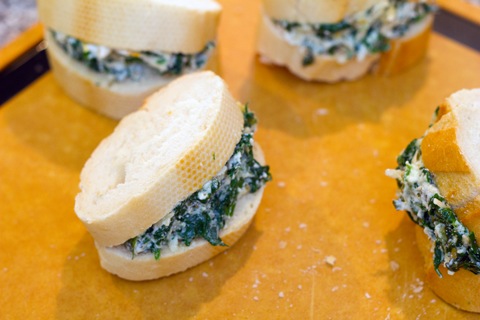 Whisk together eggs, milk, salt, and garlic powder in a small bowl or shallow baking dish.
Heat 1 T oil in a large, nonstick skillet over medium-high heat. Working with one slide of bread at a time, quickly dip into egg mixture, flipping to coat both sides. Then place bread in the hot oil. Repeat with 2-3 more slices, making sure not to overload the pan. Cook for about 3 minutes per side, until golden brown.
Repeat with remaining slices, pouring more oil into the pan if you need.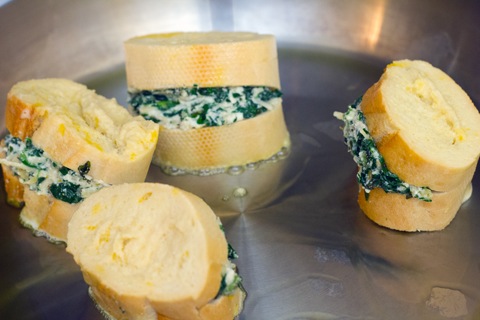 For homemade marinara sauce: Heat oil in a medium sized saucepan over medium heat. Add onions and cook until softened, about 2 minutes.
Stir in garlic and cook for another minute.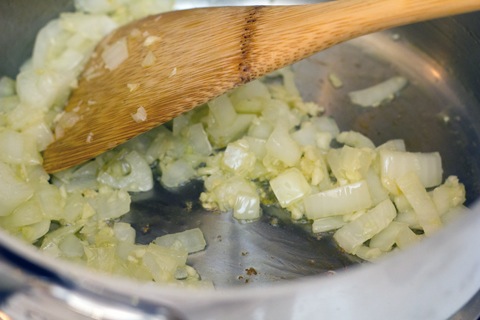 Add tomatoes and their juices, 1/4 C water, herbs, salt, and pepper and stir together.
Let simmer for about 20 minutes, stirring occasionally, or until tomatoes begin to break down and sauce thickens.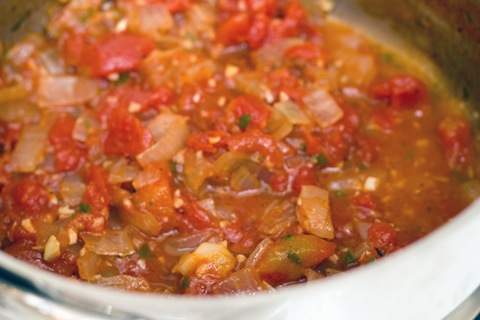 Serve french toast on a plate with marinara spooned over.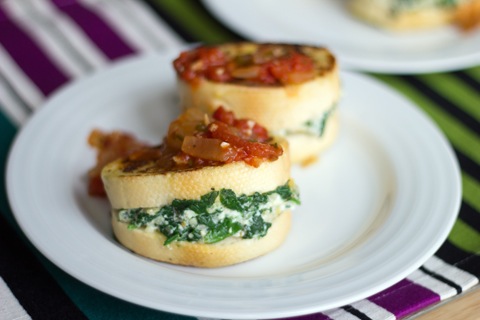 And you're ready for breakfast! Or dinner! Or whatever the heck this meal is. But seriously, did you see how easy that was? And essentially you could make the ricotta filling ahead of time and chill it. And make the marinara sauce ahead of time, too. You could even slice the bread ahead of time. Basically, you could wake up in the morning or come home from work and just stuff a little filling into the bread and fry them up.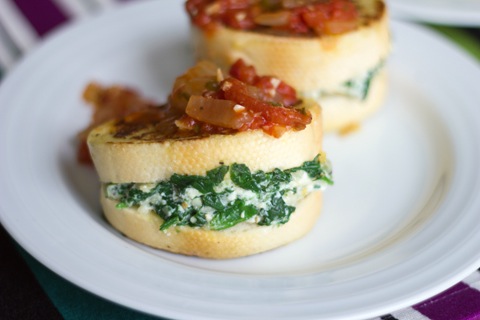 And this was an absolutely delicious savory spin on french toast! Want to know a secret? I used to hate ricotta cheese because when I was a kid, I once ate lasagna for 5 days in a row and then got horribly sick. But I'm coming around again and how can you not love ricotta cheese when it's stuffed into french toast?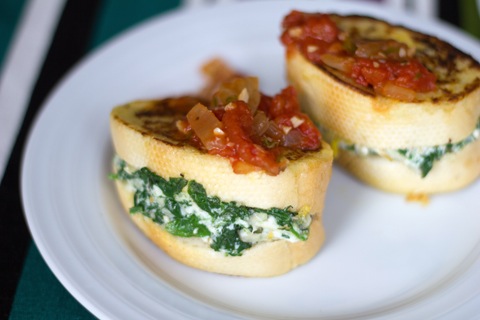 The only thing that would make this meal better? If it was served with a nice big bacon old-fashioned. Which is pretty much one of the best ideas ever.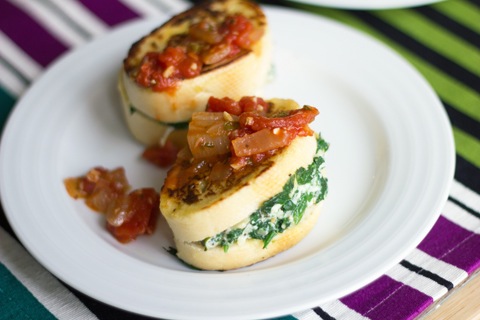 Thanks, Lindsay and Taylor for adding another fabulous cookbook to my library. I'm already anxiously awaiting your next one, which I have very high expectations for… No pressure 🙂 But for now, I'm going to be quite busy enjoying Breakfast for Dinner
every night for the foreseeable future!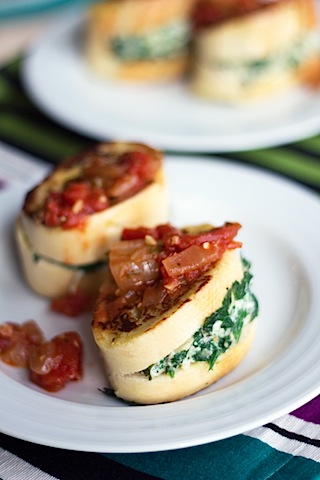 What's your idea of the ideal breakfast for dinner?
[Sues]
Disclosure: Quirk Publishing sent me a copy of Breakfast for Dinner
, but I'm not being compensated for my opinion on the book and I mean every single word I said about it!