Hello! If all is going as planned, I'm in the middle of moving as you read this. Thank you all so much for your amazing moving advice! I'm going to compile some of it here in hopes that it will help some of our readers in the future. And don't forget, you can keep contributing— You have until tonight to give me your moving advice (or unpacking advice!) and be entered to win a gift certificate for a free pair of Gap jeans (of your choice, up to a $69.50 value).
To everyone who mentioned it/asked, we do have movers hired. For sure! There's no way I was willing to move all this myself. Granted, I really am moving across the street (I can see my new apt. from my old one). But Chris is moving from about a mile away, so we're just going to have the movers make 2 stops. Books are heavy. And I have a lot of them.
Let's just say it hasn't exactly been fun organizing 5 years worth of stuff and clutter. But it was sooo needed. And I already feel a little lighter now that I got rid of so much. Seriously, I threw away SOO much stuff, and I'm hoping it's enough to have the new place completely organized. Basically, I had 8 huge trash bags of clothing to give away (and I still have tons of clothes) and countless bags of trash (my apt. management must hate me for filling the trash room every day for the past 2 weeks).
Um. If you want an idea of my clutter, take a look at my desk. Yup, it really bodes well for someone who works from home! Cluttered space = cluttered mind. I CANNOT concentrate and get my work done when my desk looks like this. It felt SO good to throw so much away (I swear it doesn't always look this way).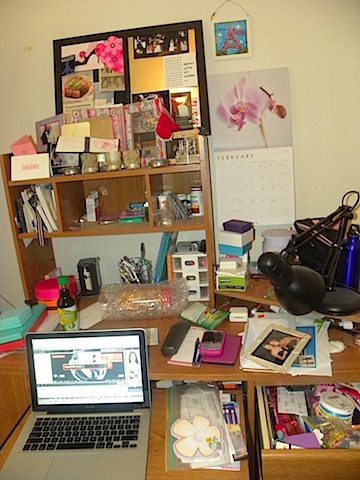 One of my bureaus. Again, way too much stuff on it, not organized at all. Horrible!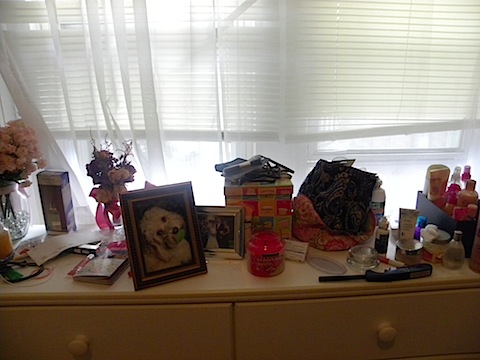 This top shelf of one of my closets goes back reallyyy far and has about 150 magazines on it. Oh, it also has a nice binder I bought to make my own "recipe cookbook." A year ago. Moving was just the motivation I needed to clean this shelf off, sort through the mags, take the recipes I want, and buy new binders to file them away in. I have plans for this that I'll show you, but probably not until I'm done in about a month 🙂 Chels is working on a similar project, too!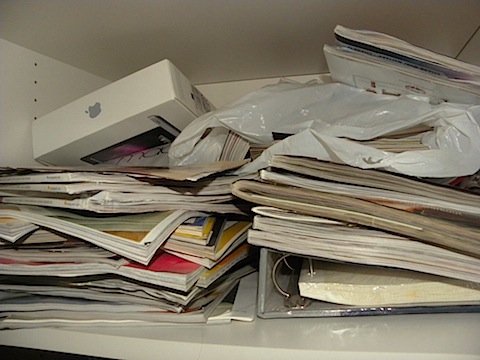 One of the "before I move" projects was to paint my bedroom furniture. Chris has all black furniture, which we're bringing, but I wasn't willing to give up my almost brand new bedroom furniture. So, I decided to paint it black. I almost ran out of time to do this (the past couple weeks have been crazy!) when Chelsee flew in to save the day. She actually went to Home Depot and picked up all the supplies, came over and helped me paint 3 pieces of my furniture. Actually, she did most of it since I came down with a miserable cold and felt like death all day.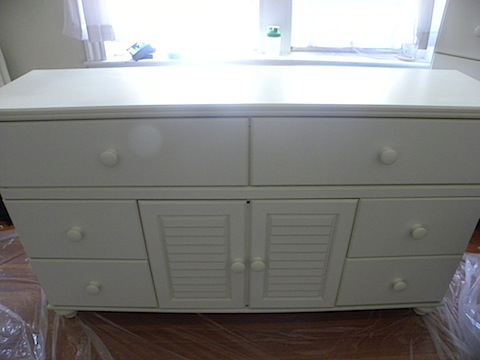 Even though it was a few bucks more than other brands, Chels knew I would totally opt to pay for Martha Stewarts's new paint line. She was obviously right.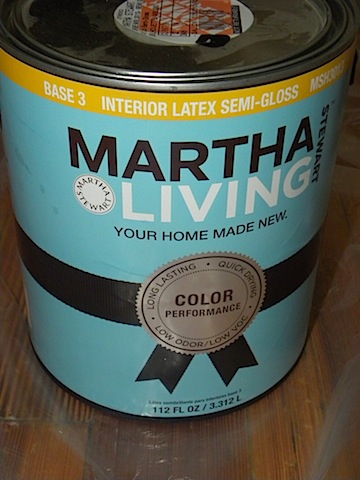 I'm going to wait to show you the final painted furniture (hoping it looks good + fits in the new apartment!), but right now I'm loving how it turned out! Thank you sooo much to Chels for being an amazing friend and helping me out big-time. Seriously, I didn't even know where to start when it came to painting furniture.
While I'm INCREDIBLY excited to move, I do have to say I'm really going to miss my old place. I mean, there's obviously a reason I stayed there 5 years. The apartment holds so many memories, and though it's time for me to move on, there's no way I'll ever forget it. The idea for We are not Martha was born inside those walls!
I moved into my apartment right after college and was SO excited to be living in the Boston-area (I went to college in New Hampshire). Some of my favorite memories involve the weekends Chels would come visit (which was pretty much every weekend… She moved to Boston the year after me). She and our friend Katie would come visit me and Nina (who I lived with for 3 years). Our friends Erin and Libby also lived nearby in the city. It's weird that we'll never hang out at my apartment again!
Yup, I would say we've changed A LOT in the last 5 years…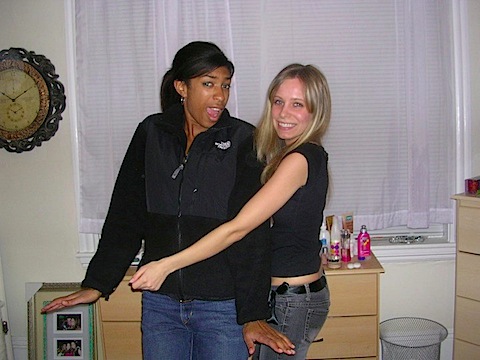 And gosh, my room was so clean back then.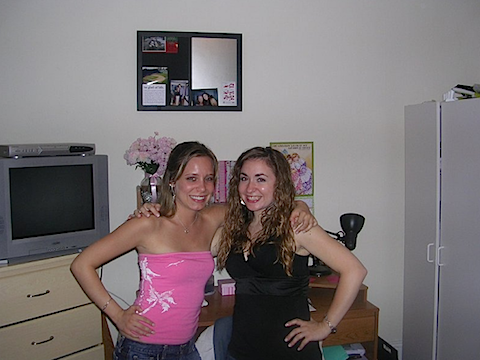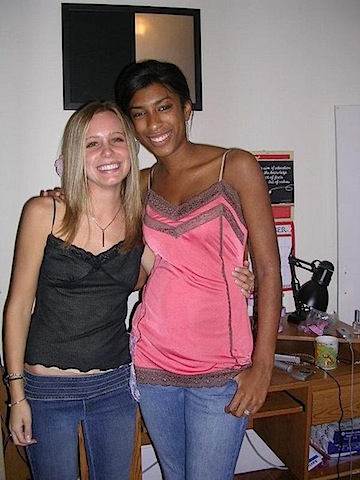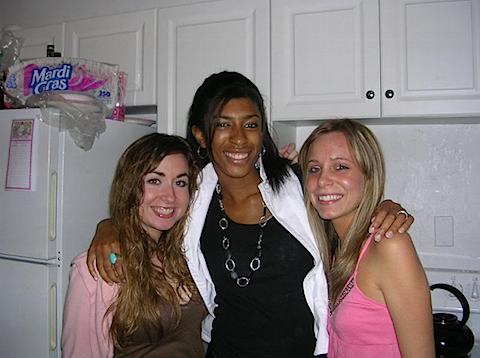 One of our many dinner parties before the We are not Martha days!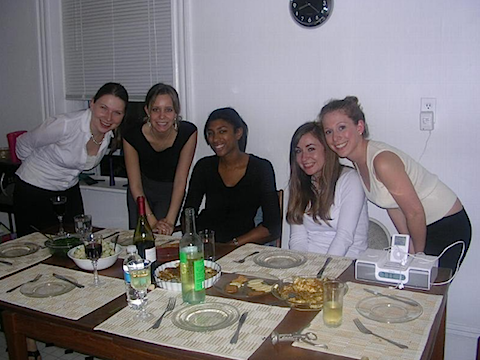 And one of many birthday parties, too.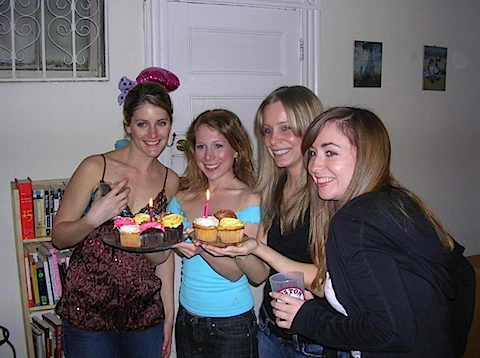 And now, on to all the wonderful moving advice!
My favorite advice, but the advice that MAY just have jinxed me, comes from the lovely JulieQ. She says: My best moving advice is to pretend like you are sick (**NOT HUNGOVER** because that does not work) and are unable to do any thing! Also, crying helps.
Looks like I won't have to do much pretending there, though I wish I did!
Hopefully, Ashley's advice does not jinx me. She says: Moving tip: Get pregnant. The last two times I moved I was 6+ months pregnant and wasn't allowed to touch a thing!!!
Oh, and Kim K. says: Best moving tip is to hook up with your mover – and hopefully next time you move it will be free
But I'm not so sure Chris would approve of that one…
Of course, I have a feeling I should be trying to help… So I guess I need to pay attention to some of the more practical advice. Boo.
Lots of you said to hire movers, which I think is the best advice ever. Also, throw tons of stuff away. Which I definitely did. I went through every single thing in my bedroom and if I couldn't remember the last time I used it, I trashed it or donated it. Another often repeated tip? Label all your boxes with room and contents. I labeled them all with the room, but have way too much stuff (and not enough time) to label everything.
We're planning on unpacking as quickly as possible, so there aren't lots of boxes laying around forever.
Some other great moving advice?
Christian says: My favorite moving tip is to set up and make your bed first. That way, when you inevitably want to crash after the long day, you have a nice well made cozy bed to fall into and you're not worried about where the sheets are and putting it back together. My mom told me this during my first move and its always stuck.
Wicked Domestic says: Boys. Boys are my best moving tip. Buy them pizza and beers and they're happy campers!
Lizzy at Food to Run For says: Keep your clothes on hangers, so then you can move it right out of your closet and into a new one.
Lawyer Loves Lunch says: I like to make a moving "kit" with water bottles, granola bars, asprin, band aids and stuff so I have it handy and don't have to go looking in boxes for it.
Emily of Happy Home Blog says: My best moving tip is COLOR CODING. every room gets a different and distinct color. that way, you don't have to read the text on boxes when you're schlepping stuff- just know that purple means kitchen, pink means bedroom, etc. etc. and people helping you move don't have to sort out what goes where on their own.
Lara of Good Cook Doris says: Go to the new place with snacks and put drinks in the fridge before moving. Nothing worse than warm drinks when you're exhausted.
Michelle says: Don't worry about folding all of your clothes and putting them away nicely- big black trash bags (the ones used for leaves) are the best way to pack clothes. and bedding too! its cheap and easy to transport and super lightweight.
Cooking with Coley says: Have a bottle of wine ready for move in night to help unwind.
Pat seconded that: Make sure you don't pack up your alcohol. Once you get to your new destination, you are going to want to have some drinks once you realize all the unpacking you have to do!
Sharon says: I always recommend to "Use your friends wisely" (Charlie Brown). If every one of your friends has a special talent (which I know many of them do), ask them to volunteer their expertise and in turn, you will have a party in the very near future, at which you will make all the food and provide drinks as a "thank-you". This way, everyone wins and has fun in the process!
Pursuit of LLT says: Ziplock gallon sized bags. Perfect to put jewelry in, desk supplies, belts, etc. Lifesavers!!
Jan gave great packing advice and then ended by saying: In your case I'd suggest packing your computer gear and camera together and after you've done all of the above, find at least a temporary place for your computer so you can fill us in on how things are going with the move.
Will do!! Thanks SO much, guys 🙂
Things have obviously been crazy around here with all the packing and moving stuff going on, but I had one last feta salad to make! I decided to keep it simple, using only what was in the fridge. And I made a quick roasted carrot salad with feta and parsley. So simple, but so good!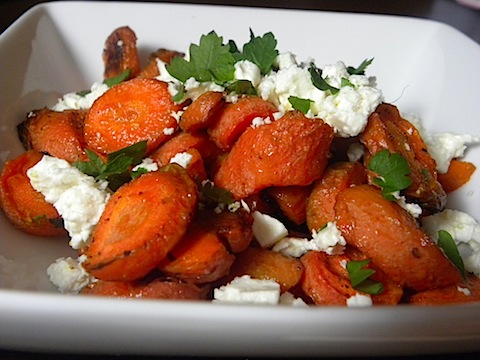 All I did was slice my carrots, put them on a baking sheet with some EVOO, salt, and pepper, and bake at 425 for about 25 minutes. Then I mixed with some Athenos feta and parsley. Easy and perfect short-on-time recipe!
I always forget how amazing roasted carrots are. I'm constantly eating raw carrots with hummus, but I rarely ever take the time to roast them. The sweetness of the roasted carrot with the saltiness of the feta was delicious.
And it's our last Feta Friday Giveaway! Just leave a comment telling us the longest you've ever lived in one spot by tomorrow at 11:59 p.m. (the last day of Athenos Make a Change for the Feta month!) and you'll be entered to win all of the below: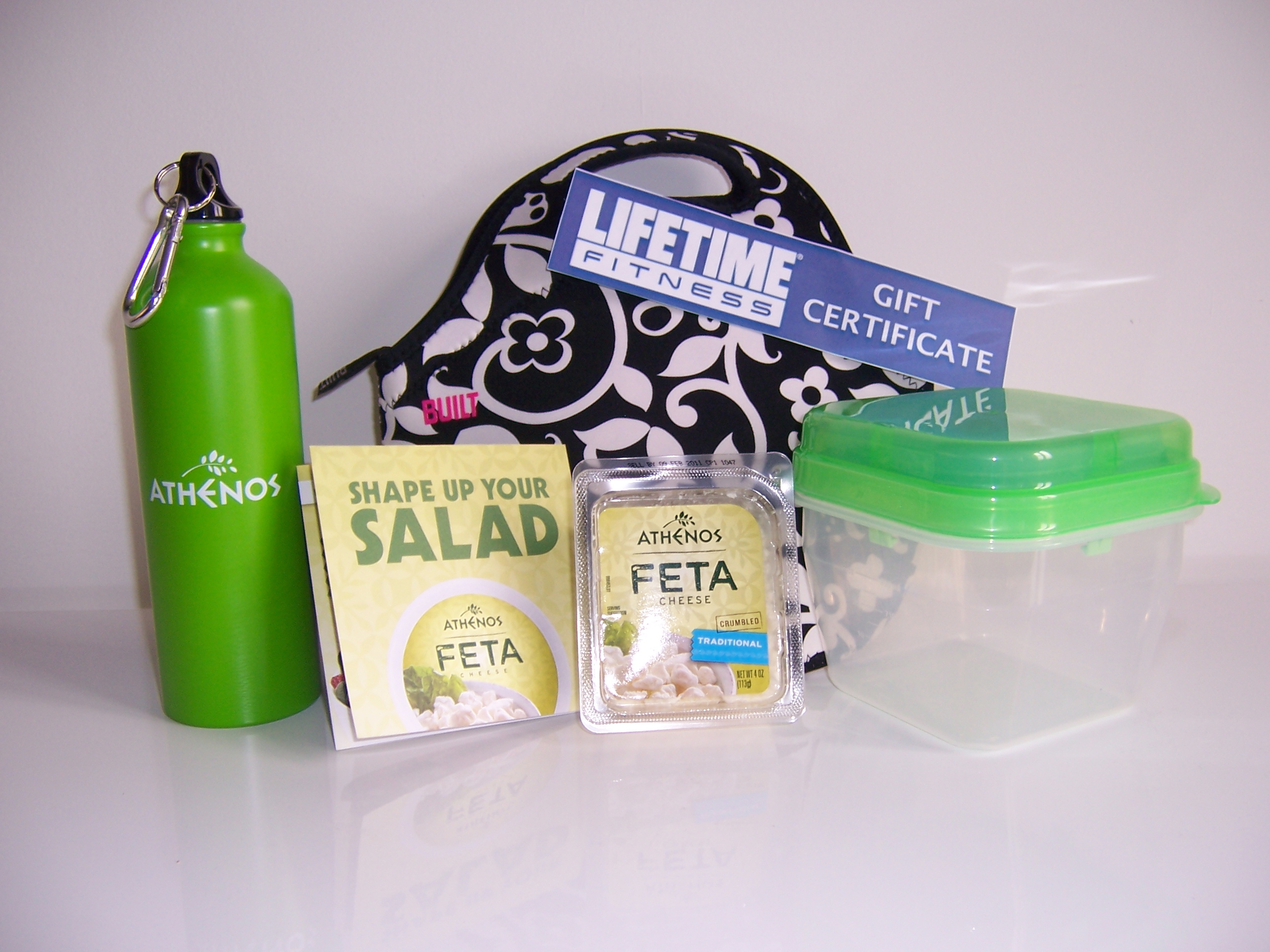 OK, thanks for reading my monster post! I'm off to bed to get up bright and early for the movers!!
Hope you have fabulous weekends! 🙂 See you at the new place!
[Sues]