I'm not going to lie. Ever since i made those baked strawberry frosted doughnuts, I've been craving more doughnuts. Real Doughnuts. Fried doughnuts. Don't get me wrong, the baked doughnuts were delightful, but I'm really not sure there's a way to make a baked doughnut taste like an actual doughnut. And I have not been able to get doughnuts off my mind. Particularly, for some odd reason, jelly doughnuts. So, I finally decided they had to be made. Sometimes it's best just to satisfy the craving and move on, right?
Jelly doughnuts doughnuts are much easier to make than I previously thought they would be. And it was actually kind of amazing to drop them in the hot oil and see them puff up into doughnut-looking shapes. This is one of those recipes I had fun with... even though all the waiting was excruciating!
In other news, Chris and I spent an entire day cleaning our apartment (it's not big, but man we have a lot of stuff!) and the clean kitchen has made cooking and baking so much more fun! I cleaned absolutely everything out of the cabinets and shelves and re-organized all of it. We even figured out a way to give me a whole free stretch of counter! Which will hereby be known as by dough rolling counter 🙂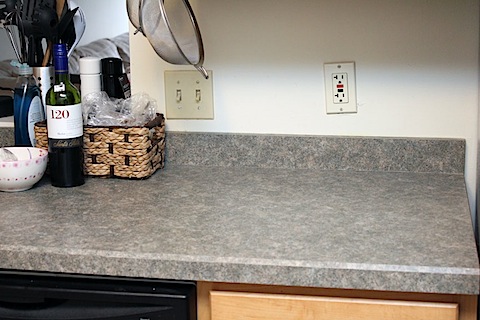 We fit all the appliances into one corner and while they take up some space, it's so worth it to me to be able to have my KitchenAid AND blender ready to use at all times.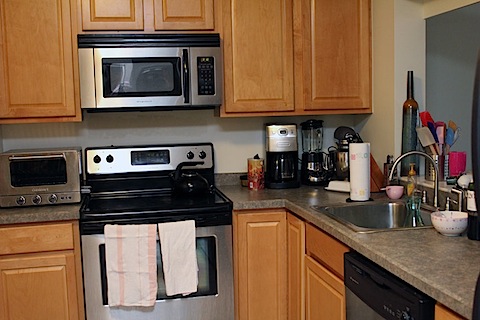 If you lack kitchen counter space, I highly recommend a butcher block. It's saved my life many times. Though it thinks there are households out there who actually only have four bottles of wine. Ha!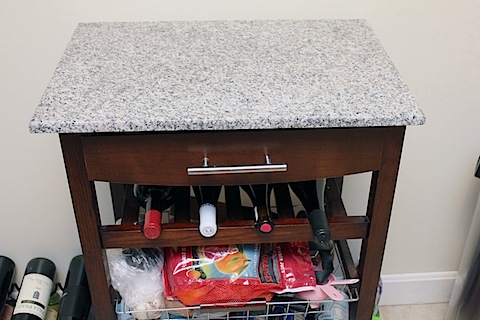 My cookbooks are now organized and half of that top shelf is stocked with tea. We have A LOT of tea. We have a bit of a tea obsession. Chris says we can't buy more tea until we make our way through some of this, but we'll see how long I can last without buying more...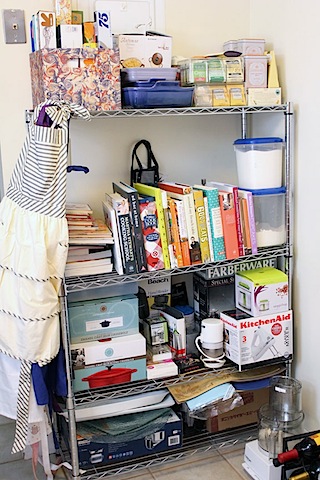 I also cleaned out the whole pantry, so I can actually find what I'm looking for when I need it. Like those eight bags of chocolate chips.
My favorite part of the reorganization project might be that I now have a whole cabinet shelf devoted to cupcake making and decorating. Clearly an absolute necessity to me.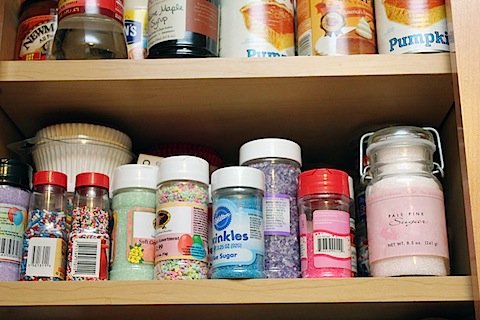 Sorry, I'm just a little bit proud of the new organized space 🙂 And it's so true that having open clean space makes being in the kitchen so much more enjoyable. That's probably partly why I had such a craving to make doughnuts! So, on with them.
Just a note before I start- I used all-purpose flour and mixed it with vital wheat gluten. This makes for a more elastic dough, which is perfect for doughnuts. If you have white bread flour instead of all-purpose, you can use that and leave out the extra gluten. If you just have all-purpose flour, I think it would be OK, but the doughnut probably won't be as chewy as you want it to be. Whole Foods has vital wheat gluten in case you're wondering.
Jelly Doughnuts (makes 12):
Print this recipe!
• 4 C all-purpose flour
• 3 T vital wheat gluten
• 1 t salt
• 2.5 t dry active yeast (1 packet)
• 1 C lukewarm milk
• 2 T sugar
• 2 large eggs, beaten
• 2 T unsalted butter, melted and cooled
• Vegetable oil
• 1 C seedless jelly or jam of choice (I recommend red raspberry or strawberry)
• Cinnamon and sugar for rolling doughnuts
Combine the 4 C of flour, 3 T vital wheat gluten, and salt. Whisk together.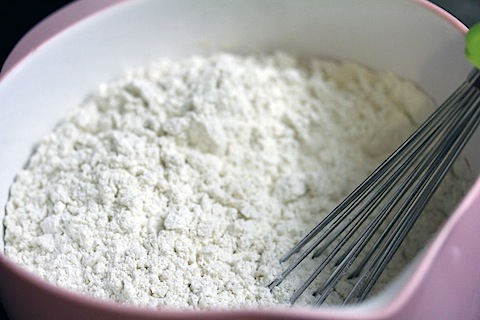 In a small bowl, stir together the yeast, 2 T sugar, and 2 T of the lukewarm milk. Let it sit for about 5 minutes, until it gets a bit foamy.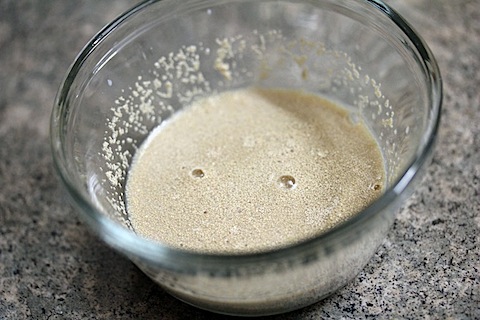 In the bowl of an electric mixer, add the flour mixture, yeast, and the rest of the milk. Also add the eggs and butter.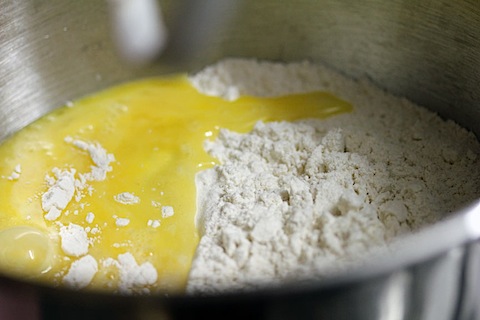 Mix the ingredients into a soft, but not sticky, dough.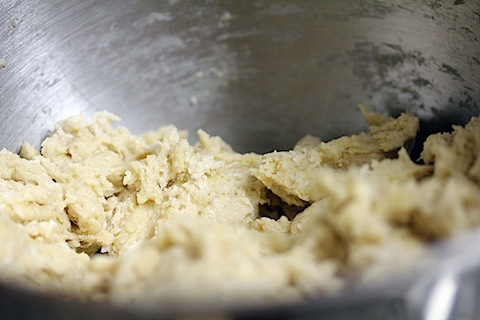 Then pop your dough hook onto your mixer and knead the dough for about 2 minutes. If you don't have a dough hook, you can put the dough onto a lightly floured surface and knead it until it's smooth and elastic.
Place the dough in a lightly oiled bowl.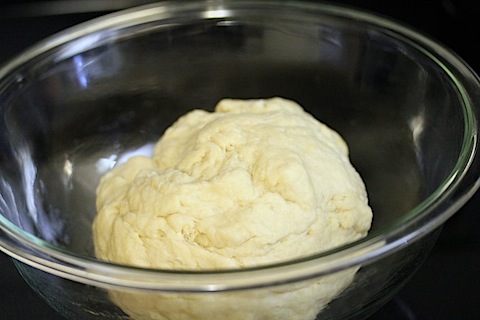 Cover the bowl with a towel and place it in a warm place. Let it rise for about 2 hours.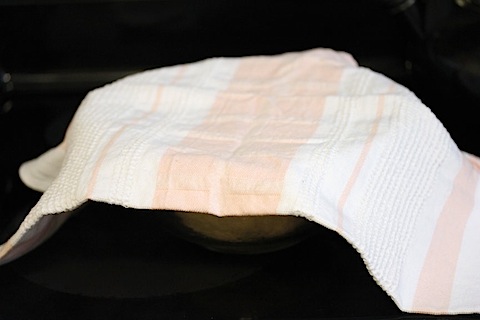 It should just about double in size.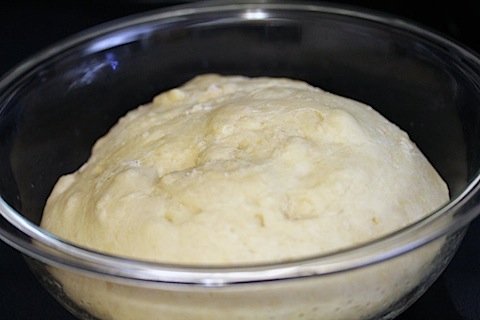 Now, punch down the dough and place it on a lightly floured surface, kneading a bit.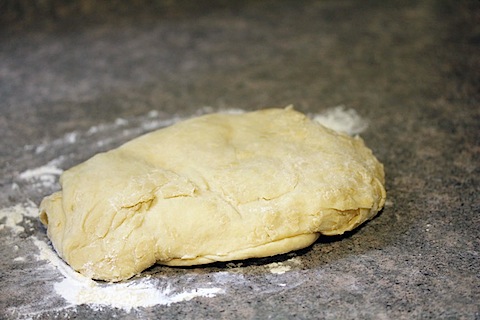 With a lightly floured rolling pin, roll the dough out to be about a ½-inch thick. Yay for my dough rolling counter!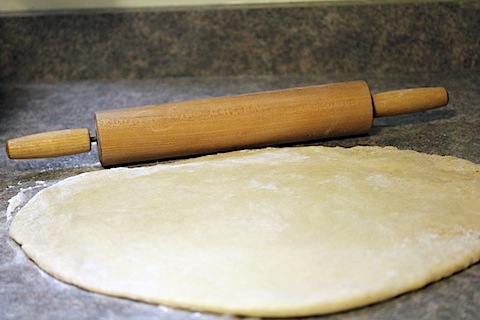 Cut out 3-4-inch rounds with a biscuit cutter or whatever tool you have. My largest biscuit cutter was still a bit too small, so I used a drinking glass. It worked well 🙂 You might need to gather the scraps and re-roll the dough to get all the rounds you can.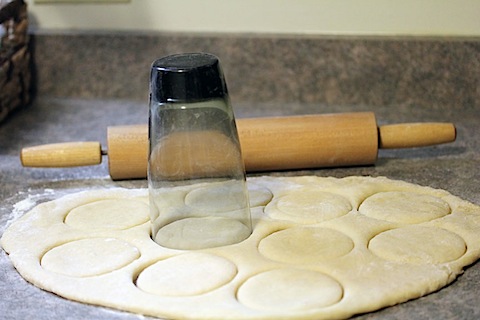 Lightly flour a baking sheet and place the rounds at least a ½ inch apart.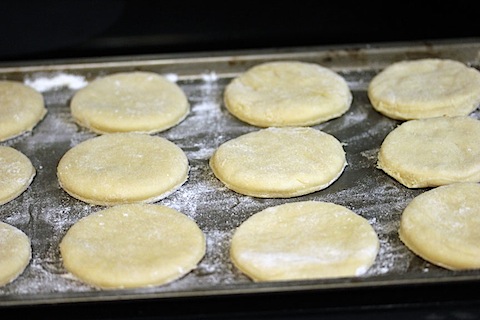 Cover with a towel and let them rest in a warm place for about 20 minutes, to rise a bit more.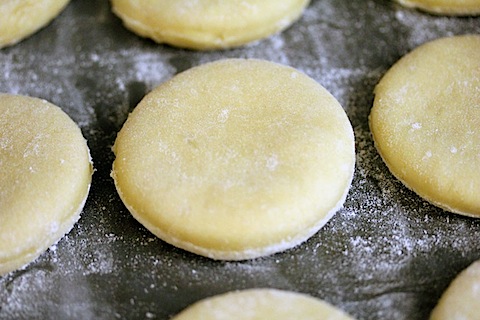 Now you're ready to heat your oil!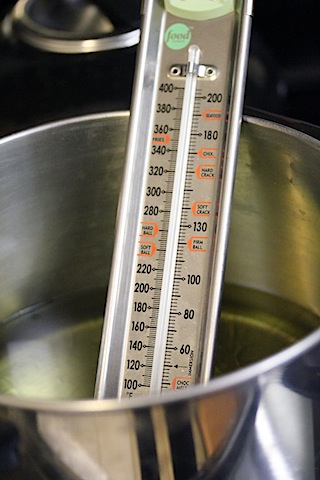 Heat about 2-3 inches of vegetable oil to 350 degrees.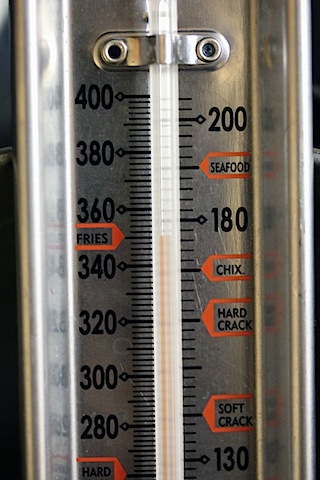 Put a couple of the rounds in at a time and fry on each side for about 2 minutes, until golden and puffy.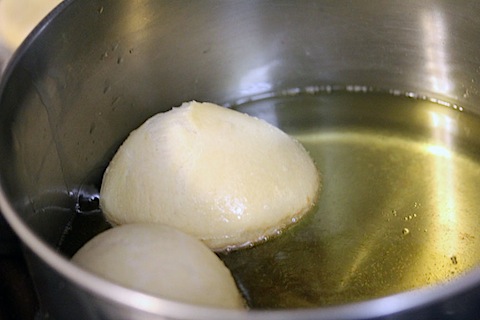 To be honest, I was skeptical about putting these flat dough rounds into oil and having them turn into doughnuts. But they poufed right up! It was kind of awesome.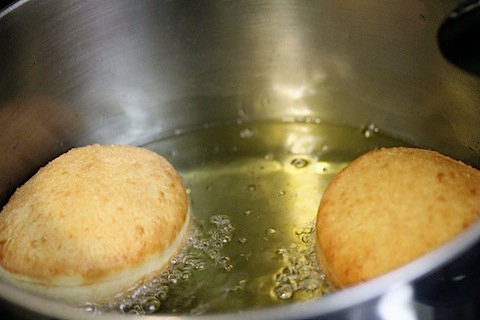 Make sure you use a slotted spoon to lift your doughnuts out of the oil.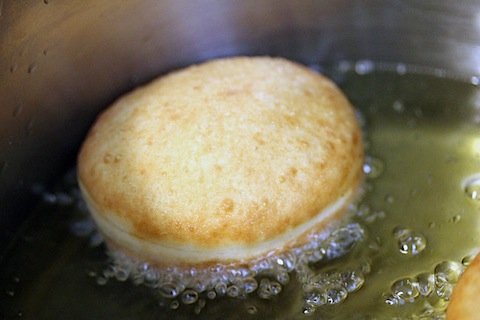 And place them right into a cinnamon/sugar mixture. I started with about ½ cup of sugar mixed with 1 teaspoon cinnamon. After making my way through half the doughnuts, I added another ½ cup sugar and teaspoon cinnamon.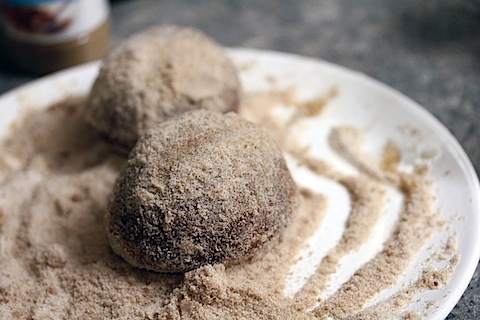 Once the doughnuts are cooled a bit, it's time to fill them! I filled a pastry bag with the jam and then fit the tip into the doughnut and piped the jam in.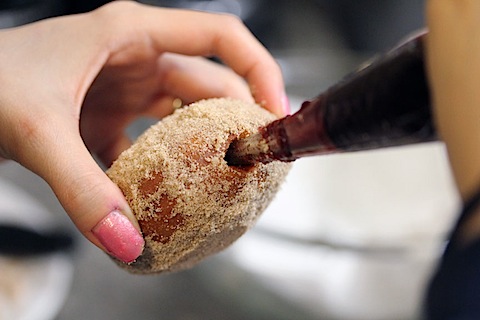 It was tough to tell exactly how much jam I was putting in, so for some of the doughnuts, I went back in added more. I like a lot of jelly in my jelly doughnuts!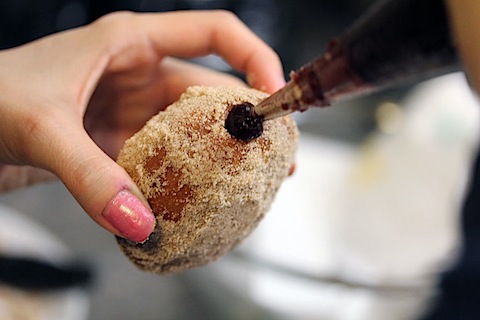 And then it was finally time to relieve my craving. Jelly doughnuts, fried not baked, were all mine.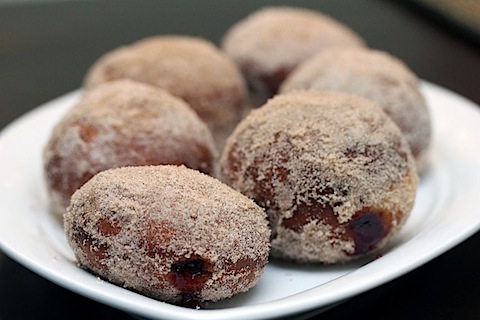 I'm pretty certain I measure all jelly doughnuts on standards set by Dunkin' Donuts, the doughnuts (donuts? whatever) I grew up with. And I have to say, these were incredibly similar. However, I'm happy to say they weren't greasy at all! But unlike the baked doughnuts, they were light and airy and weren't cakey. Yay!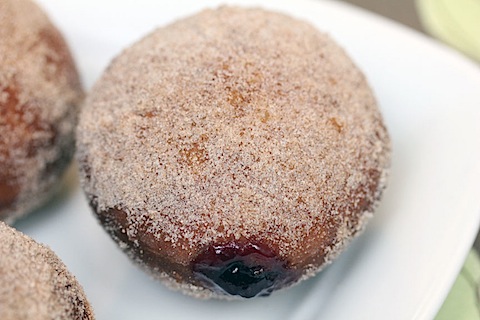 I love you baked doughnuts, but when I have a craving for the real deal, I want the real deal. I also love these new placemats my mom got me from Kohl's this weekend (along with some super cute items from Lauren Conrad's collection. Uh, I know I'm 28, but I LOVE Lauren Conrad's designs for Kohl's).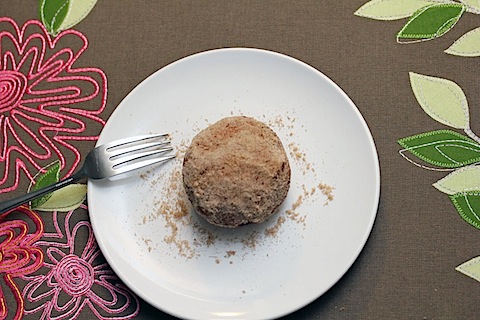 Mmm. I really need to plan a brunch party ASAP because I need a good excuse to make these doughnuts again. Next up? I think I'm going to need to try Boston creme doughnuts. Similar concept.
See all the nooks and crannies? Now, that's a doughnut!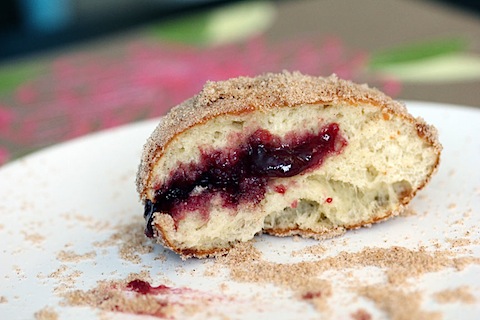 If you make these, be aware that they really are best the day you make them. They weren't bad the next day, but by the third day, the doughnuts were definitely a bit stale and the sugar was dissolving off. But seriously, these shouldn't last over a day in your house! They're most fabulous when they're still a little bit warm 🙂
A nice clean apartment and a plate full of jelly doughnuts? I'm a very happy girl! And now that I've tackled jelly doughnuts, I'm almost feeling confident enough to confront the pain au chocolat I've been dreaming about...
What have you been craving lately?
[Sues]