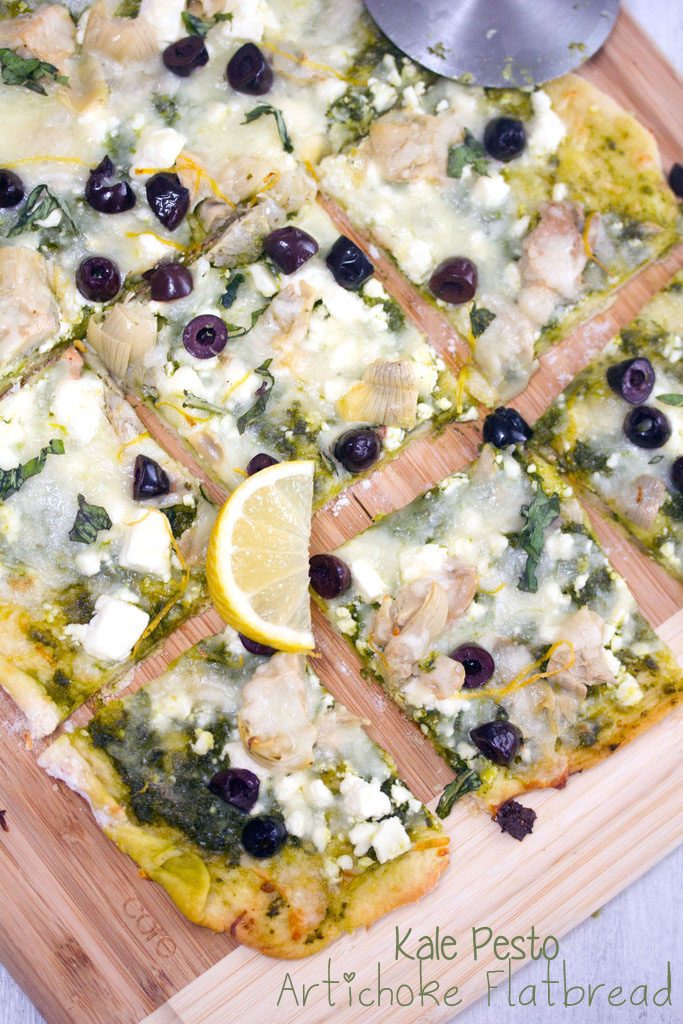 Social media is so weird. Like, I can't think of a single thing currently lacking that a new platform could possibly be needed for. Between Facebook, Twitter, Instagram, Pinterest, LinkedIn, etc., etc., what more could be needed?? Except if there was a social media platform that could force me to get more sleep. Someone please invent that ASAP and I will be a very early adopter. But I guess before social media existed we never really knew we needed it, right? I still find myself resisting joining new platforms, until I'm like "Wait... Not only am I a blogger, but I have 'social media' in my actual day job title." Like legitimately. I should probably be on top of that. And so I joined yet another social media platform today. Something tells me Peach isn't going to be around for too long because, let's be honest, it's not easy out there for new social media platforms. But in the meantime, if you want to follow me, I'm @Sues on there.
Five years ago, I don't think I really knew what kale was. And I didn't realize it was lacking from my life. But now that it's here, I don't know how I survived without it. So yes, I realize I am posting two kale recipes in a row. And that might make me look a little bit crazy. But I also want you to recognize that neither of these recipes are overly healthy recipes. Which means you can sneak kale into all kinds of things that will still totally satisfy you. First doughnut egg sandwiches and now pizza (but, I mean, doesn't "flatbread" make it sound a little bit fancier??). If you totally hate kale, I apologize. I know it's supposed to be completely out of style for 2016, but just like I wear white pants after Labor Day, I eat kale when it's not cool. If you're really, really anti- you can most definitely use spinach instead.
Kale is only a very small part of this flatbread, anyway. It's really just an element in the sauce. It's kind of like a green tomato sauce, but with kale instead of tomatoes. And if you didn't already know, pesto is one of my favorite things in the world.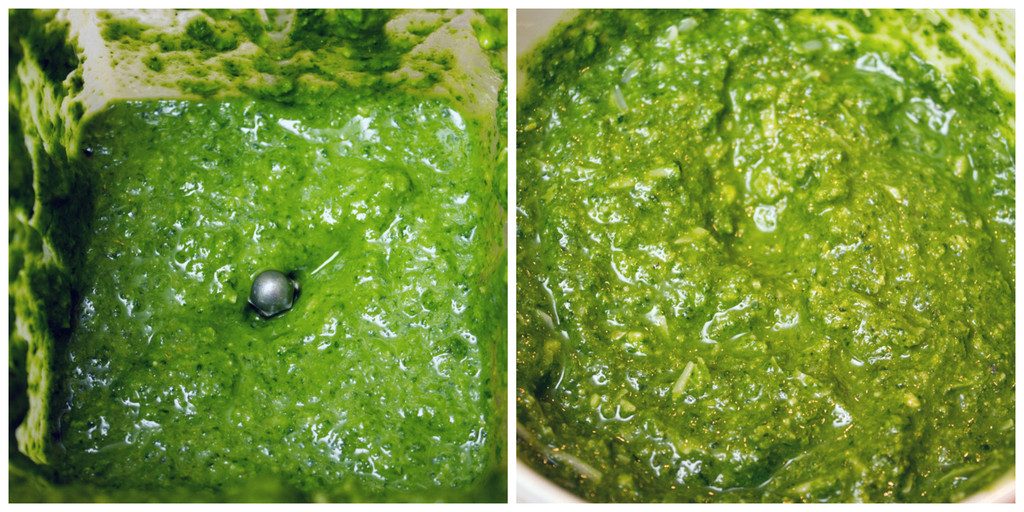 But sometimes I think I have a lot of favorite things in the world... Because cheese and olives are up there pretty high on my list, too. And artichokes aren't too shabby either. Basically, this flatbread is a very "me" flatbread. Did I mention there's parmesan cheese and lemon zest baked into the flatbread dough? Also, that I am writing this while I'm very hungry?
It had been way too long since I'd made a flatbread and I needed a serious fix. I'm happy to say this worked better than I even imagined.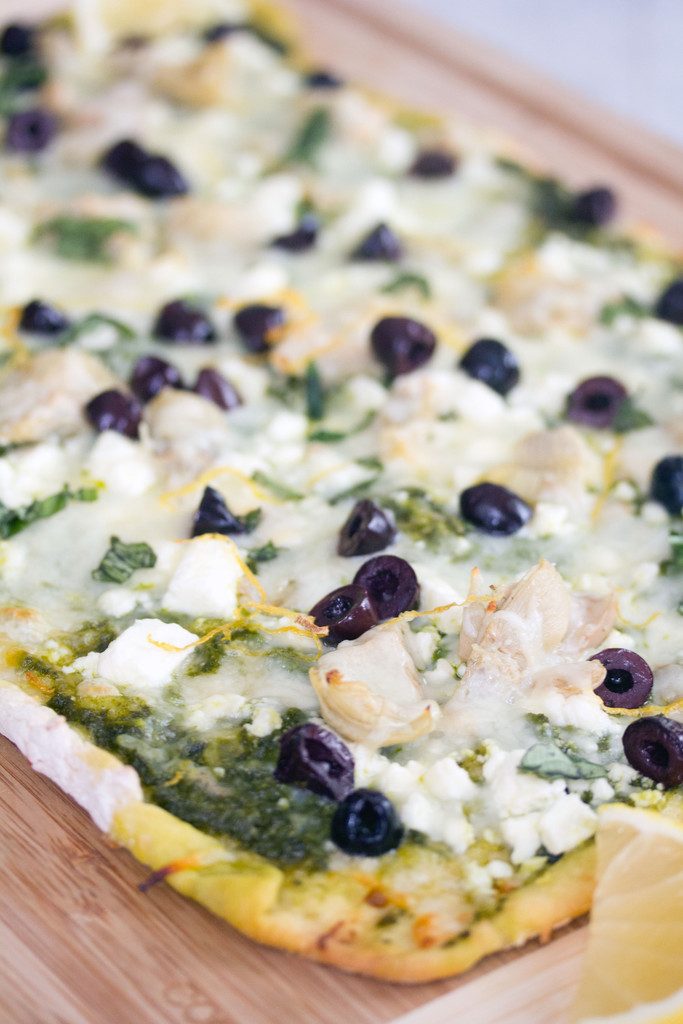 The kale pesto made for a really great base. While I love a good traditional pizza, I'm always much more attracted to white pizzas or those without a tomato-base. After baking the crust a bit, I spread on the pesto and then sprinkled on lots of feta cheese, artichokes, mozzarella cheese, kalamata olives, and lemon zest. I baked the flatbread a little more until the cheese was nice and melty and then I added a little basil on top.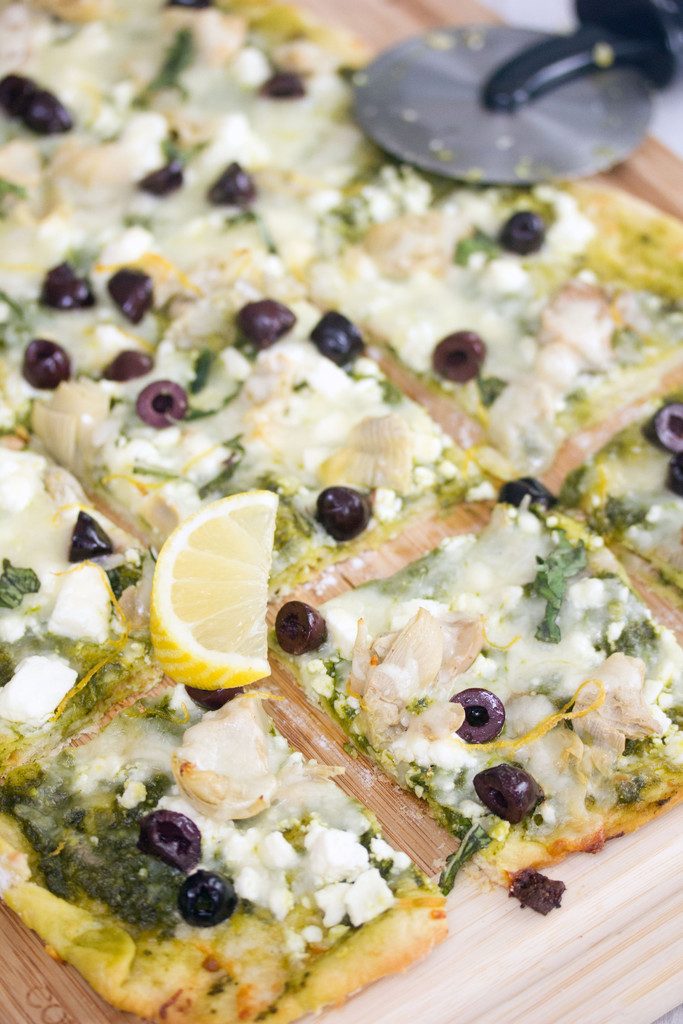 This and The Bachelor are about the only things that are making this Monday OK in my book. Does anyone else feel like the weekend lasted like 5 minutes?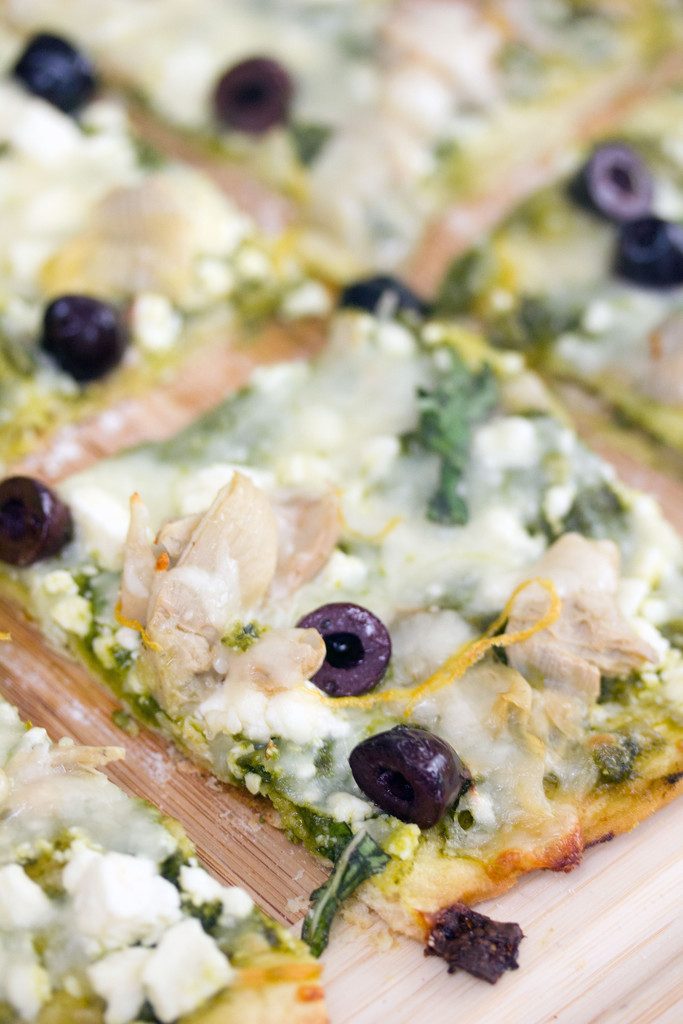 To be clear, though I feel like the social media space may be saturated, I think there's still plenty of room for more cheese varieties and more kinds of greens. There could never be too many and there is always a need that can be filled.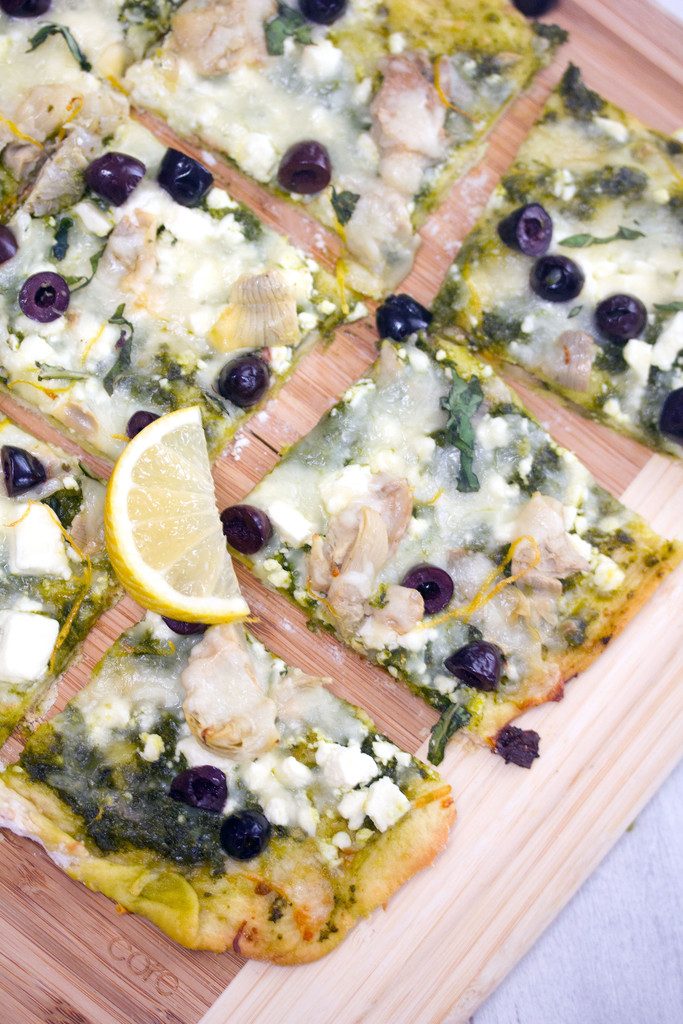 One of my favorite things about making flatbreads is that it gives me plenty of leftovers for take-to-work lunches throughout the week. And I get really, really excited when I'm sitting at my desk and all the sudden remember I have flatbread waiting for me for lunch.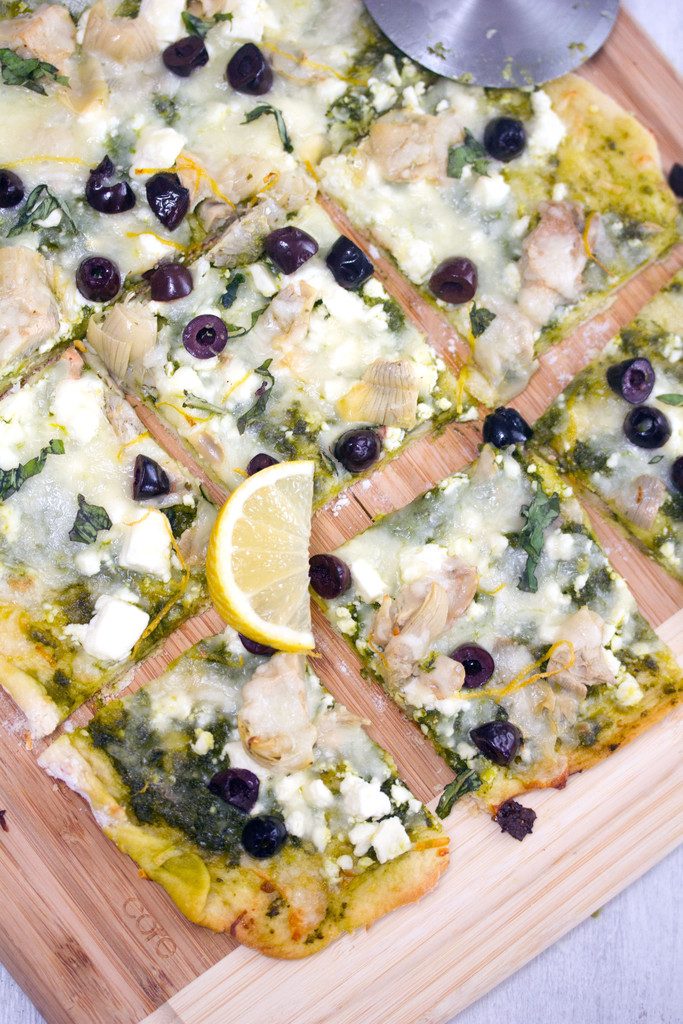 Side note: Don't you think artichokes are majorly underrated? If it weren't for spinach artichoke dip, I honestly think they'd be basically extinct by now. Let's work to save the artichoke. And let's also continue to convince the world that kale and kalamata olives are delicious. They get so much hatred from so many people and it's just not fair.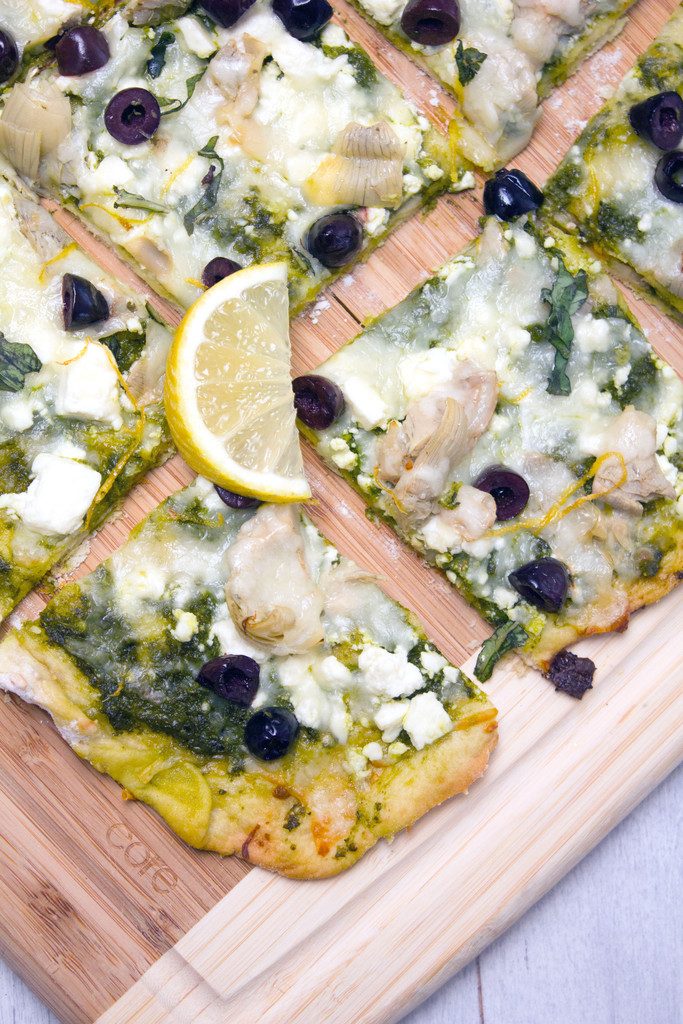 We can probably head to social media to start making a difference. If people can non-stop share their political opinions, I think I can convince my friends and followers that kale and kalamata olives are a gift we should all appreciate.
Pesto on pizza or tomato sauce?
Kale Pesto Artichoke Flatbread
This thin crust flatbread is packed with the light flavors of kale pesto, artichokes, feta cheese, and more. It's easy to make and can be customized to your liking!
Print
Pin
Rate
Ingredients
½

batch Lemon Parmesan Flatbread Dough

1

batch kale pesto

½

cup

crumbled feta cheese

6

oz.

jar artichokes

1

cup

shredded mozzarella cheese

¼

cup

sliced kalamata olives

2

tsp

fresh lemon zest

4

basil leaves

sliced into chiffonades
Lemon Parmesan Flatbread Dough:
¾

Tbsp

rapid rise granulated yeast

1½

cup

lukewarm water

¾

Tbsp

salt

1

tsp

sugar

1

Tbsp

honey

⅛

cup

extra-virgin olive oil

1

tsp

fresh lemon zest

3 ½

cup

unbleached all-purpose flour

¼

cup

grated parmesan cheese
Kale Pesto:
3

cups

kale

washed with ribs removed

8

large basil leaves

2

cloves

garlic

peeled

1

Tbsp

lemon juice

2

tsp

pine nuts

½

cup

- ¾ cup extra-virgin olive oil

¼

cup

grated parmesan cheese
Instructions
Pre-heat oven to 450 degrees. Place baking sheet lined with foil in oven to heat.

On a lightly floured surface, roll out dough into a large thin rectangle.

When oven is pre-heated, lightly sprinkle flour over foil-covered baking pan and place flatbread dough on top.

Bake dough for about 7 minutes.

Remove from oven and spread kale pesto over the top of the dough. Sprinkle feta cheese on dough, followed by artichokes, mozzarella cheese, kalamata olives, and lemon zest.

Place back in oven and bake for another 5-7 minutes, until crust is beginning to turn golden.
Lemon Parmesan Flatbread Dough:
Mix yeast and water in a large bowl and let rest for about 2 minutes.

Stir salt, sugar, honey, extra-virgin olive oil, and lemon zest into the bowl.

With a wooden spoon, mix the flour in. If dough is dry, add more water, 1 T at a time.

Gently knead parmesan cheese into the dough.

Cover bowl with a towel and let rest in a warm spot for about 2 hours. Dough should rise during this time.

Wrap in plastic wrap and refrigerate until ready to use. Recipe makes enough for two large flatbreads.
Kale Pesto:
Place kale, basil leaves, garlic, lemon juice, and pine nuts in a blender.

Blend until finely chopped.

Slowly stream extra-virgin olive oil into blender while motor is still running, being sure to scrape down the edges of the blender.

Pour pesto into a bowl and stir in parmesan cheese.

Keep in fridge until ready to use.
Share a Photo of Your Finished Recipe!
Mention @wearenotmartha and share a photo if you've made the recipe!