You know when you're at a wedding and you just know the couple is going to last forever? When you just know the couple is so incredibly perfect for each other? That's the wedding I was in this weekend. My best friend from college, Kyle, got married to Jeff. I met Kyle on the very first day of freshman year of college. Probably within the first hour (she lived 3 doors down from me). And we instantly connected. 9 years later (holy cow, I can't believe it's been that long!) and she's still an incredibly important part of my life. I could probably spend a whole post gushing about her, but that's kind of weird.
I didn't end up taking a ton of photos at the wedding mainly because a) I was busy being in it and b) there was a professional photographer and all. But I did take a few (especially of the food!) and the location and decor were so pretty, I just have to share.
The wedding had a literary theme to it (there's your first clue as to why Kyle and I were such good friends from the start!) and everything fit so well, without any kind of overload at all. The reception was held in the MIT Student Center, which was such a wonderful location.
First of all, check out the room for the bridal party. Cheese and Shakespeare? Nothing makes me happier: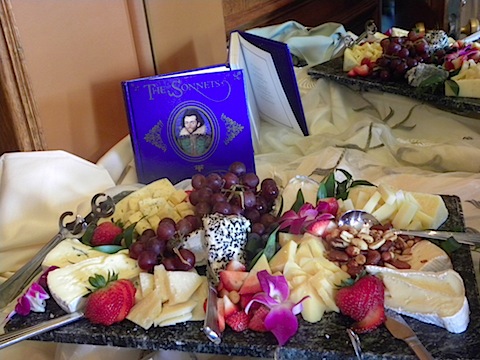 Everything was beautiful.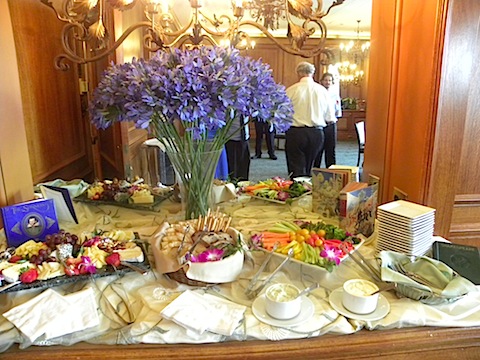 Even the flowers just reminded me so much of Kyle. They were beautiful wildflowers, with lots of herbs intertwined (Jeff loves cooking!):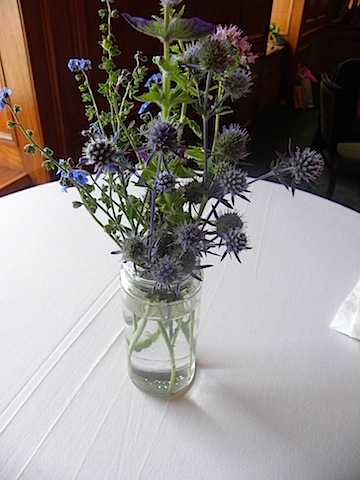 Everywhere we went in the building, we had an AMAZING view of Boston and the Charles. It was incredible.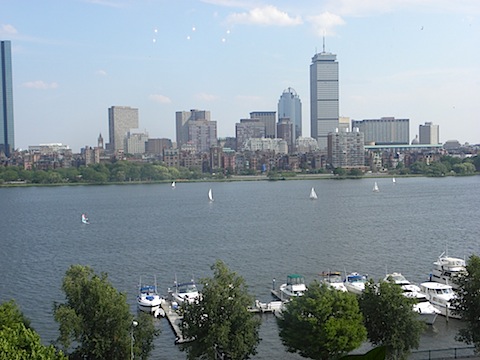 Of course, the table centerpieces were old books!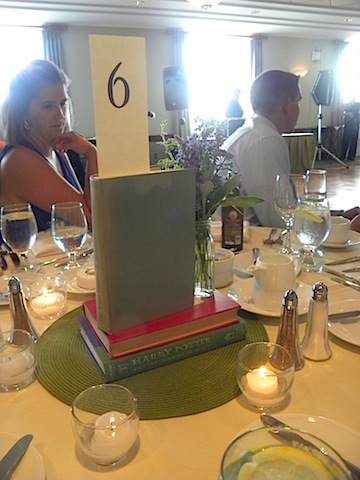 And our place cards were "this book belongs to" stickers. I loved this creative touch!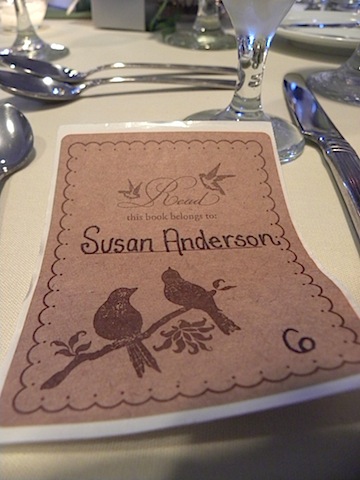 I'm still kind of proud of my speech during my sister and adam's wedding, but I have to say both Kyle's sister's speech and Jeff's brothers' speeches were some of the best I've ever heard. All were amazing!
The food at the reception was also really fabulous. I loved the strawberry/goat cheese salad.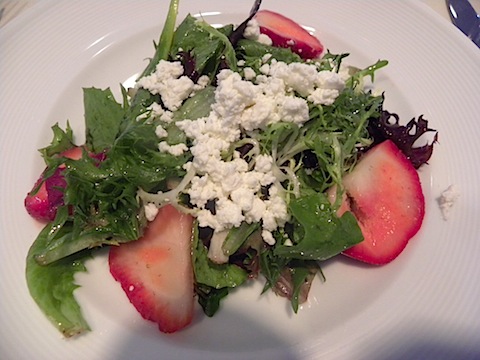 And I'm obsessed with the fact that we had a mango sorbet (pallet cleanser!) in between the salad and the entree.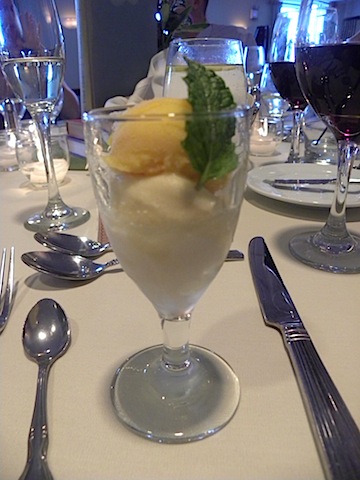 We didn't choose a meal ahead of time, so I was wondering what the entree would hold… Both beef and fish! So much better than having to pick one or the other.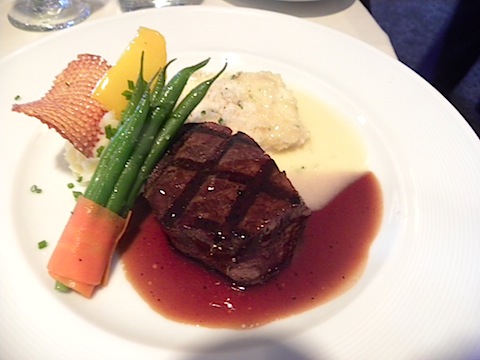 And instead of a cake, we had an awesome dessert trio. How fun is this?? I especially loved the little mug of chocolate mousse, but the the mini strawberry shortcake was also delicious.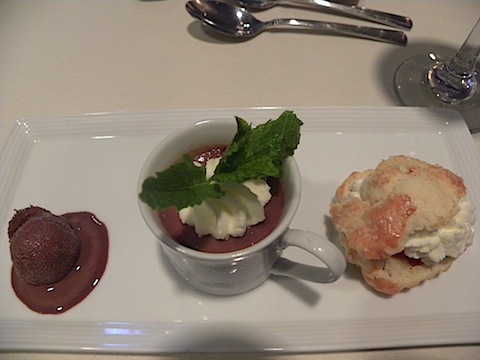 The bride's dress was BEAUTIFUL: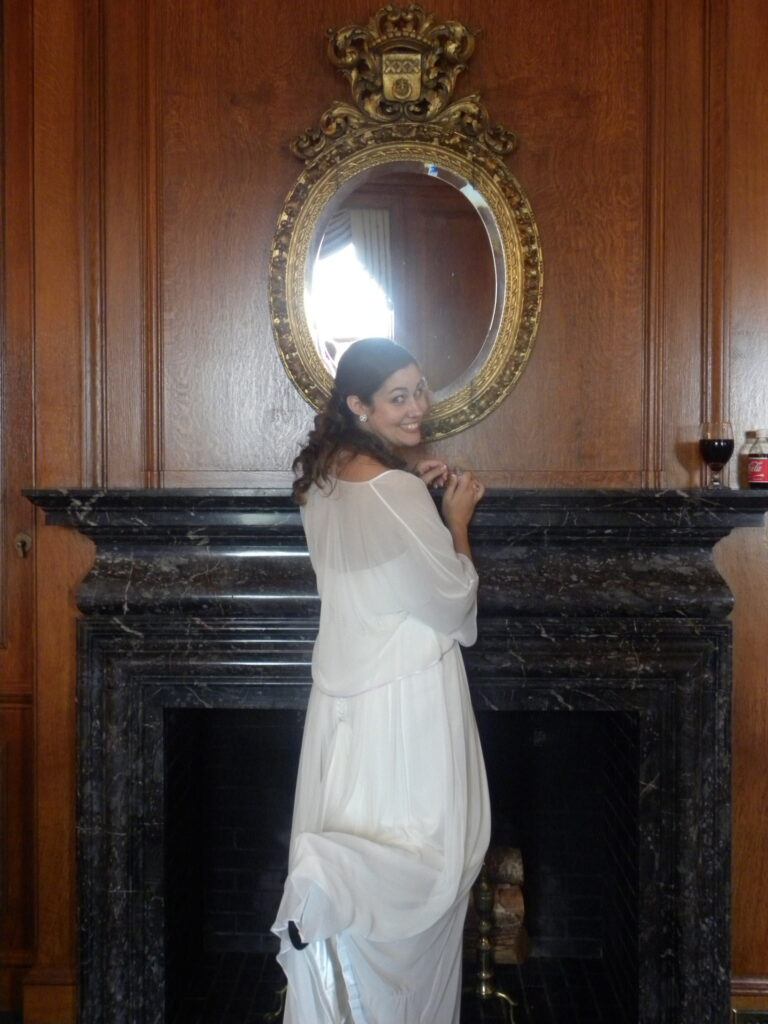 And the groom was looking quite dapper too!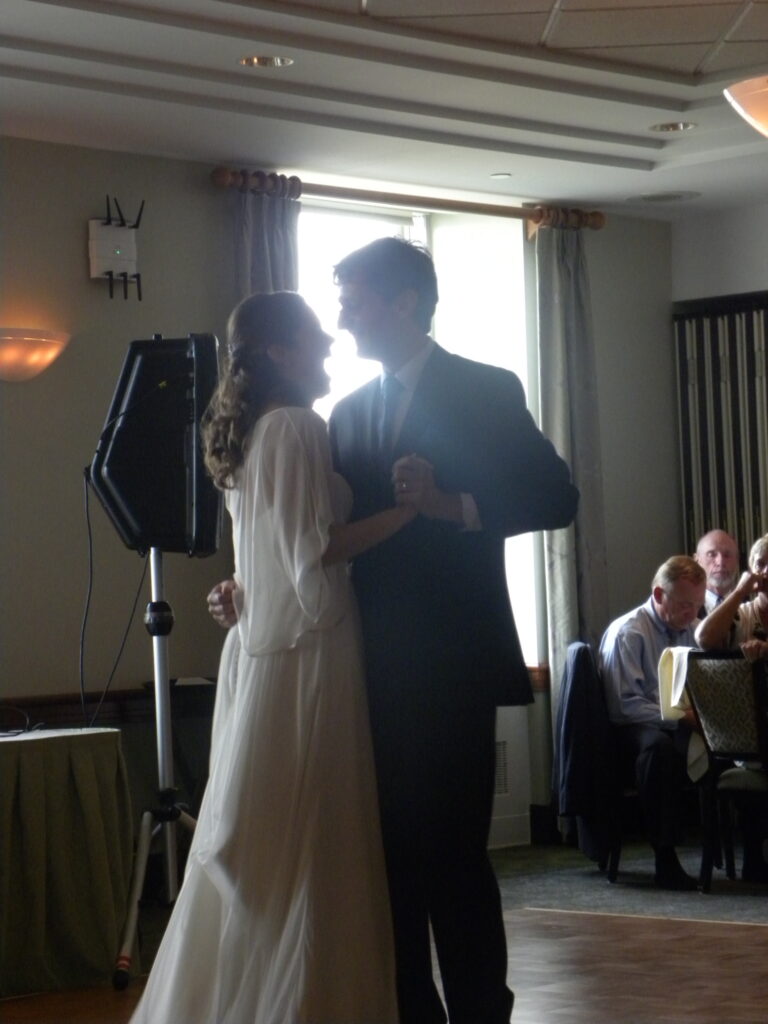 I don't know why the only photo of me and the bride is kind of blurry and of us cracking up. But I guess that describes our friendship pretty well.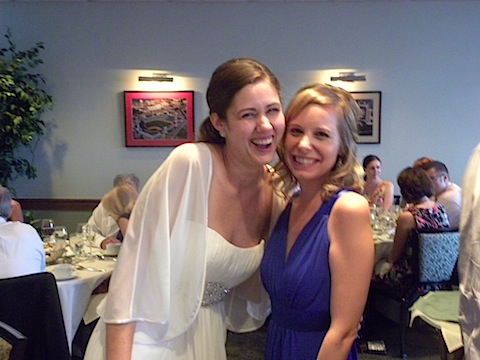 We couldn't stop talking about how perfect this wedding was… And how "Kyle and Jeff" it was.
By the way, I was planning on doing my hair myself. But when I heard it was going to be 94 degrees, I made a last minute appointment for a blow dry at Eve Michael Salon. I told Ana not to bother curling it because there's no way it would stay curled. But she said she could make it work. Somehow my hair stayed pretty perfectly curled the entire day and night! It was amazing, considering my hair barely even stays curled in no-humidity weather with tons of hairspray.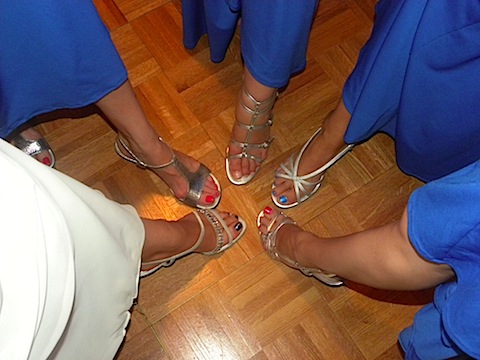 Also, if I do say so myself, the bridal party was pretty fabulous. It's difficult (I think) to find a group of girls that just gets along, gets the bride, and agrees on most things. But Lindsay, Kim, and Janet were joys to plan with. We might actually have to plan another party for Kyle soon just so we can work together again… I didn't get any shots of all of us together at the wedding, but here we are from the shower last month: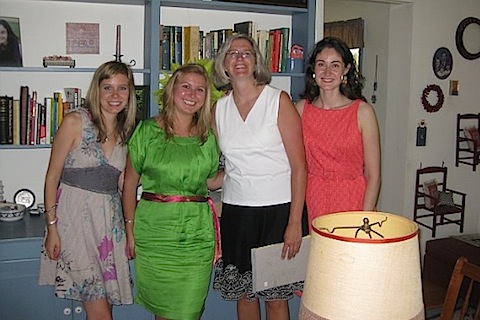 Oh, and the night before was pretty fabulous rehearsal dinner, too. For some crazy weird reason, I've never been to Dante before (most likely because it's tough to get to on the T). But I LOVED it. The deck was beautiful and food wonderful. I'm sure the company didn't hurt either.
I can't for the life of me remember what this drink was called, but it involved orange, prosecco, and St. Germain. And it was the most refreshing, delightful drink for a hot evening.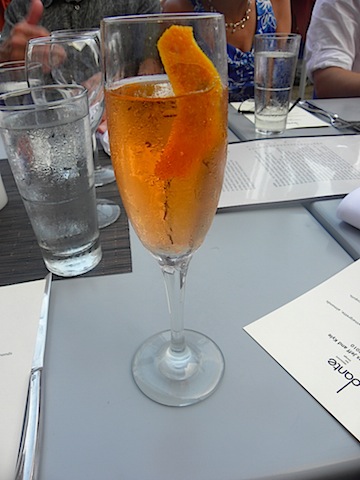 I loved that we had a special menu with options: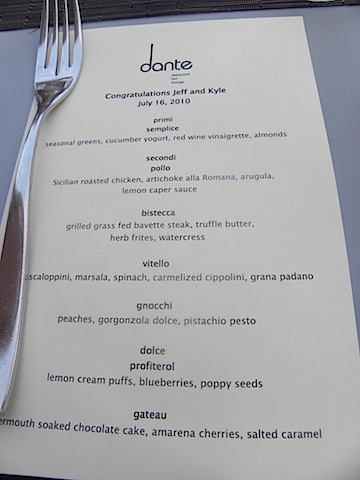 I always enjoy a salad that's filled with delicious leafy greens.

I ordered the veal scaloppini for my meal and it was tender and nearly perfect.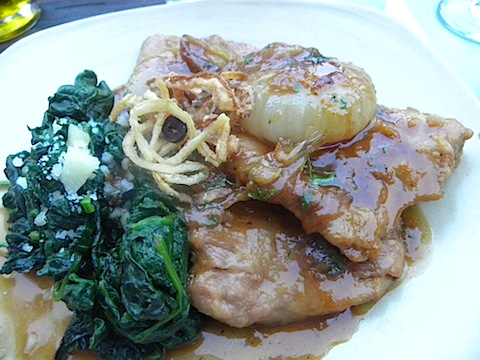 Chris got the grilled grass fed bavette steak and it was seriously the most tender juicy steak ever. I'm not even a huge steak person, but I would gladly devour this entire thing.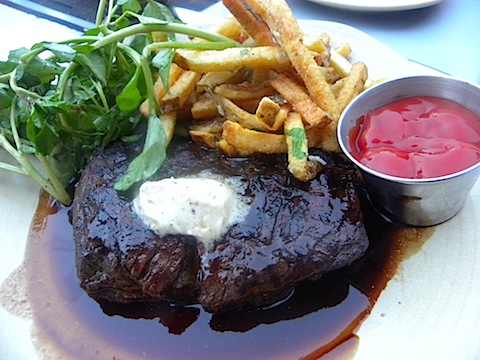 We shared the desserts- lemon creme puff and blueberry profiteroles: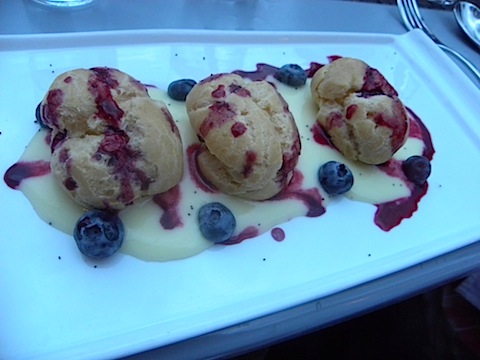 And vermouth-soaked chocolate gateau with amarena cherries and salted caramel. SO SO SO good!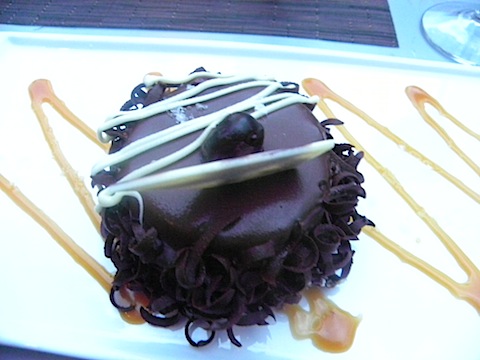 It started downpouring when we were eating dessert, so the waiter pulled a bunch of umbrellas together. It wasn't until after the bride left that I realized I had no people pictures (just plenty of food ones!). So I snapped one of me and bridesmaid Kim.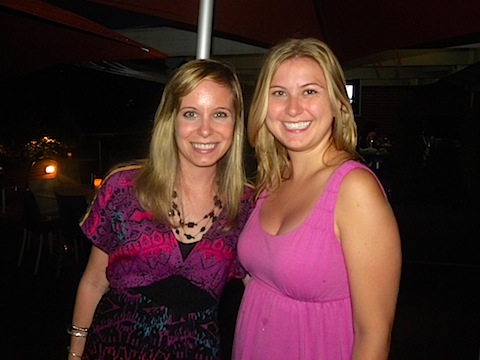 And me and Chris, of course.
Overall, it was a splendid weekend and a wedding that I'll definitely remember forever.
Congrats Kyle and Jeff! And I reallyyy hope you don't mind that I just wrote a whole blog post about your wedding 🙂 It was too good not to!
What's the best touch you've seen at a wedding?
[Sues]