So, this recipe may have changed my life. Why, you ask?
a) I might never make risotto with arborio rice again. Spelt risotto is absolutely amazing.
b) I might make a different kind of pesto every day for the rest of my life. True story. I could even open my own pesto factory!
Oh, and the lamb! The meatballs were ridiculously delicious. This whole recipe was a major win in my book. Though it was probably the most intricate meal I've made in a long time (really, it wasn't bad at all; just a few different components), it was worth it.
Chris and I bought ground lamb on our first visit to The Meat Shop and I absolutely knew I wanted to make lamb meatballs with it. But I didn't have a recipe. When I came across Meeta's recipe on What's For Lunch Honey? I knew I found the one. Problem? I didn't know where to buy fresh coriander leaves. So I looked up a coriander substitute and discovered there isn't one. Fun. So, I found the closest thing possible and decided on a parsley, dill, and tarragon risotto. (As Victoria points out in the comments coriander leaves are actually cilantro. I have NO idea why I didn't know this, but alas, I did not. At all. But I'm actually glad because I'm not the hugest cilantro lover- don't hate it, but don't love it- and I think I like my combo better. And now I know...).
Let's start with that, shall we? But please note, you can make these in any order... The risotto definitely takes the most time, so you probably want to make your meatballs while that is on the stove (and start soaking the spelt before anything at all). I made the pesto first, then started on the risotto, and worked on the meatballs while that was finishing.
Parsley, Tarragon, and Dill Pesto:
2 C parsley
½ C dill
¼ C tarragon
1 C cashews, toasted and roughly chopped
2 garlic cloves, chopped
2 T fresh ginger, grated
1 red chili, seeded and chopped (I ended up using red pepper flakes)
Olive oil
¼ C parmesan
2 T lemon juice
salt and freshly ground pepper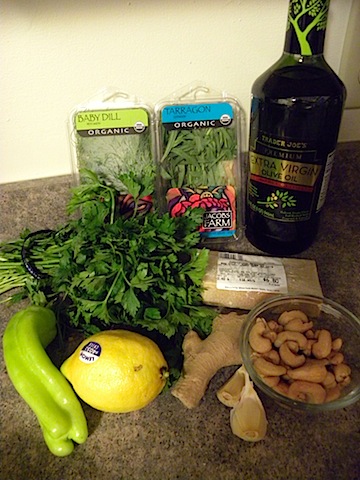 Once I discovered how easy it is to make pesto, I become obsessed with a capital O.
For this, all I did was put the parsley, dill, tarragon, cashews, garlic, ginger, and red pepper flakes in the food processor and process until well blended.
I bought what I thought was a spicy pepper (there were no signs at the grocery store and I do not know my pepper varieties well enough!), but when I cut it, it was mild as can be... So I used the red pepper flakes for a little kick, instead.
Then I kept the FP running and slowly added in olive oil until the pesto was smooth. Then I added in the parmesan, lemon juice and some salt and pepper.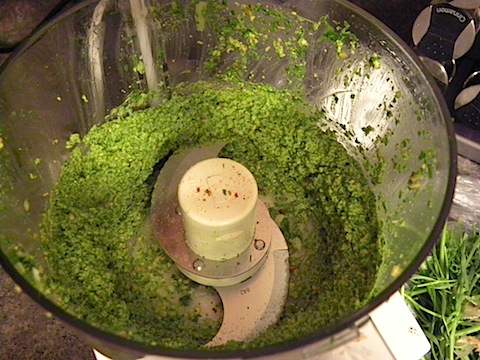 That's it!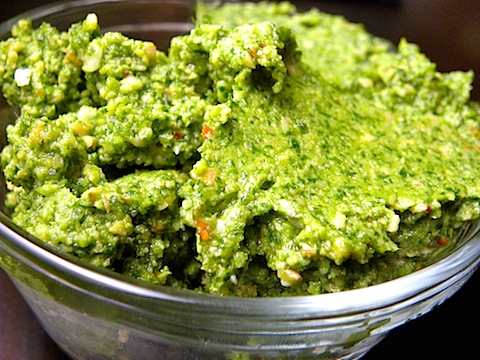 Next it was time to get started on the risotto. I followed Meeta's recipe, which uses spelt instead of arborio rice. Don't get me wrong, I seriously LOVE arborio rice risotto. But this spelt risotto was a whole other ballgame. It was nutty and hearty and super duper filling. It just felt right. If you know what I mean. Also, it's made with red wine. And given the choice, I take red wine a million times over white. A risotto after my own heart.
Spelt Risotto:
1 C spelt
6 C water
¼ C olive oil
2 T butter
3-4 shallots, finely chopped
¾ C dry red wine
2 C chicken stock
½ C parmesan
I'm an old risotto pro by now and this was made pretty much the same way. But there were a few things to do first- like soaking the spelt. I soaked it in cold water for 20 minutes and then drained and rinsed.
Then I brought 6 cups water to a boil. I added the olive oil and spelt and let simmer for 20 minutes.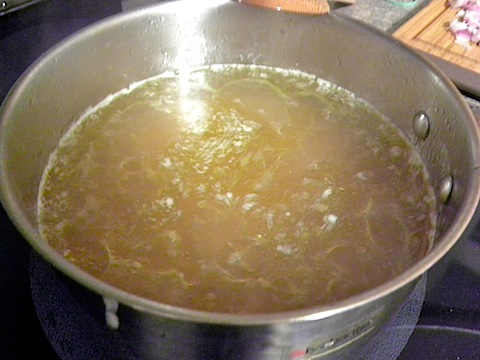 I drained the spelt and rinsed again (sheesh, is spelt super dirty or something??)
Then I melted 1 T butter and 1 T oil in medium saucepan over medium heat and added the shallots. I sautéed for 1 minute.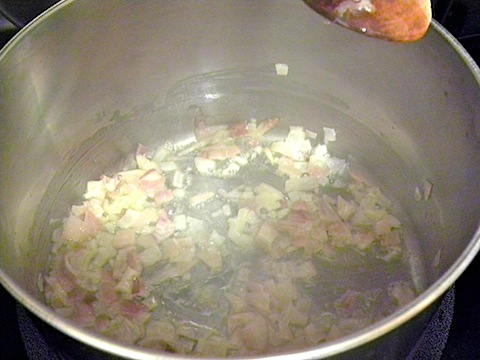 I added spelt, stirred, and added the wine. I simmered it until almost all the liquid evaporated... It took longer than I thought. Longer than it would with arborio rice, but no big deal.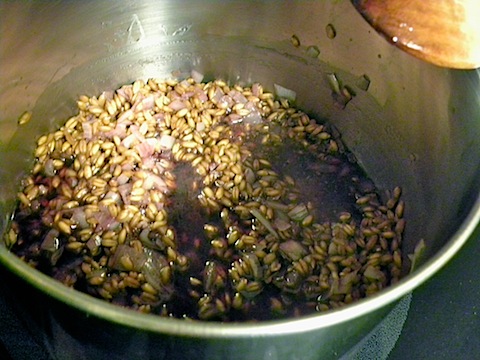 I added the chicken stock in about ½ C at a time until each one was mostly absorbed. Which also took longer than I expected. Meeta's recipe said about 15 minutes total... Mine was more like 30. The recipe didn't specify to simmer the chix stock first... But maybe I should have? That may have helped the absorption process along.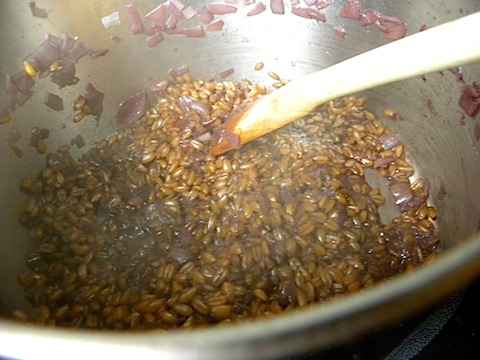 Then I stirred in the parmesan cheese for a delicious creaminess.
OK, and we're finally on to the meatballs!
Lamb Meatballs with Mint (serves about 4):
1 medium red onion, finely chopped
6 sprigs mint, finely chopped
1 lb. ground lamb
1 egg (or 2 if you want your meatballs a bit moister)
3 T whole wheat breadcrumbs
Pinch ground cinnamon
Pinch ground coriander
Olive oil
Salt and freshly ground pepper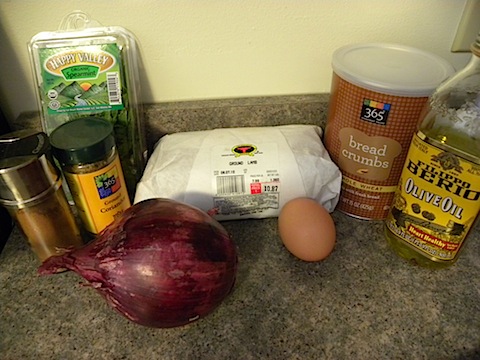 These are actually quite simple, too. Just get a medium bowl and mix together the onion, mint, lamb, egg, breadcrumbs, cinnamon, and coriander. Like I said above, I used 1 egg, but think I would use 2 in the future to make the meatballs a bit moister.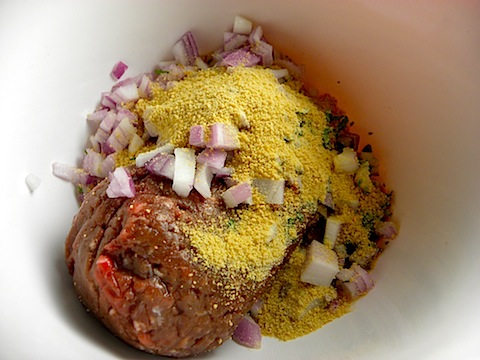 Then use your hands to make about 12 meatballs.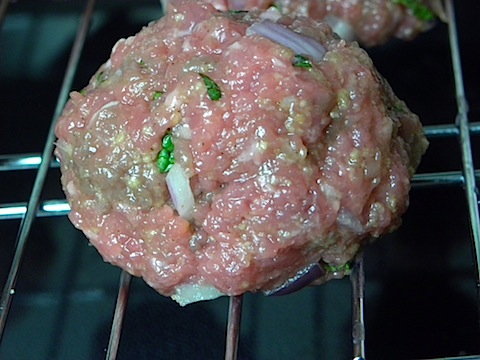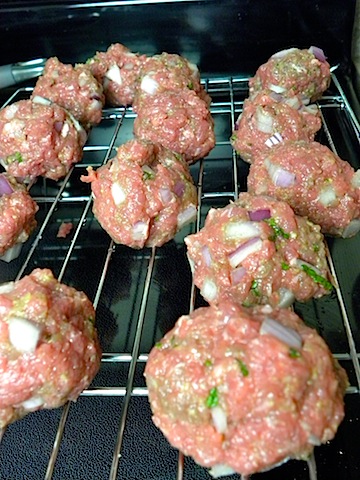 And heat a "good glug" (that's how Meeta says it and I LOVE it! GLUG!) of olive oil in a skillet and fry the meatballs for about 10 minutes, until browned and cooked from the inside.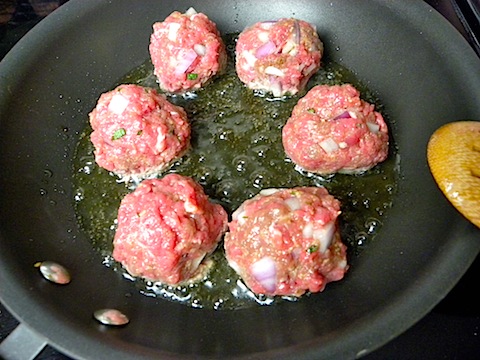 I served the meatballs next to the spelt risotto, which I topped with the pesto.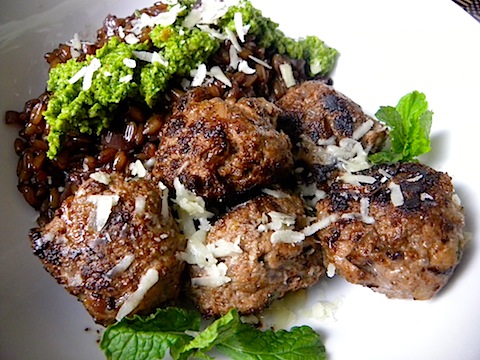 OMG the flavors!! I don't mean to brag, but my pesto combination was absolutely perfect for a Middle Eastern style dish. It went wonderfully with the coriander.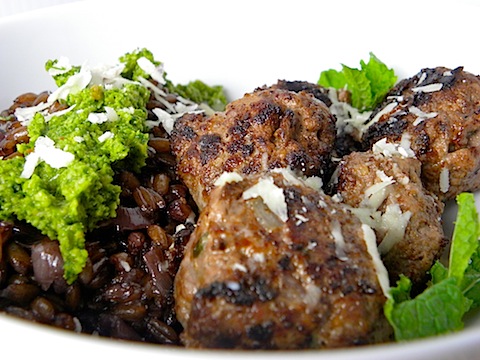 The meatballs were also incredibly flavorful I loved the touch of mint and cinnamon.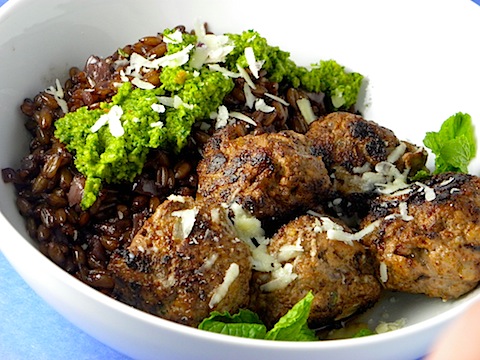 And the spelt risotto? OMG the spelt risotto. You NEED to try this. I could probably live off it. There was just so much more to it than arborio risotto. It was chewy (in a good way), filling, and packed with the flavors it held so well. I will definitely be making this again... And probably quite often.
The best thing about a risotto that is made with red wine? There's plenty left come dinner time!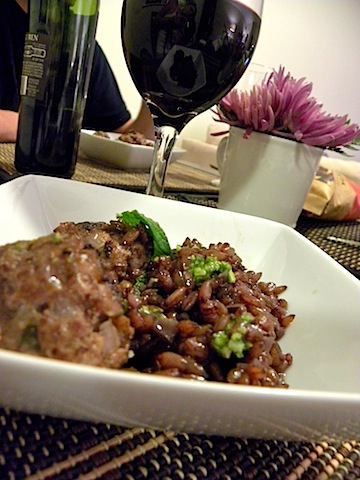 In case you couldn't tell, I was SO thrilled with this meal. I want it again and again and again. And FYI it's the perfect meal to make if you want to impress a date... Provided that date is a fan of lamb, of course. I mean, I hope Chris was impressed.
But I know what he really wants me to make is lamb vindaloo. Any good recipes for that one, friends?
But yes, make this. And enjoy it. And then bring me some, please.
[Sues]