If you tell me there's ginger in a dish (or a drink), I will eat it (or drink it). It's pretty much a very large obsession. If I see ginger in a dish on a menu, I'm ordering it. And if I find ginger in a recipe, I'm cooking it. So, when I saw a recipe for Lemon-GINGER frozen yogurt, I bookmarked it right away. (I actually think I saw it in a blog? But now I can't remember where because I only had the Epicurious recipe bookmarked). The chance to use my KitchenAid ice cream attachment AND eat ginger? You don't have to ask me twice.
I promise you I won't inundate you with my ice cream recipes because I know it's annoying to those of you without ice cream makers or attachments, but I have to share this one. And by the way, you really should try to get an ice cream maker (or KitchenAid attachment) because it's most definitely one of the best investments I've made in a long time (I've used it every week since I got it!).
Lemon-Ginger Frozen Yogurt (makes 4-6 servings):
¾ C water
¾ C sugar
¼ C light corn syrup
2 t fresh ginger, peeled and finely grated (I used a little bit more)
1 C plain nonfat yogurt
1 C low-fat buttermilk
¼ C fresh lemon juice
1 t lemon peel, finely grated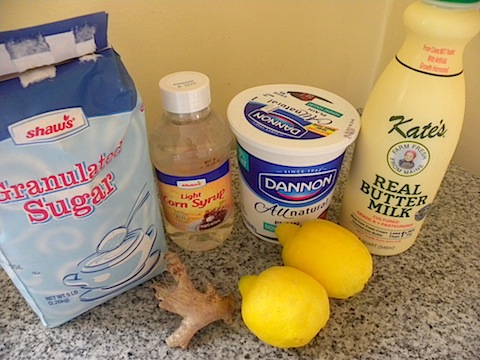 OMG ginger!! I started to grate the ginger with my grater, but it wasn't working at all (the ginger was too soft maybe?), so I just used my handy little Chef'N PalmPeeler (still waiting for that offer to make me Chef'N's spokesgirl, ahem) and then chopped it some more with a knife. I used a bit more than 2 t because a lot of people who reviewed the recipe said it wasn't gingery enough. And I wanted it to be gingery!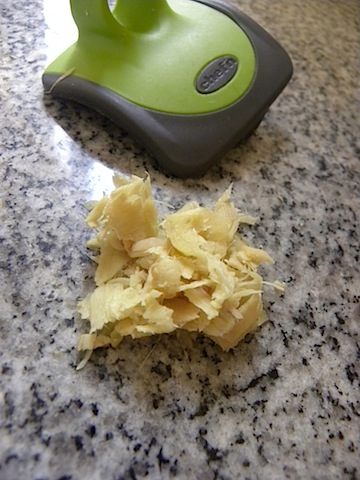 Bring the water, sugar, light corn syrup, and grated ginger to a boil in a medium sauce pan. Keep stirring until the sugar dissolves and let boil for about 2 minutes.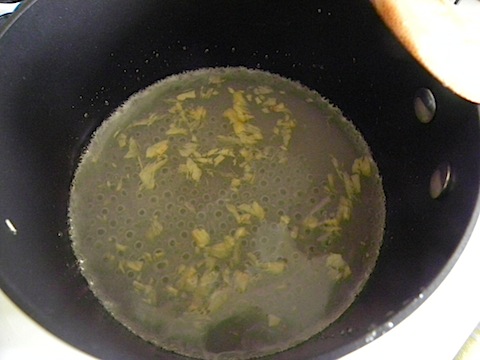 Strain into a medium bowl and chill until cool. I stuck it in the freezer for about 10 minutes and then moved it to the fridge.
Once the ginger mixture is cooled, whisk in yogurt, buttermilk, lemon juice, and lemon peel.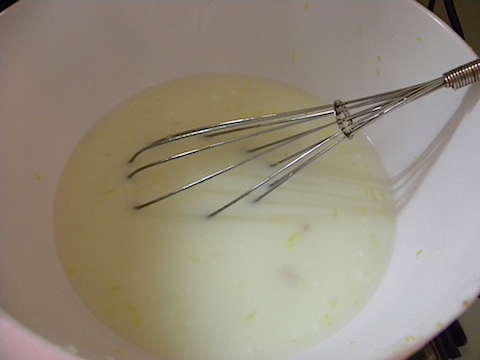 Now process it in your ice cream making according to instructions.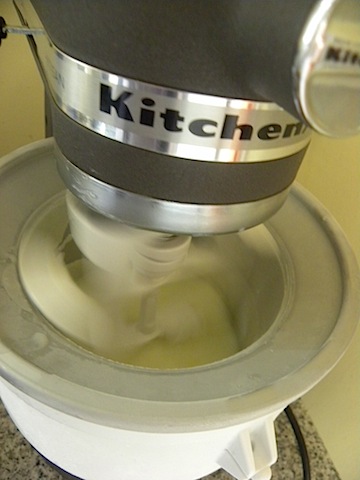 I let mine mix for about 30 minutes.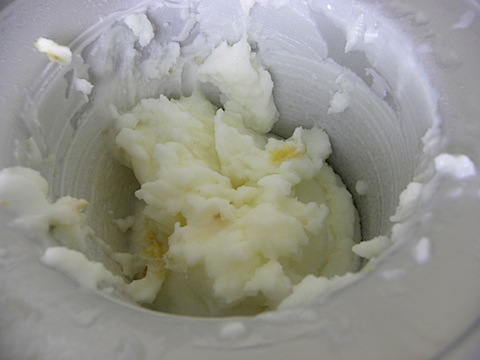 Then I moved it back into a bowl, covered it, and let it freeze. I gave it about 3 hours in the freezer.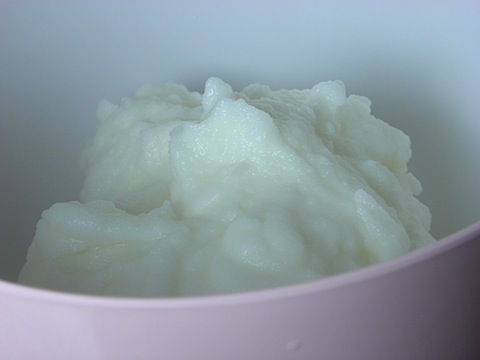 A little while ago, I found this amazing crystallized ginger at Sur La Table and have been looking for the best recipe to use it in. For now, I decided to use some as a topping on my frozen yogurt!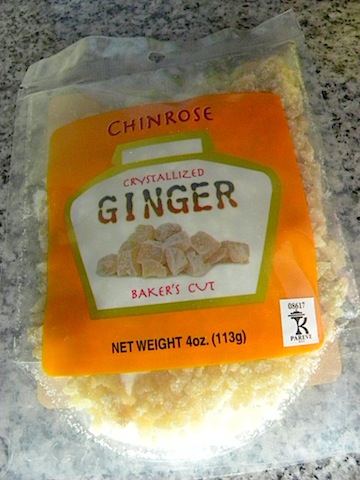 I scooped te fro-yo out and sprinkled crystallized ginger on top. YUM! This makes me realize I need to start picking up some pretty colored bowls instead of just white. But I still think it looked beautiful 🙂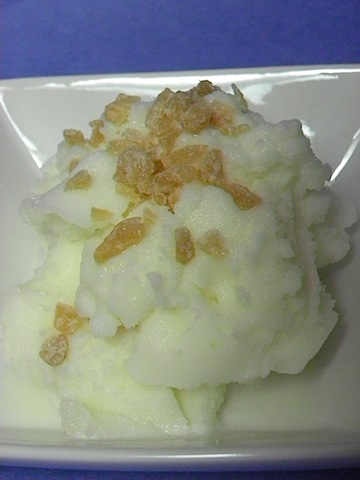 And it had an amazing flavor! It actually ended up having a consistency much more like a sorbet, which was just fine with me. But if I wanted more of a frozen yogurt (less icy), I'd probably use Greek yogurt next time.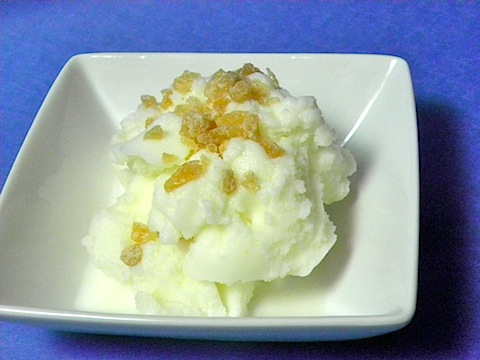 This lemon-ginger frozen yogurt is most definitely my ideal summer treat!! I can just imagine sitting outside on a super hot day, eating a huge bowl of this. It's nice and icy and so, so refreshing! Exactly what my ginger-obsessed self needed. And the crystallized ginger on top was the absolutely perfect touch!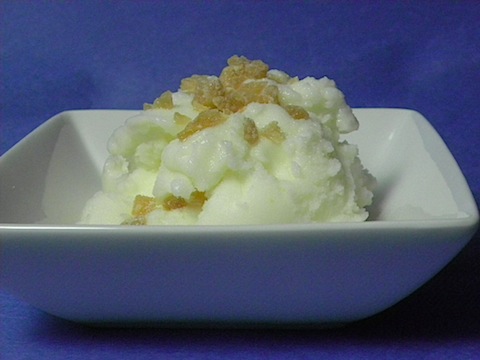 This will definitely be made again... And most likely all summer long. As long as you have the tools, it's super duper easy and requires almost no work at all. And if you're as obsessed with ginger as I am, you absolutely need to try it. Even if you're not the biggest ginger fan in the world, you'll probably still enjoy it because the lemon cuts it so nicely.
I'm glad the next few days are going to be HOT here in Boston because I'm planning on finishing this up!
Do you have any favorite ginger recipes I must try?
[Sues]