Happy Valentine's Day, friends!
A couple weeks ago Sues and I each received packages from Stonewall Kitchen with some of their delicious and all natural products. I immediately opened up the ranch dressing, sliced some cucumbers and enjoyed a really good and healthy snack as I thought about ways to use the rest of the items that were sent to me. I'm thinking of incorporating the strawberry peach jam into some sort of cookie and the roasted peach whiskey sauce will definitely be used on poultry.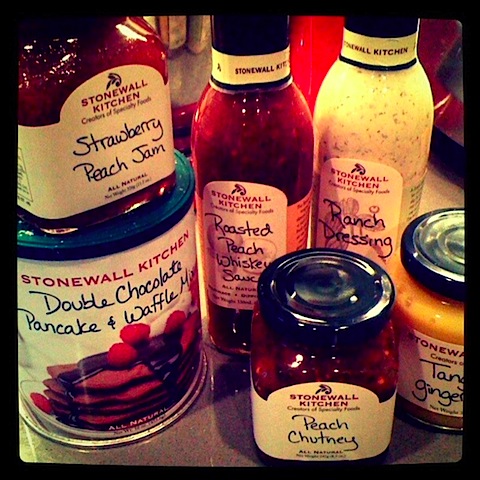 Then there was the Double Chocolate Pancake & Waffle Mix. Which I knew I couldn't eat all alone. Because it just sounded that good and I knew I wanted to spread the love. Yesterday, my friend Missy was planning on coming over so my roommate, Liza, and I planned an impromptu Valentine's Day Brunch and invited my friend Heather and Liza's friend Laura who both live in our area to enjoy a nice girl's day.
Making the pancakes was just about the only thing I knew I was going to make when I woke up yesterday morning, so I quickly threw together a menu, tossed on some sweats and my winter boots, went to the grocery store, and started cooking when I got home. Everything was done in about an hour or so. Something is definitely a little "different" with me because I actually enjoy cooking and entertaining under pressure. I kind of get a little rush 😉
So, the final menu included:
Fenugreek dusted baked bacon
Maple Sausage links
Stonewall Kitchen Double Chocolate Pancakes. Missy got here a little early and flipped the pancakes which was a big help. We tried using my heart pancake mold but it didn't work so well so we nixed the idea and just made regularly shaped pancakes. You should know, this mix has little tiny chocolate chips in it. No better way to feel loved than finding little morsels of chocolate in your pancakes!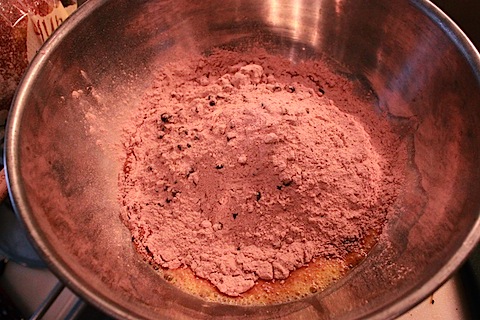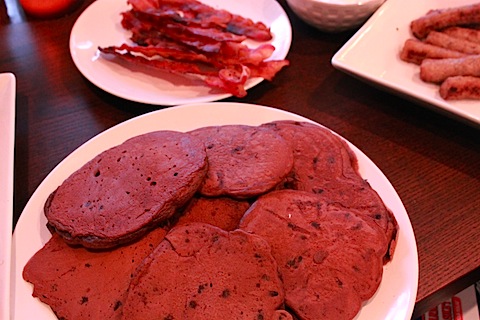 A simple addition to a brunch menu is always fruit. In the mix were sliced strawberries, blueberries, a bit of sugar, and a couple dashes of vanilla extract. As a dip for the fruit I used Chobani honey Greek yogurt. That, with fruit, is delicious.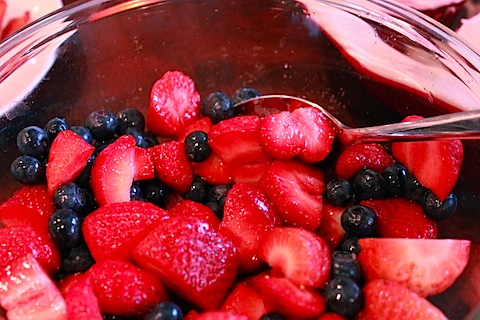 I also served Martha Stewart's Oven-Roasted Home Fries which were so simple to make but packed big flavor.
For them, I used:
• 2 pounds red potatoes, cut into 3/4″-inch cubes
• 1 large onion, chopped
• 1 red bell pepper (seeded), chopped
• crushed dried rosemary (to your liking)
• olive oil
• salt and ground pepper
To make them:
• Preheat oven to 350 degrees. Using a rimmed baking sheet, add potatoes, onion, red pepper, rosemary, and oil. Season with salt and pepper.
• Toss vegetables until they're coated with oil, bake until tender, about an hour. When they were done baking, I wanted to brown them a bit more, so I stuck them under the broiler for a couple minutes.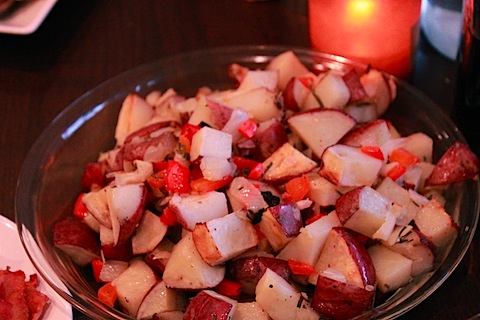 For the main dish, I made Martha Stewart's Easy Eggs Florentine which I will definitely be making again.
To serve 5 people, I used:
• 5 slices of Iggy's sourdough bread (a personal favorite!)
• olive oil
• salt and ground pepper
• 2 scallions, thinly sliced
• 1 pound fresh baby spinach
• crumbled fresh goat cheese (to your liking… which for me, is a lot!)
• 5 large eggs
To make the Eggs Florentine, here's what you do:
• Heat broiler, with rack roughly 4 inches from heat. Place sourdough on a baking sheet and brush both sides with 2 tablespoons of the olive oil. Season with salt and pepper and broil about 1-2 minutes on each side. Make sure it doesn't burn 😉
• In a large skillet, heat the remaining olive oil over medium heat. Add the scallions and a handful or two of spinach. Season with salt and pepper and cook until the first batch of spinach is wilted. Continue tossing spinach and allowing it to wilt before adding more spinach to the skillet, about 2-3 minutes. Mix in goat cheese and transfer the spinach mixture to a bowl, covering to keep warm.
• Now you're going to fry the eggs. Wipe the skillet and heat 2 tablespoons of oil over medium heat. Gently crack eggs into the skillet, season with salt and pepper. Cook until the egg whites are almost set, about 1-2 minutes. Remove from heat and let the eggs stand until the whites are set but the yolks are still soft, about 3 minutes.
• Top each piece of toasted bread with the spinach mixture, followed by an egg. Along with topping the egg off with additional ground pepper, I sprinkled a little more goat cheese over the top, too. No harm. 😉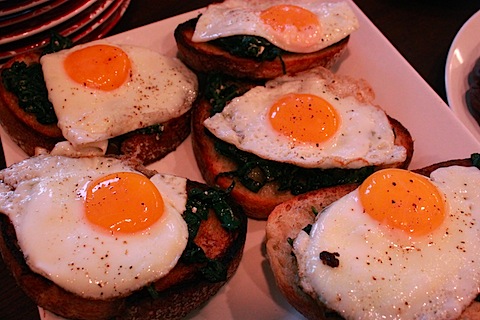 Laura arrived with a bottle of champagne, so we made some mimosas, which are always necessary.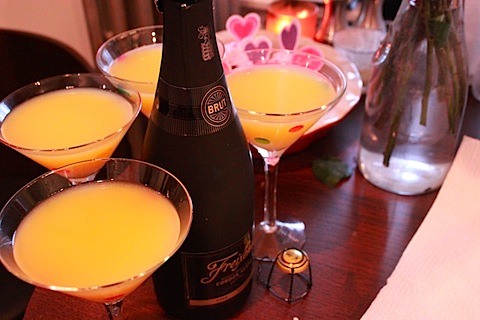 And Heather arrived with a dozen roses in one hand and red velvet cupcakes that she made in the other hand. I easily devoured two in one sitting 😉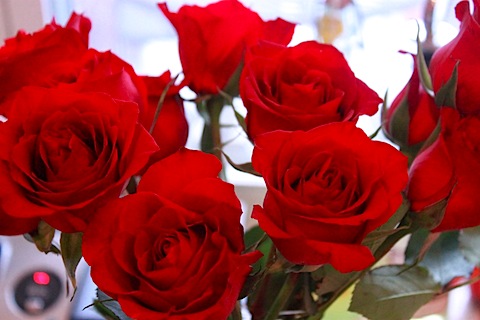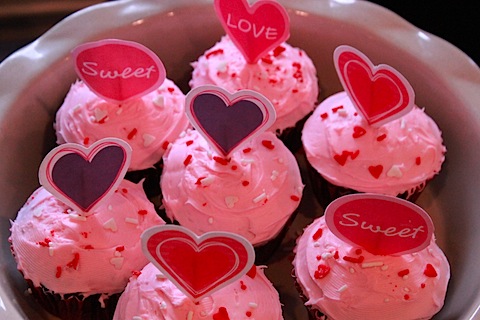 The final Valentine's Day Brunch spread, for 5 lovely ladies!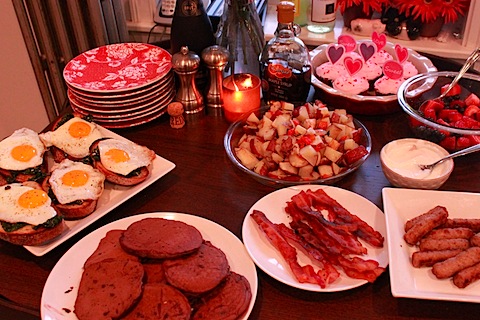 We all piled in on the couches to eat and watch very girly TV. Like a few episodes of Kourtney and Kim Take New York, the Katherine Heigl and Josh Duhamel movie Life as we Know it, and some Grammy Red Carpet coverage.
And then we got silly. Maybe the mimosas just kicked in? 😉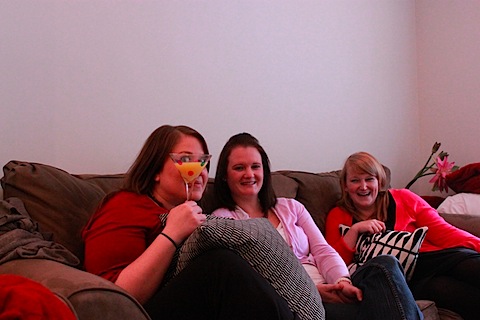 I love Missy's face in this photo, hahaha: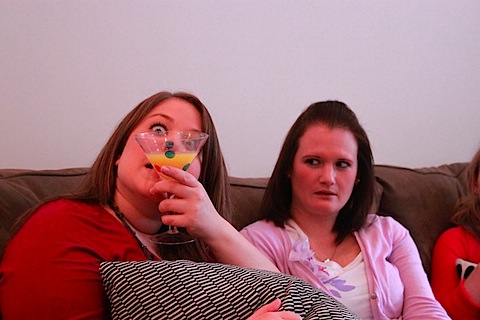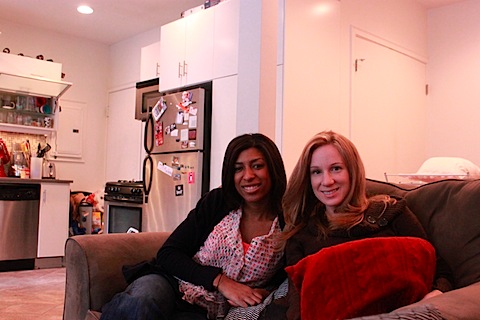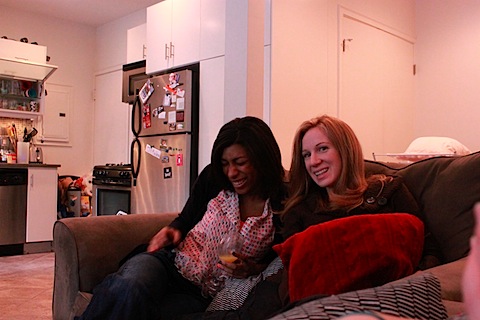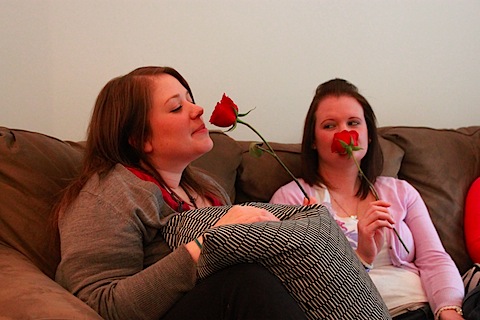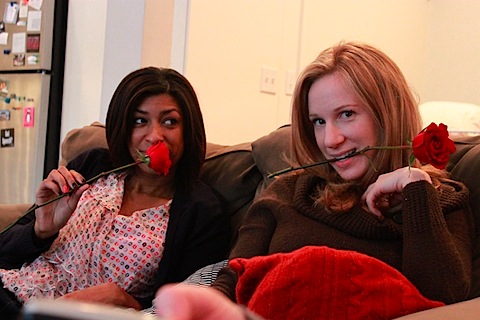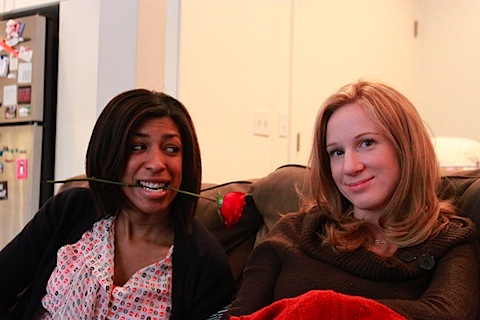 Happy Valentine's Day to everyone! Whether you're married, in a relationship, or single (like all of us ladies at brunch!), it's always important to celebrate LOVE! And this year in particular, I feel very lucky and blessed to constantly have the support of lots of best friends, the greatest family, and my wonderful roommate 🙂
How are you spreading the love today?
Love Actually *is* All Around, Part I
[Chels]