It's kind of hard to believe Chels and I have lived in Boston as long as we have and haven't yet been to Flour Bakery. The truth is, as much as we absolutely LOVE the South End, it's a bit of a hike to get to (and Fort Point is even more difficult!). But when our friend Lilly heard we hadn't been, she was a bit shocked. So we picked an afternoon and headed to the South End for some lunch.
Flour is absolutely adorable inside. The walls are all chalkboard walls with the menu and fun quotes written everywhere in pretty-colored chalk. I especially loved the Quote of the Week since I'm a big M.F.K. Fisher nerd: "It is impossible to think of any good meal, no matter how plain or elegant, without soup or bread in it." How true!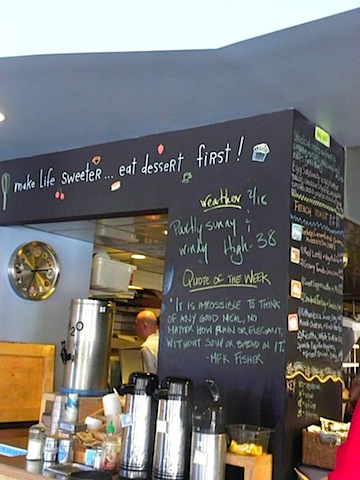 Baked goods are EVERYWHERE and it was almost hard to order an actual lunch. But I'm never one to turn down a sandwich and there were so many delicious-sounding ones on the menu.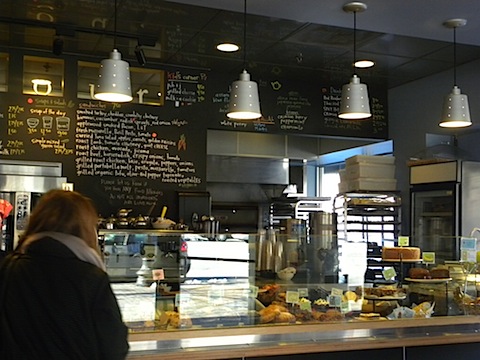 It was a really tough choice, but I finally settled on the grilled roasted chicken with brie, arugula, roasted red peppers, and caramelized onions. Um, awesome choice! I have absolutely nothing to complain about with this sandwich. The flavors were so bold and wonderful and the bread so perfectly crispy (M.F.K. Fisher would be proud). I could probably eat one of these every day.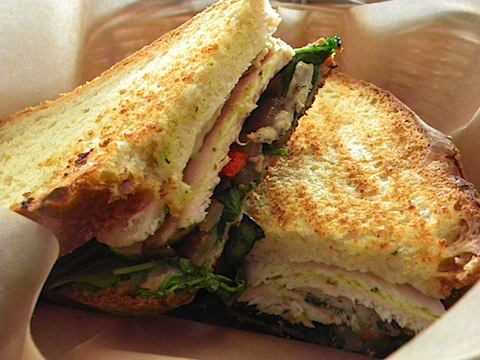 I also got the ginger lemonade, which again… Perfect! I was a little hesitant because I hate when flavored lemonades are super sugary. But this wasn't at all. It was really mild, but had the perfect gingery kick (I'm a HUGE ginger fan!).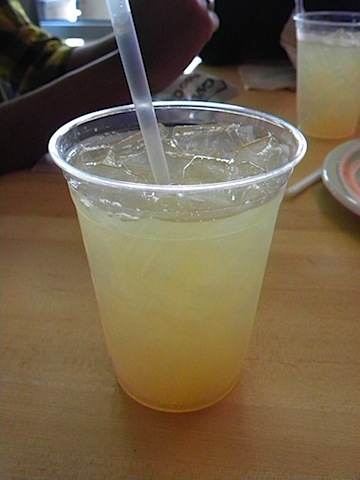 Chels, of course, got the BLT with apple-wood smoked bacon and we were all in awe of it when it arrived to our table. Doesn't it just look like the most perfect BLT?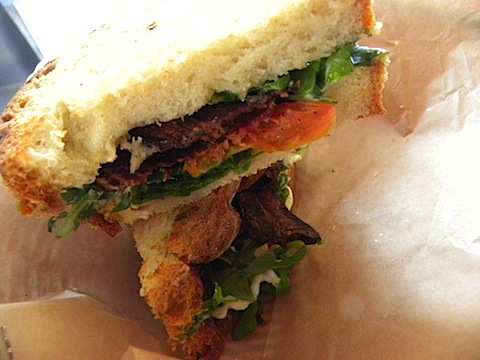 And Lilly got the roasted lamb with tomato chutney and goat cheese. She let me and Chels have a taste and it was amazing. Lamb and goat cheese might just be one of my new favorite flavor combinations!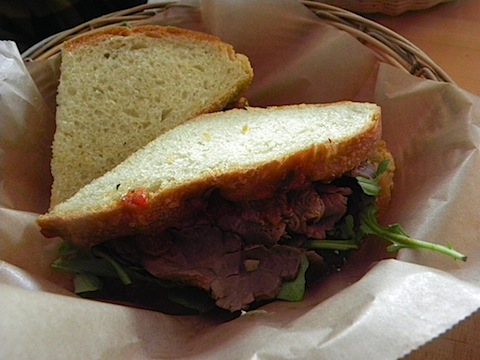 I've heard SO much about Flour's sticky buns and when they still had them available upon our 12:30 arrival, I knew I had to get one. Sadly for Chels, they have nuts on them and since she's allergic, she couldn't indulge. But I definitely did! It was gooey and moist and just so, so good. I imagine my perfect Saturday morning would consist of eating one of these warm with a hot cup of coffee. That's the kind of life I want to live.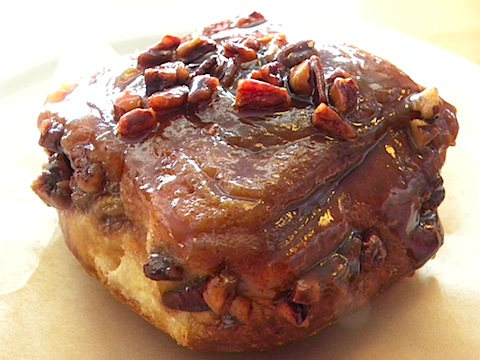 If I hadn't heard so much about the sticky buns, I don't know how I would have ever chosen a dessert from Flour because there are way too many beautiful-looking ones. But something tells me next time I might go for the fruit tart. I absolutely love fruit tarts and this one is seriously packed with fruit, including pomegranate!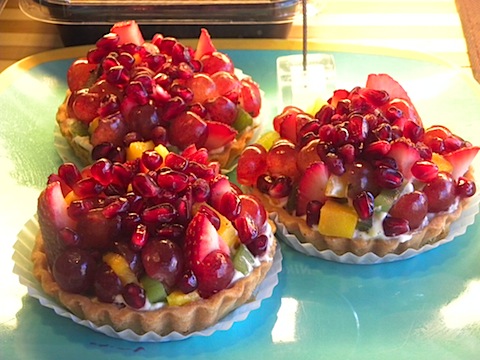 Then again, maybe I'll just take one of each?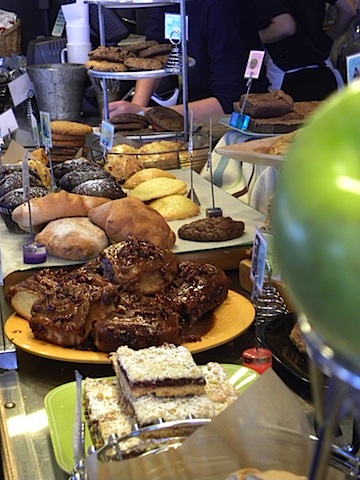 We all came to the conclusion that it's probably a good thing Flour isn't super easily-accessible to us. Otherwise we'd be there ALL the time. As it was, we spent 2 hours sitting in the cafe, enjoying our food and just chatting. And it was so totally worth having to run home and work my butt off the rest of the afternoon. But I do wish I got one of those sticky buns to go.
And I know I'll be back to Flour because there's so much more I want to try!
Flour Bakery
1595 Washington St.
Boston, MA 02118
617.267.4300
Or:
12 Farnsworth St.
Boston, MA 02210
617.338.4333
And rumor has it, there's a new location of Flour coming… To Central Square! Why, oh why did Chris have to move from there in October? Oh well, like I said, I'm probably better off that way, right??
[Sues and Chels]