Are you glad to know I'm still alive?! Sheesh, the past week and a half has been caaaaa.raaaay.zeeee. To spare you all of the boring details, I was basically just working. A lot. As in the only time I was in my apartment was when I went to bed at night. As in I can't even remember the last time I went to the grocery store. Needless to say all of my meals have been very creative. And random. You never know what you're going to find in the depths of your pantry 😉
For those of y'all who don't know, along with having the blog, doing freelance graphic design, working at Healthworks a couple days a week, and livin' mah life, I'm also a part time manager at Paper Source. Evidently I like being busy? And the discount the store provides aint half bad so it just feeds my habits 😉
Anywho, we got a bunch of new products in recently and I must say my favorites are all of the ikat merchandise. "What in the heeeeck is ikat?", you ask? Well, for starters it's actually pronounced ee-kaht. And it's a dyeing technique used in pattern making and textiles. Think tie-dye but ten times cooler. Unless tie-dye is your thing, of course.
Bindings, which resist dye penetration, are applied to the threads in the desired patterns and the threads are dyed. Alteration of the bindings and the dyeing of more than one color produce elaborate, multicolored patterns. When all of the dyeing is finished the bindings are removed and the threads are ready to be woven into cloth. (-wikipedia.com)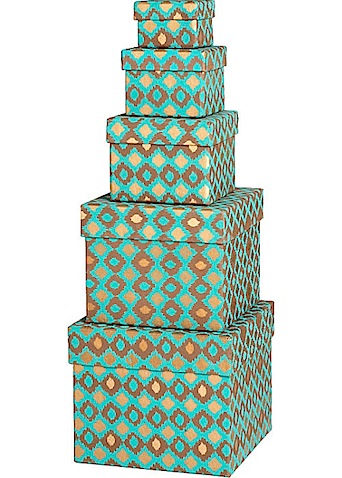 The best part about working in a store filled with like-minded creatives is when something gorgeous comes in a shipment we all geek out over it together. Lots of petting of products is involved. When these Ikat Peacock Gold Gift Boxes ($4.95-$9.95) came in I literally screamed out loud while doing a dance around the store like I just won the lottery. And said "I want this to be a dress!" And then I drooled. And hugged them. I actually didn't drool but I did decide they needed to be displayed on their own fixture because they were too darn pretty to be mixed in with anything else. So I dragged a huge vintage sink that we had downstairs in the props area up to the main floor to house these babies in. And yes, I did actually hug them. They're stunning and it would have been silly not to have. You understand, I'm sure.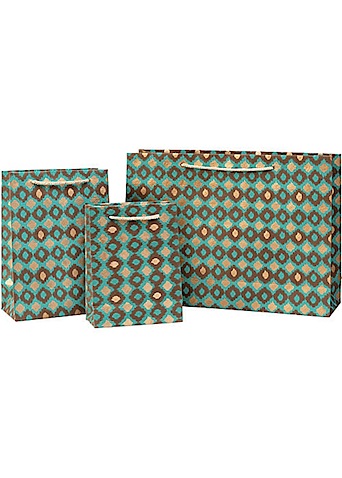 The print also comes in gift bags. I'm dying, DYING (dying!) for it to be made in a wine bag, too. Wouldn't it be spectacular to bring someone a bottle of red in bag like that?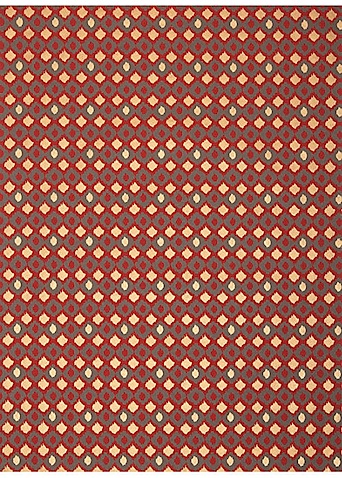 The ikat bags and boxes also come in persimmon and gold, too. Now, this, I'd like to see in as a throw on my couch. It's just cozy.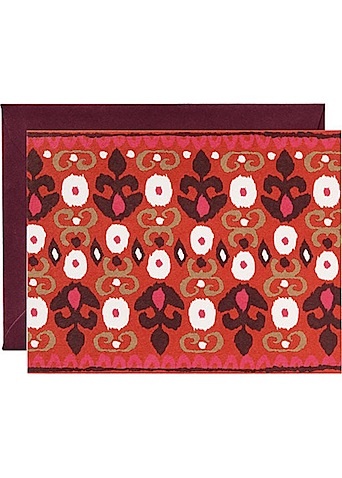 Paper Source now also carries an ikat print in stationery sets, too. This particular set is paired with fig envelopes, which is one of my favorite Paper Source colors. It's so rich and luscious.
Once I started falling in love with this pattern, I couldn't help but think of other ways to incorporate it into my life. Which is when the lusting began.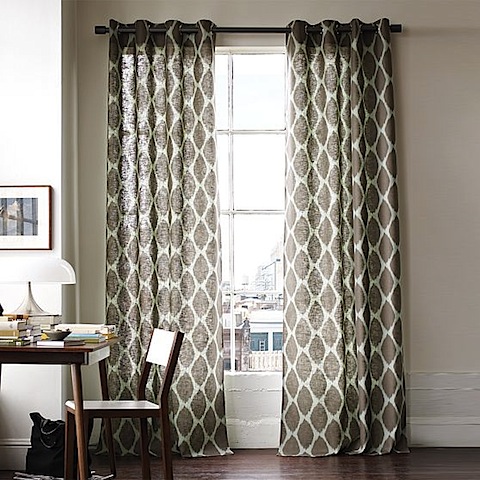 These Ikat Ogee Linen Window Panels ($55-67) from West Elm are EVERYTHING. I'm seriously considering buying them for my living room windows because they're the real deal. Gorgeous, simple, graphic. And since they're linen they'll still allow some good sunlight to sneak in the room.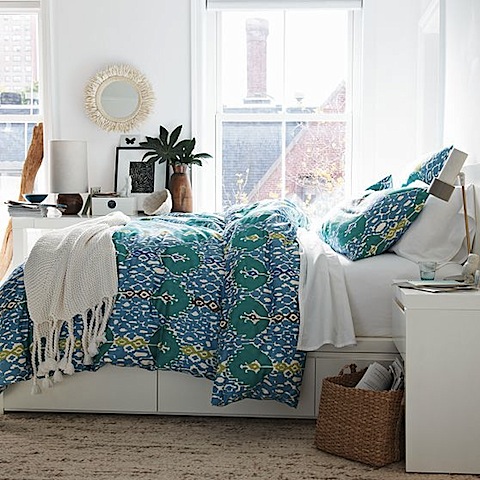 I'm not on the market for new bedding but this Island Ikat set, again from West Elm, is sort of making me want to accidentally spill a few glasses of cranberry juice on my bed so I'll be forced to buy this one. My room is all white and has very similar windows, like the photo, which is just making me want to cuddle up in this bed immediately.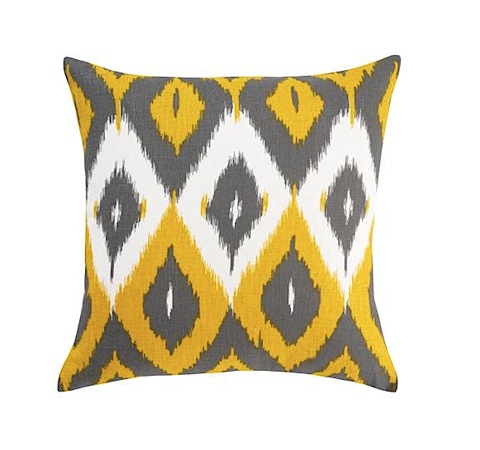 If you need to know one thing about me (besides that I love bacon and don't have a filter), please know that I love a throw pillow. Especially if it's yellow. Also know that I sleep with roughly 10 pillows surrounding me every night. If you've ever seen the movie Along Came Polly you know the pillow scene when Jennifer Aniston's character is tossing all of the pillows off of Ben Stiller's bed? Welp, that's my bed. And I want this pillow from Dwell Studio to be added to my collection.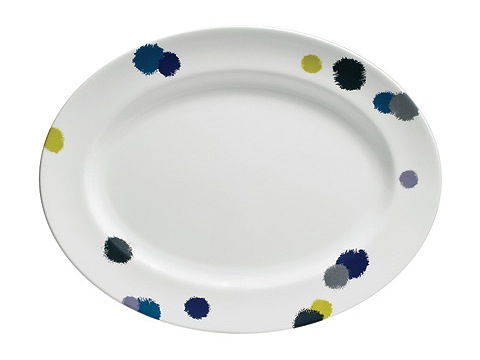 I'm also loving that Vera Wang took ikat to a platter. This particular pattern comes in mugs, dinner plates, and bowls, too. Definitely a fun twist for dishes.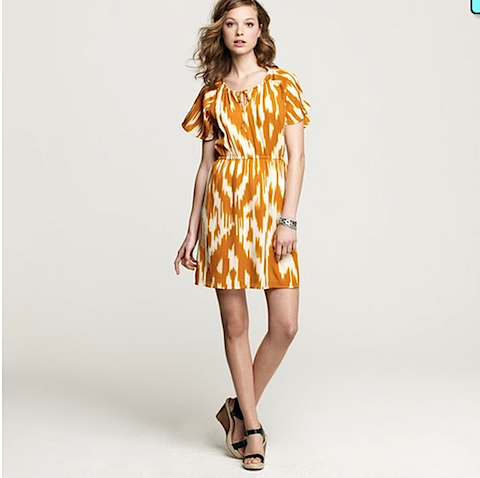 This Indira Ikat Dress from J. Crew ($99.99) speaks to me on every level. It also makes me want to plan a warm-weather vacation and wear a fedora. Too bad my hair's too thick and it's nearly impossible for me to wear hats. Sad.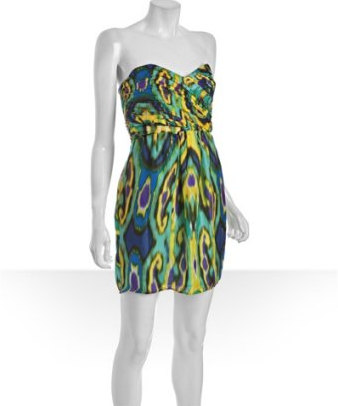 I don't have a single place to wear this silk dress by Shoshanna but I want it and it's adorable. Sometimes that's all that matters, right? Except it's $199 so I really don't have much business dropping that on a dress I don't need. My closet would get mad at me, anyway. And if you remember, we're already in a big fight. (More on that next week.)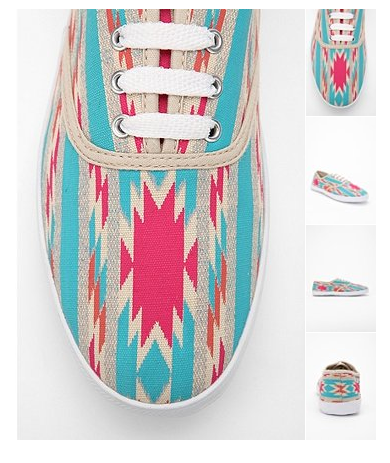 I quite enjoy a fun sneaker. And nine times out of ten I'll enjoy a sneaker that most normal people think is ugly. That could very well be the case with the above sneakers from Urban Outfitters ($20). Most of you are probably like "huhhhhh?" but I'm like "ooooh, yeah!". I'm weird.
And now that I've just dedicated an entire post to gushing about a fabric/print/textile that I want to cover my entire home and body with, tell me your thoughts on it? Do you love ikat or do you hate it?
When we got the gift boxes in at Paper Source and were going ga-ga over them one of our co-workers said she hated them. WHAT?! Way to ruin the moment, Rebecca! But yeah, this just goes to show everyone has their own opinions and clearly has their own distinct sense of taste. She's an event planner and likes glitzy, glittery things. The rest of us are graphic designers and artists, so it's always interesting to see how everyone reacts to different designs.
[Chels]