Mac and cheese is definitely up there with my top favorite foods. There's absolutely never a bad time for mac and cheese; it's so comforting and just plain delicious. OK, so it's not the healthiest thing in the world. Soooo I decided to make it even less healthy. My friend Kyle and her fiance, Jeff, were having an Octoberfest/housewarming party last weekend and I wanted something to bring along. It was a little cool out, so I wanted to make something warm and homey. Mac and cheese? Good. Mac and cheese with bacon? Best idea I've ever had. Actually, it was Tyler Florence's idea, but I usually trust him. With good reason.
Mac and Cheese With Bacon (Serves 6-8 but I came close to doubling it for the party):
1 lb. elbow macaroni
4 C milk
2-3 sprigs of thyme
4 cloves garlic, smashed and divided
3 T unsalted butter
3 T all-purpose flour
5 1/2 C shredded sharp cheddar
1/4 C flat lead parsley, chopped
8 slices bacon, crumbled
1 large onion, diced
2 garlic cloves, smashed
Leaves from 1/4 bunch fresh thyme
Salt and pepper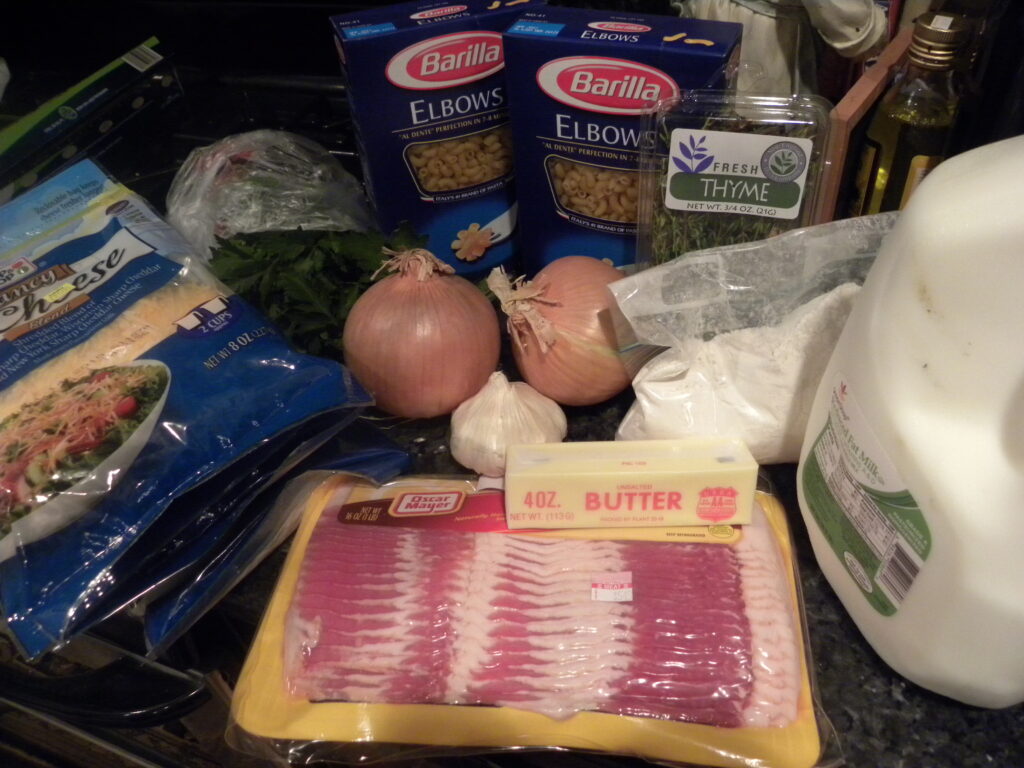 Get your pasta cooking first. It will probably need to boil for about 8-9 minutes to be al dente. Drain it when it's done. The next part  is what I really feel makes the recipe. Besides the bacon, of course. You're going to heat your milk with thyme sprigs and garlic cloves. This thyme infused milk is such an awesome idea!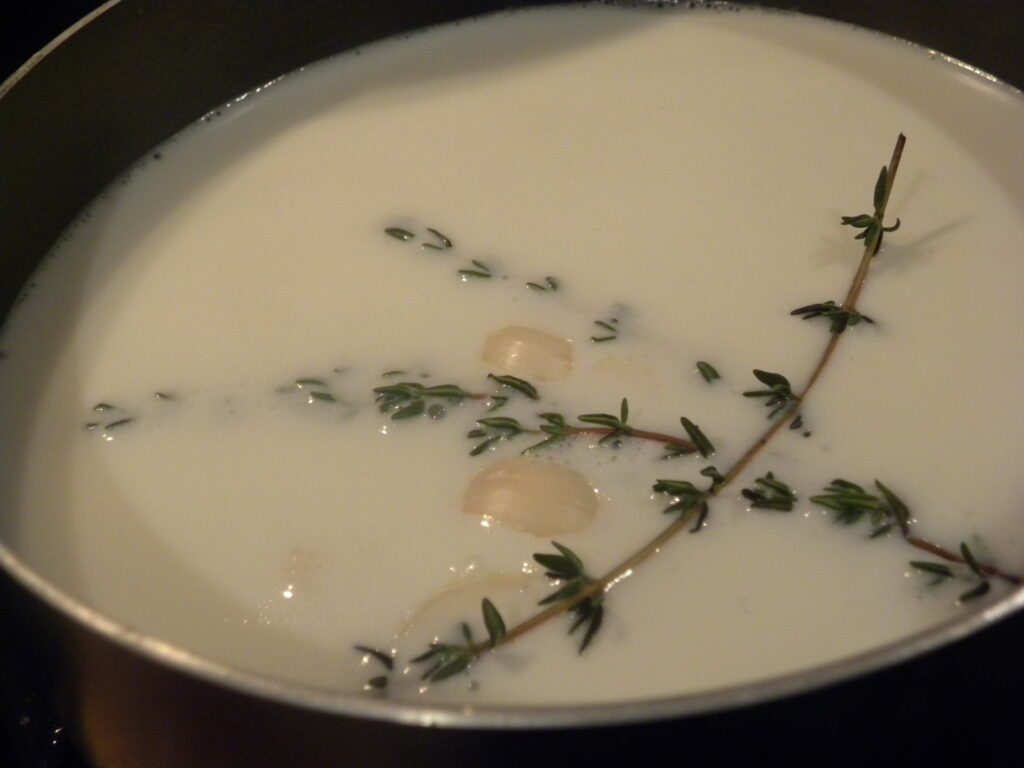 I improvised with the cookery I used since I was making such a big batch. But Tyler Florence says to melt your butter in a large, deep skillet over medium-high heat. Then whisk in the flour and stir constantly to keep lumps from forming, for about 1 minute.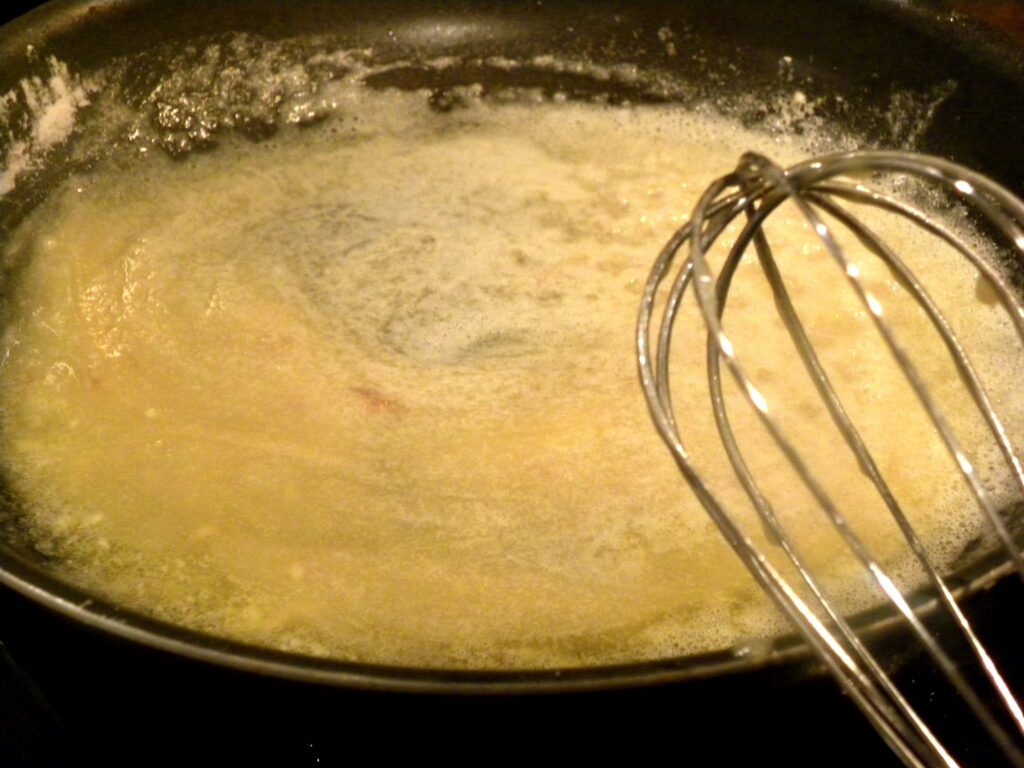 I also took this opportunity to throw some bacon on the skillet. Tyler Florence just wants us to use bacon for the top of our mac and cheese, but I thought this dish would be so much better if bacon was mixed in as well. And I was right. So, I used four for the mac and cheese mixture and 4 for the topping.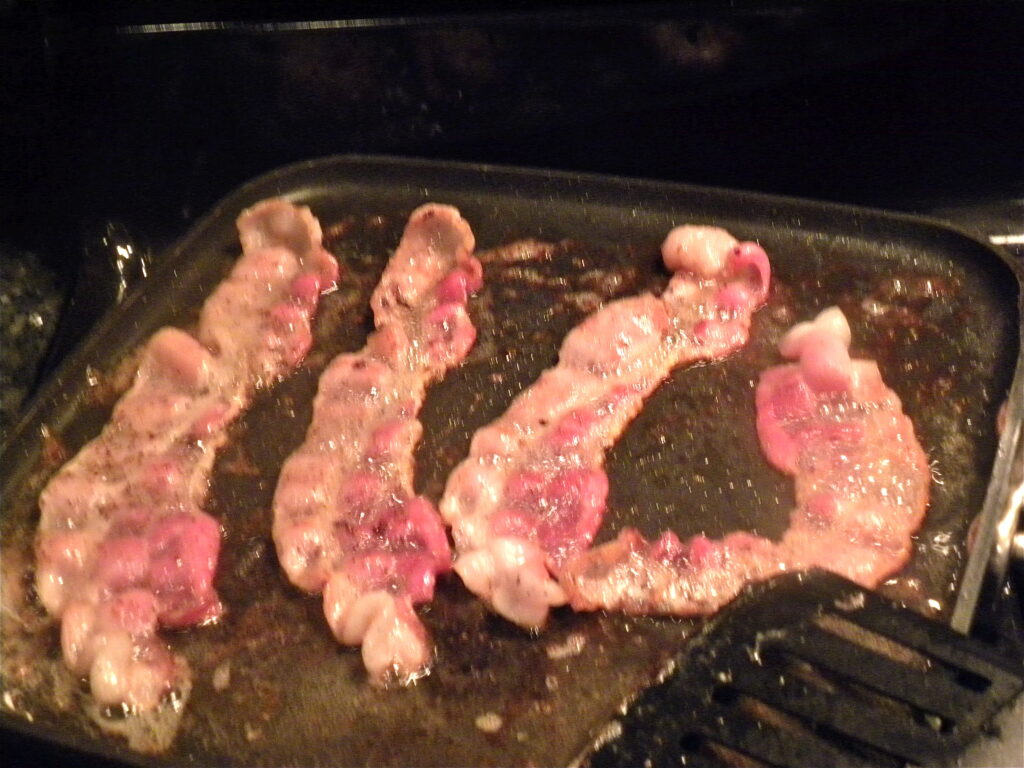 Back to the butter and flour mixture, now you're going to want to strain the solids out of the milk (thyme and garlic) and whisk it into the butter and flour mixture until it's nice and smooth. Also add 4 cups of the cheese in and stir so the cheese melts. The key here is to buy SHARP cheese. The sharper it is, the more delicious your mac and cheese will be! Tyler calls for white, but I bought a yellow/white mixture. Why? Because I needed 4 bags of it and Stop and Shop had the yellow/white combo for 2/$5 and buy one get one free. Amazing deal! And the yellow added a bit of color 🙂 Season with salt and pepper here too.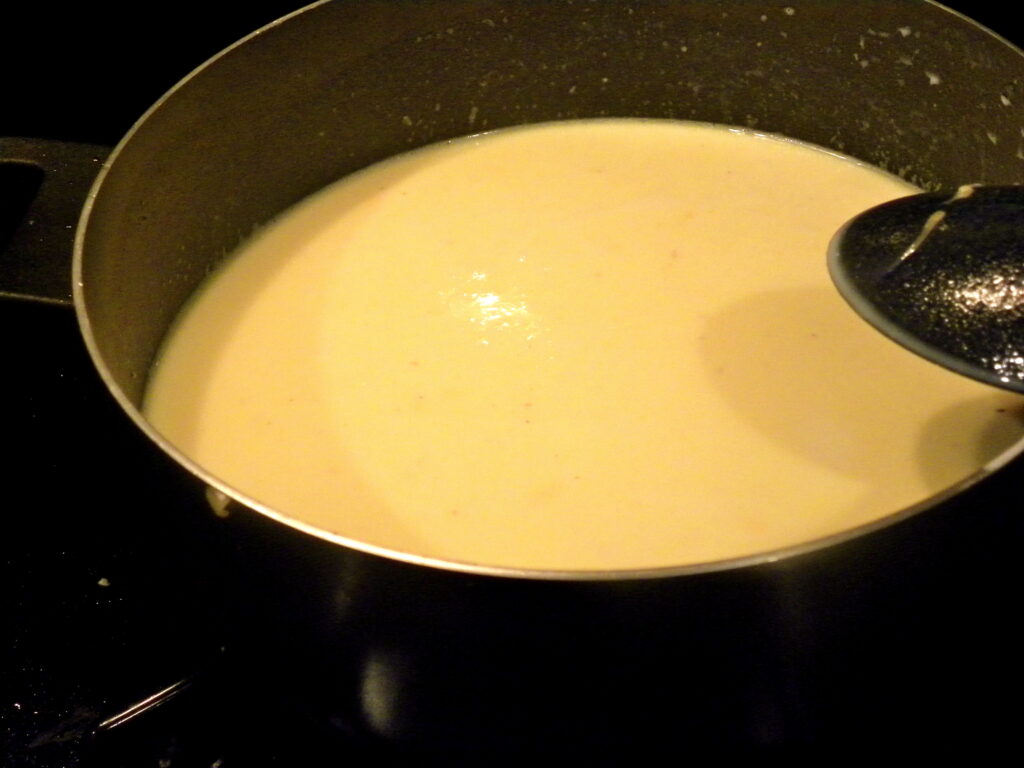 Add in your cooked macaroni and the parsley and mix it all up.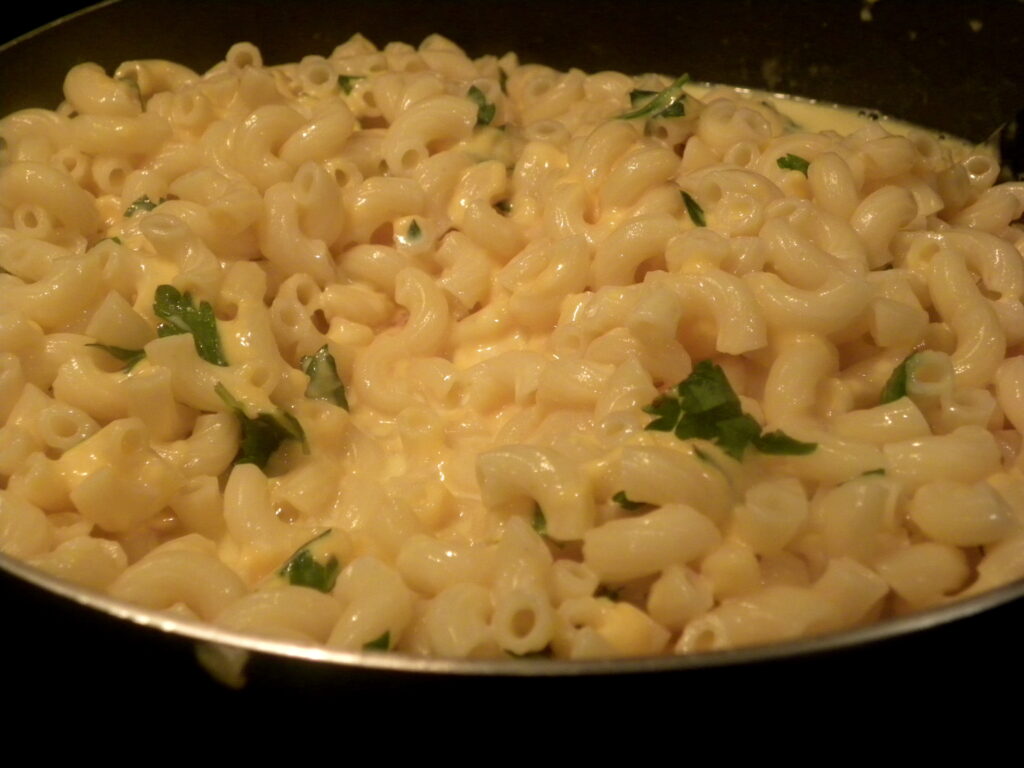 Here's where I added my bacon in too.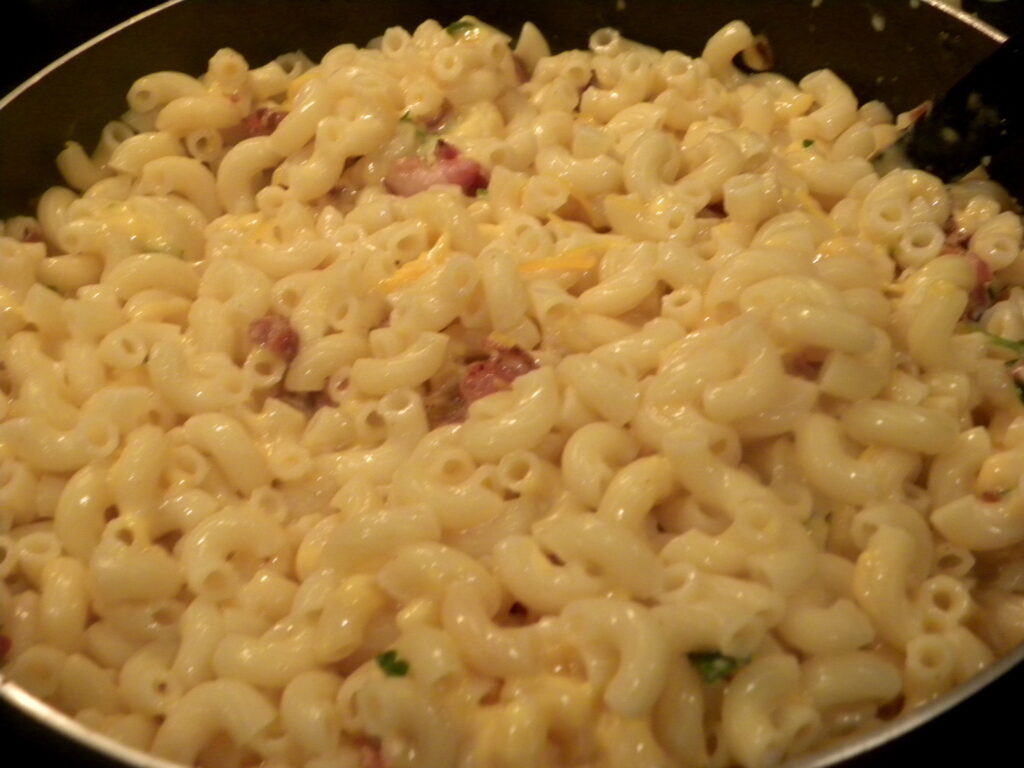 Dish the mac and cheese into a 3 quart baking dish. I used two! I also added the rest of the cheese on top. And I popped them in the oven for 400 degrees for 30 minutes.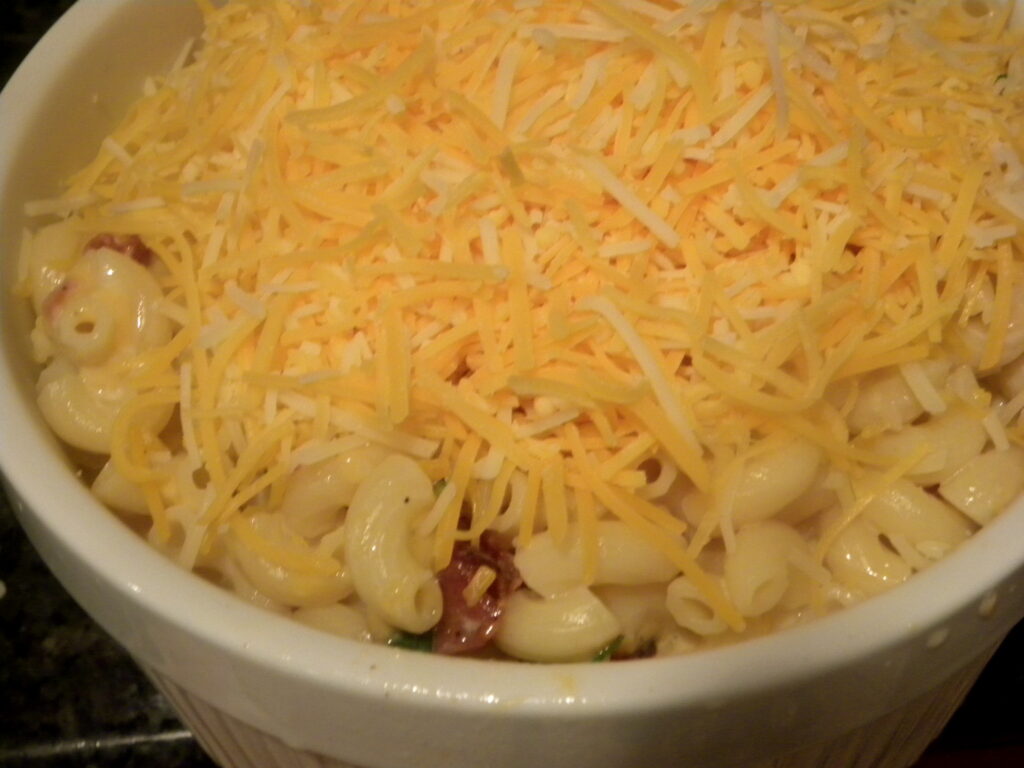 While they were baking, I got going on my topping. I used some of the bacon fat from the bacon I already cooked. Then I added my chopped onion, garlic, and thyme leaves. I cooked them for about 5 minutes to soften the onion and seasoned with salt and pepper.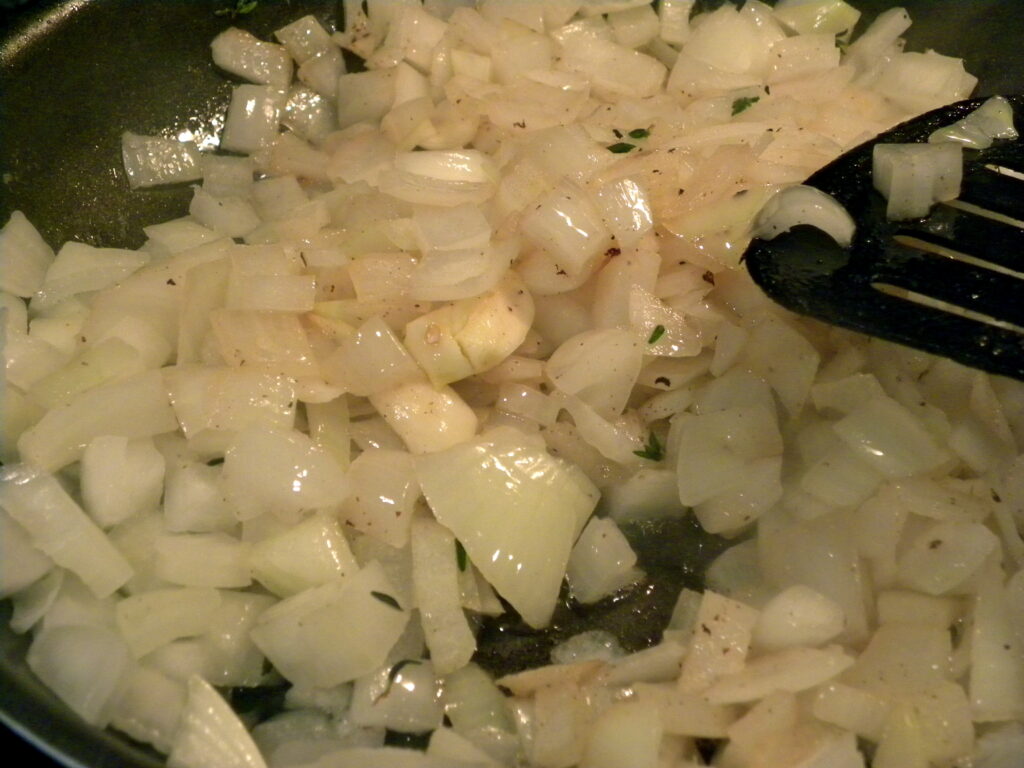 I threw the bacon into the onion mixture as well. Then my mac and cheese was ready!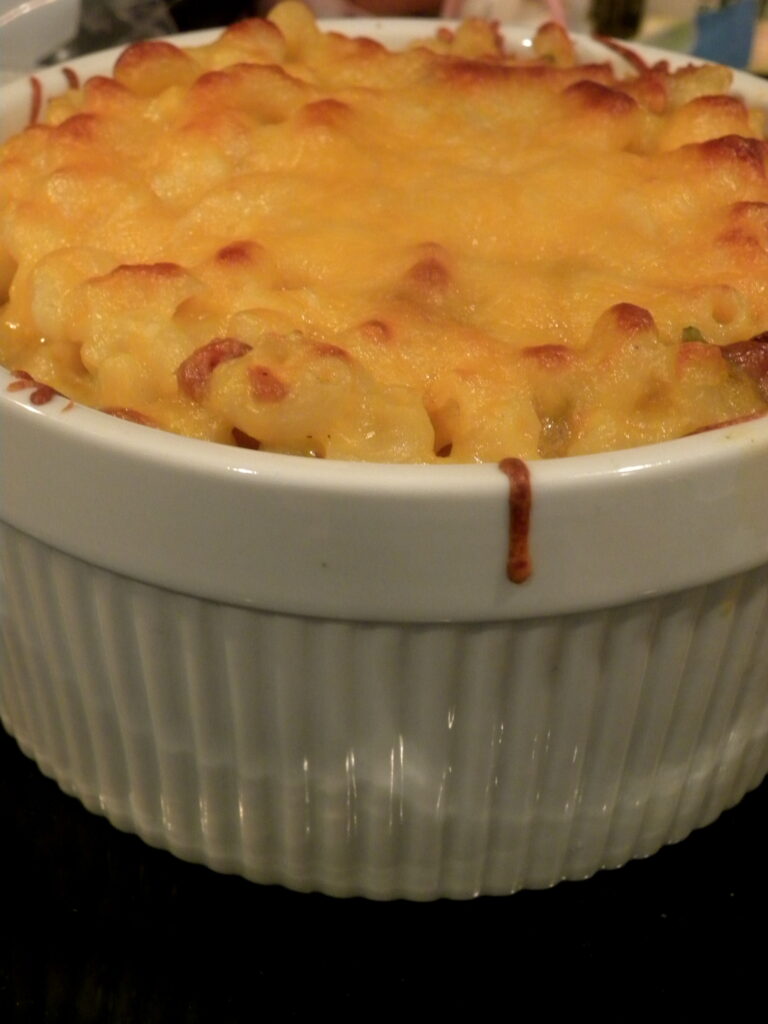 So I took it out of the oven, and topped it with the onion bacon mixture.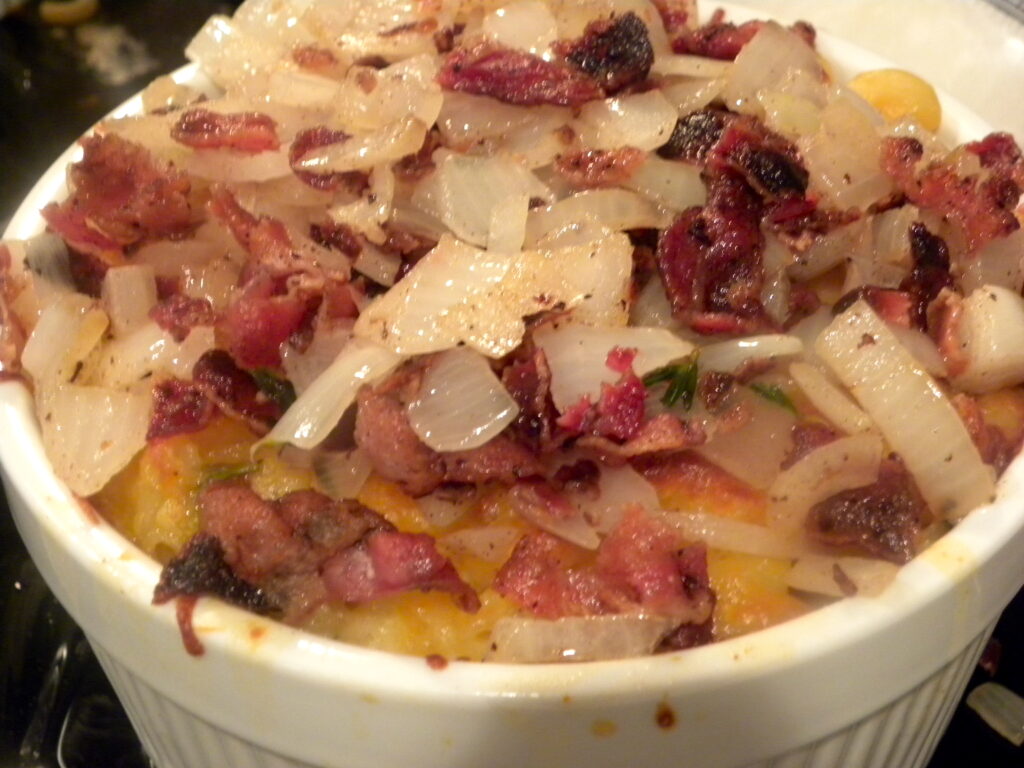 This is comfort food at its best. No it's not good for you nutritionally. But it's good for your soul. And sometimes you really need that. The thyme-infused milk, sharp cheese, and bacon really make this dish what it is.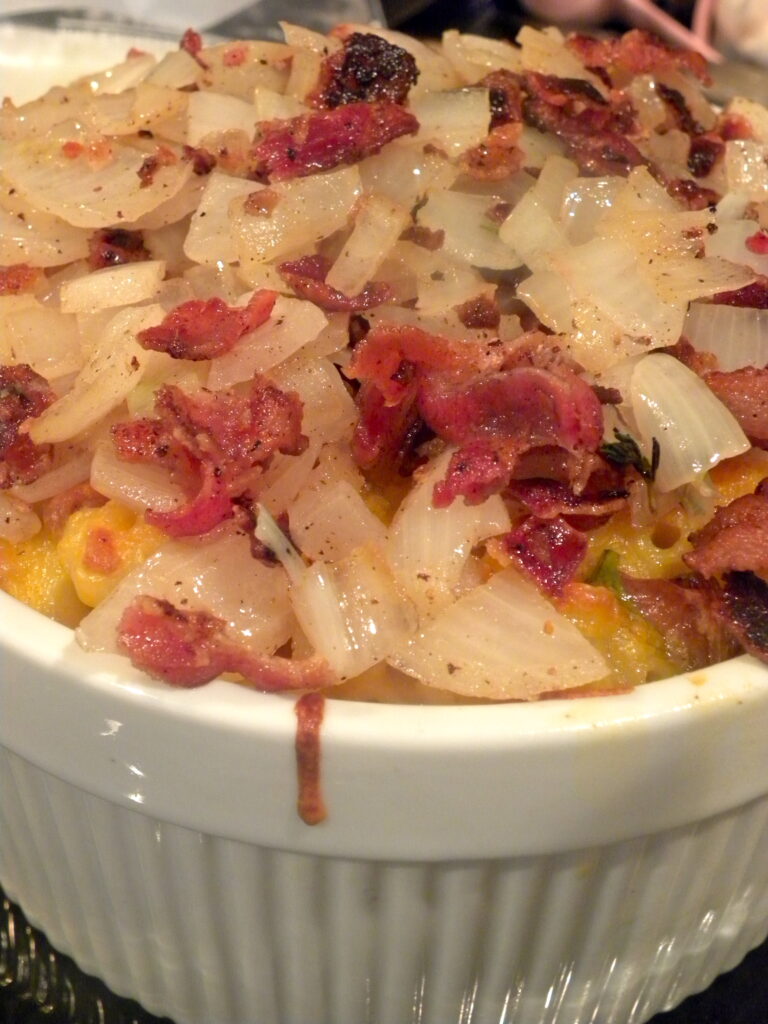 If you're a fan of mac and cheese, but want to jazz it up a bit, this is perfect. Kyle's fiance Jeff is an awesome cook, so there was plenty of good food at their party (chili, stuffed mushrooms, baked stuffed potatoes, etc.), so it seemed like the mac and cheese fit right in with a comfort theme! I thought I was in love with mac and cheese before, but I had no idea what I was missing. It's getting chilly out there and this is the best way to warm up!
[Sues]