Remember back in elementary school when everyone would bring in cupcakes on their birthday? How psyched were you when a kid brought in funfetti cupcakes? They were THE BEST. My friends and I still make and eat them on occasion. But I'm pretty anti- cooking from a box when doing it from scratch is so easy, so I decided to try and make my own funfetti cupcakes. I was going to a little gathering for the birthdays of two of my friends, and I decided it was the perfect occasion to make them, considering I've been friends with both birthday girls since elementary school.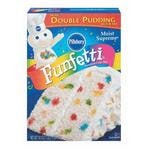 I loosely followed a recipe I found on Baking Bites, making a few changes of my own. First whisk together the milk (1/2 C), egg whites (3 large), vanilla extract, and almond extract together. I find almond extract a bit overpowering, so I used the full 1/4 t the recipe called for, but then used a lot more than the 1 t of vanilla extract it called for. I'm a big vanilla extract fan!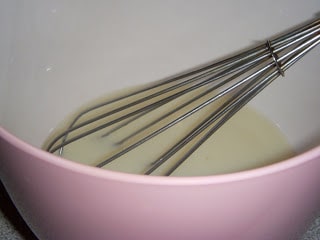 In another bowl, combine the flour (1 1/4 C ), sugar (1 C), salt (1/2 t), and baking powder (2 t). Cut in the butter (6 T) at a low speed until the mixture is coarse. Add the milk mixture and beat at a medium speed for 1 1/2 minutes or so. Then stir in the sprinkles (2 T). Important note: If you use the little round sprinkles, the colors will likely bleed into the mixture. It's best to use the long sprinkles, or what we here in New England call jimmies.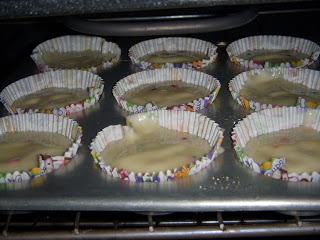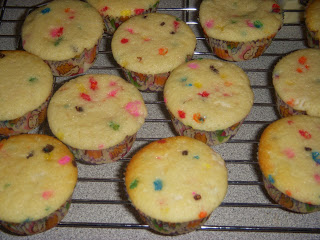 Now you're ready to make the frosting. I didn't have a metal bowl like the recipe said to use, so I used a saucepan. Stir together the sugar (1 1/2 C), egg whites (2 large), water (1/3 C), light corn syrup (2 t), and cream of tartar (1/4). Put whatever bowl or pot you used over another saucepan filled with simmering water, but don't let the pan on top touch the water. Using a handheld mixer, beat on medium speed until the mixture "resembles soft marshmallow fluff" and then on high until it's nice and thick.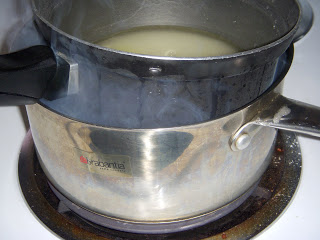 Take bowl off the heat and add vanilla extract (1 t, but I added more!) and beat another 5 minutes, until the mixture is cool.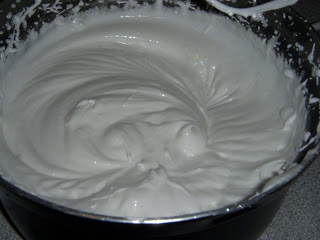 Frost the cupcakes and add more sprinkles. This time, I used the round ones.

The girls enjoying the birthday celebration pre-going out!
[Sues]