Happy July, everyone! Can you even believe it's already July? I can't. In fact, I hope July goes kind of slowly because I really don't want this summer to just fly by. Plus, July is going to be super exciting here at We are not Martha. Chels and I are participating in the Make a Change for the Feta campaign with Athenos Feta!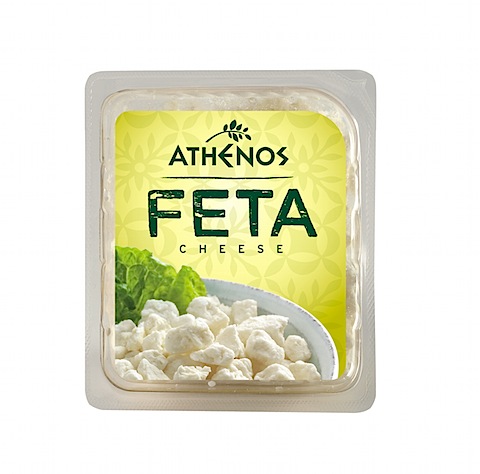 If you've been reading our blog for a while, you've likely noticed we have a bit of a feta obsession. And we are so thrilled Athenos asked us to participate in this because it's definitely a brand very close to us (when they asked us, we both realized we had Athenos Feta already stocked in our fridge). How could we say no?
Plus, not only is feta is incredibly flavorful, but it's also healthier than other cheeses (1/3 less fat, 30% fewer calories, and 6 grams of protein)! That's why we're committing ourselves to this campaign and will be eating salads with feta every day this month… And sharing them with you, of course!
Don't worry, we'll be posting as usual, but sometimes the feta-related recipe will be the main focus of our post, and others, it will simply be included in the post. We've got plenty of recipes up our sleeves, but let us know if there's anything you really want to see! Also, stay tuned for Feta Friday Giveaways every Friday in July!
Full disclosure: We are receiving compensation to participate in the Make a Change for the Feta Summer Salad Month (And have been provided with Athenos Feta Cheese. Holler.), but ALL the opinions on WANM are our own and we'll be completely honest regarding our feeling's about feta 🙂
OK, on to the FETA!
When it comes to salad, I like mine fully loaded with veggies, but I also love a little extra fun. For me, fun comes in the form of grains, like quinoa! And also cheese, like feta! So, I decided a variation on this colorful quinoa salad would be the perfect salad to top with some Athenos Feta.
Colorful Quinoa Salad:
1 C quinoa, rinsed
1 olive oil
2 garlic cloves, minced
1 onion, chopped
1/2 C button mushrooms, cleaned and sliced
2 sweet peppers, sliced
1/2 C carrots, chopped
1/3 C frozen peas
1/3 C frozen corn
1/4 C celery, chopped (optional)
Lemon juice, 3 T
Feta cheese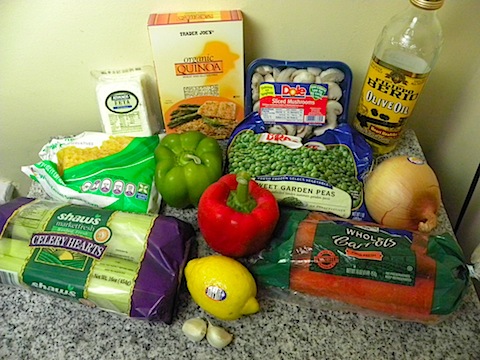 Cook quinoa according to package directions.
Heat olive oil in a large skillet over medium heat and add onion and garlic. Cook for about 3 minutes.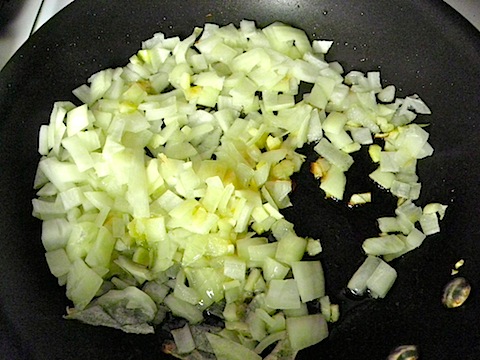 Now add the mushrooms, carrots, and peppers and cook for for 3 more minutes before adding peas, corn, and salt and pepper. Add the celery too, if you use it. I was all set to use it but then left it out because I already ate about 8 stalks of celery and didn't want to overdo it.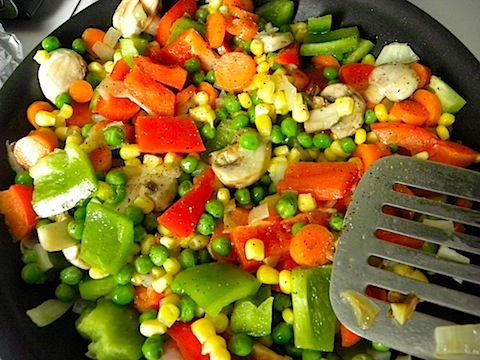 Mix the veggies and the quinoa together. Add lemon juice to taste. And add feta to taste.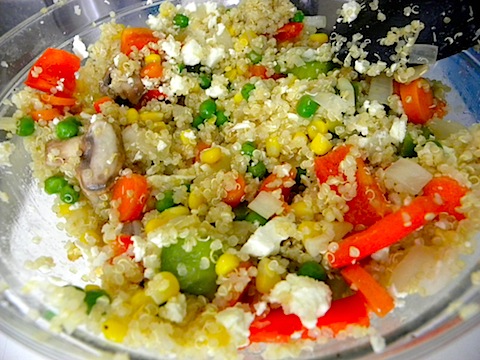 Which really means add a lot of lemon juice and feta because both are wonderful!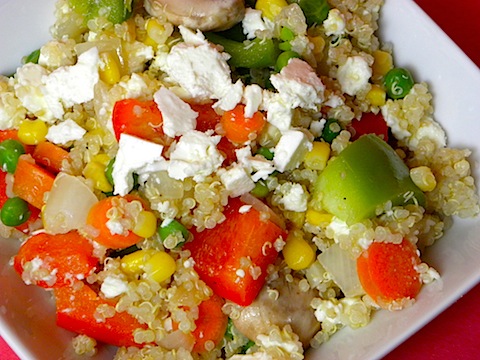 Dig in and feel healthy but totally satisfied. Also feel happy that you should have leftovers for a few days.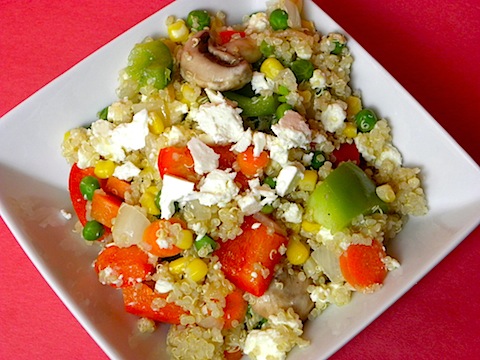 This is one of my most favorite un-boring salads. I'm pretty sure I could eat it every day and be perfectly happy. It really does make the perfect little lunch or dinner side dish.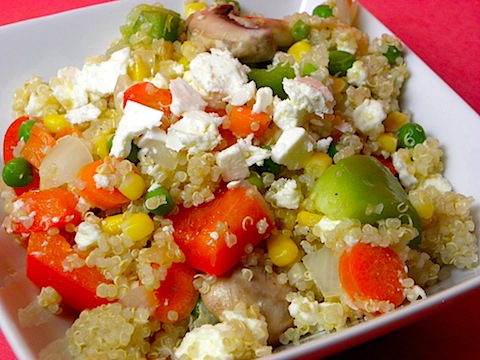 Stay tuned the whole month of July for more fabulous feta salads and all the usual WANM antics!
What's your favorite un-boring salad?
[Sues]