Happy 2011, friends! Hope everyone had a happy, safe, and FUN New Years. My roommate, her friend, and I parked ourselves on the couch and watched every Lifetime movie on demand Saturday, if that's telling you anything about my weekend. Eeep.
Regularly scheduled reality begins... NOW!
----------------------------
If working at a store whose slogan is Do Something Creative Every Day isn't enough to get the gears going and force you to be creative, I don't know what is. I plan on honing into my creativeness more in 2011, maybe not every single day, but a heck of a lot more than before. I usually work on creative projects when I'm being paid for them and often forget to just do them for fun! I intend on changing that this year, starting with this fun little project!
I've been reading about t-shirt necklaces on craft sites for a while now. But it wasn't until I saw one of my coworkers at Paper Source wearing one that she created that really caught my attention. Seeing it in person made me quite intrigued. Especially when she told me in just a couple short minutes how easy it was to make. I'm all for a craft project of any caliber but hearing that something that pretty was so simple to make drew me in.
I've actually had a bag of clothes sitting in my front hallway for a good few weeks that I have to bring to donate, so I went through it and pulled out a few shirts that could work well. The t-shirt necklaces I've seen have all been one color, made from one t-shirt, so I knew I wanted to mix it up and "make it my own" by adding an additional pop of another color in. All you need for the project is however many t-shirts you'll be cutting and a pair of sharp scissors. No sewing or glue required, hooray! BEST CRAFT PROJECT EVER!!!!
I decided to pair the gray and the pink t-shirt together and the gold t-shirt with the thermal floral printed top, to make two individual necklaces.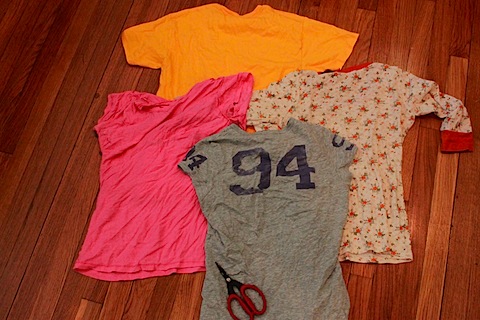 What you want to do first is cut the bottom seam off all of the shirts. You won't be using this piece, so you can discard, or save for another project.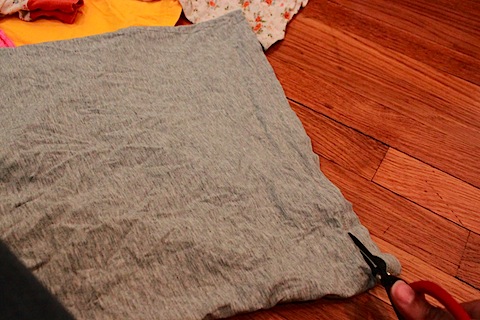 Then, work your way up to the armpits of the t-shirt, cutting in strips about ¾"-1". You could also use a cutting mat, ruler, and a rotary cutter to get a perfectly straight line, but I'm all for a little imperfection in projects like this. It adds character and no two will ever be the same.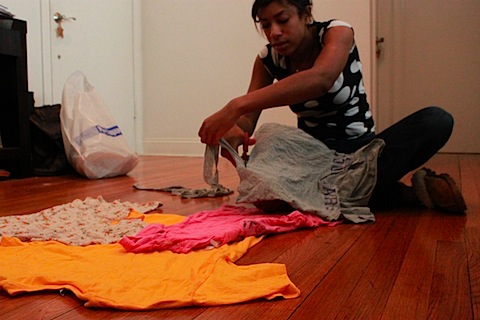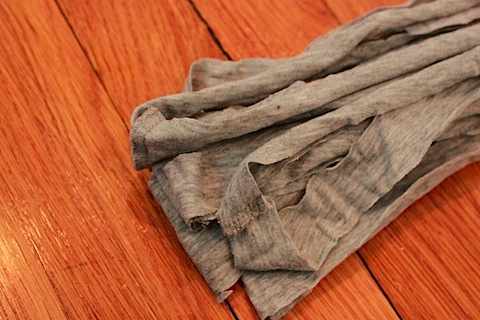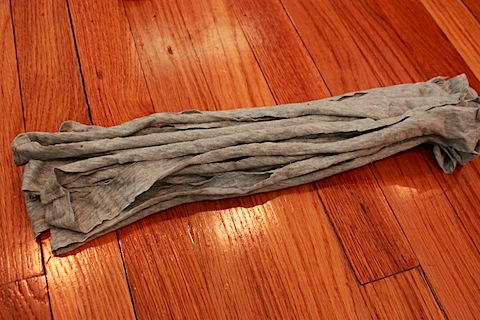 Next, you want to stretch each piece out until it curls. It should curl almost perfectly after stretching a couple/few times. Feel free to do a little "stretching out the pieces of t-shirt dance", if you'd like! Woo, woo!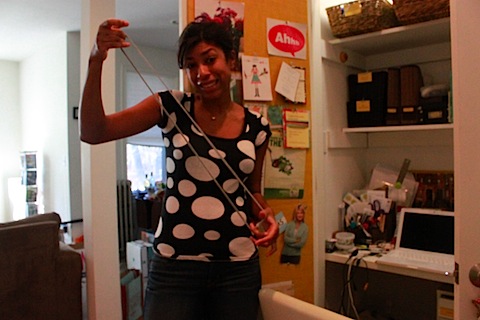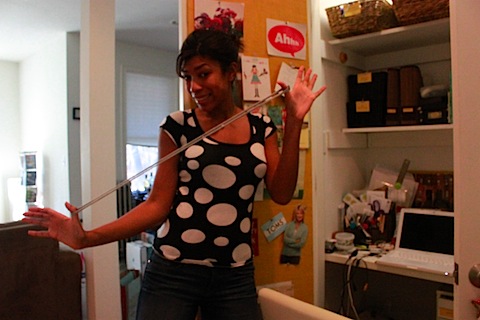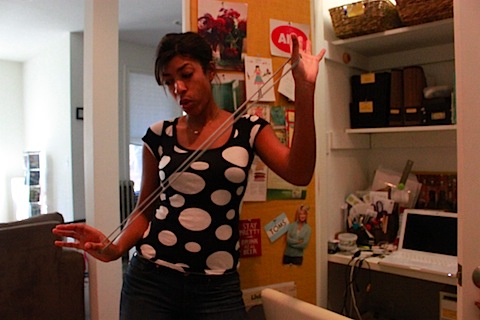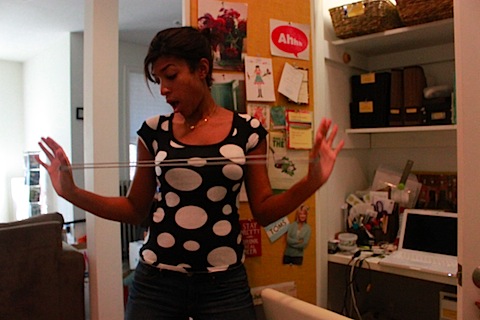 Once you have all of your strips cut out, line your seams up so they're all facing in the same direction.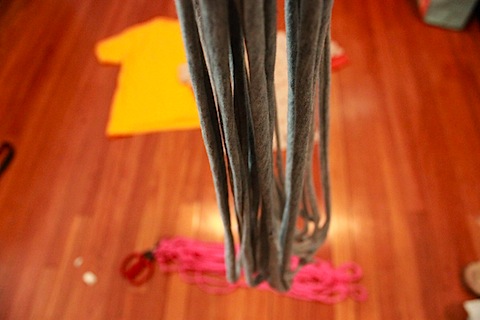 Now, with all of your loops of t-shirt hanging, you're going to want to loop them into a crazy eight. (Basically the necklace will be ½ it's length after you crazy-eight them).
To "clasp" all of the strips together, you'll use a scrap piece of t-shirt, loop it to the back of the necklace, and wrap the remaining strand around.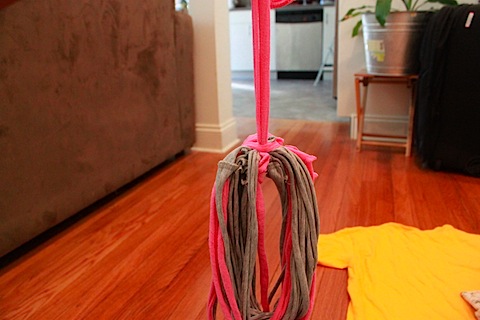 I really like interesting clasps and backs to necklaces so I decided to take a few more scrap pieces of the t-shirt (2 pink pieces and 1 gray piece), and braid them together so the back of the necklace would look a bit more unique.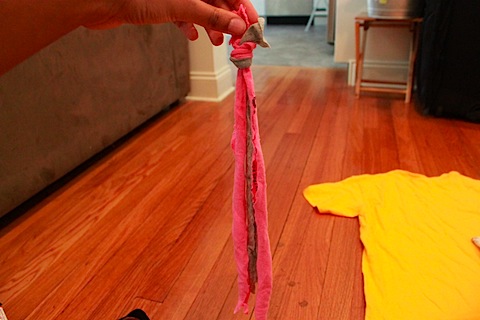 Once the braid is finished, wrap it around the back, and tuck the ends in. It's easy peasy.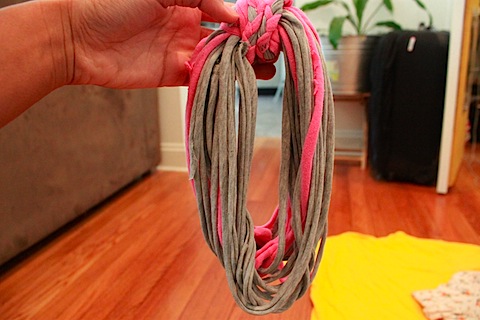 Looooove it.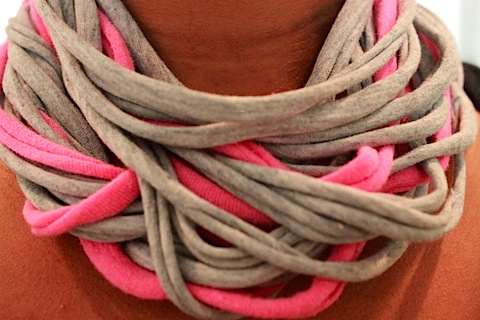 I also wanted to play around a bit with the thermal shirt I had. I cut a few strands of the thermal top and I immediately could tell it wasn't going to work the same way as the t-shirt material, it just wasn't stretching or curling the same way. Instead of scrapping the whole idea, I used the seamless gold t-shirt that I had and decided to braid 3 pieces (2 thermal and 1 gold strand) together and incorporate the braid into the gold necklace. I'm really digging this one, too. The braided piece really adds another layer of texture and visual interest. It's a bit summery, but I'm always one who enjoys wearing off-seasonal clothes so I just might wear this one asap... as a "scarf" 😉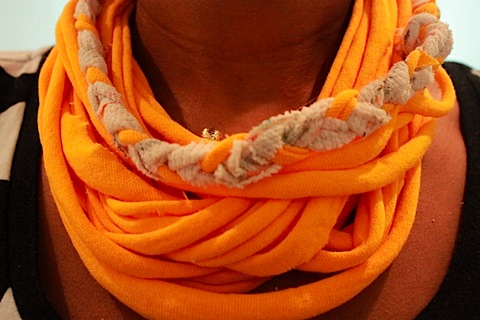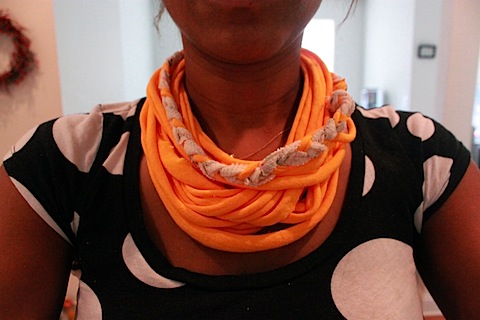 So, in short, I'm officially obsessed with making t-shirt necklaces. Not only was it a blast to create but there isn't even any cleanup! No craft project is better than that. And as I was making these, I was thinking they'd make perfect gifts. Or for a girl's night, have your friends bring old t-shirts and you can make them together. The possibilities are completely endless and you can customize them so easily by using your favorite color, an old college shirt, or even your favorite sports team's t-shirt. Now that I think of it, I'll need to hack one of my green Celtics t-shirts so I can rock one of these necklaces at the next game 😉
I don't normally make resolutions but starting the year off making this necklace makes me realize I need more projects like this in my life!
[Chels]