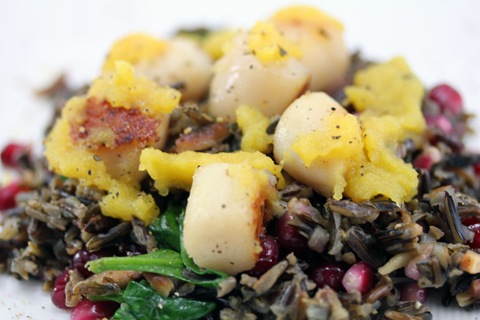 Sometimes I like to go back and read old posts on We are not Martha. We've had this little blog for over 4 years now (!!) and I think it's safe to say we've come a long way. My first food post? I blogged about a cake that, yes, I made myself (my first from-scratch cake!), but that I didn't even provide a recipe for on the blog. And that I took a photo of with my camera phone. And, no, I didn't have an iPhone… I had a flip phone. Yup. I mean, I think it's really just plain safe to say food blogging has come a long way. Because 4 years ago, this didn't really seem strange to me at all. Nowadays? I would never. Also, I frosted that cake when I returned home from the bar at 2 a.m. These days, I can barely remember what it's like to stay at a bar until 2 a.m. Yes, a lot has changed in 4 years.
My point is, I'm noticing that while I used to post recipes all adapted from somewhere else, lately I've mainly been coming up with recipes all on my own, utilizing what I've learned over the years. And while it's a whole lot more work (especially if you're not trained in all things culinary), it's also a whole lot more gratifying. Because at the end of the day, I feel like the recipes are mine and I'm creating something special… And from my heart. Awww. But gosh, sometimes I miss just staring at a recipe and mechanically going through the steps with awesome results. Because when you make up your own recipes? You never really know how they're going to turn out. And when you have a food blog + a full-time job + an upcoming wedding + a life to live, you find yourself really hoping those recipes will turn out because you really want to post about them. Though this Mango Scallop with Pomegranate Wild Rice dish didn't turn out exactly how I had it pictured in my head, I ended up loving the results and will definitely be making it again and again. Don't you love when that happens?
And unlike 4 years ago, I will provide a recipe for you. And a photo taken with a camera that is a wee-bit higher quality than a flip phone. I can't help but wonder where we'll be another 4 years from now!
Mango Scallops with Pomegranate Wild Rice (serves about 4):
Print this recipe!
2 mangos
1 lb. sea scallops
Salt and pepper
2 T olive oil
2 T lime
1 T honey
1 T chopped parsley
1 batch pomegranate wild rice (see recipe below)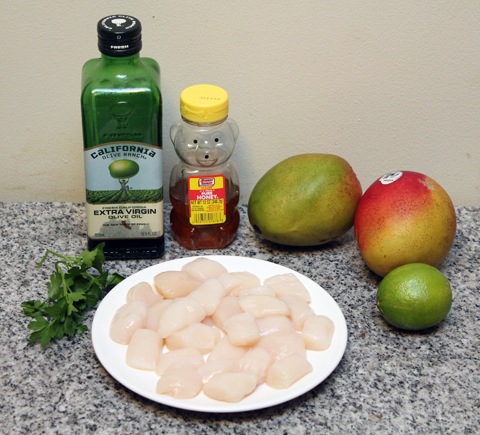 Pomegranate Wild Rice:
1 C wild rice
3 C low-sodium chicken broth
1 t olive oil
½ C slivered almonds
1 C pomegranate arils
1 bunch spinach (not pictured)
2 T chopped parsley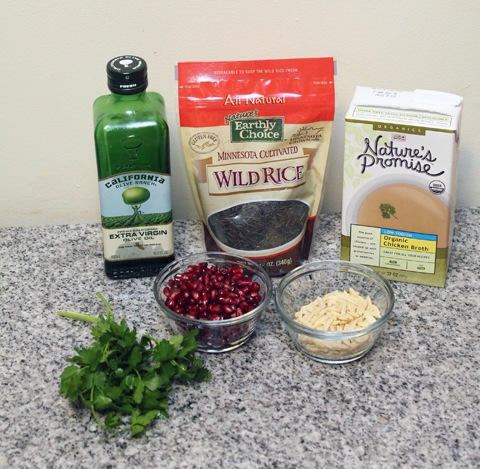 Start by bringing chicken broth a boil and cooking wild rice according to directions. It should take about 25-30 minutes.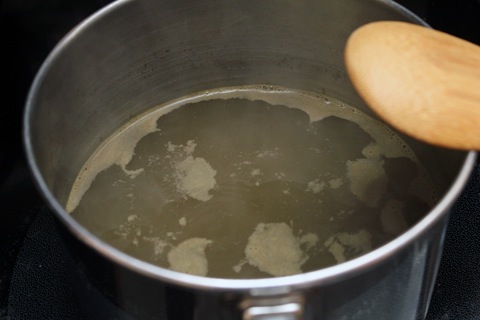 Make sure to remove those little muscles from the scallops, rinsing them, and patting them dry.
Then peel and chop your mangos into 1-2 inch pieces.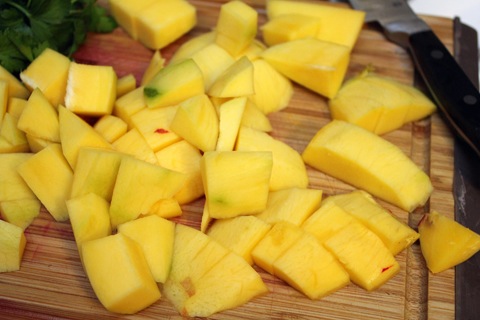 And blend them up in a food processor or blender, along with the lime juice and honey. I chose to use my Vitamix because I use my Vitamix at every chance I get and it works beautifully.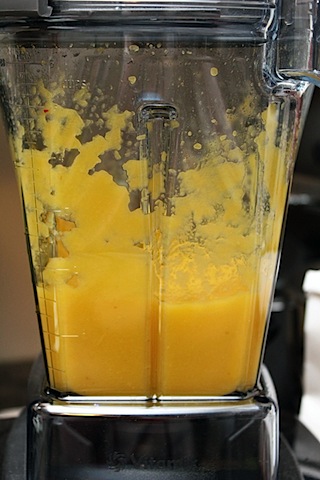 Generously salt and pepper the scallops and heat olive oil in a pan over medium-high heat. Add the scallops to the pan without letting them touch each other. You may have to do this in a couple batches, depending on how large your pan is.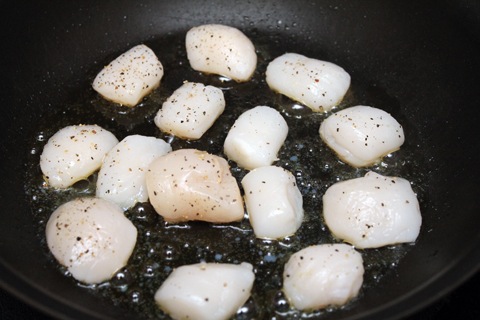 Sear for about 2-3 minutes on each side, until scallops are a bit golden.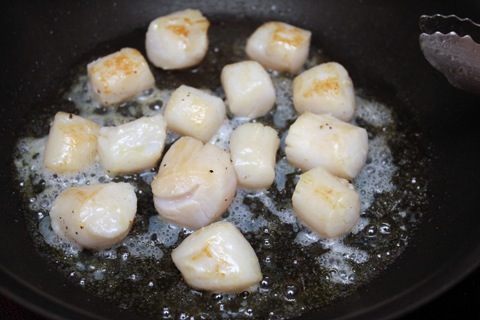 And remove to a separate plate. Keep warm by tenting with foil.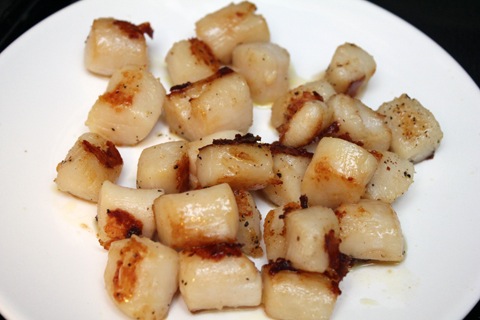 At this point, your rice should be close to being done.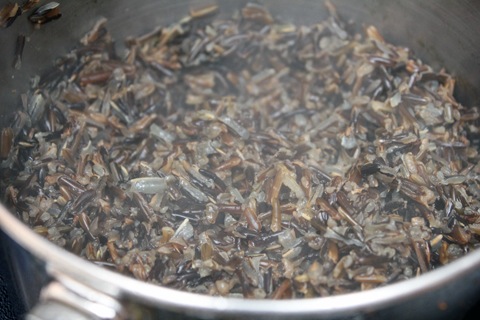 Wipe out the pan you used to cook the scallops in and add a little bit more oil in. Put almonds in pan.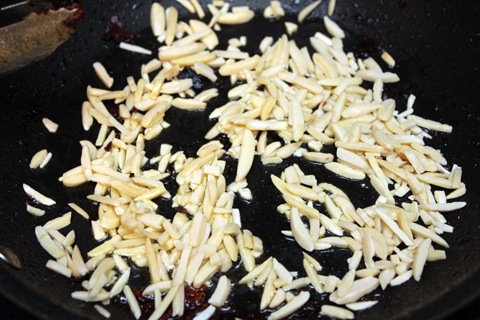 And cook for just a minute or so until almonds are nice and toasted.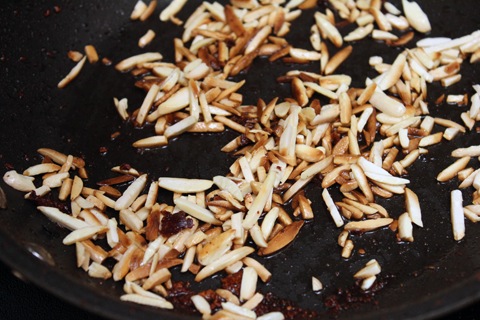 Now add the almonds, pomegranates, cup of spinach, and parsley to the rice. Sprinkle with salt and pepper and stir it up.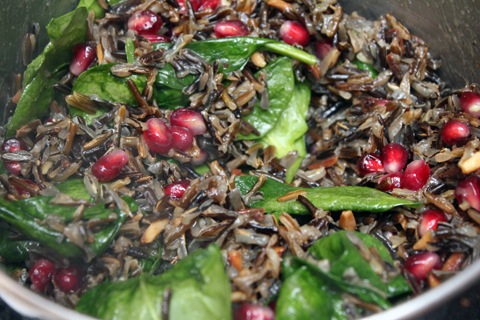 Now, when I originally thought up this recipe, I pictured the mango as more of a sauce, a thin sauce. Not sure why I thought pureeing mangos would accomplish this and it briefly crossed my mind that I should purchase mango nectar and make a reduction, but I really wanted to use real fresh mango, so I never ended up buying it.
Not that there's anything wrong with mango puree, I just knew it wouldn't be as pretty when it came to drizzling it over the scallops. But I did it anyway.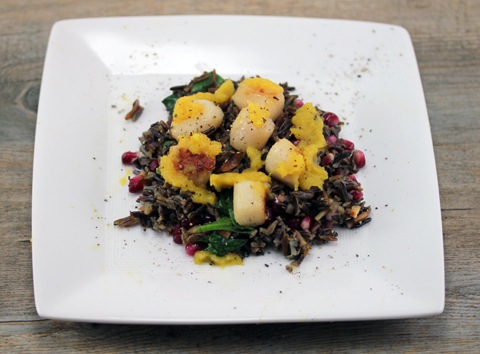 And it didn't really matter how it looked because it was so darn delicious. Seriously. All my favorite flavors joined together. This dish is perfect for a chilly evening, when you need to add a little brightness to your life but still get some good old fashioned comfort food.
I do love scallops plain, but though the mango added a nice touch of fresh sweetness without overpowering the flavor.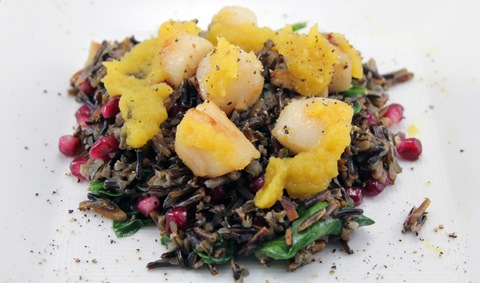 Even if you don't enjoy scallops, I implore you to at least make this rice. It's awesome and filling and you should stir in some mango puree, as well.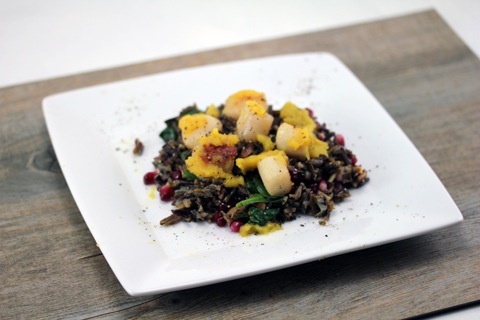 Scallops are SO SO easy to cook, especially when you're simply searing them. And I do think they can be pretty impressive when being served to company, so keep that in mind. There's really nothing complicated about this dish and the wait time on the rice is the worst of it. And wild rice is always worth it.
On another topic, as many of you know, I entered my Sweet Tea Vodka Cupcakes into Celebrations.com Cupcake Crown contest. Thank you SO much to everyone who's voted (and to Firefly Sweet Tea Vodka for the tweets!)- I'm somehow in first place right now and would love love love your votes if you have a second (literally, it takes a second!). The voting runs until February 12 and you can vote once a day and the prizes are pretty fabulous. Thank you to our awesome readers for always being so supportive!! 🙂
[Sues]
Pin It