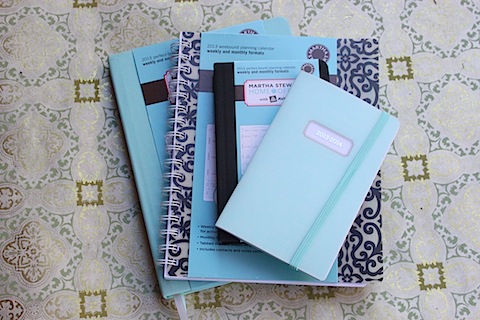 If there's one thing you should ever know about me, it's that I love office supplies. Not just l-o-v-e, but, truly, madly, deeply, LOVE. Really, there are few other things that make my heart flutter and my eyeballs twitch the way that a new notebook or package of post-it notes can! I understand it's completely random, but, you see, my junior year of high school, I remember my dad coming home one day and telling me that a new Staples was opening up not too far from our house. He encouraged me to apply for a job there, and that's really when this all started. I worked there for 6 years, for the remainder of high school, all of college and a few months after graduation, and I must admit, I was legitimately crazy about the company and adored not only how they started but how they treated us as employees. There are times I STILL slip and accidentally refer to my current job(s) as Staples. That's how much of an impact that company had on me! I worked in the Copy and Print Center, which as a graphic design major in college, totally came in handy, but that's another story for another day.
Many, many years later, I still have a surplus of pens and other office products that I accumulated over my time working at Staples. But that doesn't mean I don't continue to buy more 😉 If I stop and really try to understand just WHY I have a borderline obsession with office supplies, I think it's because whenever I buy them, it typically marks a new beginning. The first day of school, start of a new job, the decision to stop being a hoarder and attempt to organize my life, new calendars for the New Year, etc.
This all being said, you can only imagine how excited I was when I heard that Martha Stewart was partnering with Avery to produce a line of products to be sold exclusively at Staples! I mean, I know this is a food blog and all, but I about wet my pants when I heard this. You would have thought I won the lottery. I may or may not have screamed and or done a victory dance of sorts. I did.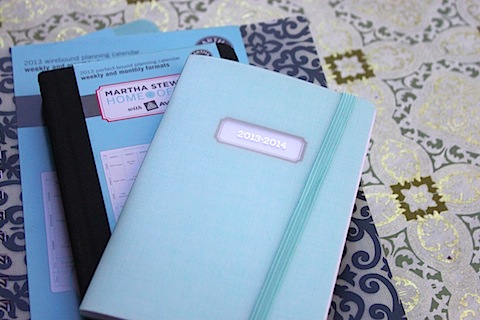 A couple of weeks ago we were approached by the lovely people at Avery who asked if we'd be interested in trying out some of the products from Martha's dated line. IS THE SKY BLUE?! Of course we'd like to test drive these bad boys! [Insert additional victory dances here]. Not too long after, a package arrived on my doorstep filled with four dated calendars from the line, sold exclusively at Staples. Should I mention again that they're only sold at Staples 😉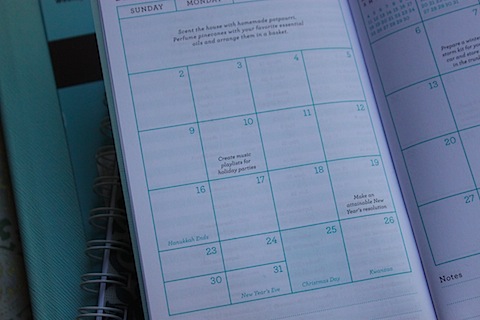 I'm actually oddly looking forward to 2013 so I can start writing in these. I'm all about my Google Calendar and keeping a running calendar on my iPhone, but there's still something about pen to paper that I'm not ready to let go of. Not entirely sure if I'll ever be able to. Being able to actually write down a to-do list and excitedly cross items off or highlight as you complete each task is really the only purpose of life, in my humble opinion.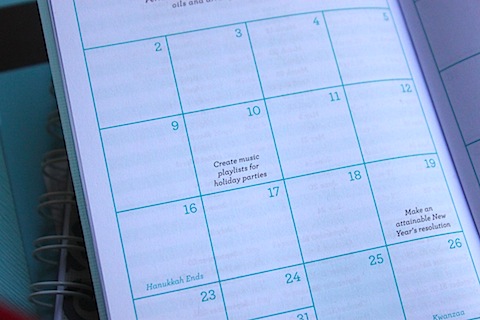 One of my favorite parts about these planners is how they are just so Martha. She maps out the year and adds in little notes each month. On December 10th: "create music playlists for holiday parties". On January 4: "check the expiration dates on your driver's license, passport, car registration, and insurance policies". March 29: "in season: asparagus". June 11: "Prepare for impromptu guests: stock up on wine and easy snacks". August 30: "schedule an end-of-summer dermatologist appointment". These are just plain practical things to know and often things that you completely forget about during the year, especially things like checking expiration dates for licenses and policies in the new year!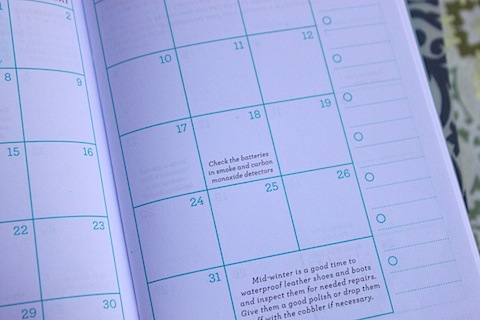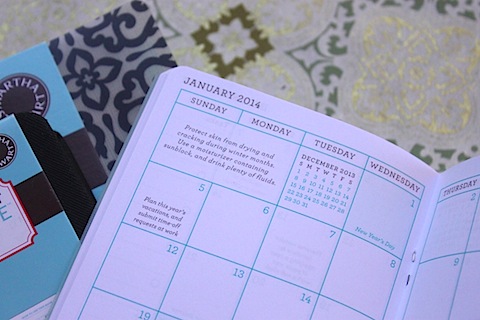 There are also tips at the beginning of each month. The beginning of January starts off with how to protect your skin from the harsh winter weather.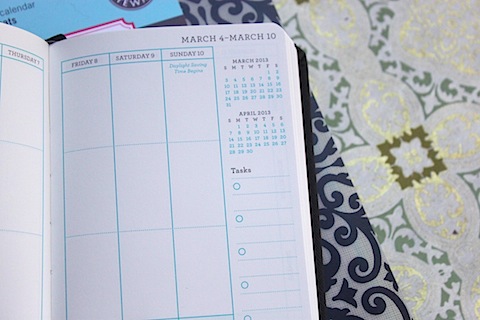 There are several versions of the planners. There's a soft-covered monthly pocket planner that can easily be tossed in a purse, a hard-covered pocket planner, a wire-bound version in the pretty black brocade print, and then the large hard-covered blue one that would be great to keep on a desk or in an office.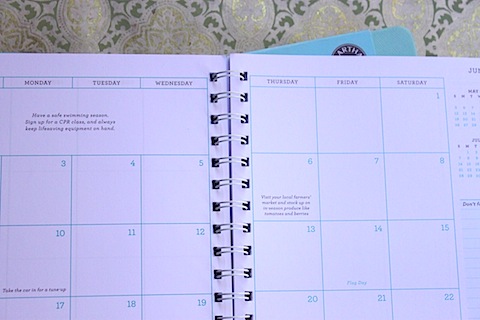 The blocks in the wire versions are great and spacious, which makes it the perfect solution for organizing a family. Plus, there are monthly tabs which is always helpful for quick reference.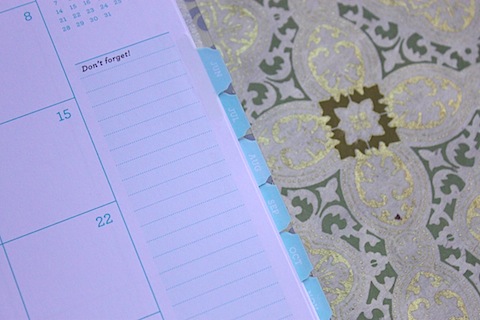 I adore the large hardcover Perfect-bound Desktop calendar, shown below!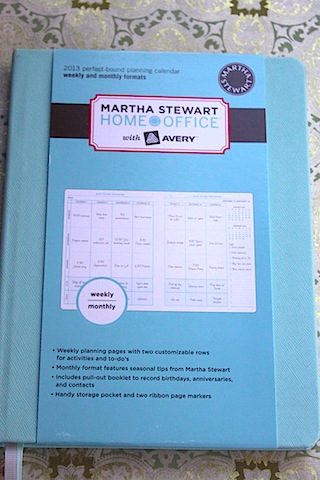 The ribbon page holder is key and this is the perfect option for an at-home planner. Although I'll probably still try to shove it in my purse because that's just how I roll.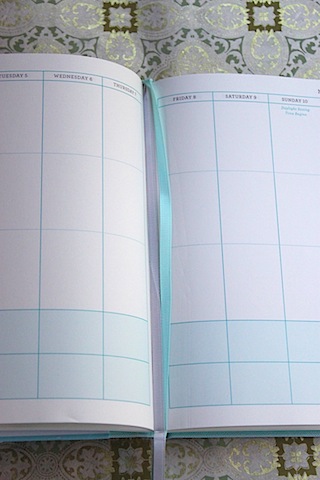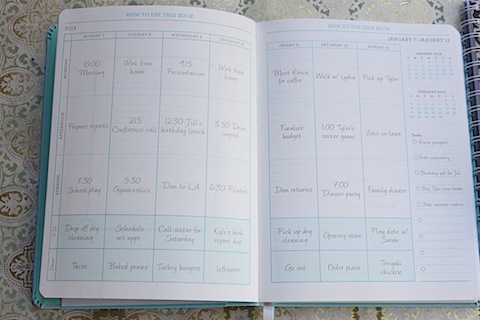 In the front of the calendars there's a simple "How to use this book" spread, that shows you the breakdown of the book and how to organize yourself while using it, which is so helpful. Oftentimes I look at planners and I'm just like "huhhh?", so I love that there's a sample sheet already filled out!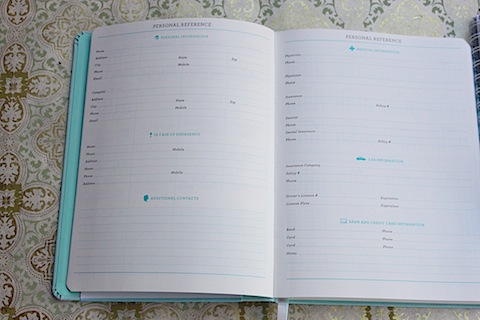 Also in the front of the books you'll find the usual Personal Information pages where you can add in your contact, medical, car, and bank information.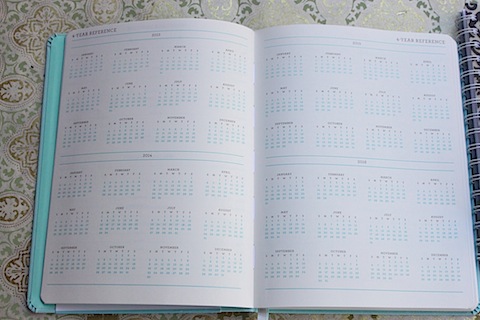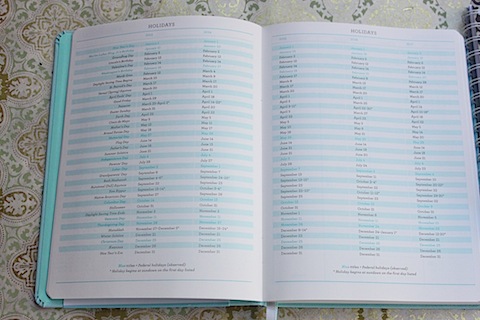 The back of the book has an "Essentials" pull-out booklet that houses address pages, quick reference monthly page views, and an additional section for notes.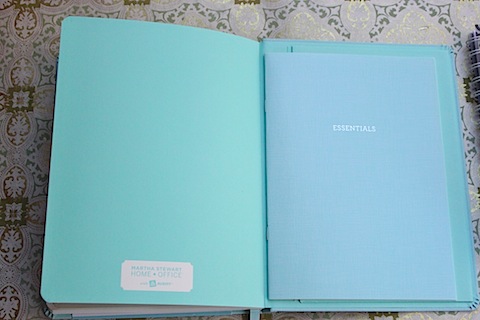 There's a slight chance I will attempt to use ALL four of these planners at the same time in 2013. Watch me!
And now for the fun part. As if everything before this was NOT fun!? Giveaway time! Our lovely friends at Avery (anyone who sends us Martha-related goodies is an automatic friend, duh!) want to give one lucky We are not Martha reader a fancy schmancy Wire-bound Planning Calendar in the Black Brocade. The planner measures 7″x9″ and features the monthly tabs as well as boatloads of other necessities to keep you organized throughout 2013.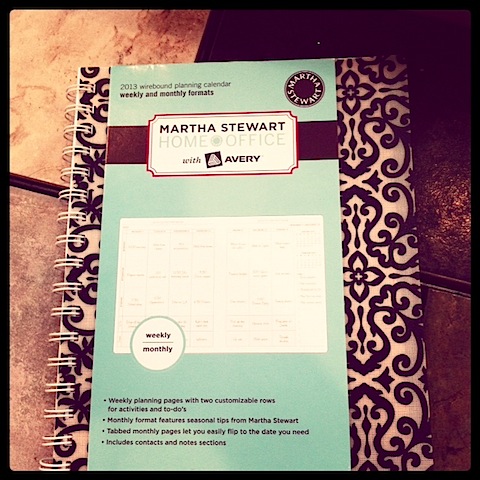 To enter the giveaway just leave a comment on this post telling me a little about your favorite way to stay organized in the New Year by Tuesday, October, 23 at 11:59PM EST. For extra entries follow us on Twitter or "like" us on Facebook, just don't forget to leave an additional comment on this post to let me know that you did so!
And one more time: As I mentioned earlier in the post, all of the Martha Stewart Home Office products with Avery are sold exclusively at Staples, so if you don't win this giveaway, check your local Staples for the rest of the line! You'll probably see me there 😉
Cheers to an organized 2013!
[Chels]