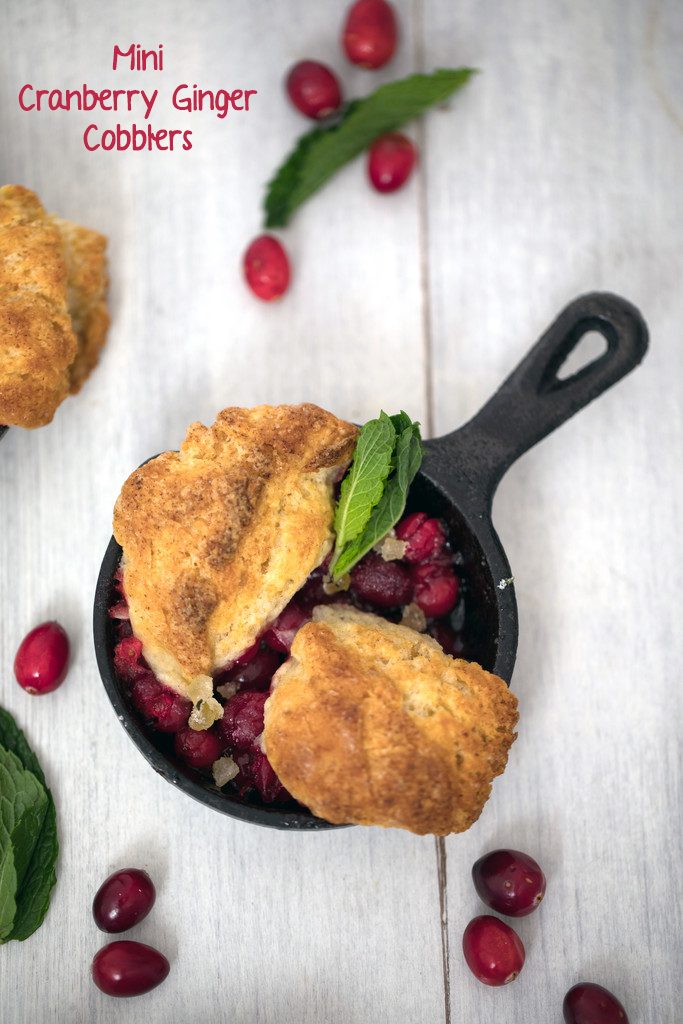 When I was nine, I won a trophy at my piano recital for "best rhythm." Then when I was fourteen, my new piano teacher told me I had the worst rhythm of anyone he had ever taught. At first I was all defensive... "ohhh no you didn't. I literally have a trophy that says 'best rhythm' on it." After he stopped laughing, he asked me to tell him how I measure rhythm
and I realized he was right. I had no idea. The thing is, my first piano teacher used to write my sheet music out for me, telling me which note to play instead of making me read music on my own. I just had pieces of paper with letters on them and had no idea how long to hold notes for, when to pause, etc. Even when I finally learned to read music, I never paid attention to all of those notations and such because nobody ever told me to. Until I got a new teacher as a teenager (Oh, I had a few failed experiences, too... like a teacher who slapped my hands if I played a note wrong. I lasted for two lessons). And by then, it was far too late.
Despite the fact that I played piano for about 11 years total, I really have nothing to show for it. My teacher was right that I have zero rhythm and seriously have trouble even clapping along to songs sometimes. How did I get that trophy? It remains a mystery... Either I really did have the best rhythm out of everyone my teacher taught that year... Or she had no idea what else to give me an award for and "best rhythm" sounded legit. The next year at the holiday recital, I won "best bouncy chords" for my rendition of Sleigh Ride and I will defend that title until the day I die. Even though I'm pretty sure bouncy chords aren't an actual thing...
Luckily for me, I've managed to find my rhythm in other parts of my life and think I have a pretty good rhythm in the kitchen. Though sometimes I'm thrown off a bit and I realize my rhythm isn't necessarily technical, but more of a personal sort. Like when I want to cook or bake with ingredients that aren't seasonally appropriate. I'm sure some people will tell you that cranberry season is over when Christmas is over. But if you ask me, they're cool to cook with all winter long and to add to smoothies all year round (that's what the freezer is for!). I wanted to make the berry cobblers I spotted in Southern Living, but didn't feel that berries were appropriate for January and saw no reason to put away the cranberries.
While I switched up the recipe quite a bit, I saw no reason to change much about the biscuit topping. It has crystalized ginger in it and is basically a dream come true.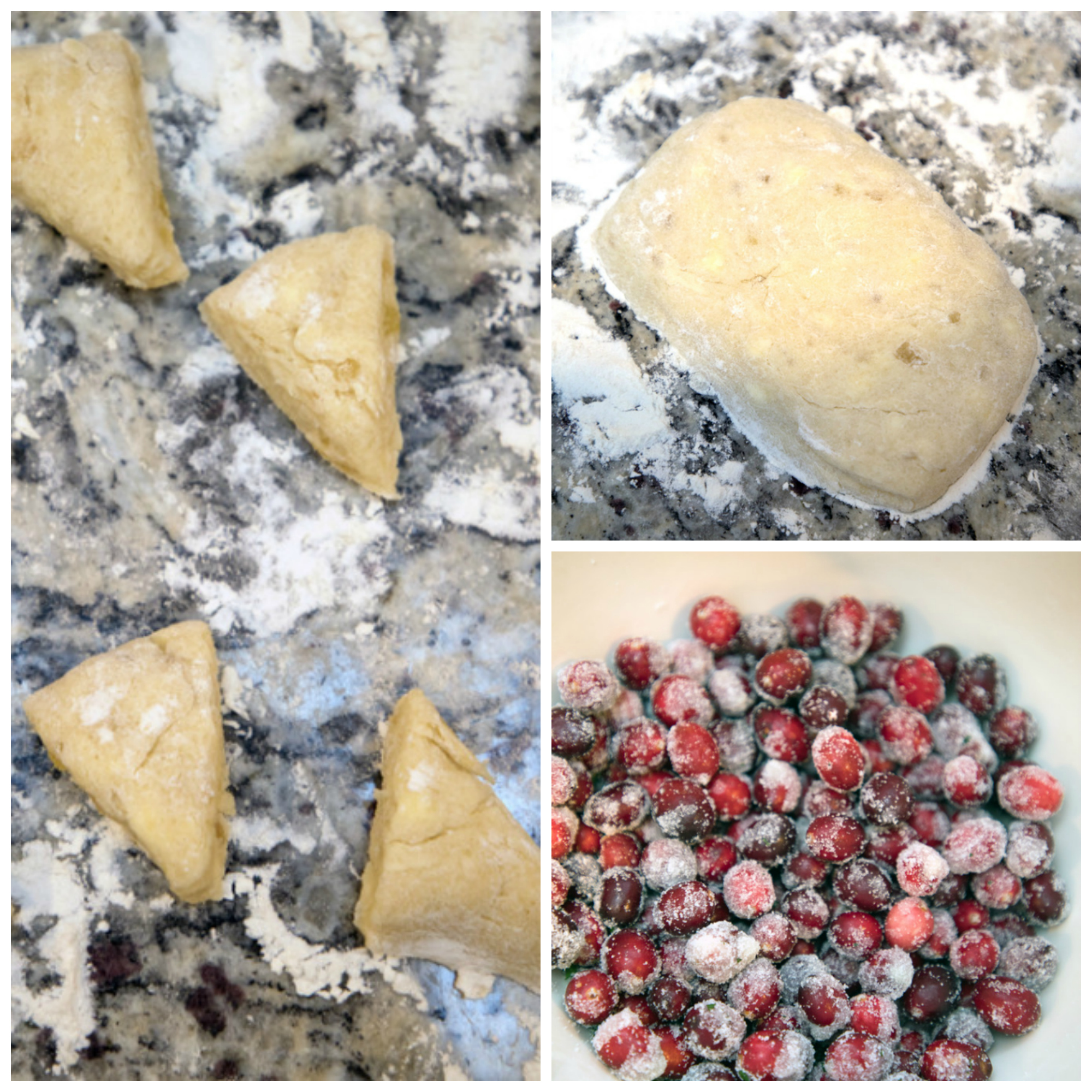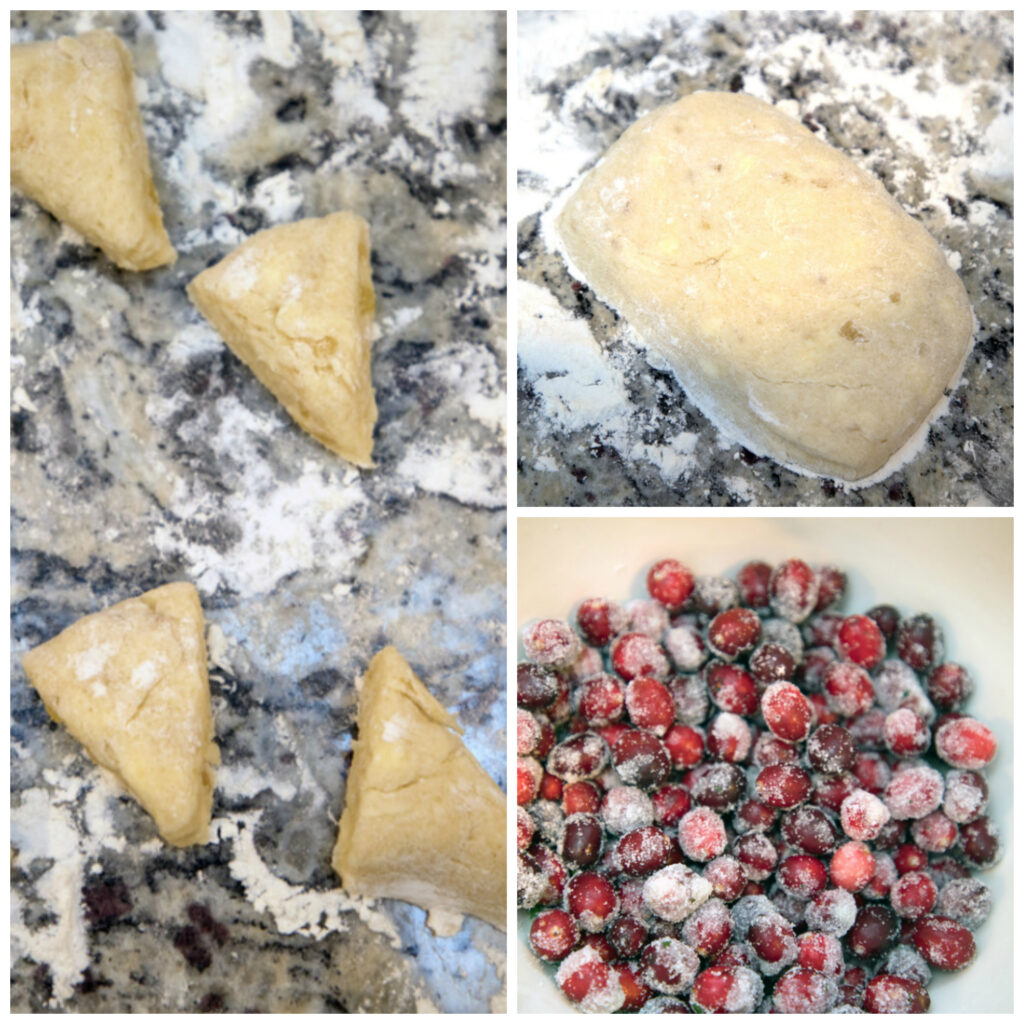 My cast iron skillets are mini. Like really mini. As in 3.5 inches. They were actually a little bit mini-er than I thought they'd be when I saw them online, but are so perfect for a loaded dessert like this one. The assembly for this cobbler is easy and once ready, you can just pop them in the oven.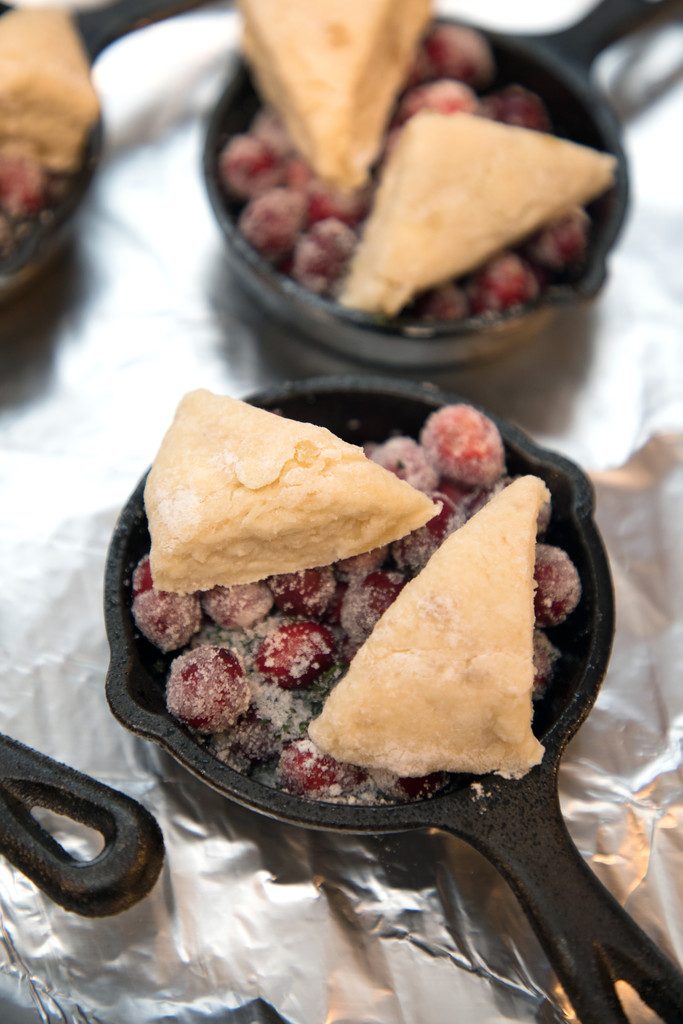 The biscuits will turn golden and the cranberries will get bubbly and sweet. But not too sweet. The cranberries still retain their familiar tartness; the biscuits and ginger balance the cobbler out.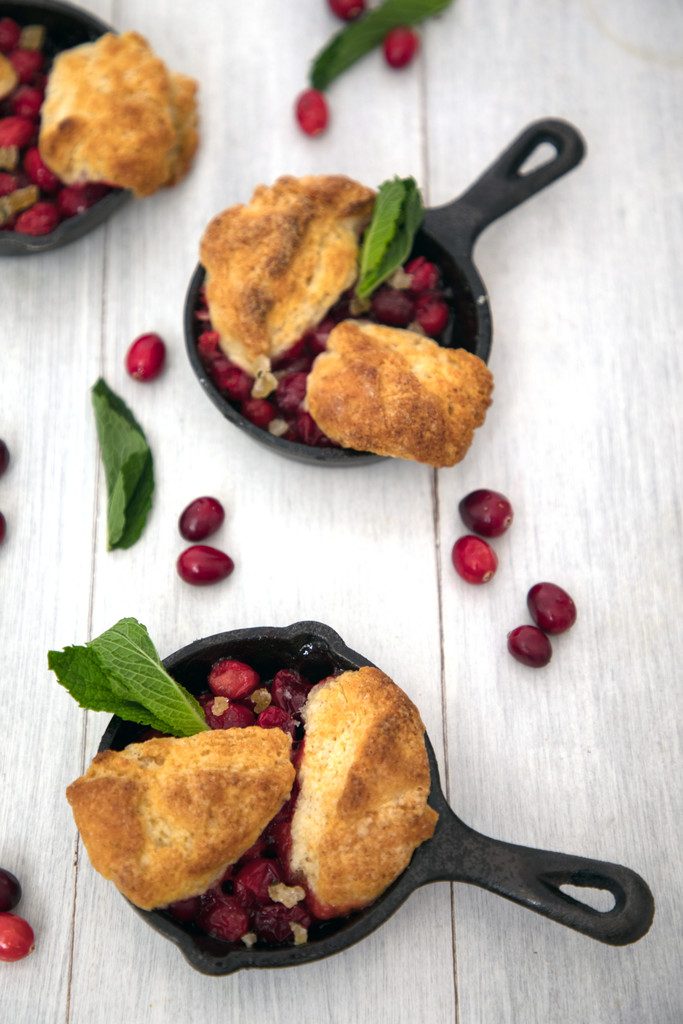 The original recipe featured larger skillets, with just one biscuit across the top. I used my teeny-tiny skillets and couldn't resist topping the cranberries with two biscuits. Good decision. The biscuits are so incredible that I will most definitely be making them again with or without the rest of the cobbler.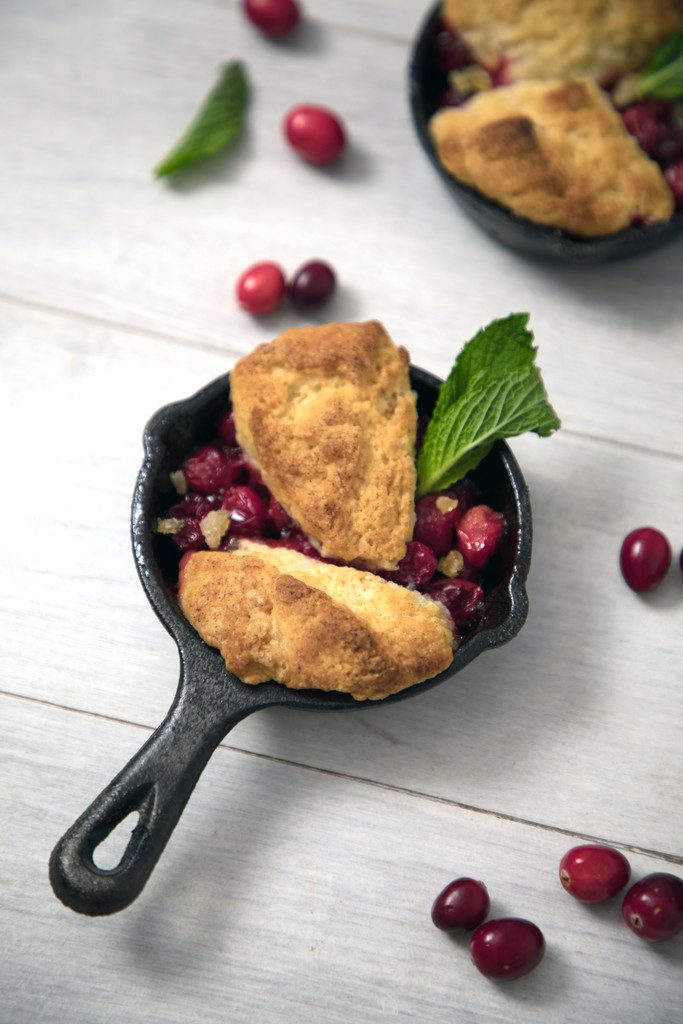 Even my cobbler photos look a little like Christmas, right? I'm about ready to head over to the piano that I don't own and start busting out some bouncy chords with "Sleigh Ride." I should also tell you that I won "best in show" for the next year's performance of "Have Yourself a Merry Little Christmas." Clearly, I didn't lose any points for my lack of rhythm.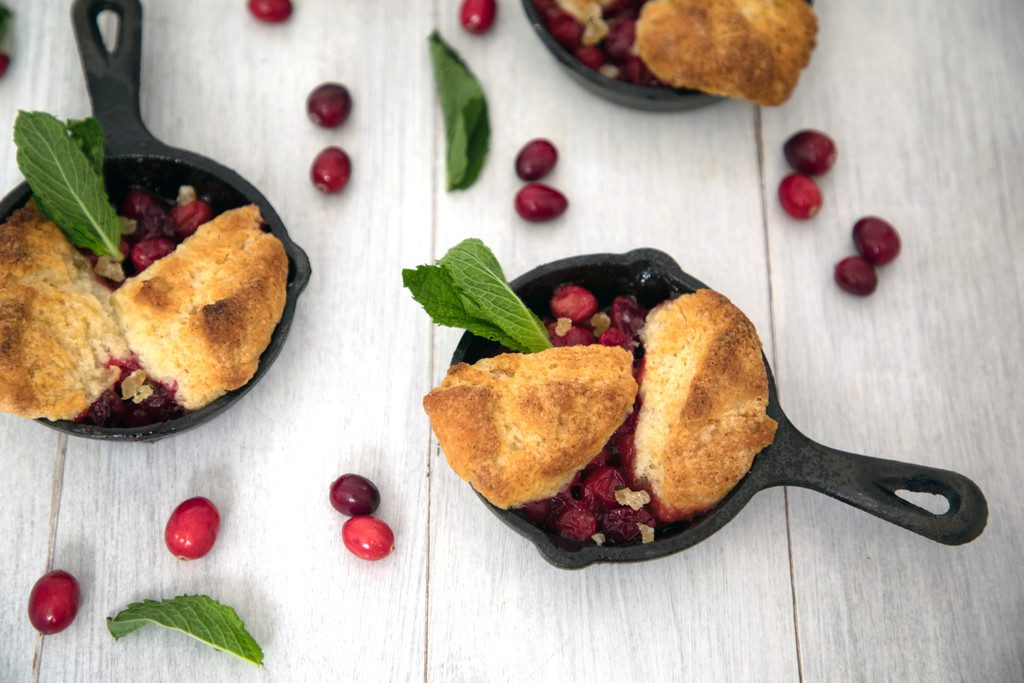 While technical rhythm can be very useful (or maybe necessary is the more appropriate word?) when it comes to playing a musical instrument, I'm not convinced you need to follow anyone's rhythm but your own when it comes to cooking and baking. Do what you want when you want and as long as you're feeling the beat and getting in your groove, that's all that matters.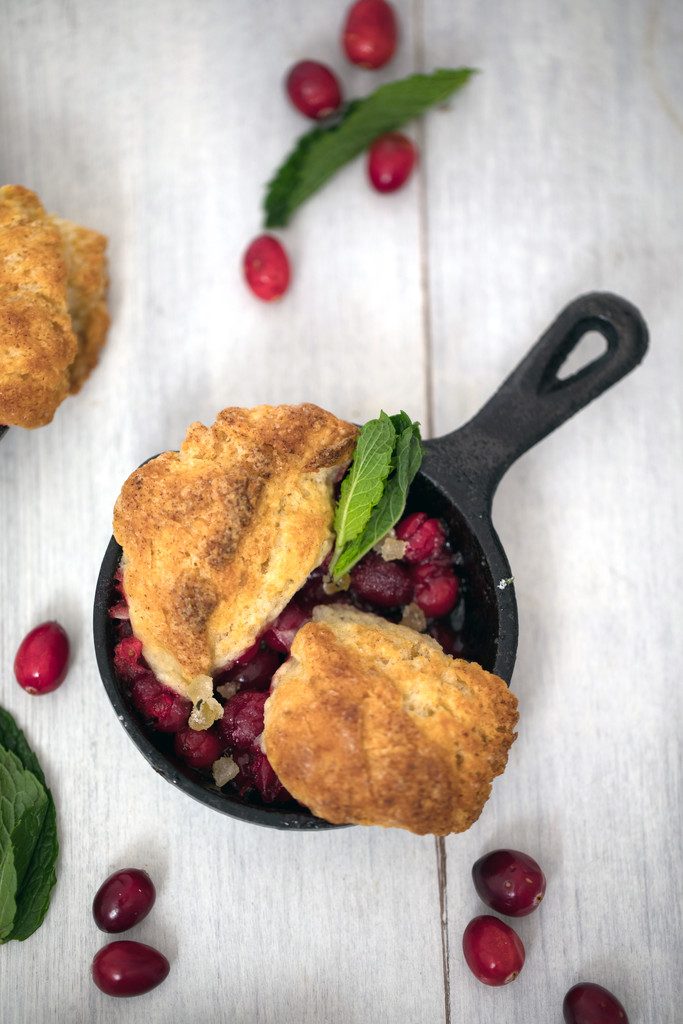 And that's what I tell myself when I get sad over the fact that I'll never be the person at the party who just sits down at the piano and starts jamming, despite my years and years of "training" (I actually think my later piano teacher was more of a therapist than a teacher for me, but that's a story for another day. I think he probably gave up on my musical skills early on). Hey, I had fun playing songs from Le Miserables and Dave Matthews Band (yup) throughout all those years at piano lessons, even if I was really just hitting the notes on the piano.
Do you have rhythm? Musical or otherwise?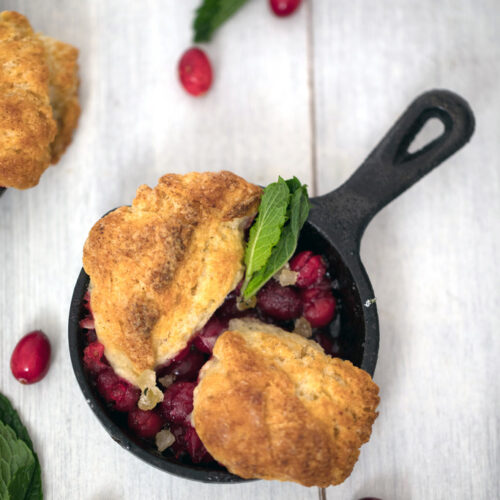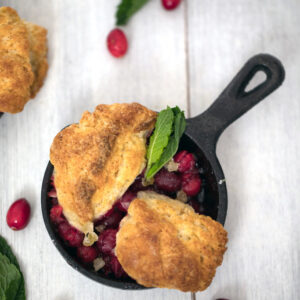 Mini Cranberry Ginger Cobblers
These Mini Cranberry Ginger Cobblers are so easy to make and the perfect size for a personal- portioned dessert served in a cast iron skillet.
Print
Pin
Rate
Ingredients
3

cups

cranberries

3

Tbsp

granulated sugar

1

Tbsp

orange juice

1

Tbsp

melted unsalted butter

1

tsp

cornstarch

1

Tbsp

finely chopped mint

¾

cup

all-purpose flour

2

Tbsp

minced crystalized ginger

plus more for topping

1

tsp

baking powder

¼

tsp

salt

5

Tbsp

cold unsalted butter

¼

cup

buttermilk
Instructions
Preheat oven to 400 degrees.

Toss cranberries, sugar, orange juice, melted butter, cornstarch, and mint in a medium bowl.

In a large bowl, whisk together flour, crystalized ginger, baking powder, and salt.

Using a pastry blender or fork, cut cold butter into flour mixture until mixture is crumbly.

Stir buttermilk into mixture, just until dry ingredients are moistened.

Turn dough out onto a lightly floured surface and knead 3 to 4 times.

Pat into a 1-inch thick rectangle and. Cut into 6 squares; cut squares diagonally into 12 triangles.

Lightly grease 6 3.5-inch cast iron skillets and place them on an aluminum foil-lined baking sheet.

Divide cranberry mixture between skillets and place 2 dough triangles over the cranberries in each skillet.

Bake at 400 degrees for 16 to 20 minutes or until cranberries are bubbling and biscuit topping is golden brown.

Cool skillets 15 minutes before serving. Sprinkle additional minced crystalized ginger over the cranberries and serve either warm or at room temperature.
Share a Photo of Your Finished Recipe!
Mention @wearenotmartha and share a photo if you've made the recipe!