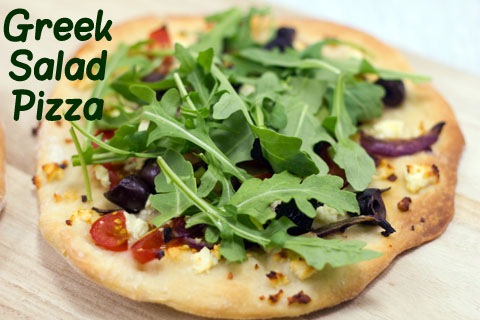 Is it just me or are people in particularly bad moods this week? Here in Boston it could have something to do with the drab rainy weather we've been experiencing every day. Or maybe it's all the political heat in the air. Or perhaps it's just me and my temporary commute. Since I'm dog-sitting for Mitzi, I'm back to my old Green Line commute. For those of you who don't live in Boston, the Green Line is most definitely known as the worst line when it comes to the MBTA. Always crowded and uncomfortable and always slow, with no explanation of why it takes 15 minutes to get from one stop to the next. Basically my idea of HELL. I took the Green Line for 7 years before moving in July to the Orange Line. While the Orange Line can be sketchy as all get-out, there are a few things it does well, like a) move and b) move quickly. Important when it comes to commuting, you know. Being back on the Green Line for a couple weeks makes me appreciate my new commute so much more. For a little perspective, I used to live 4 miles from work and it took me at least 45 minutes to get there. Now I live 6 miles and it takes me no more than 20 minutes.
Every morning this week I've had to either watch as the first T went by too packed for anyone to fit on or had to squeeze myself on and stand pressed against the door and lots of strangers without an inch of breathing room. One day, a man flipped out at my T driver and called him a "D-Bag" and yelled at him, "You suck at your job!" Another morning, a woman flipped out on the T driver for the MBTA not having enough Ts out during rush hour (true, but not the driver's fault). Oh and yesterday, the girl next to me ate a ketchup sandwich at 7:45 in the morning. Not the best smell when it's 90 degrees on the T and you can't even turn your head away.
When I arrive at work each morning, I already feel riddled with stress and anger toward mankind. No wonder Bostonians are not known for being a friendly bunch. In any event, a dinner like this is just what the doctor ordered. You know you should be healthy and eat a salad, but are really craving pizza. You want a tasty bite to eat, but don't have the energy or mental capacity to follow a recipe step-by-step. It's an easily-solvable predicament. Grab your favorite crust (or mine… Mine is wonderful), throw some toppings on, pop it in the oven, and decompress. After the day you've had, you need it.
I topped my Mini Greek Salad Pizzas with arugula despite the fact that seeing all the green just made me think of the Green Line, which makes my blood start to boil. Yeesh. Maybe it's me who's the grumpy one!
Mini Greek Salad Pizza (makes 6 minis):
Print this recipe!
½ recipe for favorite pizza or flatbread dough
¼ C olive oil
Red pepper flakes to taste
½ red onion, sautéed
1 bunch cherry (or plum) tomatoes, quartered
½ C kalamata olives, sliced
4 oz. feta cheese, crumbled
2 C arugula
2 T lemon juice
(pre-heat oven to 450 degrees)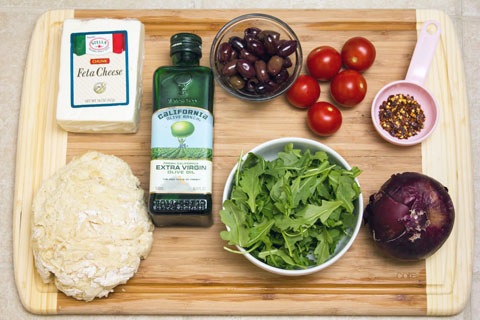 I'm a big fan of this combination because it's basically the opposite of rocket science. You can do whatever you want and add as much or as little of the ingredients. Go with your heart. It won't steer you wrong.
Roll out dough thinly (½ of my flatbread recipe allows for 6 little pizzas) into a little personal pizza size.
Brush olive oil on, sprinkle red pepper flakes on and start layering on toppings. I went with sautéed onions and quartered tomatoes first.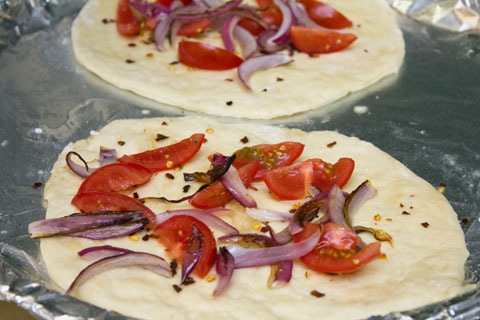 Then layered on the olives and feta cheese.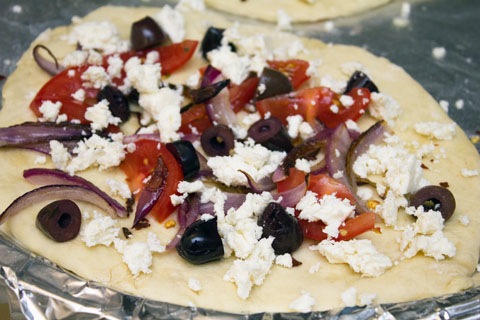 Put the mini pizzas on a pizza stone or foil-covered pan and pop them a 450 degree oven for about 20-25 minutes.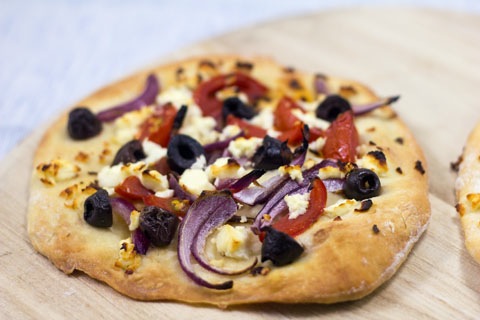 I love the pretty colors of these pizzas. And the fact that you get your own so there's no need to share.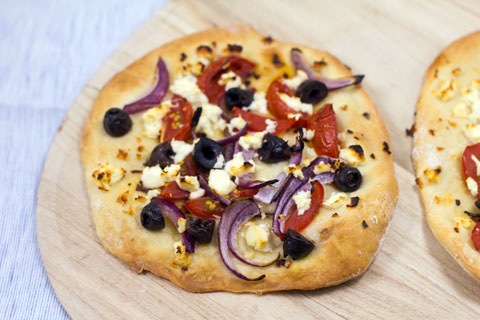 Though the pizzas were almost perfect as is, I wanted to add on a bunch of arugula for good measure. And health and all that. But most importantly for taste and a nice bite. What's a salad without some kind of green, after all?
I also squeezed lemon over the top for an extra little kick. There's no dressing on this Greek salad, but lemon gives it a bit of a more Mediterranean feel!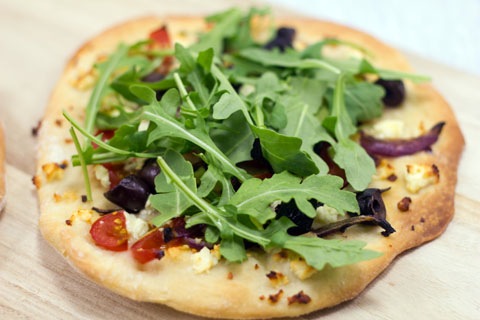 The personal size is also great to prevent yourself from overeating. But perhaps it could be dangerous if you're home alone and have 6 mini pizzas in front of you. Remember, think of these as pizzas and not slices.
Or whatever. You've had a rough day. And an obnoxious commute. You deserve 6 nice large "slices" of pizza!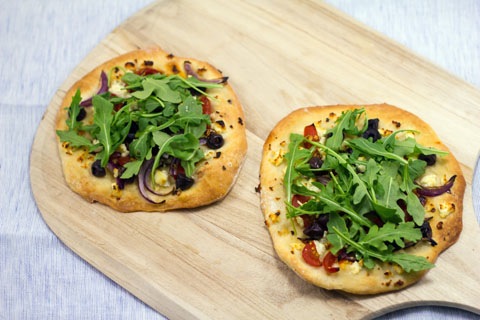 I'm not an enabler, I promise. I just want you to be happy. These pizzas will make you happy.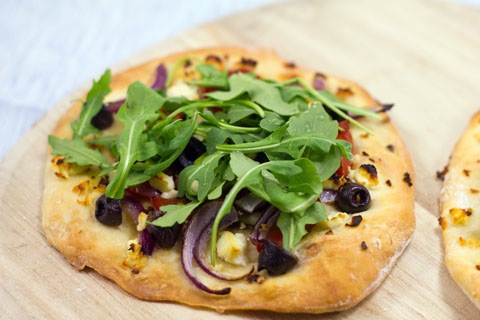 Now that it's Thursday, I'm hopeful the general public will have a little more pep in their step and will turn their frowns upside down. Myself included. Please, no yelling at T drivers first thing in the morning because of the horribly flawed MBTA system. I can't take the early-morning stress. Just let me sit in peace with my book (I'm finally reading Outlander and am almost done… though I'm pretty sure the book is contributing to my daily stress instead of helping it… And someone let me know, should I read the sequels?). It's happy thoughts of a giant mug of coffee when I get to my desk that power me through. And the imminent Friday. Hello, long weekend ahead!
Does your commute stress you out or help you prepare for the day ahead?
[Sues]