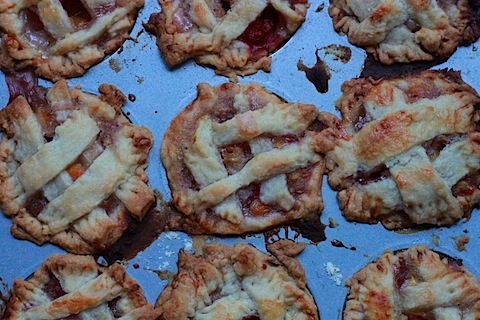 So, the first thing you should know is that this was supposed to be a traditional sized pie. Once I got home from the grocery store and was just about to begin prepping, I remembered that I left my glass pie dish at my sister's house when I made the key lime pie for Father's Day. Woops. I was about to hold off on making it until I either bought another pie dish or got the original one from my sister, when I just so happened to tweet:

And about 1 minute later, I got this reply:

And this, my friends, is why you join Twitter. You get answers to your problems, even when you're not looking for them. Or really, if you're not able to think of alternative solutions, people will just think of them for you 😉 It's a win/win. Do it.
So, thanks to Rachel Currier, our dear follower on Twitter and blogger of Baked by Rachel, I made Mini Peach and Raspberry Pies. For the most part, I still followed the measurements of the original recipe but divided them up to fit in a cupcake pan, to make 12 mini pies.
Oh, and the second thing you should know? These were easily one of my favorite happy mistakes to ever come out of my kitchen.
Mini Peach and Raspberry Pies
Adapted from Martha Stewart
Print this Recipe!
Ingredients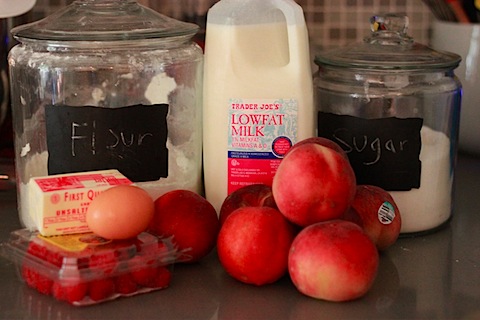 • 1/4 cup all-purpose flour, plus more for dusting
• Pie Dough (I swear by this Martha Stewart pate brisee recipe!)
• 1 large egg
• 1 tablespoon milk
• 5 large peaches
• 1/2 pint raspberries
• 1/2 cup sugar
• 2 tablespoons unsalted butter, cut into small pieces
Directions
First, you'll want to prepare the peaches. The original recipe was a bit unclear (it didn't instruct on what to do with the peaches at all), so I took matters into my own hands. I started by cutting shallow slits in the shape of "x's" into the bottom of the peaches. Then I set up up a station on my stovetop with a pot of boiling water and a large bowl with ice water.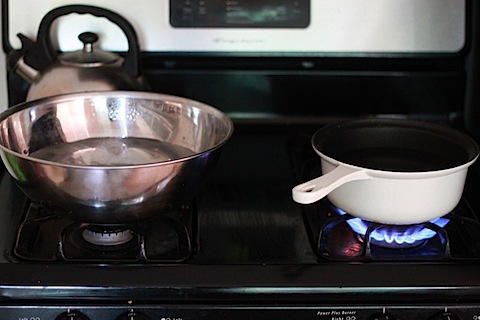 Once the water reached a full boil, I placed the peaches in, for about a minute, until the skin started to loosen. I then immediately transfered the peaches to the ice water and let them sit for a minute.
Once the peaches have cooled, you can easily (SO easily!) peel the skin off. Does anyone else get major satisfaction from doing things like this? It's like pulling wallpaper down and getting a huge sheet of it off in one pull! Or like peeling all the skin off of a grape in one try. Anyone else? Anyone?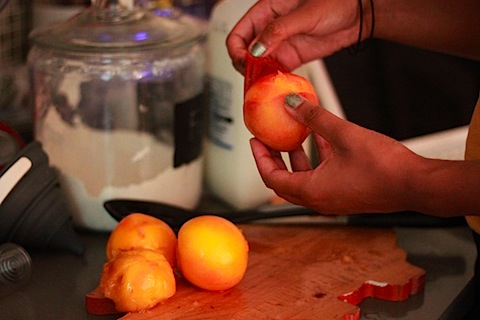 I then roughly chopped the peaches and raspberries.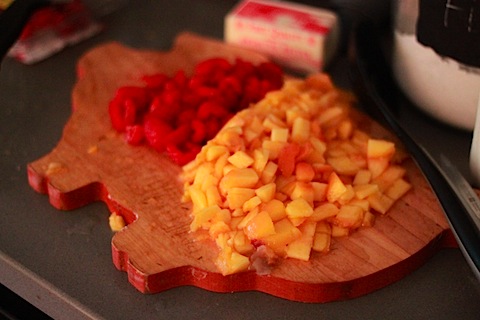 Heat oven to 425 degrees.
Whisk egg and milk together to create your glaze and set aside.
In a small mixing bowl, combine the peaches, raspberries, sugar, and flour to create the filling.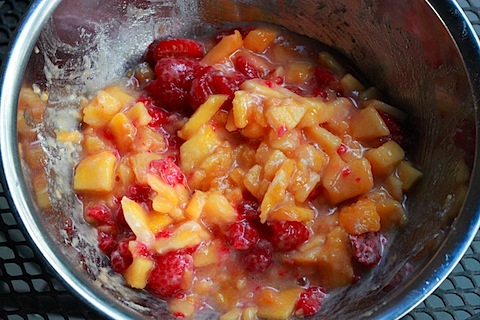 On a lightly floured surface, roll half of the dough into 1/4-inch thick rectangle. Instead of draping the entire sheet of dough into a pie plate, I divided the dough into smaller squares and formed it into the cupcake pan. I really had no clue what I was doing at this point (no one likes a liar, so I like to be as honest as possible!). This was a total experiment and all I knew was following Martha Stewart's pate brisee recipe has never failed me before so I had some hope things would turn out for the best. While working with the dough, I had to continuously dust with flour, because my kitchen was so hot and the dough was getting too sticky. Eep!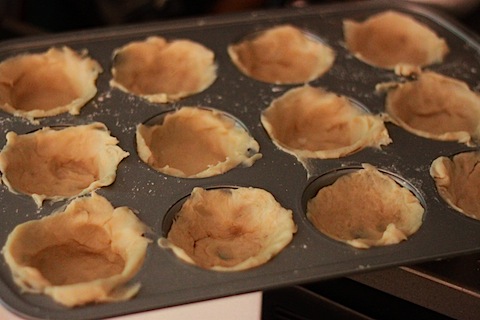 I then scooped spoonfuls of the peach/raspberry mixture into the cupcake tins. When I first saw this, all I could think was "HOT MESS". The fruit mixture was quite "liquidy" so I was worried the pies would come out soggy. But I forged on…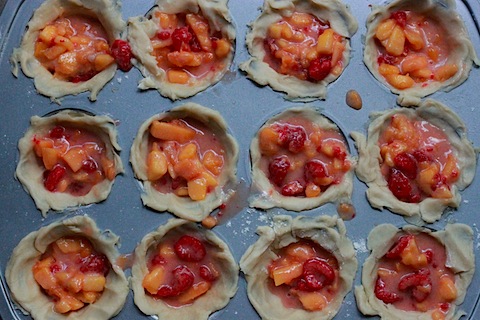 I cut about 2 small pieces of butter and dropped them on top of the fruit mixture. The more butter the better, in my book.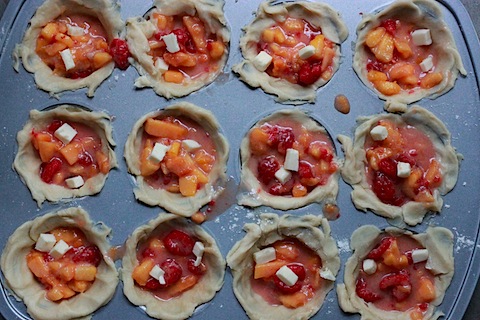 Then, I took the second half of the dough to create the tops of the pies. You could do a full pie crust on the top, or do a lattice (or "lattice") on top, like I did. I love how the fruit peeks out of the lattice, which is why I chose to do it 😉
Using a fork, pinch the edges of the crust together and then brush the glaze over the top of the crust. I also sprinkled some sugar on top for some added crunch.
Bake at 425 for 25-30 minutes then reduce the oven temperate to 350 and continue baking for another 15 minutes, or until the crust is beautifully golden brown and the fruit is bubbling.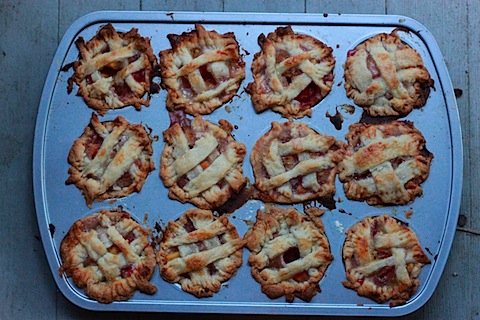 The moral of this story is to never give up while in the kitchen. Or in life I suppose, too 😉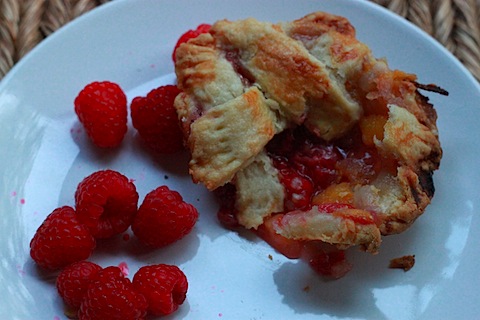 Pretty much the entire time I was making this, for some odd reason, I just imagined it was going to be a huge failure, but I figured I was already making a mess in my kitchen so I may as well continue!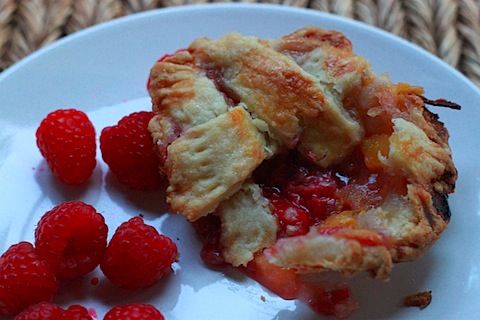 And I'm glad I did… because now I have breakfast dessert waiting for me for a few more days 😉
What was your favorite happy accident in the kitchen?
Oh, and thank you all so much for sharing your kitchen mishap stories. Some of them cracked me up! While others made me extremely nervous, hahaha! My sister actually emailed me after reading the post on how I almost burned my apartment down and said "this soooo trumps my explosive egg episode!!!" which I immediately replied "NOTHING trumps the explosive egg episode!". You see, back when we were younger, we were home alone one afternoon and my sister decided she wanted a hard-boiled egg. Instead of boiling it on the stovetop, for some crazy reason she decided to try and boil it in the microwave. So, she took a cup of water, put the egg in it, then microwaved it. All seemed fine and dandy until we took the egg out of microwave and started poking at it. The thing exploded, not only directly in my sister's face, but all over my mom's beloved window treatments in the kitchen. Egg everywhere. My dad and brother got home and immediately smelled the egg and we all rushed around to try to clean it up before our mom got home. HAHAHA. As if she wouldn't notice?! Our mom notices everything, so I have no clue why we thought she wouldn't notice her house smelled of burnt egg. All I remember my parents saying was how lucky my sister was that the egg didn't burn her eyeball. (It did actually leave a scar on her face for a while!). My brother and I used to say we I thought my sister got the idea from Clarissa Explains it All, because I think Clarissa tried doing it on the show once, but my sister denied it! Ohhh, to be young 😉
And on that note, this is officially one of the most random posts ever written on We are not Martha. Goodbye!
[Chels]