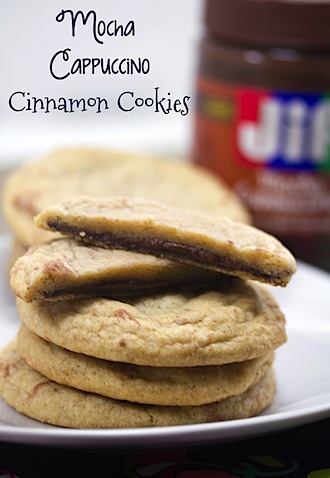 When you see this on your grocery store shelf, you act on it: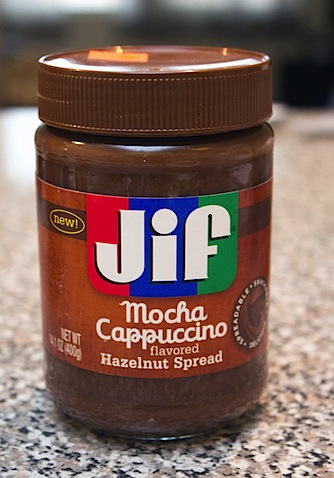 Like really, really quickly. Because you already know you love Nutella. And this is taking it to a whole new level. I have reason to believe Jif knows I'm Skippy-loyal and is is slowly trying to break me down. I'm pretty sure it's an entire conspiracy to take all of my childhood certainties and tear them away from me. Because why eat regular old peanut butter when you can have Jif's Mocha Cappuccino Hazelnut Spread? I just couldn't contain myself.
Besides eating half the jar with the spoon, I figured it was only right to do some baking with it. I decided to keep it simple and create my own little ode to Magic Middles, which are only the best cookies ever created (whyy can't they come back??). So, I stuffed cookie dough with this spread and called it a day. A very happy day. I had some friends over for a little chili evening at my apartment this weekend and served these for dessert. And then spent the next day wondering if it would be weird if I dipped a cookie into chili instead of cornbread. Answer? Probably. But I still managed to fit both the chili and cookies into my day… Separately.
Mocha Cappuccino Cinnamon Cookies (makes about 2 dozen cookies):
Print this recipe!
1 C Jif Mocha Cappuccino Hazelnut Spread
3/4 C (1 1/2 sticks) softened butter
1 C granulated sugar
1/4 C packed light brown sugar
2 large eggs
3/4 t vanilla
2 2/3 C all-purpose flour
1 t baking soda
1 t cinnamon
1/2 t salt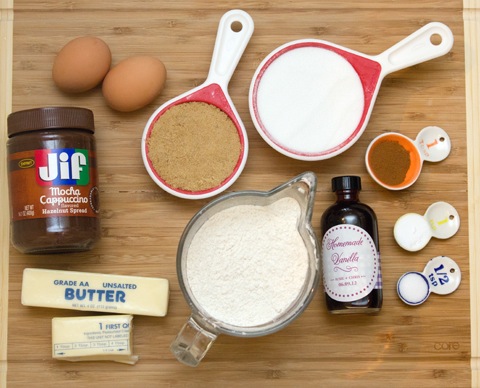 Since I had already opened the jar of Jif and ate some with a spoon (fine. My finger. I have no shame), I got worried that the spread was going to get really messy when I tried rolling it into the cookie dough. It was just too soft and ooey-gooey. So, I decided to dab 24 teaspoon-fulls of the spread onto a wax paper-covered baking sheet. I stuck the baking sheet in the freezer for a few minutes, so the spread would harden and be easier to work with.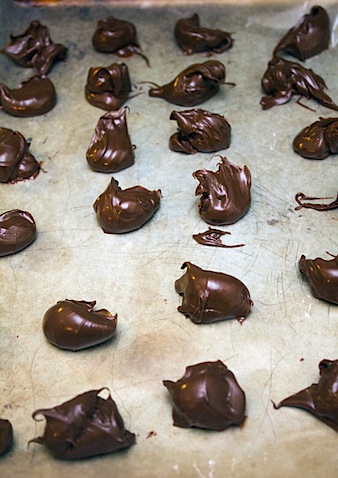 While that was chilling, I got started on the batter. Cream together the butter and sugars until light and fluffy.
Add eggs one at a time, mixing to combine. Then mix in vanilla.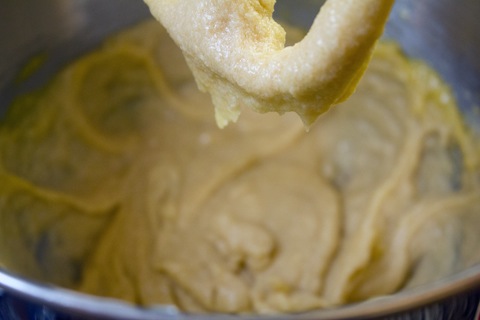 In a separate medium-sized bowl, whisk together flour, baking soda, cinnamon, and salt.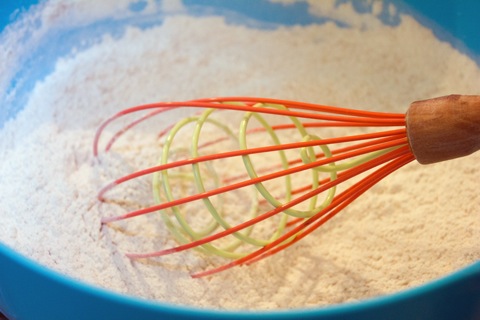 Add flour mixture into batter, mixing until just combined. Be careful not to over-mix.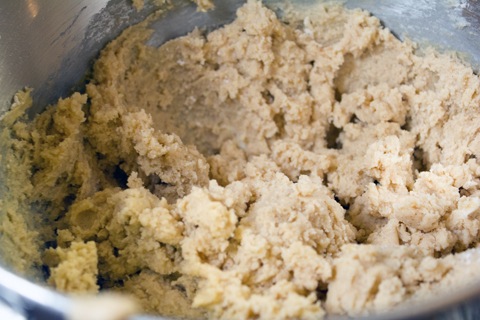 Now you're ready to form the cookies. I sadly didn't take a good photo of the process because my hands were super messy and there was no ideal moment to pick up my camera (which is already permanently covered in batter and frosting, by the way…). But basically take about a tablespoon of dough and flatten it into a disk in the palm of your hand. Place one of the chilled Mocha Cappuccino spread teaspoons in the middle and form the cookie dough in a ball around it.
Place on a parchment or Silpat-covered cookie sheet. I wasn't sure how much the cookies were going to spread, so I gave a good 2-3 inches between mine.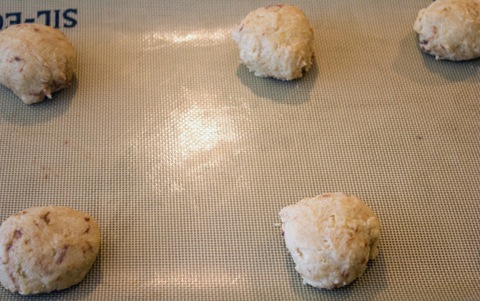 Bake at 350 degrees for about 8-10 minutes until slightly golden.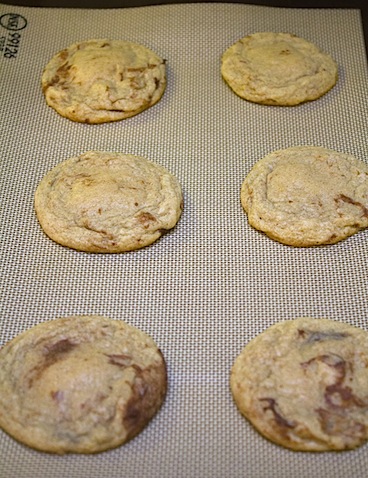 Let cool on cookie sheet for a few minutes, before removing to baking rack to fully cool.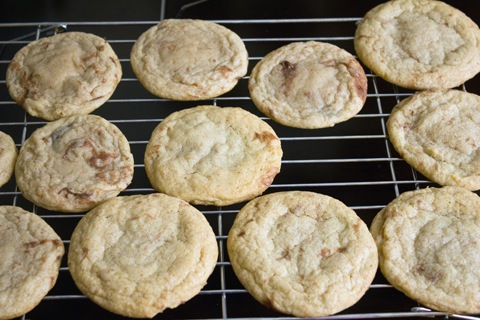 They look like regular ole' cookies, eh? Well, bite into them and you'll get a little surprise.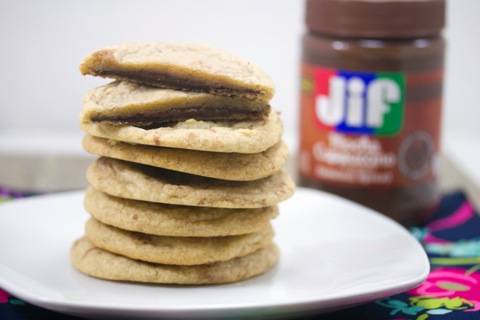 Just like my old favorite Magic Middles! But all grown up since they involve Mocha Cappuccino. And hazelnut. And I'm pretty sure as a kid, I would have been like, huh? Just gimmie my chocolate.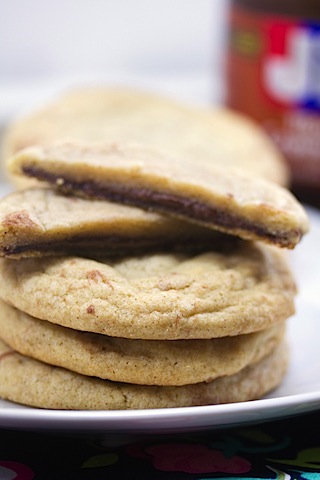 I can't decide if I wish these cookies were a little less flat or if I kind of loved how I could bite into one and have the mocha spread be perfectly sandwiched in between. My kitchen/apartment is insanely hot (seriously. It's Boston. And we have barely turned our heat on at all this winter. Windows are currently open) and I probably should have chilled the dough a bit before baking.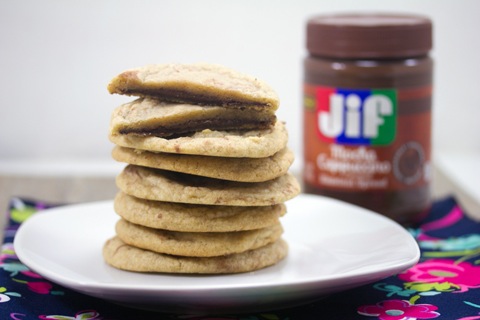 But I think I mostly love these. They were soft. And wonderfully chewy.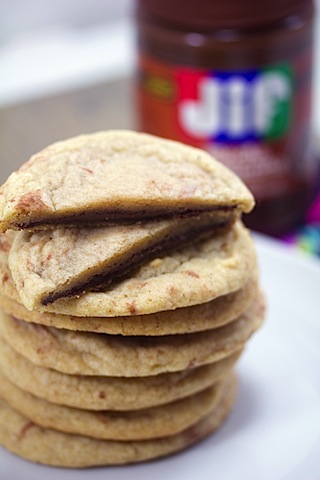 The cinnamon gave them a bit of a Snickerdoodle-y taste. Also that Mexican flare that I wanted.
While Jif will obviously never be the classic Nutella, I give them kudos for hopping on the hazelnut train and "breaking out of their shell" as their website says. Why let the Italians have all the fun, right? Hazelnuts for all!
The spread is also quite fabulous on toast. And combined with peanut butter on toast. I forced my Jif Hazelnut Spread and Skippy Peanut Butter to play nice and become one on a slice of whole wheat bread. They succeeded and I'm so, so proud.
Happy Monday! The Bachelor is on tonight! Joy! 🙂
Are you a hazelnut spread lover?
[Sues]