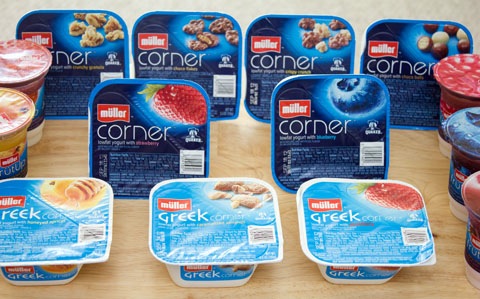 Once upon a time, I did not like yogurt. But I'm pretty sure that's because it was back in the day when there were not nearly so many varieties as there are now. And Greek yogurt did not exist in my world. And blended yogurts that taste like baby food are just not up my alley. Lately, however, I have been an absolute yogurt fanatic, eating one at my desk pretty much every morning at 9:00 a.m. while I get a start on my work. The only problem is, yogurt is not safe in my home. Chris is an even bigger fanatic than I am and will literally eat 3 in a row for a snack. Often I come home from work and go to throw something in the trash and notice it's littered with empty yogurt containers. Caught red-handed. This just means we purchase A LOT of yogurt (and I try to hide mine behind bundles of kale).
When I was invited by the DailyBuzz Food Tastemaker program to sample the new Müller Quaker Yogurt, I jumped at the chance. After all, I'm already a big fan of the Quaker name and believe that Europe produces some of the best yogurts around. I was psyched to see how many varieties I was sent to taste.
And then I literally set up a photo shoot with yogurts. Because the packaging is pretty and they have SO many different flavors. Ready for your close-ups?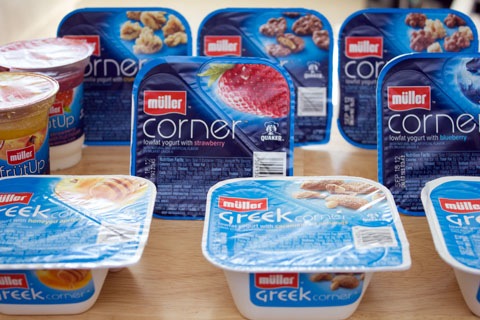 Müller sent me their 3 varieties in a huge selection of products. They currently have Müller Corner, Müller Greek Corner, and Müller FrütUp on the market, each unique in its own way.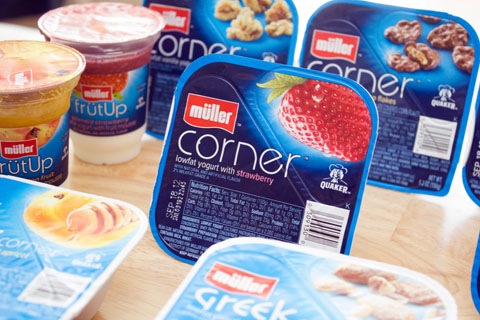 Where on Earth to begin?? Well, if you know me, I would obviously start with the "choco balls" flavor… especially since they looked like little malt balls. I am a lover of malt ball.
They weren't really malt balls. And the "choco balls" were a little tinier than imagined. But still.. Delicious! While I probably wouldn't eat this one for breakfast very often, it makes for the perfect after lunch treat or dessert.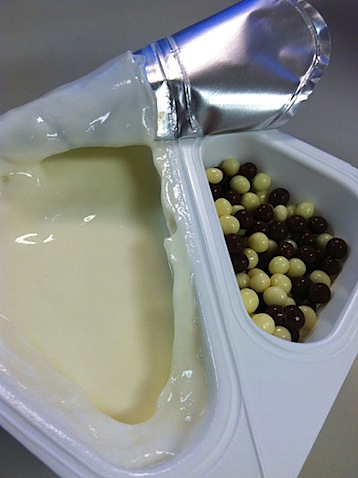 I enjoyed the choco flakes, crispy granola, and crispy crunch varieties, too. The granola one is basically my ideal breakfast.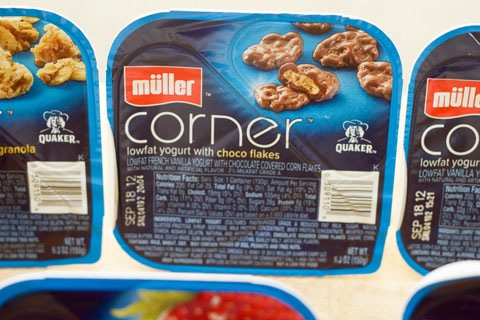 But I knew the real treat for me would be the Greek Corner yogurts since I prefer Greek yogurt to practically any other kind.
Yup, and I found my favorite right away. Honeyed Apricot. Perfectly sweet and fruity, the honey and apricot worked amazingly well with the Greek yogurt.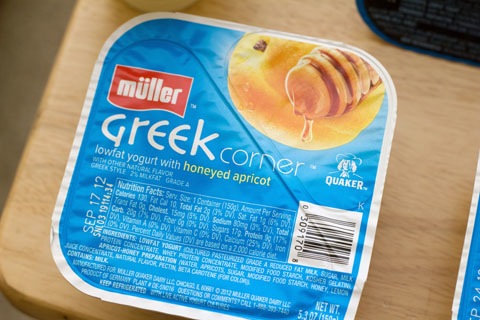 It's kind of like fruit-on-the-bottom yogurt in that the fruit and the yogurt are separated. But so much better since you don't have to either a) stir it up or b) eat all the yogurt before you can get to the fruit on the bottom. You are in total control here!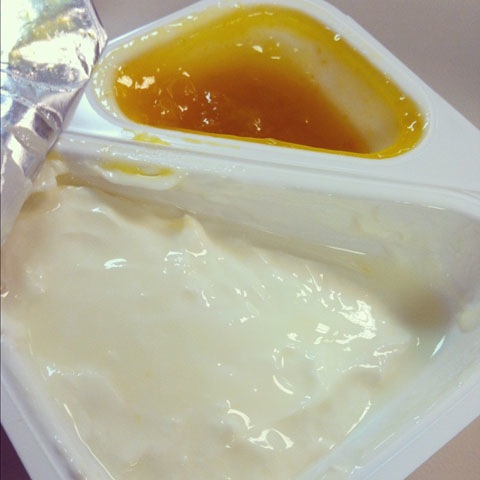 I was also a fan of the strawberry and blueberry, though the honeyed apricot was definitely at the top of my list.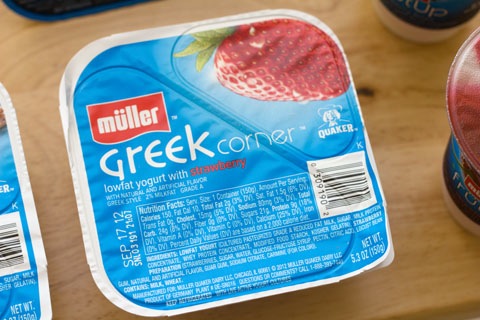 You know what, though? I feel a little deceived. It wasn't until I ate about 6 of the Corner yogurts that I discovered this photo: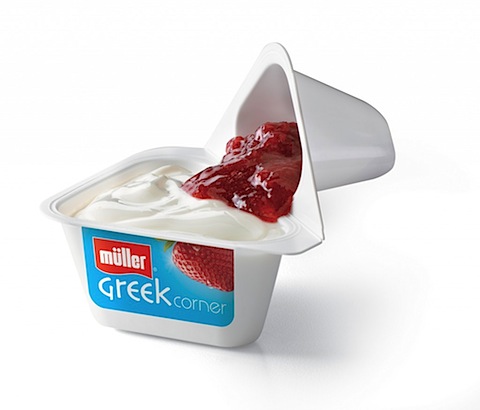 Seriously? Why did I not realize you could do that? Then again, there's something to be said for scooping a little spoonful of strawberry followed by a spoonful of Greek yogurt and mixing it up to your discretion.
I guess that's what the "Corner" is all about. But it also means, I wouldn't mind being stuck in a corner with this yogurt.
Next up were the FrütUp varieties. Again, I was a big fan.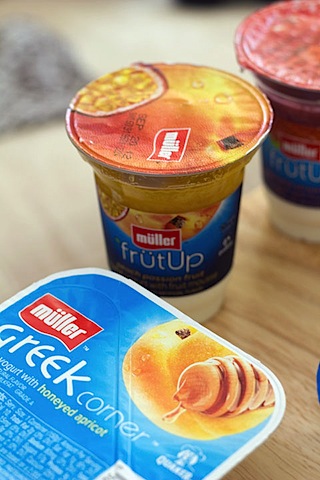 I love the easy grab-and-go packaging.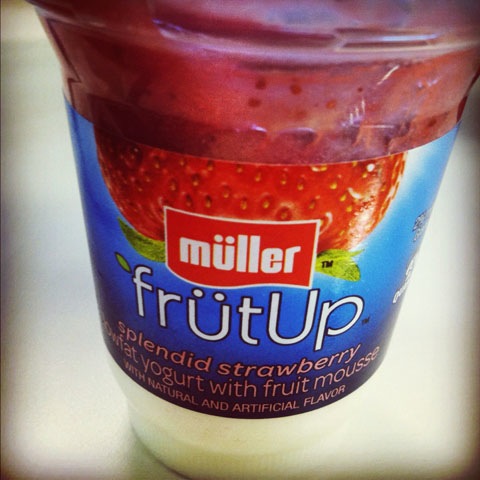 And am obsessed with the fruit mousse. It's so smooth and flavorful and was the perfect contrast to the slightly tart yogurt.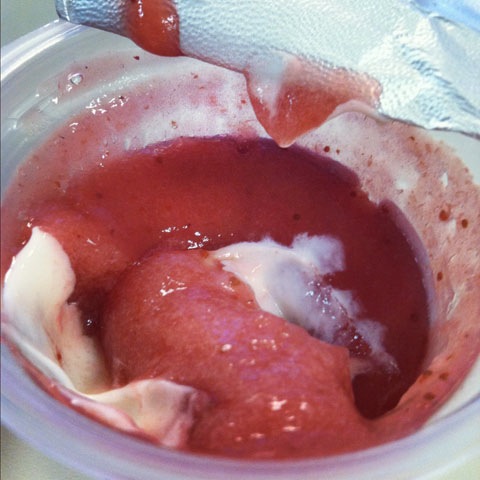 Again, a little dessert-y to me, but I'm always open to desserts that are lower in calories and fat than what I might typically eat. It takes a lot to satisfy my sweet tooth, but this can do it.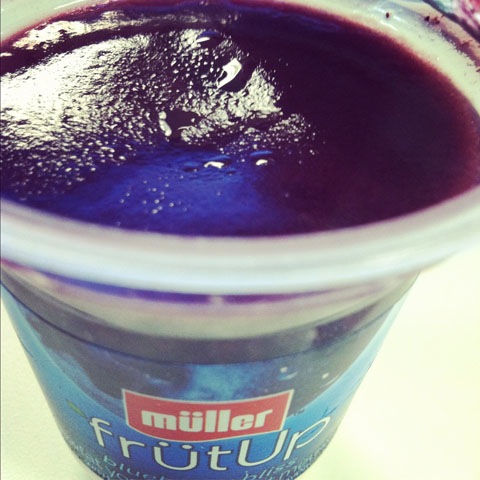 By the way, if you're interested in nutritional info., they all vary (especially because of the toppings), but as an example the Greek Corner Strawberry has 150 calories, 2 grams of fat, 24 grams carbs, 21 grams sugar, and 9 grams protein. The Peach Passion FrütUp (my fave!) has 140 calories, 1.5 grams fat, 26 grams carbs, 23 grams sugar, and 7 grams protein.
Mitzi dog totally wanted in on the yogurt action, too. Can you blame her?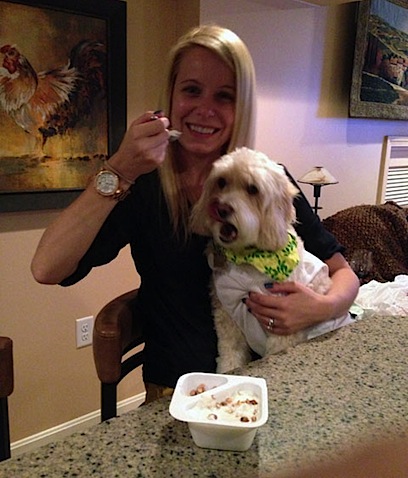 I kind of loved this infographic Müller created about the yogurt industry. It shows how huge yogurt has become over the last few years, but also notes that Americans still consume less than half the amount of yogurt that Europeans do. Weird. I totally thought Chris would skew that data with his 3+ a day.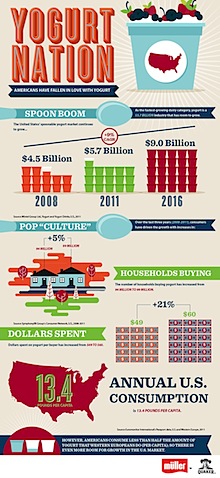 I was super excited that right after I tried and fell in love with the yogurts, I started seeing them all over my local grocery stores. Yes, this is a sponsored post, but still a very honest review. And I can tell you that I've already stocked up on Müller yogurts twice since receiving my shipment. And I literally ate one (Greek Corner Strawberry!) while writing this post. In case you're wondering, Chris determined these his new favorite yogurt ever. Huge win! For him at least. This just means I'm going to have to buy even more yogurt and hide them even better. Sigh.
Want to win the chance to try Müller Quaker yogurt for yourself? I'm giving away 10 coupons to one lucky winner so you can stock up on a bunch of the varieties! Just leave a comment on this post letting me know which variety/flavor you're most excited to try by Saturday, October 6 at 11:59 p.m.
For more info, check out the Müller Quaker website, Twitter, and Facebook page. They have a sense of humor, too, which is always a win in my book!
Happy Yogurting!
[Sues]
As a part of the DailyBuzz Food Tastemaker program, Müller™ provided me with a stipend and product for sampling. Thoughts and opinions are my own.