By now you're probably thinking I have a serious thing for risotto; and you're totally right. And considering I just found a recipe for apple and walnut risotto with gorgonzola, I probably won't be stopping soon (um hi, is that not the most amazing thing you've ever heard of??). Risotto is just such a great, "I'm super busy but need to eat an actual substantive dinner and this lasts all week" type meal. And I'm a big fan of that.
After another trip to Russo's I had a bunch of asparagus I needed to use before I left on vacation at the end of the week (yay!). And since this week was also super busy work-wise, I wanted to make something I could eat a couple nights, so I decided on asparagus and mushroom risotto.
I was clearly so into chopping the mushrooms that I forgot to take a picture of them. I bought the "exotic variety pack" at Trader Joe's and it consisted of 3 different types including oyster, cremini, and porcini. I removed the stems from all of them and then cut the mushrooms into small pieces, and then chopped about a third of those.
I didn't have dried porcini mushrooms, so for the broth I put the mushroom stems in some chicken broth, just to make sure it had enough flavor. You can do whatever you want, but I thought this was quite tasty. Make sure you bring the broth to a boil and then let it rest over low heat.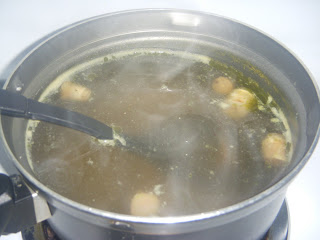 Now chop the stems of your asparagus and cut the rest of it into little pieces. Boil them (separately) for about 2 minutes each, just to make them nice and crispy green.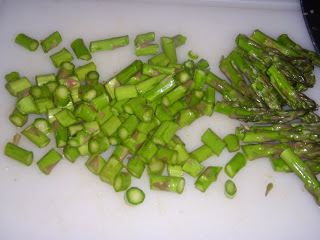 In a saucepan with some olive oil, add your chopped onion and one clove of chopped garlic and cook, stirring for about 2 minutes.
Now add the arborio rice (2 cups) and stir. Add a cup of white wine with the heat on medium-high, put in some salt (2 t), an d stir until the wine is almost evaporated. Now you're ready to start adding the broth. Add it half a cup at a time, stirring frequently and waiting until the liquid is mostly evaporated before adding more. It's not as hard as some people say, but if you forget to stir it, the rice is going to stick to the bottom of the pan, so be careful.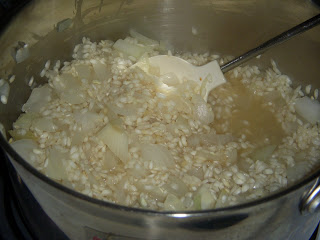 Repeat this step several times and then add the mushrooms that you chopped up and throw in some pepper too. Keep adding the chicken/mushroom stock 1/2 cup at a time and stirring.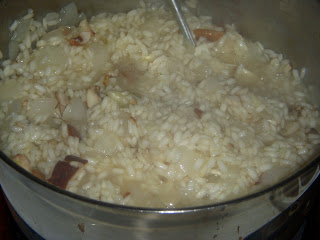 Take the 2/3 mushrooms you have remaining and cook them in a skillet in some olive oil for about 2 minutes, until they're golden brown. Then add the asparagus tips and cook another minute.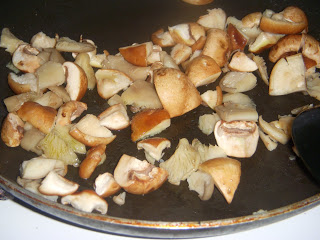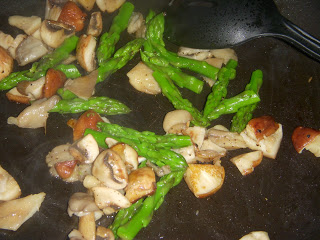 Now stir the little pieces of asparagus into the risotto and add some butter and 1 cup of freshly grated parmesan cheese (honestly, freshly grated is SO much better than Kraft or whatever you get pre-grated. Once you're used to it, you'll never be able to go back. It's SO different). The recipe also calls for 1/4 cup of olive oil, but I really didn't think it was necessary so I didn't add it and didn't miss it.