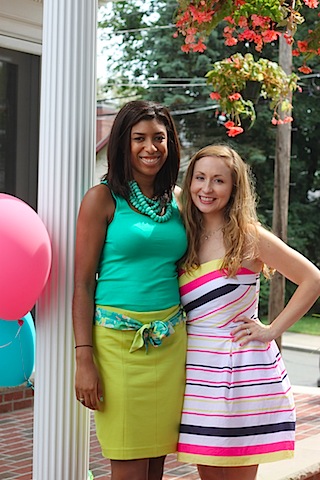 It often feels strange to even refer to Katie as my friend. I feel like whenever I talk about her to people who have never met her, I have to say something along the lines of "my best friend Katie who is basically like my other sister who I've known my entire life and is the best person I know!" to emphasize just how close we actually are. It's a longwinded sentence but I feel like just saying "friend" doesn't do us justice. Kate and I met back in first grade and to make a long story short, she's family. And her family is my family. And my family is her family. Good, kind, and genuine people. Whenever my parents talk about Kate's parents it's always "They're just GOOD people". There are no other words, it's as simple as that.
And now our family is growing because Kate is marrying Paul 🙂 I mentioned a while back that when they got engaged at the end of 2011, Kate asked me to be her Maid of Honor. And an honor it is. Her shower was on Sunday and her soon-to-be sister-in-law, Shawn, and myself helped Kate and Paul's moms with planning. I've met Paul's family before but getting to spend so much time with them while planning the shower was perfect! They're some of the sweetest people I've met in a long time and his mom, Elaine, was an absolute doll for opening her house and beautiful yard to allow over 60 ladies in to celebrate Kate! When you think of your best friend marrying into a family, this is the kind of family you'd hope she would get. Sweet, sweet (and fun!) people.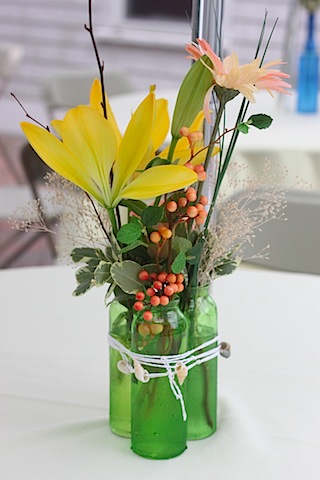 We decided to go easy breezy with the decor since it was outside and basically looked out at the beach, which was lovely. Kate's mom, Noreen, and I went shopping for centerpieces. We went with some pretty sea glass-like/beachy vases and bottles and filled them a mixture of colorful flowers. I found the vases and bottles at The Christmas Tree Shop, which is one of my favorite places to go for events like this. Shopping at The Christmas Tree Shop is like trying to put together a really large and awkward puzzle. They don't always have high quantities of products so you have to piece it together, use your imagination, and get creative, which is what I LIVE for. You have to make it work. (I'm currently watching Project Runway. Couldn't help myself!)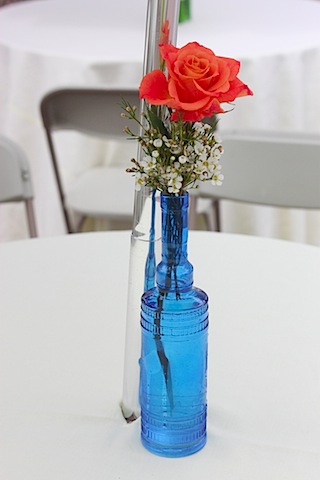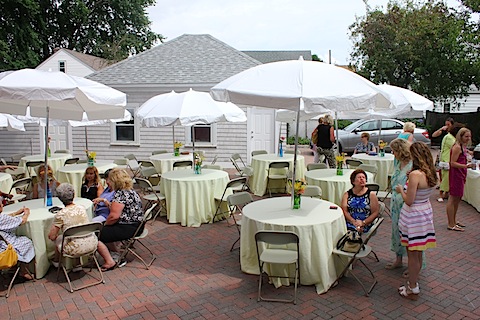 We rented a bunch of tables, umbrellas, and linens for the driveway of Paul's mom's house. Which is just gorgie by the way. Definitely the best place to entertain! I joked with Elaine that she might find me lounging on her back deck one afternoon 😉
Elaine and her sisters are absolute pros when it comes to entertaining. It seemed like I blinked and they had already setup the dining room table and filled it with food that was so perfectly arranged that Martha Stewart would have been so impressed! Bagels spilling out of a Mariposa ice bucket? These ladies are BRILLIANT I tell you!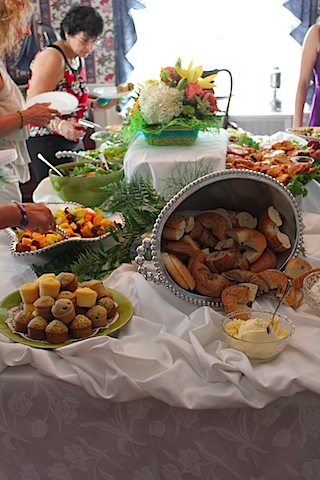 Elaine also suggested that we bundle all of the forks, spoons, and knives into the decorative lunch napkins and tie them up with ribbon. That way people can just grab a bundle and have all that they'll need so they won't have to go back to grab anything. Another brilliant idea for party planning that I will be adopting 😉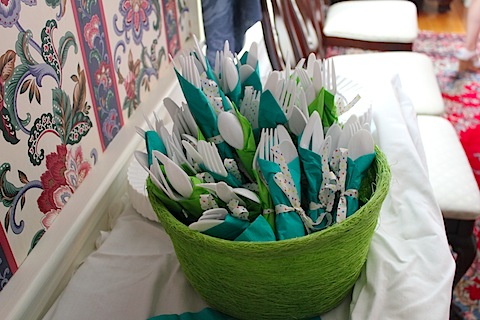 Once everyone arrived and had something to eat, it was time for Kate to open gifts. SO many beautiful gifts!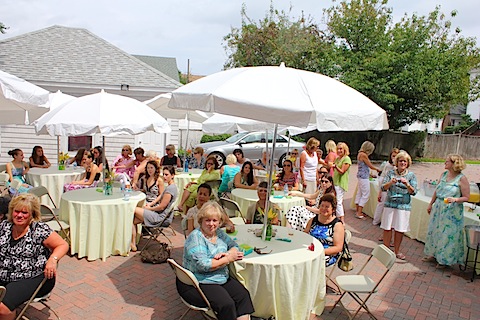 There were a couple of stairs that lead up to the deck, so Kate was pretty much on a stage overlooking a sea of fans. Which was obviously her dream come true. KIDDING. She's the most modest person I know, so it was probably her worst nightmare, but she handled the situation so well, smiling and laughing the entire time. I was quite impressed! She'll probably yell at me for dedicating an entire blog post to her, muah ha haaa 😉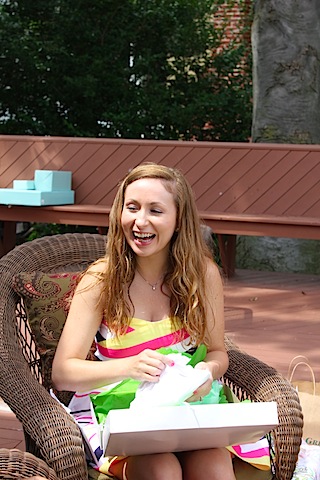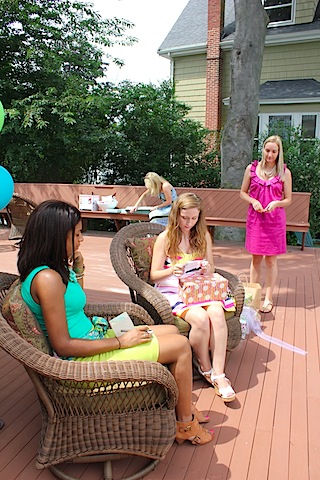 As I was packing up everything I needed to bring to the shower the night before, I realized I didn't have an empty notebook to write down all of Kate's gifts, so, what did I do? I made one for her to keep, naturally. She was a geography major in college and loves maps so I made a lil' map notebook and created a simple stitch with metallic hemp to bind it. Nice way to kill 30-minutes 😉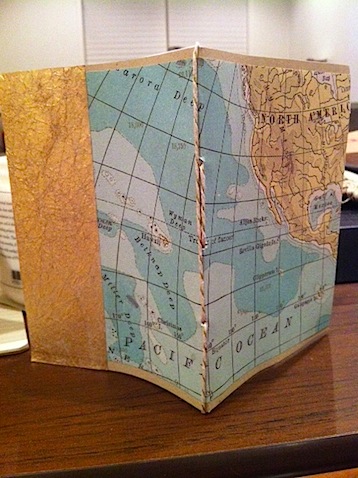 Back to the shower... more pretty gifts! And Jess in the background doing a fantastic job bringing Kate her gifts and taking wrapping paper and ribbon. Before the shower, I emailed the rest of the girls in the wedding and gave everyone assignments. Everyone having a place and project made the gift-opening process go by smoothly!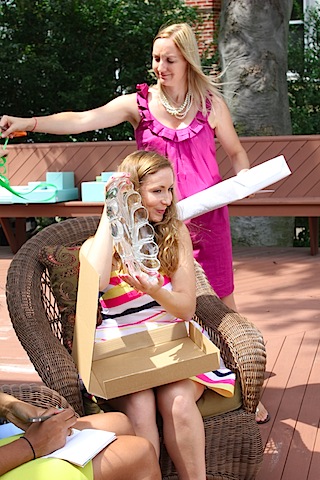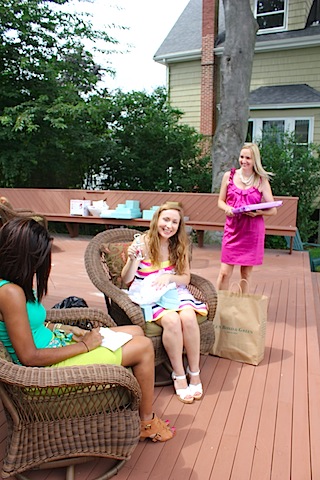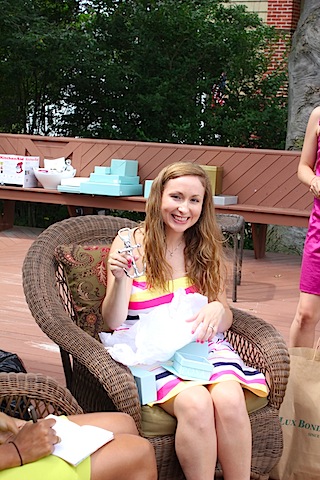 The picture below cracks me up. I'm not sure if this was the exact moment I whispered to Kate that I felt like I was Oprah and I was interviewing her. Not that Oprah takes notes while she interviews people, hehe, but it seriously felt like that since we were "on stage"!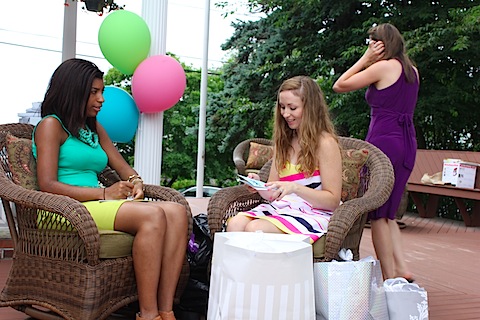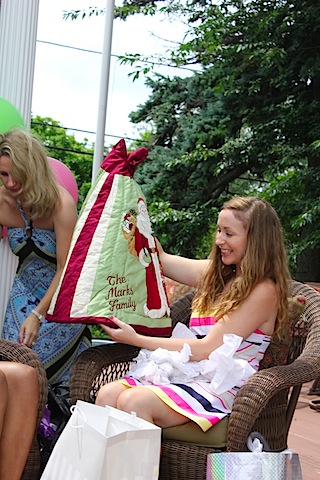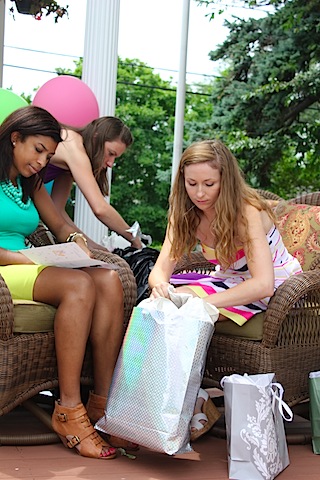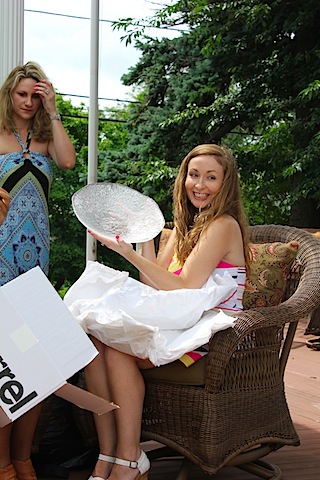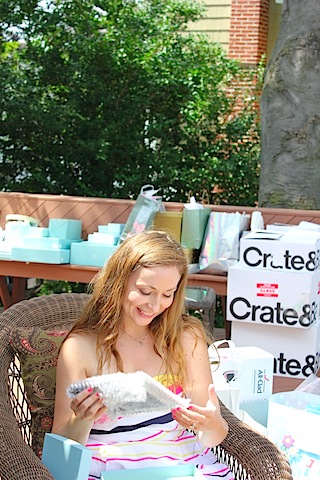 Luggage!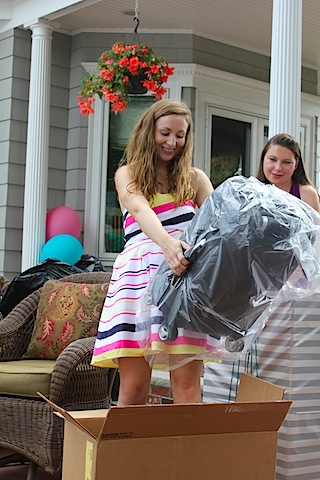 The bridal party! 🙂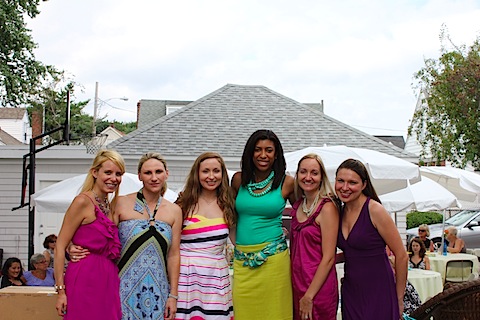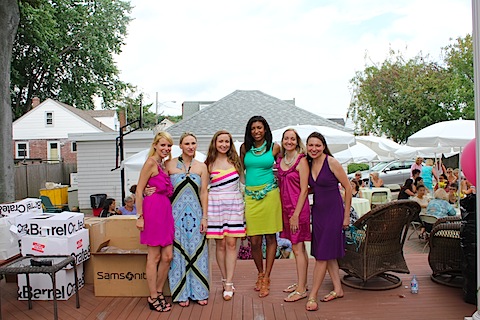 Oh, then there was the cake. THE cake. As I'm writing this, I'm realizing that this post is all over the place, and that slapping this sentence into the middle of a paragraph isn't helping the matter, and I swear I have ADD, but moving right along. THE CAKE. It was a masterpiece. Shawn brought the invitation I designed to the baker and she basically designed the cake around it and the fact that Kate loves Kate Spade. Stunning. And the bows?! Everyone loved them. And for anyone who watches Real Housewives of Orange County: All I could think of was the line from Heather Dubrow, "She ate the BOW off of my CAKE?!". I kept giggling 🙂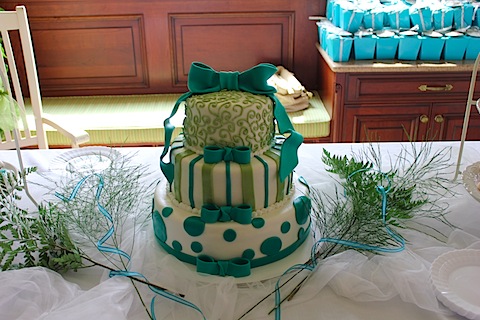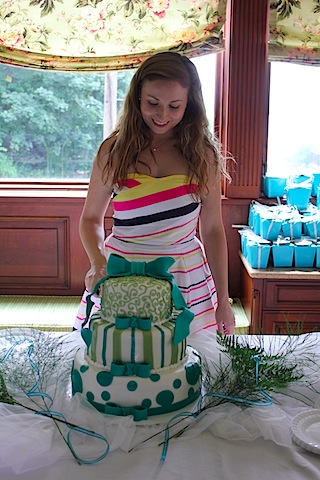 And then the favors. I stupidly forgot to take pictures of what was inside of the takeout boxes, Letterpressed "M" cookies, which will be the initial of Kate's married last name! Lucky her that her initials won't change! And for the outside of the box, Kate's dad hand painted sand dollars and made them into magnets. He's always been my artsy hero. He makes the coolest things and I'm making it my mission for him to open up an Etsy shop one of these days 🙂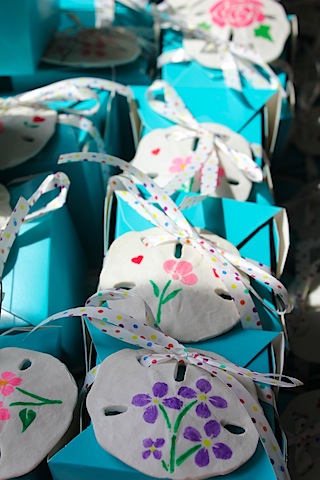 Once the shower ended, Paul stopped by, said his hellos, and loaded up his car with their new gifts. And we of course had him play photographer for a few minutes! The next series of photos cracks me up. So many chuckles. It's all of our friends from Andover, who we've known since elementary school and Nina since we've known since high school! I love that after all of these years we're still able to come together to support each other for these important occasions!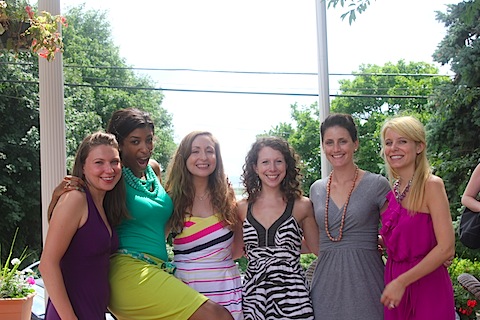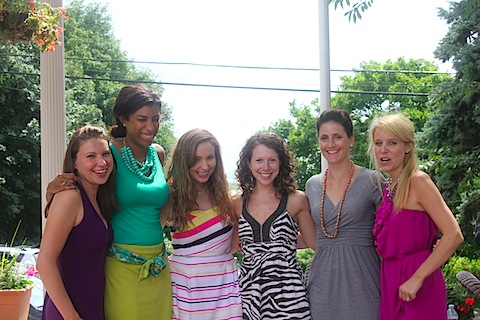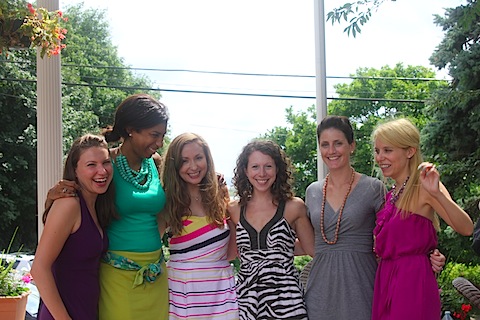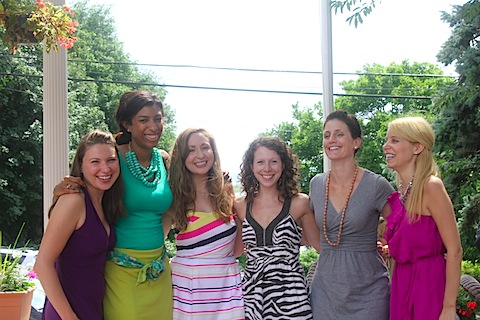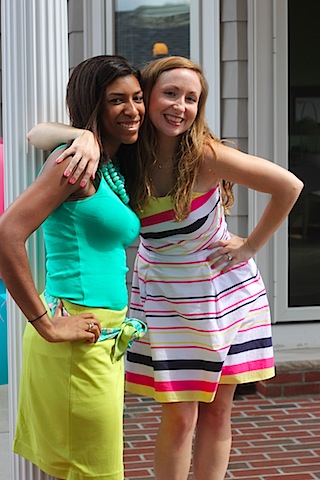 The cutie pies 🙂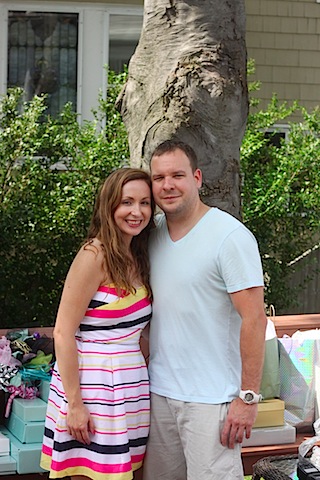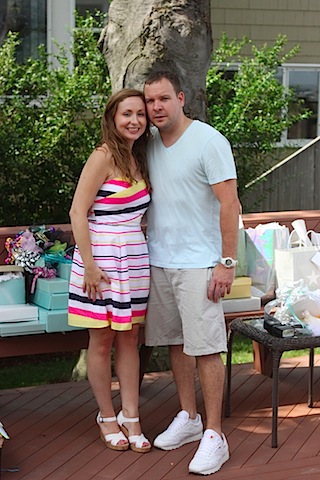 There aren't enough words in the English language for me to describe how happy/proud/thrilled/excited/etc/etc I am for these two. AND just how pumped I am to for their wedding in October! I can't wait to get dressed up and boogie the night away with all of these great people 🙂
Next on the agenda is finalizing bachelorette party planning AND writing my speech for the big day! I haven't even been able to put pen to paper without tearing up. I will gladly accept any and all speech writing or public speaking advice any of you may have! Preferably how to speak in front of a large crowd without breaking down into tears of joy. Kate un-invites me to her wedding at least once a week because I get teary eyed even when we just talk about wedding things, HAHA. I'm the girl who cries at Tide and Cheerios commercials sooo needless to say, this will be interesting!
[Chels]