Remember last month we told you how we're having the burgers we created at the Bristol Lounge featured on their menu for National Hamburger Month? Well, each day this month, a specially-created burger will be featured and tonight it was my turn! I was so excited to not only try it again but to see my name on a restaurant's menu. Definitely something I never really even thought about happening in my life, especially at the Bristol Lounge 😉
Right after we were seated I looked down at my place-setting to see the menu with my name and our blog's URL in print which was quite exciting! Kate got there before me and she said she almost text me a picture of the menu but she didn't want to "spoil" it for me. That is why she's my best friend. So thoughtful 🙂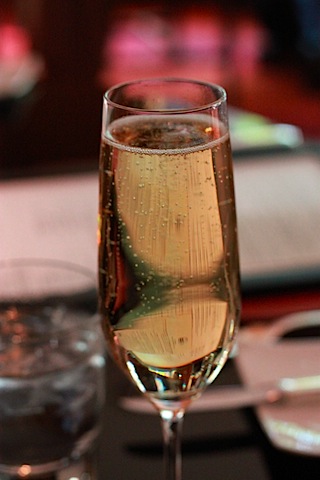 And our waiter immediately treated me to a glass of champagne that was absolutely delicious. It was the Louis Roedere, Brut Premier which is $22 a glass ($90/bottle, in case you're interested). There's nothing like a little fine dining in a girl's life, right?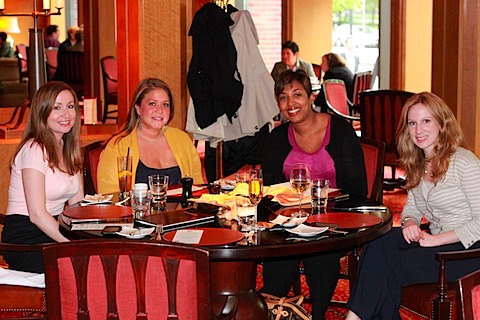 My sister, my roommate Liza, Kate, and Heather came to "support" me at my burger's debut tonight, as well.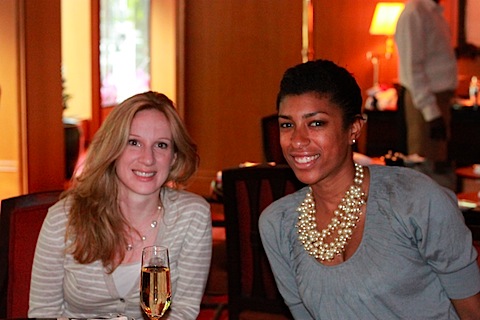 I ended up naming my burger The Swiss MGB (Mushroom Garlic Bacon) $21. I meaaaaaan, for a creative person, I was not feeling creative about the name of my burger. At all. Give me InDesign, some paper, and craft supplies and I'll whip you up something stunning in no time at all. But naming things is definitely not my cup o' tea. Clearly 😉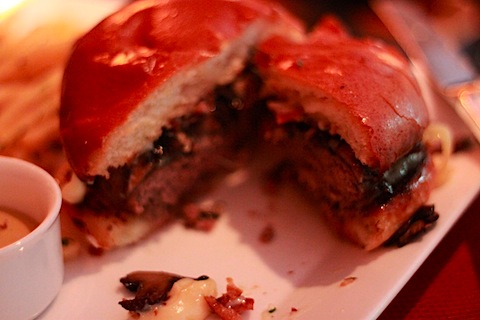 My burger consisted of bacon, mushroom, gooey Swiss cheese, and roasted garlic mayonnaise atop a buttered brioche bun. It was even better than I remembered. In true Bristol Lounge fashion, the burger was perfectly cooked and seasoned. The bacon was crispy (the way I like it!) and the toasted buttered brioche bun was out of this world. Definitely a melt-in-your-mouth kind of burger. It was also huuuge so I didn't even finish the whole thing. I believe I uttered the words "I'm soooo full" as I continued to take massive bites. I didn't want to waste any but decided to listen to my body and put.the.burger.DOWN.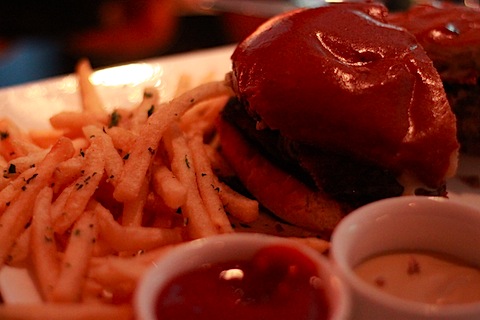 Oh, and those truffle fries? I could have gone for another serving (or five) of those.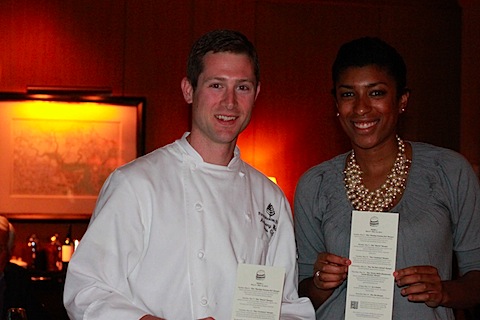 Sous Chef Anthony Welch also came out to chat for a bit and make sure we were enjoying ourselves! (I look like a major geek in this picture. Or like a 3rd grader showing off their report card, hehe!).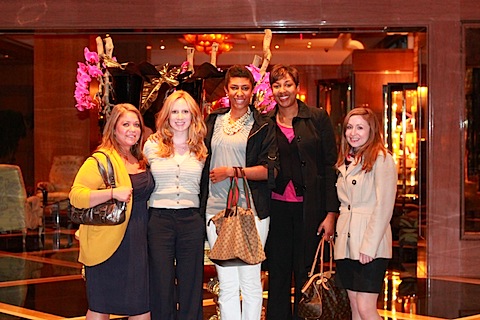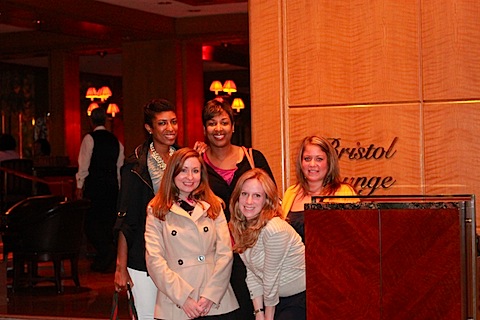 Overall, it was a great evening. And sharing such a neat experience with supportive friends and my sister was definitely the highlight of the night! I feel like sometimes I tend to downplay things in my head or don't really think things are that big of a big deal, but having such amazing "cheerleaders" in life makes me stop and think "hey, this actually is really special!"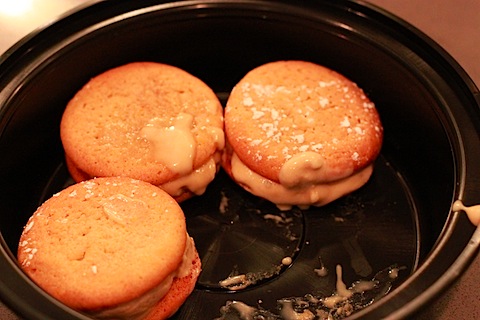 And to make the evening even better? As I was writing this post, I got a text from my friend Lilly, who is a chef and lucky for me, just so happens to be my neighbor. She had just finished catering an event for Harpoon and asked me if I wanted to try "the most amazing ice cream sandwich". Well, heck yes, I do. Even if it is almost midnight. The photo above is the best beer cookie with orange zest and Harpoon oatmeal stout ice cream. I wept while eating this as it got better with every bite. Figured I'd take a picture and share since there are very few words to describe this beerific masterpiece. Yes, I just made up the word beerific.
If you could create a burger or a recipe, what restaurant would you want to feature it?
[Chels]