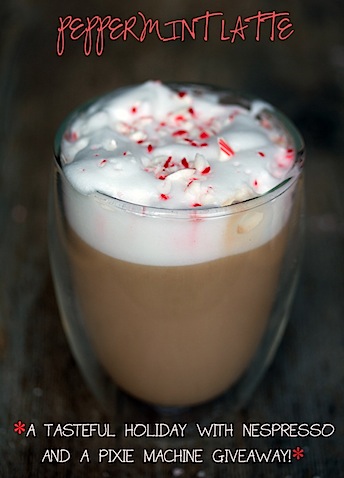 There are like negative five shopping days left until Christmas. OK, that's a lie. Sorry to make you panic. There are actually five (that's positive five!) shopping days left until Christmas. So, basically not a lot. And if you're anything like me, you're starting to panic. Well actually, this is the first year ever that I am DONE with my shopping an entire week ahead of time and pretty satisfied with everything I got for everyone. See, I usually do this thing where I hem and haw over what to get everyone because I want it to be absolutely PERFECT and then three days before the big day, I realize I don't have time for perfection and go into crazy freak out panic mode.
Of course, I always want everything about Christmas to be perfect and I want everyone to love their presents to death. Which is kind of what sometimes makes this the most stressful time of the year. I have two solutions for this. Nespresso and Nespresso. Not only do Nespresso machines make the perfect, tasteful holiday gifts for your loved ones, but they also help you kick back and relax during the busy holidays. With one word: Caffeine. My idea of a tasteful holiday? Getting your shopping and holiday tasks done ahead of time so you have plenty of time to spend with family and friends, relaxed and completely cheerful.
And now I'm excited to be giving away a Nespresso machine to one lucky We are not Martha reader! Of course, you can claim the machine as your own and enjoy a tasteful holiday season and beyond with it… Or you can give it to a loved one as a gift… And make them pretty darn happy in the process.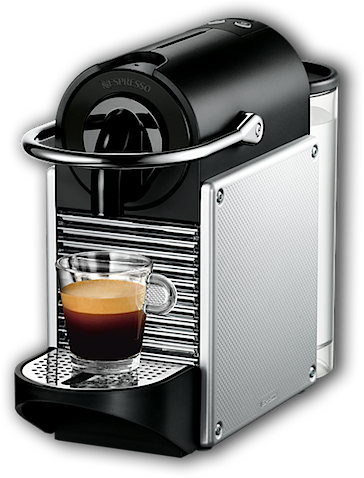 The machine I'm giving away is a Nespresso Pixie Aluminum ($229). AND Nespresso is also throwing in an Aeroccino+ ($99), so you can serve your espresso with the perfect froth!
I actually bought my mom a Nespresso machine for Christmas last year because she had been talking about wanting one for a long time. I was a little skeptical because my mom has had espresso machines before and they all tend to end up in her pantry after being used a time or two. Guess what? One year later and her Nespresso machine still sits on her countertop! And she uses it multiple times a week.
Have you seen the huge range of machines Nespresso offers? They come in at all different price points, which means it's easy to find one for the special people on your list. Bonus for you if you're close to the person you're getting a Nespresso for. Since I got one for my mom, I reap the benefits of a homemade latte every time I go visit her.
And I think that if you win the giveaway, one of the first things you should make with it is a Peppermint Latte. 'Tis the season!
It's simple and festive, which is exactly what you want at this time of the year. All I did was make a cup of espresso (I used the Fortissio Lungo Grand Cru) and then froth my milk with a tiny bit of peppermint extract mixed in.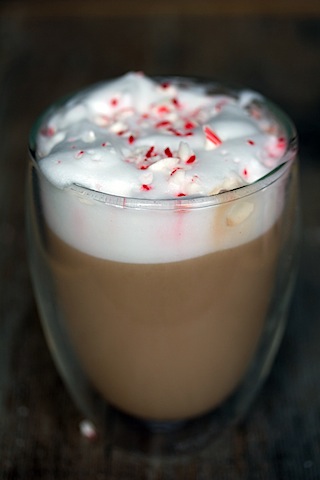 Obviously I topped the latte with crushed candy canes, too. It took me about 2 minutes from start to finish and it allowed me to take a little break from holiday shopping online, while working up my energy to head to a holiday party.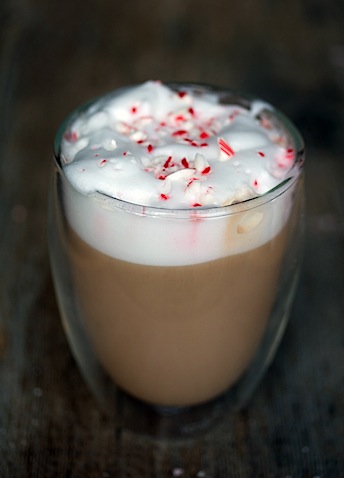 Want to win a Nespresso Pixie of your own this holiday season? All you have to do is comment on this post letting me know what kinds of drink you're most excited to make with it! Peppermint Lattes? Simple shots of strong espresso? Cappuccinos? Nespresso has tons of recipes on their website if you want to see what other options you have!
Comment by tomorrow, December 19, at 11:59 p.m. for a chance to win (must be 18+ and a U.S. resident)!
I hope you get the chance to have a tasteful holiday with Nespresso!
[Sues]
Disclaimer: Nespresso is providing me with the machine to give away, but as always, all opinions here are 100% my own!