I love discovering new websites that are fun and helpful in everyday life. Zeer is a brand-new website (based out of Boston!) that features consumer reviews of food. As in, basically every product you can buy at the grocery store is on this website. It's the kind of website that makes you say, "why didn't anyone think of this before??"
Since they're just getting started, the products don't have tons of reviews (most none at all), but eventually, this site is going to be an amazing database. You can use it to see what people are saying about new (and old) products, find out what products people are enjoying (and can't stand), and get all kinds of nutritional information. I guess you could think of it like a Yelp for groceries. I'm obviously big on trying new foods and I'm psyched that now I can see what other people are saying before I buy.
According to the Zeer team:
Today, modern technology has given you hundreds of thousands of food and beverage products. While having an abundance of choices can be nice, it's still hard to discover what's best after figuring in all of your needs plus seemingly endless amounts of information. When faced with so many details, it's easy to feel completely overwhelmed and unorganized.

Imagine instead that you could whittle the world down to a store section build just for you, with all of your friends hanging out, experts available to answer your questions, and all of the products you like and need in one place.
I've played with the site a bit and written a bunch of reviews and I definitely see its potential. So go check it out and "friend" me. Yes, there's a social networking aspect to the site; why wouldn't there be, right? Let me know what you think of it and if you can see yourself using Zeer as a food reference in the future.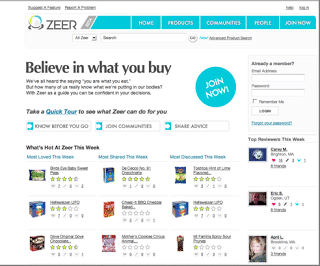 [Sues]