As promised, here are some photos of Saturday's NKOTBSB concert! Also known as the most wonderful and hilarious night in the history of life.
I went to the concert with a great group of ladies including Melis, Heather, my roommate Liza, and Liza's friend, Jenna. Melis came over before the show for some snacks and a serious old school dance party involving me doing the Running Man for far longer than any 27 year old should do it. I just about died of laughter when Melis got to my apartment. We decided it would be fun to go all 80s/90s with our outfits and she went ALL out. Including a hot pink scrunchie. A SCRUNCHIE! Insanity.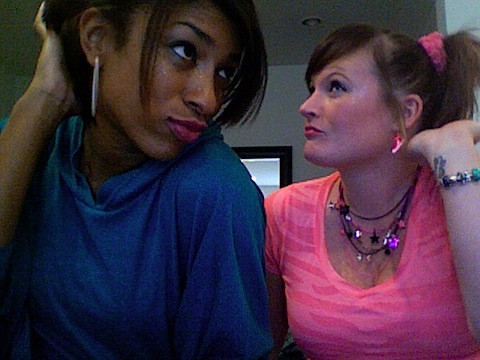 Liza's outfit was also hysterical! She wore a neon green off-the-shoulder t-shirt with a picture of Hello Kitty wearing star sunglasses! I wore my batwing hoodie from American Apparel, stacked a ton of colorful bangles up my arm, and wore big white hoop earrings. I also wore a banana clip in my hair.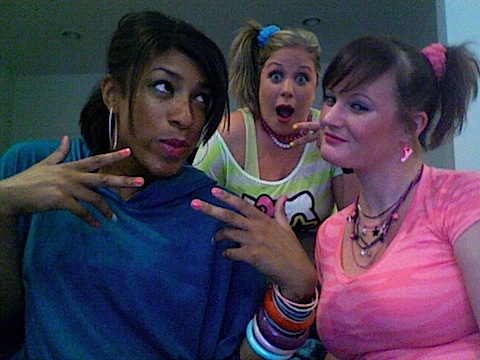 Oh. And I wore hot pink LA Gear sneakers. Yup, yup I did!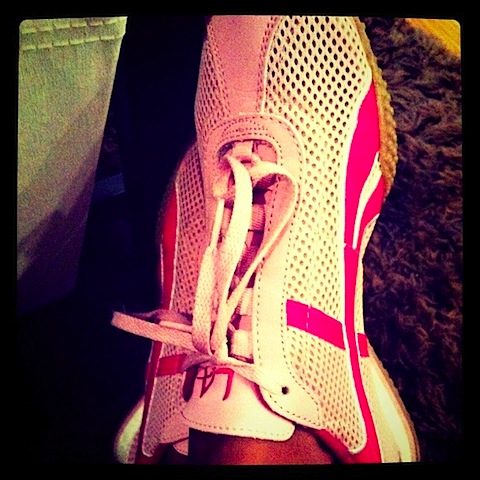 It actually kind of made me question my wardrobe since I didn't go out and buy any of these things. I just happened to have them in my closet and I wear them all quite often. Evidently I dig the 80s and 90s.
After the dance party and splattering body glitter over our faces, we headed to Fenway for the show. Part of the reason this concert was so much fun was because New Kids on the Block are from Boston, so it was their homecoming. And playing a concert at legendary Fenway Park is a HUGE deal for any artist. So, naturally, everyone in attendance was nearly losing their minds right along with NKOTBSB. It should also be noted that I'm 99.87% sure there has never been this many women in this ballpark. They had to shut down the men's bathrooms and turn them into women's bathrooms if that tells you anything. Smart move!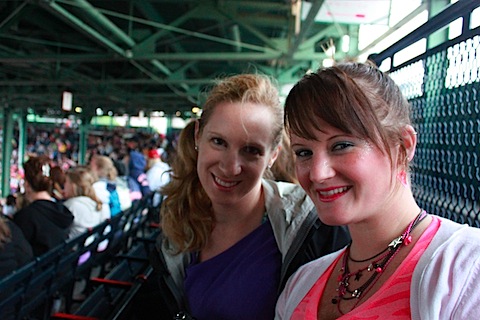 And we bumped into our friend Nichole, too! I think almost every Boston girl I'm friends with on Facebook was at this show judging on everyone's statuses Saturday night 😉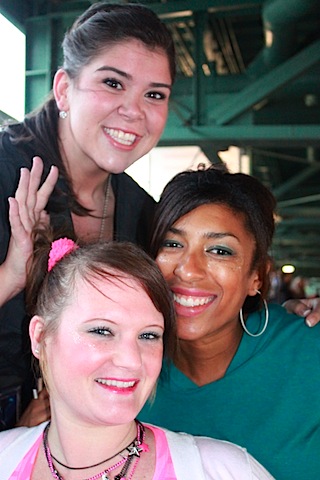 We were sitting in outer space so it's hard to even tell what the following pictures are of. I felt like I was 13 again taking pictures of little dots on a stage and thinking it was the coolest thing in the entire world. When the show first started we were all screaming so loudly that I kind of thought I was going to blow a vocal chord. Eek.
I don't want to give away too many details about the actual concert since the boys are still touring and I don't want to spoil it for anyone! What I can say is that it was hands down one of the most fun concerts I've ever been to (and I've literally lost count of all the concerts I've been to). And I will also say that Naughty by Nature made a guest appearance and I almost started to cry. What!?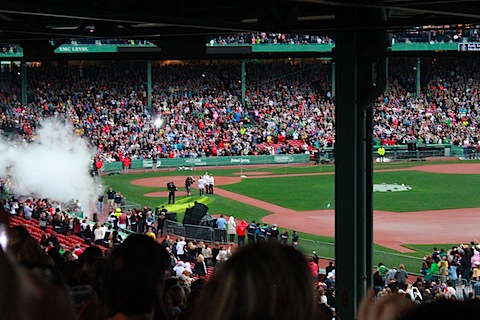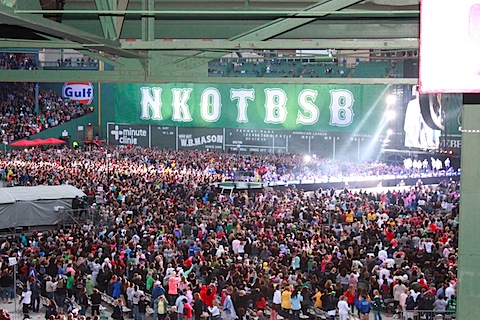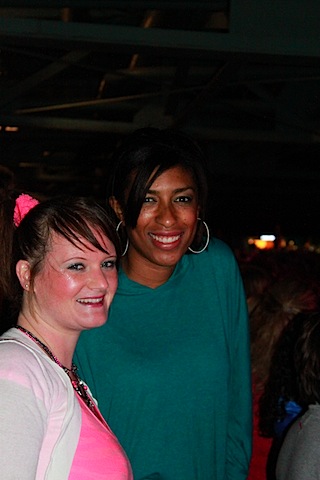 And though our seats were in outer space, we were actually quite thankful because it started to downpour. Borderline monsoon style. And while everyone on the field was getting drenched out of their minds, we remained nice and dry. Cheaper seats for the win!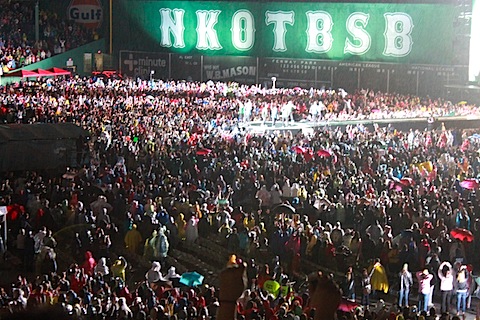 The boys were visibly having so much fun and they turned the long stage into a slip n' slide, which made me want to purchase a slip n' slide for this summer. Nick Carter slipped so badly that he almost fell. During one song they changed into Bruins jerseys. And they closed the show wearing Celtics jerseys. It was all glorious and perfect, really. Never more proud to be a Bostonian!
I went to bed happy that night. And am still smiling about it all 🙂
[Chels]