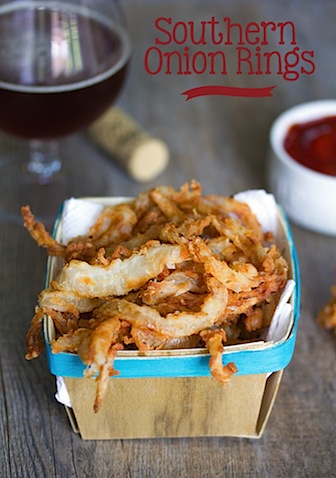 If you had told me five years ago that some day in the not so far off future I'd be swooning over a deep fryer, I would have called you a crazy person. First of all, frying food isn't really necessary. Second of all, If I do want to fry, can't I just do it in a big pot of oil on the stove? Pshhh. But then I realized that baked doughnuts often don't have anything on fried doughnuts. That's one of those sad truths in life (perhaps the saddest) that I've been in denial about and trying my very best to fight. But sometimes I get weak and give in. And frying on the stovetop? I have a nightmare and it involves bringing a pot of oil up to a certain temperature and keeping it at that temperature for an extended period of time. It ranks right up there with those nightmares I have where I complete an entire day of work only to wake up and realize I haven't done a thing and still have to go have an entire day at work and do the same things I already dreamed that I did. Please tell me I'm not alone on this.
Anyway. Frying. I was already starting to realize I probably needed a fryer in my life when my friends at Ninja reached out to me and told me about their new frying system, offering to send me one to try out (
Ninja also sent me their slow cooker
back in October and a once crockpot-hater became a fan. Also, I met a bunch of the Ninja crew at BlogHer Food and they are all absolutely lovely people and made me love the company even more). Call it fate or an alignment of the stars, but I began swooning for this thing before it even arrived. OK, I know I say this all the time and you probably think I'm delusional, but if you're frying food at the correct temperature, it's actually not
that
bad. And with the Ninja Frying System, it's easy to maintain oil temperature, so food cooks 40% faster. Because you can cook quicker with the Ninja's Fusion Heat Technology and immersion basket, you get about 30% less fat than you would in other fryers. I'm not going to tell you frying is healthy because it's not. But if you're going to do it on occasion (because… doughnuts!), you're better off using a fryer like the Ninja that will allow you to get rid of a little bit of the guilt. Plus, you won't have to spend hours staring at your thermometer watching your oil temperature raise and fall and wondering how to keep it steady. Ugh. I'm so excited that nightmare can end.
Of course, the Ninja Frying System comes with a little recipe booklet and because it was my first time using the fryer, I decided to follow a recommended recipe. Southern onion rings, here I come! I'm a big fan of all kinds of onion rings (always choose them over french fries), but loved that these looked especially thin and kind of string-like. And the ingredient list was super simple.
Southern Onion Rings in the Ninja Frying System (serves about 4):
Canola or vegetable oil
2 large vidalia (sweet) onions, cut into ¼" slices
2 C buttermilk
4 t kosher salt, divided
2 t fresh ground black pepper, divided
2 C flour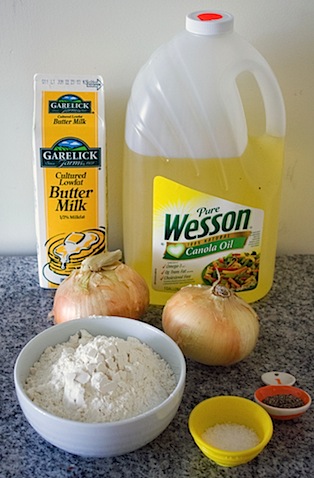 When you usually wear contacts and you try slicing onions while wearing your glasses, you will notice a major difference. Seriously.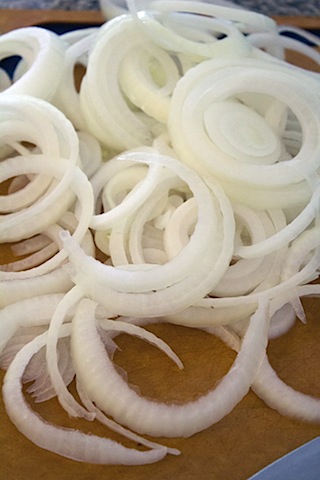 Getting the fryer ready was super easy. I simply placed the oil reservoir and control panel in the system, filled it with oil to the fill line, and attached the power cord (it's a magnetic safety power cord). Lastly, I attached the basket handle.
There aren't a ton of buttons on the fryer, so it's tough to get confused as you're going along. You choose how long you want to fry for and then input the temperature you want the oil to reach. For the onion rings, I wanted 375 degrees.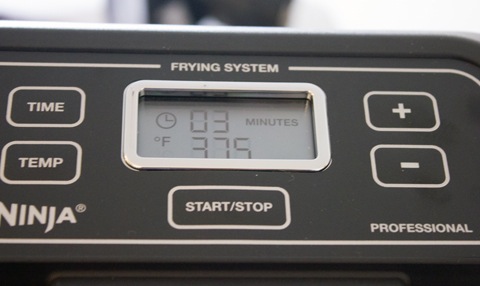 Then you hit start and the oil will start heating up! When it reaches the right temperature, it will beep and let you know it's ready to go.
But before you can fry, you need to finish up the onions!
In one large bowl, combine buttermilk, 2 t salt, and 1 t pepper. Coat the onions in this buttermilk mixture.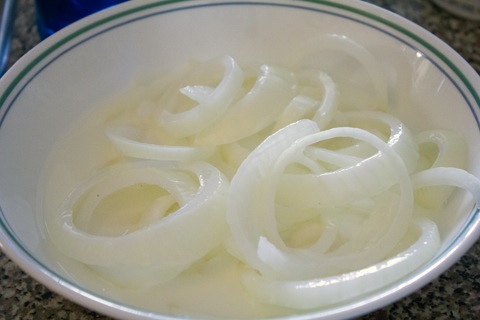 In another separate shallow bowl, whisk together flour, 2 t salt, and 1 t pepper.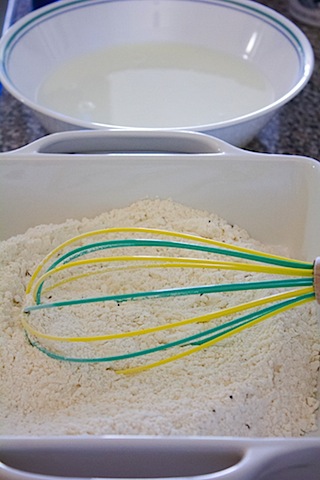 Drain the onions from the buttermilk and dredge in the flour mixture.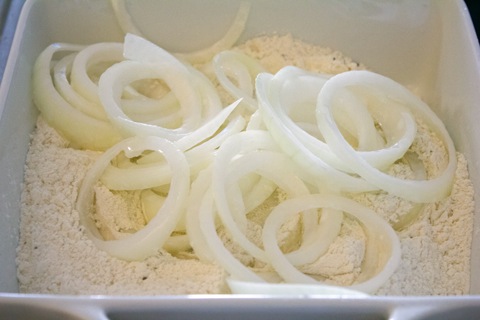 The recipe states to let them sit in the flour for about 15 minutes, all coated and delicious looking.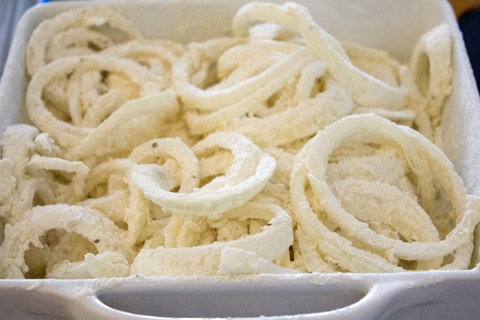 And now? You are ready to get your fry on.
The instructions that come with the Ninja tell you how to cook battered foods versus frozen foods. For battered foods, you start by placing the frying basket into the oil.
And using tongs and oven mitts, you individually add food to the basket, holding with tongs for 3 seconds under oil before releasing. As you can probably guess, it took me quite a few batches to get all of these onions fried up.
When I had a single layer of onions in the basket, I put the top on the fryer and let the batch of rings fry for about 2 minutes.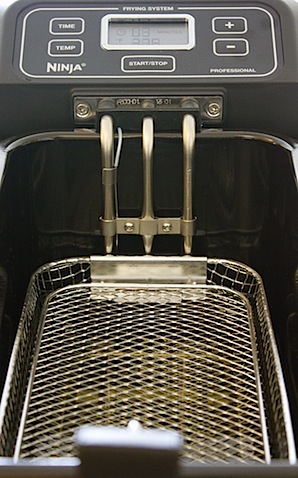 You can watch as your food turns golden.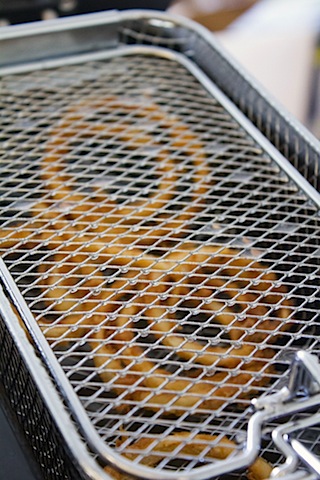 And then raise the basket up and let the onion rings drain a bit.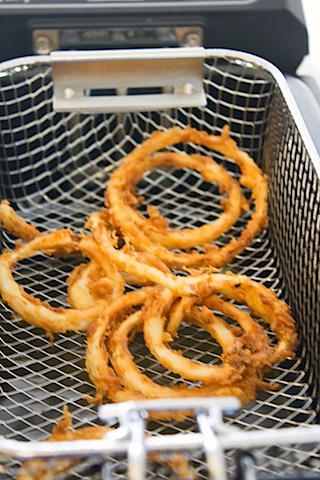 Remove with tongs, to a paper towel-lined cookie sheet.
And then get going on the other batches.
Phew!
Of course, there was a little smokiness in my apartment, but I have the MOST sensitive smoke detectors in the world (and once they go off, there's NO stopping them and they make you believe you are about to burn down the entire apartment complex) and they didn't make a peep throughout my frying escapades.
And then I indulged. Holy moly. I definitely indulged. Because these onion rings were freaking addicting.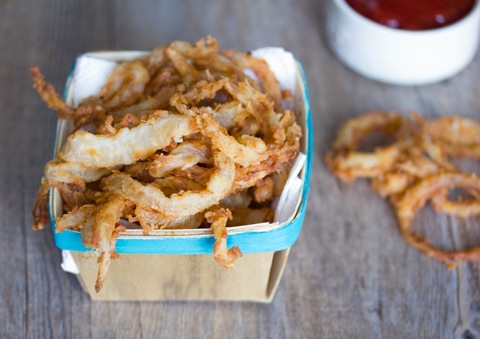 There are two essential things you must serve with these onion rings. Beer and ketchup.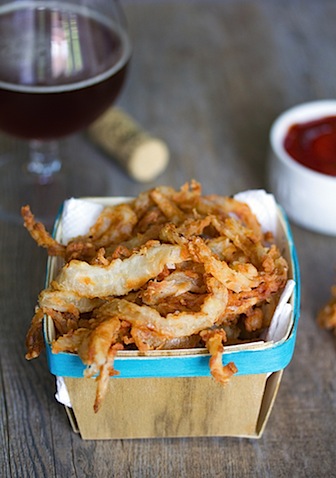 Well, the beer is totally necessary and I served Night Shift's Viva Habanera with the onion rings. Which I might have had as a meal. Oops.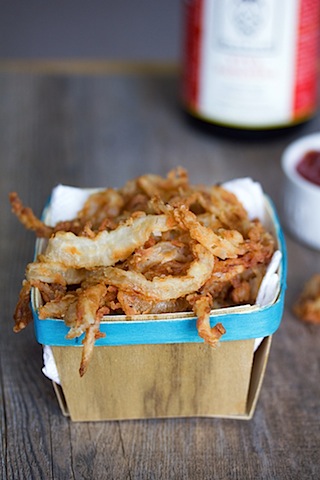 And maybe I never told you about my ketchup obsession. I can't remember. These onion rings totally don't need ANY dipping sauces, but I take any opportunity I can to use food as a vehicle for ketchup. I actually don't even like french fries that much, but if there's ketchup, I'll eat them. If I had to choose between french fries and ketchup, I'd likely choose ketchup. With a spoon. But if it was between these onion rings and ketchup, I'd have to go the way of the onion rings.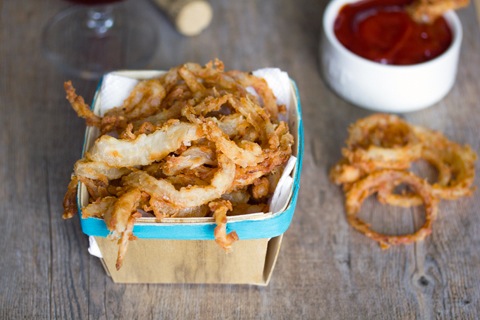 The best thing is that, while frying used to feel like such a process (and safety hazard), the Ninja Frying System made it so easy and mess-free. That's the best thing, but also maybe the worst thing because now I want to fry all the time. Anything and everything. Did you know I once had fried kool-aid? And fried jelly beans? Just the proof I needed to know that there's nothing that cannot be fried. But also that that doesn't necessarily mean everything should be fried. Because fried kook-aid? Not necessary.
Onions are good though. Onions are always good fried.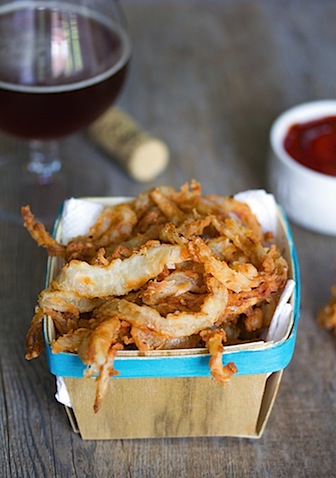 There are a bazillion other foods you can fry in the Ninja Frying System and you can find quite a few on their website. I cannot wait to make my first batch of doughnuts in the system. Though easy doughnuts could be the most dangerous things in the world for me. Get home from work at 8:00 p.m. and feeling a craving? No problem! Mix up some dough, heat up the oil in the Ninja and you're good to go. Making easy arancini is also going to be a hazard in my life. But a welcome one.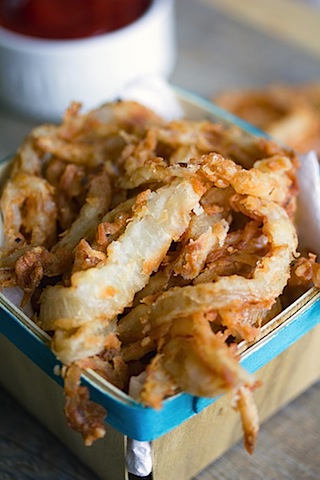 Compounding the simplicity of using the Ninja is the fact that their website also has several videos showing you exactly how to use the system. Totally foolproof.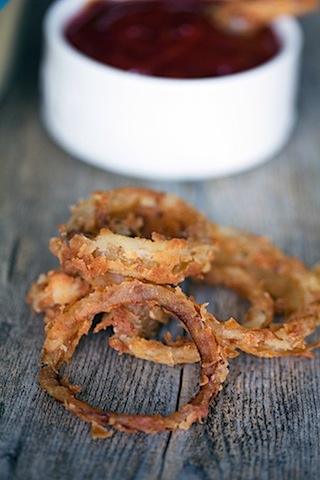 So, have I sold you on the fact that you absolutely need a fryer in your life?? And that the Ninja is the most fabulous option? Good.
I'm quite thrilled with my Ninja Fryer and slow cooker for the time being, but I can't help be a liiiiitle bit curious about what cooking appliance Ninja will be pulling out of their sleeve next.
[Sues]